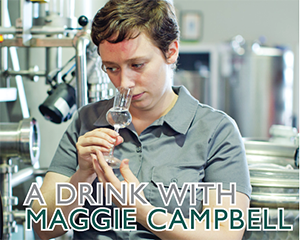 A DRINK WITH MAGGIE CAMPBELL • HEAD DISTILLER • PRIVATEER RUM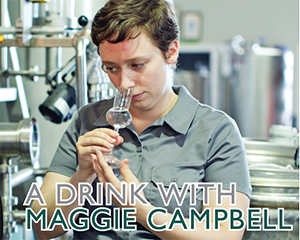 LET ME PREFACE this interview by saying Maggie Campbell is one of my favorite people in the industry. She's whip-smart, multifaceted and down-to-earth; all traits that make her not only a great drinking companion, but an expert distiller. What's even more impressive is her passion for learning. While managing a growing craft distilling operation at Privateer Rum in Ipswich, she's studying for her Masters of Wine. To say Campbell has a killer palate is an understatement. She's also an accomplished writer (and can throw a good punch!).
BRANDY RAND Tell me a little about your background and how you ended up in distilling?
MAGGIE CAMPBELL I visited a distillery in Scotland when I was 2O and got really excited about the wine and spirits world. I eventually signed up for classes and began working as a buyer at a couple of boutique shops where I connected with the local distillers. I was very inspired and took the Siebel Institute's course in Craft Distilling and Technologies course while also emailing and visiting other distilleries. Soon I was hooked.
BR What made you decide to join Privateer and be part of the rum renaissance?
MC I actually joined Privateer about 1O months into their distilling operations. I never thought I would work in rum –
it was always going to be whiskey. I read Wayne Curtis' "And a Bottle of Rum" and fell in love. It is such a unique spirit. I also saw the huge opportunity that Andrew Cabot, founder of Privateer, saw to make a rum that was not sweet, heavily filtered, dyed, or flavored – something the category needed. The potential to do something new was exciting.
BR What should we expect to see from Privateer in the future? Any exciting projects you are working on?
MC We have a 1OO% molasses, barrel strength, new oak-aged 'Navy Yard' rum coming out this fall. I am really excited about this one. It has really concentrated and complex flavors.
BR The craft spirits movement has changed drastically since you first started; what are your observations on the positives and negatives in craft distilling?
MC Wow, has it! Eleven years ago there were no books or websites on craft distilling. It was incredibly hard to even order parts and tools at my first job. Now there is a groundswell. I think it is great to see people want to fulfill craft's potential. There is so much room for growth. If you go to a 'foodie' restaurant their wine list won't have Kendall-Jackson, or Coors, but the bar is still stocked with big brand booze. It is great to taste regional expression and see people explore historic and foreign spirit categories, making them available to the US by distilling them locally.
The struggles are very real though. There are not enough trained distillers, and it is a trade that takes a very long time to learn. There is a lot of rushed aging on spirits as small producers push to market and they can lack finesse and taste rough causing some pushback on the image of craft. Distilling is all about delayed gratification and that is a skill a lot of new distillers still need to develop.
BR More and more women are being recognized in their role as distillers (even though they've been doing it for centuries!). Why do you think it has typically been seen as a man's job and what characteristics to women bring to distilling that sets them apart?
MC Visibility of women's work is gaining traction culturally, and with that a realization and growing awareness of women's indispensable work as brewers and distillers throughout history. I think the more we encourage, by increasing visibility, the idea that everyone is welcome to be a distiller the more likely we will end up having the best distillers drawn to the field.  By sending exclusionary imagery out in the world we subconsciously discourage certain groups from aspiring to be distillers, it's a real shame.
BR Who has been your biggest influence in the industry and why?
MC I have to say three people – Todd Leopold, Jake Norris and Hubert Germain-Robin. Todd and Jake took me seriously from day one and gave me the confidence to feel like I could actually become a distiller. They still answer my stressed out phone calls, giving me advice and tips and continue to encourage me all the time, giving me fresh energy to push myself harder. Hubert never let me give up and was the person who found Privateer for me. By working with his spirits I inherited his passion for excellence, attention to detail, and push for best practices no matter what. That experience keeps quality very high at Privateer.
BR What advice would you give up-and-coming distillers?
MC Seeing a lot of them and taking them all in helps you find your own style.
BR What is your favorite part of the process in making spirits?
MC The pace. It's very slow, steady and meditative. It's hard, you sweat, and you wait – sounds really frustrating, but at the same time it is deeply enjoyable.
BR What is your dream spirits or wine trip and why?
MC The islands of Greece. It is so beautiful and the way they train their vines (trained up to be a basket that holds the grapes) is one of a kind. I wish I could escape to Santorini for a few months!
BR You have been studying for your Masters of Wine. How do you view the world of wine in relation to making spirits as some might see the categories as being very different?
MC The Masters of Wine Program requires a comprehensive knowledge of vineyards, winemaking, bottling, marketing, distribution, and current events. It includes essay writing and blind tasting. When we taste we need to determine quality, winemaking and origin. I just passed my first year assessment, so I just began my second year. I will need to pass a four-day rigorous exam and then write a research paper. If all goes to plan I should complete it in 2O17. Fingers crossed!
BR Is there an aspect to the art of distilling that you are questioning from a scientific perspective, i.e. an experimental area you are playing around with?
MC There is some research being done on microbs in barrel warehouses and the possible contribution of their activity to flavor. I'm following closely, it's fascinating.
BR How important is the concept of terroir in what you do (and in the industry in general)?
MC Terroir is huge, especially in terms of aging spirits. Alcohol is a solvent, it absorbs anything it comes into contact with. The higher the alcohol the truer this is. As our barrels of rum age they absorbs the salt marsh air, the fresh pungent ocean mists our rainstorms bring, and develop richness from our hot humid summers and elegance from our cool dry winters. We couldn't be located in a better place.
BR Favorite cocktail? Favorite wine?
MC I love a good classic daiquiri with fresh juice. I think it is the best way to get to know a bartender. Everything is so exposed in that drink, especially personal style and skill. I love Northern Rhone Syrah. They are so powerful and delicate at the same time. I get most of my pleasure from nosing them. I will nose them so intently it takes me an hour just to drink a glass.
BR Where are your favorite bars/restaurants to hang out and why?
MC I frequent Salt Rum Bar in Ipswich most often. It's my home bar, there is even a 'distillers corner' at the bar where I typically sit. The drinks and food are incredible and it's priced ridiculously well for the high quality, so I go at least once a week. I enjoy The Bancroft, it is top quality through and through. I go to Sichuan Garden in Woburn and Barrel House in Beverly when I am looking for something mellow.
BR Any brewers/distillers/winemakers you think are poised to become big or are doing amazing things?
MC I know the son of the owner of Cider Hill Farms is hoping to open a hard cider business. He has worked as a brewer before and he is really talented. I am waiting rather impatiently for that project.
I absolutely adore Notch Brewing. They are about to open a new brewery in Salem and I can't wait! I am exposed to alcohol all day so their session beers (around 4% ABV) are perfect for enjoying without feeling like I'm going to drown in my booze. It takes real skill to brew beer like that, too. It requires a really talented hand and high quality ingredients to have such elegant, balanced beer at that low alcohol. If they were to mess up in brewing there would be no hiding it.