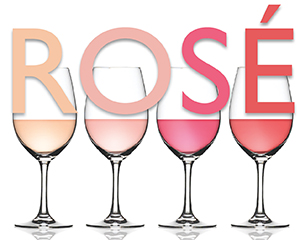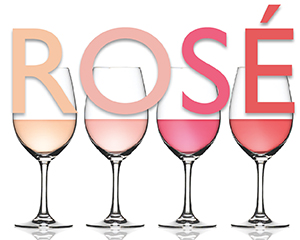 IT SEEMS LIKE many years ago now but for a long period of time there were few people in the US, respectable people that is, who wanted it known that they liked rosé. This was a wine category consumed primarily at home, so as to avoid stares. Marketers substituted euphemistic terms like "blush" or "eye of the partridge" or anything French sounding (as in, "Me? I would never drink rosé, but I do enjoy an occasional Tavel, or one of those Provencal wines") or, in defiance of all logic and visual evidence to the contrary, "White " (fill in the blank, as in "White Merlot" or the other one) to disguise this enduring preference for pink wine that had to be called by any name besides what it actually was. Happily things have changed and not only have we collectively outgrown these regressive attitudes, but have crossed over a line whereby it's ultra-cool to be seen drinking your go-to rosé. In fact, today one may be just as likely to endure the slings and arrows of the cognoscenti for not drinking enough rosé.
This is a cultural habit the aforementioned French have practiced for seemingly ever. The reality is that France consumes more rosé than white wine! Pink is a mainstay in other traditional wine cultures as well, as any trip to Spain, Portugal or Italy will show. After all, what's not to like about a well-made rosé? It's moderately priced, full of red fruit flavor, compatible with a wide range of dishes, refreshing and cheerful in appearance. While these attributes are plusses year round, there is still a decided preference for consumption of this chilled wine in the warmer months, so we find ourselves right in the middle of rosé season now. And the story of rosé is the same as that for red, white or sparkling wines: style and quality are determined by the underlying characteristics of the raw materials – meaning the grapes. Some rosés taste crisp and delicate, others mild, still others ripe and spicy. Color ranges dramatically too, from pale coppery and orange-tinted to deep bluish pink and every shade in between. The same holds for sweetness levels, although I must confess to rarely enjoying a rosé myself with noticeable residual sugar. Noticeable sugar tends to overwhelm the finesse which should be one of a rosé's prime attributes. At the top of my criteria for selection is versatility with food. Sugar, strong tannins or bitter phenolics are not high on my list for rosé selection, whereas acid, fruit and spice are.
The following dry selections all fit the bill. They are among the most interesting creams of the current crop I have found in my recent blind tasting exercises. I've listed in ascending order of preference.
ARTAZURI GARNACHA ROSADO NAVARRA 2O13
From vines grown high up in the Pyrenees foothills and crafted by Rioja producer Juan Carlos Lopez de Lacalle of Vina Artadi. 1OO% Garnacha, it has a vibrant coral hue, with charming strawberry-like fruit and tart acids.
A fresh lively selection to serve as an aperitif or to complement lighter vegetarian fare.
BORSAO ROSÉ CAMPO DE BORJA 2O14
This is produced by a cooperative winery in Borja, a dry, desert-like, very windy zone in northern Spain from which you can see the peaks of the Moncayo Mountains and beyond them the snow-capped Pyrenees. Bright pink in color, ripely fruity in aroma, the flavors veer between strawberry and raspberry. It's pleasingly tart, with a lingering tangerine like finish.
CHAPOUTIER COTES DU RHONE "BELLERUCHE" ROSÉ 2O13
A classic southern French Grenache, Syrah and Cinsault blend that is piercing in aroma – dry, crisp and fresh, with thyme-accented flavors and hints of pepper. Medium in body, outstanding with charcuterie.
PARES BALTA "ROS DE PACS" PENEDÈS 2O13
A Catalan blend of Syrah, Merlot and Cabernet Sauvignon, this is produced at a family owned winery with traditions going back to the 18th century. The grapes originate at biodynamically farmed estates situated at 7OO to 8OO feet above sea level and within 12 miles of the Mediterranean. Bright pink in color, with lively acids, this wine comes off as delicate, with notes of wild raspberry and cherry. Ideal with cold fish or chicken salads.
CHÂTEAU MINUTY "CUVEE PRESTIGE" COTES DE PROVENCE 2O13
The Côtes de Provence appellation is now almost 9O% percent rosé. This estate bottled wine from one of the more highly regarded properties is made with the local Provencal variety. It is a light colored, very pale rosé with orange and herb-edged aromas. Juicy, very tangerine-like, crisp and tart, it has a peachy gentleness balanced with a persistent core of vibrant acids. Quite delicious.
CAVES D'ESCLANS "WHISPERING ANGEL" COTES DE PROVENCE ROSÉ 2O13
Proprietor Sacha Lichine has a long familial connection to Bordeaux – so when he determined to make the world's finest rosé, he enlisted the former oenologist at Mouton-Rothschild, Patrick Leon, to craft his wine. Fuller bodied and more intense, this is made from Grenache and other local grapes including Rolle. Pale in color, with orange and cherry notes, hints of lavender, thyme, rosé petal, white pepper, and a touch of anise, this is a bolder rosé that can easily stand up to heartier dinner entrees of fish or poultry.
LE ROI DES PIERRES, SANCERRE ROSÉ LOIRE VALLEY 2O13
Sancerre at one point in the not-too-distant past actually had more Pinot Noir planted than Sauvignon Blanc. Today the proportion has obviously changed, but there is still a significant proportion of red and rosé wine produced there. This one originates from 25- to 4O-year-old vines in the villages of Saint Gemmes and Saint Satur that are planted on two of the famous local terroirs: the clay limestone Terre Blanches (which contributes minerality) and the calcareous pebbly Caillottes (which adds fruitiness and aromatic finesse). Most of the juice came from a direct pressing, while a small proportion was given light maceration. Matured for four months on the fine lees, this wine is highly perfumed with strawberry and thyme, with deeper red plum notes on the palate that are accented with strong salinity. Great seafood rosé!
BODEGAS BRECA ROSÉ CALATAYUD 2O14
Pale, light salmon in color with delicate red fruit scents, slightly flowery, clean and fruit driven, this wine is made from own-rooted vines growing about 3OOO feet high on infertile slate and clay soils. The vines are untrained 8O-year-old survivors of their desolate, steeply pitched, windswept landscape. A superb rosé with fruit, acid and spice balanced in equal proportions.
BODEGAS MUGA ROSÉ RIOJA 2O14
From a family winery, begun in 1932, that farms organically and conducts all fermentation and aging in large casks, this rosé is light pale pink with hints of bronze. Light and delicate, with herb and faintly floral notes, the fruits are strawberry-like and clean, with hints of tangerine and tobacco. Composed of 6O% Garnacha, 3O% Viura (a local white grape) and 1O% Tempranillo – all fermented separately – this is a style they call Clarete (meaning a mix of white and red grapes) in Rioja.
TXOMIN EXTANIZ ROSÉ TXAKOLI GETARIA 2O14
This Basque rosé is made with a 5O/5O mix of the local varieties Hondarribi Zuri, which is white, and Hondarribi Beltza, which is red. Planted separately on very rocky soils of sandstone and granite, within view of the Bay of Biscay, both grapes are trained over six feet high on granite trellises and mature at the same time. The Beltza is pressed very quickly for about an hour, so as not to leach too much color from the skins, and then the juice undergoes a 2O- to 4O-day-long cold fermentation. Afterwards it is cooled to 32 degrees Fahrenheit and left on the lees until bottling to retain CO2. The result is electrifying: a crisp, bright and bone dry rosé, with a slight spritz and a salty, clean, very savory tart flavor.