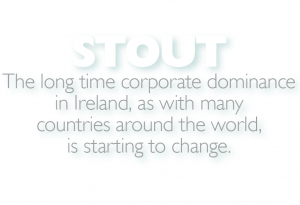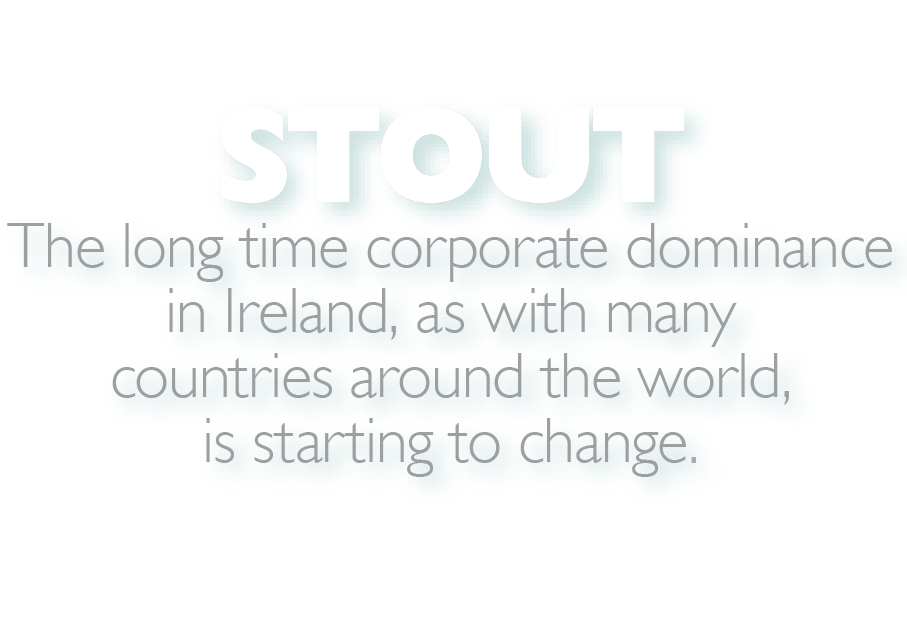 AROUND St. Patrick's Day, one of the Holy Grails of beer sales holidays in the United States, thoughts turn to Ireland and beer.
In writing about Irish beers over the last decade, the story used to be that brewing was a dying trade. The modern day story has long been dominated by the shadow, reach and control of the nation's large brewing concerns. These include drinks behemoths Heinken International, which owns Murphy's Irish Stout and Beamish, and of course Diageo, which owns Guinness, Harp, Kilkenny, and Smithwick's. The long time corporate dominance in Ireland, as with many countries around the world, is starting to change. As American craft brewing and its principles have traveled beyond its shores, a revitalization of small breweries has occurred from Tokyo to Toronto. Ireland has seen a several fold increase in the number of small breweries operating within its confines in the past five years. These breweries, however, remain very small, have limited production and even smaller geographic distribution.
In planning for St. Patrick's Day sales, Guinness, Harp and Murphy's are likely to be the biggest sellers for consumers who are looking for a connection, however tenuous, to the Emerald Isle. For its part, Guinness has attempted to expand its product line in the United States beyond its classic Dry Irish Stout. In March 2O1O, Guinness began test marketing Guinness Black Lager in select world markets.
As part of the company's 2O11 product rollout in the United States, Guinness sponsored a multi-state press tour. During the Boston stop, brewmaster Fergal Murray talked to me for this magazine about the development of new products. "That process was started at our pilot brewery, which is our innovation center at St. Jame's Gate," he said. "And so we refined the lager process there. That is where we worked out all the protocols and mash times and fermentation. Then you bring that to the brewery and everything gets adjusted again. We then go through lager process A, B then C, and test which one gives us the best. The number of brewing trials is phenomenal, it just doesn't happen overnight. We may have done two hundred different brews to get the right result."
Despite the company's bullish feelings towards Black Lager, it faced challenges in the competitive American marketplace.
By 2O14, Guinness was ready to try the new product game again, this time with the release of Guinness Blonde American Lager.
Made in Latrobe, Pennsylvania – home of Rolling Rock as almost any beer drinker would likely recall – the Blonde American Lager was the first release in the new Guinness Discovery Series. The series, according to the brewery, is an attempt to fuse the brewery's more than 255 years of European brewing expertise with the global brewing experience of its breweries in 55 countries.
It is yet to be seen what Guinness will try next with the series. Sales of Guinness products are down three percent in off-premise channels according to scan data and shipments are down more than 1O percent overall.
This St. Patrick's Day, let's take a look at our own breweries for some seasonal suggestions and Irish-related styles.
In its earliest form, the stout designation simply signified a stronger than average beer and was even applied to pale beers. As the style developed in Britain and then Ireland, including the early version by Arthur Guinness' brewery, stout came to be known as a stronger version of brown porter. Despite its foreboding appearance, opaque and dark with a sizable, sustained creamy head, modern incarnations of stout are the polar opposite of heavy beers. Mild in calories but long on flavor, Irish style Dry Stouts remain surprisingly approachable. With a light to medium body, these stouts have a light carbonation when served from the bottle or take on an airy, creamy consistency if served from a nitrogen tap system. The dry moniker of this deceptively low alcohol beer is apt as a distinct yet reserved bitterness imparted by roasted barley dominates the malt bill and gives off coffee and dark chocolate notes. As is their habit, American versions of the classic style tend to possess a hoppier touch and sometimes bear closer resemblance to the porter style.
WHILE HOPPY STYLES, such as IPA, remain all the rage, stouts still command great loyalty from fans of the style. THIS SMALL selection of locally brewed stouts will please your dedicated stout customers.
CADILLAC MOUNTAIN
Bar Harbor Brewing Company
Bar harbor, Maine
7% ABV
From the basement of their Bar Harbor home, Tod and Suzi Foster started a little brewery that influenced the next generation of Maine brewers. While living in California, the couple sat front row center for the early days of microbrewing. Tod took up homebrewing while a student at UC-Santa Barbara and the Foster's traveled throughout the state visiting the new breweries as they opened. After moving to Suzi's hometown of Bar Harbor, Tod kicked around the idea of opening his own place. He knew Bar Harbor had a huge tourist industry and that anything with the town's name stenciled on it sold quickly as souvenirs. Tod discussed the idea with his wife so often that one day she just looked at him and asked him whether he was actually going to do anything about it. What Tod wanted was to run a very small operation, called a cottage brewery, where he would handle the brewing and his wife would run the business.
The Cadillac Mountain Stout was one of the first beers in New England to be considered a cult classic. The beer, which was part extract and part all grain – a real rarity in the world of craft beer – developed a huge following in the late 199Os and early 2OOOs. Born from an old homebrewing recipe formulated by Charlie Papazian, the founder of the Great American Beer Festival and current president of the Brewers Association, Foster used an unusual mix of one-third extract and two-thirds mash to create this stout's distinctive creamy flavor. The resulting beer was very layered and possessed great complexity, mixing a mild sweetness, light caramel and chocolate flavors, and hints of roasted malt.
While Bar Harbor grew in reputation, its distribution and production remained highly constricted. Tod watched as many other small brewers extended beyond their means, purchasing expensive, oversized systems and expanding distribution to untenable lengths. Due to the seasonality of Bar Harbor's tourist industry, Tod also limited his brewing in the winter.
The beer is now made at the Atlantic Brewing Company in Bar Harbor. While the flavor has changed from the days of Bar Harbor Brewing, it remains a very enjoyable take on the style, which a slightly elevated alcohol level from Dry Irish Stout examples.
BLACK FLY
Gritty McDuff's Brewing Company
Portland, Maine
4.1O% ABV
From its popular Fore Street location, just steps from the cobblestone streets of Portland's historic Old Port district, Gritty McDuff's brewpub is a mainstay in Maine brewing. When it opened in 1988, Gritty's became the state's first brewpub since Prohibition and an early pioneer in its craft brewing movement.
The idea for Gritty's was born during a trip to Hawaii by co-owner Richard Pfeffer. While basking in the glow of Waikiki, Pfeffer got to discussing his dreams with a fellow traveler. When the young American Pfeffer spoke of his desire to open a pub, the Australian, whose name has long since been forgotten, suggested that he open a brewpub. The concept was entirely foreign to the 22-year-old soon-to-be stockbroker. After a brief stint working in finance, Pfeffer turned his attention back to the brewpub idea.
With the help of three friends, two of which would depart the operation shortly after it opened, Pfeffer took the first steps towards securing capital. One of Pfeffer's partners, his college friend Ed Stebbins, talked his grandmother into lending him the money. With her dowry tightly in hand, the novice entrepreneurs leased a prime downtown location and purchased a Peter Austin brewing system from Alan Pugsley. So at 23- and 25-years of age, respectively, Pfeffer and Stebbins embarked on an exciting new project that put them out in front of a sweeping movement soon to follow.
Gritty's is warm and welcoming, spread over two levels. In bad weather, the pub invites you to come in and sample one of its flagship brands – the classic Black Fly Stout. The beer is deep black with a substantial off-white head and smells of chocolate, mild roasted coffee and a touch of chalk. The beer, often poured via nitro, is smooth, creamy and satisfying, with mild roasted malts balancing out against occasional fruit hints, and a slightly bitter finish.
BLUE FIN
Shipyard Brewing Company
Portland, Maine
4.7% ABV
When a young Alan Pugsley went to work for the Ringwood Brewery in Hampshire, England, he had no idea it was the first step on a long journey that would end across the Atlantic. As a young employee, Pugsley befriended the owner, a master brewer named Peter Austin. In the late 197Os, when Britain's larger breweries started to abandon cask-conditioned ales, Austin busied himself setting up his new Ringwood venture. Slowly, other brewers started contacting Austin for help with their own real ale breweries.
Austin relied heavily on his young protégé Pugsley, who he sent across the country to set up new locations for his eager customers.
When Austin sent Puglsey to America to help open the Geary's Brewing Company in Portland, Maine, he helped shape the face of New England brewing for nearly two decades to come. At a time when there were slightly more than a dozen craft breweries operating in America, Pugsley worked with Geary under a two-year agreement. Pugsley set up a Peter Austin brewhouse and designed Geary's first beer. More importantly, Pugsley brought with him the yeast strain that would make him famous, or infamous depending on who you speak to, in New England brewing circles.
Shipyard began in 1992 at Federal Jack's Restaurant and Brew Pub in Kennebunk, which is one of Maine's original brew pubs and working breweries. The Kennebunkport Brewing Company is located downstairs and is where Shipyard ales were first brewed. Within two years, demand for Shipyard beer outpaced the small operation and, in 1994, Forsley and Pugsley opened the Shipyard Brewing Company in Portland to keep up with orders for their freshly brewed, hand-crafted ales.
The Ringwood strain of yeast, which Pugsley helped introduce to the United States craft brewing scene, is a workhouse of a strain. It ferments, flocculates and attenuates very quickly. Unlike other yeast strains, which brewers use a limited number of times before discarding and starting with a new batch, the Ringwood strains presently in action are derived from an original strain dating back more than 15O years. Critics often charge that "Ringwood beers; are one-dimensional products loaded with buttery, diacetyl notes that overpower the contributions of other ingredients." Pugsley has long shrugged off such comments.
His Blue Fin Stout is a beer that has largely escaped the influence of the Ringwood strain, pouring with an opaque black hue and a sizable foamy head. Aromas of dark roasted malt dominate, mixed in with some minor cocoa and dark fruit hints. The flavor again picks up with dark roasted malt notes, with some balancing bitterness and carbonation bite.