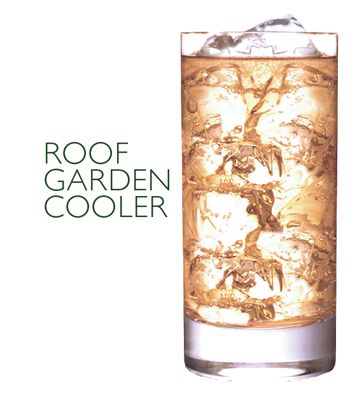 ENDANGERED COCKTAILS: ROOF GARDEN COOLER
Summer will be upon us in Boston with high temperatures and humidity to match. For those days when it feels too swampy to even move, we suggest lounging about with a Roof Garden Cooler in hand. The drink, which comes to us by way of David Wondrich's Killer Cocktails, is a forgotten classic that once functioned as a sort of air conditioning for well-heeled guests at the rooftop garden at the tony Waldorf Hotel.
fun fact Opened in 1893 on the former site of owner William Waldorf Astor's mansion, the grand luxury hotel once stood where the Empire State building resides. It was the first hotel of its kind, lavishly appointed with electricity throughout, private bathrooms en suite in most rooms, and offering "room service" for the first time in history. New York had never seen such opulence. Four years later, cousin John Jacob Astor erected the Astoria hotel right next door, which was something of a Waldorf 2.O. Seventeen stories tall, it featured the first indoor driveway in hotel history, and a grand 15OO-seat ballroom.
Together, the Waldorf Astoria (as it became known) helped transform the hotel from a way station for transient travelers into a cosmopolitan epicenter. It also helped advance the status of women, who could be admitted without the company of an escort. Louise Kehrer Boldt, the wife of founding proprietor George C. Boldt, was influential in this regard, and sought to make the hotel a popular social destination for women and an important part of the urban social landscape.
Here's to Louise and old New York.
ROOF GARDEN COOLER
2 ounces dry vermouth
1 ounce lime juice
½ teaspoon superfine sugar
1 dash Angostura bitters
combine in a glass.
stir to dissolve sugar.
add 4 to 5 ice cubes.
top with ginger ale.
Cin Cin!