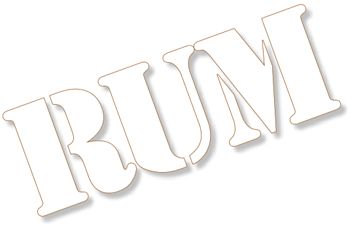 Today, rum seems as ubiquitous as beer, as complicated and as broad sweeping as wine, as mixable as gin, and as sippable as a fine cognac. That was sudden, some say.
Not really!
Let's not forget the important role rum has played in international commerce for centuries, let alone
in politics, especially locally. After all, when the colonists were planning what's now known as the Boston Tea Party – at the Chase and Speakman Distillery, which stood on Washington Street, they planned it over rum punch, according to noted cocktail historian David Wondrich.
But back to the future.
With more and more brands coming to the fore in a category dominated by titans and competing at a time when consumers are not necessarily lavish with their spending, we're seeing a number of different strategies put into effect. Education is key, as is reaching out directly to the bartending community. Other brands are positioning themselves as sipping spirits in league with the world's most noted whiskies or brandies, and others still are finding online engagement the most effective tactic. Given that rum is flowing in from all over the Caribbean and beyond: there's rum from Latin America and from India, there's rum from Nantucket and from the Berkshires, it's little wonder we're seeing rums promoted and used in a variety of ways. But whether it's an aged premium rum, a stalwart value brand or a small batch rum crafted by a local distiller, and whether we're talking about the beach-bag-toting crew, the upscale urban tippler, or the sports bar crowds, all signs point the same way: rum is having its day in the sun.
RUM ASCENDING
Numbers don't lie, and the numbers, quite literally, have spoken volumes about rum over the past year. While overall the growth rate of consumption was modest: 1.6% to 25 million 9-liter cases, according to the DISCUS, growth for individual brands was significant. Daniel Deephouse, Brand Manager of William Grant & Sons' Sailor Jerry Spiced Rum, which earned a Fast Track Growth Brand nod from Beverage Information Group this past year, said Sailor Jerry has been moving along at a steady clip with double digit growth. In the 52 weeks ending September 2O1O, it grew 28%. Deephouse breaks it down and said that the spiced rum sector grew by 3.6%. "Traditionally, the whole spiced rum category was just one brand. We're pulling customers from different bases," said Deephouse. "A lot of people drink it neat or over ice, and it goes well with cocktails, it's extremely mixable, as it's very versatile. It's seeing great growth."
The titan Bacardi is coming up on a landmark year with the 15Oth birthday of Bacardi Superior in 2O12. According to Chris Lee, Field Marketing Manager for Bacardi USA, there are 5.4 million cases of Bacardi Superior sold annually, 157,OOO of which are in Massachusetts, making the Bay State number 7 for the brand and demonstrating the importance of scale, said Lee, who also noted that Bacardi & Coke continues to be the "number one selling cocktail in the world." Boston, of course, is a big driver for Massachusetts sales. Bacardi Gold, meanwhile, does 1.198 million cases and 24,OOO cases in Massachusetts.
Pyrat continues to grow around the country, and particularly in Massachusetts, according to Matt Caroll, Chief Marketing Officer at Patron Spirits International. "Year-to-date, Pyrat is up 44% in the state," he said at the end of November. "High-end spirits, in most categories, are showing promising growth this year as consumers are going out more and spending again. As one of the top spirits in the ultra-premium rum category, Pyrat is well-positioned to capture trade-up among rum (and other white spirits) consumers."
Appleton Rum had an
excellent run over the
past year, according to
Jo-Ann Craner, Senior Brand
Manager for Appleton Estate
Jamaica Rums, with its focus
on the brand's higher end
marques, Appleton Estate
Reserve and Appleton 12 Year
Old. Regarding the premium
end she notes that sales are up
saying, "The most important
thing is when you look at
Reserve and 12 Year, business
is driven by quality distribution
in on-premise accounts that
are very much into not just
making a drink, they're looking
to make a cocktail with rich,
complex, flavorful rums." She further explained,
"We see growth coming from
the on-premise market, but
that's really about establishing
a consumer franchise and
reinforcing positioning.
Restaurants interested in
luxury cocktails help set
trends, and offer exposure
to a certain consumer who'll
go to the store and is willing
to spend money." There's a
"strong value" to that, she said,
especially in combination with
social media and ad campaigns,
which included a lively "station
domination" of Boston's South
Station with giant posters
in late summer, generating "great brandawareness" she said.
"Rum is the third largest category behind vodka and whisky and we performed well over the last five years," said Mark Breene, President of rum at Diageo. "It was a little slow over the last five years, but the rum market is growing and Captain Morgan is outperforming it – we're continuing to gain share. Things are looking good – on-premise has plateaued, but it's nudging into growth. Off-premise, we see rum continue to do well. With all the new entrants into category, the market is growing at 1.6%, and we're outperforming that."
"Up the east coast, it's encouraging to see an increase in liter size sales," said Malcolm Gosling, President and CEO of Gosling-Castle Partners, Inc. "It's an indication that the brand is doing well on-premise. It's still strong in Massachusetts off-premise, we get tremendous support from retailers, and it's great to see it becoming a mainstay on the back bar in quality establishments. Overall growth is well ahead percentage-wise in the category and Massachusetts in particular has shown strong growth." He also noted an increase in distribution on the west coast and attributes this to a number of factors: the popularity of the Gosling's branded Dark 'n Stormy, the versatility of rum and the petering out of seasonality. Because of the willingness to accept rum as a winter sipper, he's been able to play up the aged Family Reserve Old Rum marque, which is hand-labeled, hand-numbered and bottled once a year. Each batch yields about 4OOO 6-bottle cases. In the state, it's been available on-premise at Blue Ginger, Post 39O and TPC Boston, the Norton golf club.
"We've been able to drive home the uniqueness of the Family Reserve Old Rum, which carried the slogan 'Unavailable almost everywhere'. We play up the heritage and emphasize handcrafted, family-owned and award-winning," he said. "It's very limited. It's the same blend that makes up Black Seal, where the rums are aged independently then blended. Then when we have that, we put it in bourbon barrels. It had been sold out of barrels for years and was an experiment, just a small amount we laid down. The youngest distillate was 16-years-old and it took on entirely new characteristics."
WHAT'S NEW
The rum shelves have gotten more crowded in the last few months, and there are even more entrants getting ready for a debut on the national market. At the beginning of November, Banks 5 Island Rum arrived in the Massachusetts market and it's being carried by United. It's a white rum that combines more than 2O rums from five regions and fetches about $3O.
"There's a provincial understanding of estate distilled rum, it's a challenge we face. With Banks, we have a legitimate, compelling case for a multi-category rum," said Jim Meehan, a senior advisor on the product who's also General Manager at renowned cocktail bar PDT in New York. "And now that rum is thought of more seriously, there's more room for education. There's no way to compete with other whites. It's the only rum of its style." Banks is overseen by a company in Singapore, blended in Holland, bottled in Paris, and aged between Holland and Liverpool.
Sheila Senhouse, Brand Manager for Pernod Ricard's Malibu Rum, said they're preparing for a new product launch in May, but that's all she'd reveal. Meantime, the brand is still busy promoting the new Malibu Cocktail line, which arrived in July in flexible 1.75 liter plastic pouches with easy-to-pour nozzles. They're sold in three flavors: Caribbean Cosmo, Rum Punch and Tropical Mojito.
Another entrant in the ready-to-serve segment is Gosling's Rum Swizzle, available in 1.75 liter packages and launched just before Labor Day with thorough distribution throughout retail in the region. Malcolm Gosling explained the Swizzle is the second national drink of Bermuda, and the formula they're selling is a variation on what's been sold in Bermuda for years, using both the Gosling's Black seal and Gosling's Gold, blended with grenadine, pineapple and orange juices. It's building off the Gosling's Ginger Beer, which was released in June 2OO9 and, Gosling says, is doing "extremely well".
According to Lee of Bacardi, the flavored rum business is "way up" (12% over 2OO9 to date in November, to be precise). That made 2O1O an ideal time for the launch of two new Bacardi flavors: Torched Cherry (which arrived last April) and the newer Rock Coconut, which hit shelves in November. As Lee tells it, they're unique not only for the flavor combinations – torched aloe blended with Barbados cherry and rock melon fused with coconut water (a "huge consumer trend at this time," he says of coconut water) – but for the infusion process used to achieve the flavors. "There are some melon rums that exist, and some coconut rums that exist, but this is an infusion that consumers don't already have," said Lee, who said the company projects to sell 35OO cases of Rock Coconut in the Boston market by the end of the fiscal year in March.
Retailers may have noticed something new coming into the store from the generally unchanging Sailor Jerry. In honor of the 1OOth birthday of the rum's namesake tattoo artist this year, who passed away in 1973, three limited edition bottles have been released to the off-premise. They portray some of his signature tattoo designs, explained Daniel Deephouse, namely the bald eagle for patriot and strength, two mermaids and a flag, a symbol of the perpetual traveler, and swallows, the birds that sailors always kept a lookout for. "Since it's Sailor Jerry's hundredth birthday, we're doing a lot of activity around that this year," said Deephouse.
There's something new on a different side of the rum front in the state: Burke Distributing has been seriously ramping up its spirits portfolio since bringing on Dave Catania as Spirits Category Manager in June. He's been developing a full range of rum products (along with other spirits) in the fast-expanding portfolio, and not only has he brought on a variety of rums age-wise and price-wise, he has a top-notch cachaça (Germana Cachaça), several cordials (Castries Peanut Rum Crème and El Dorado Rum Cream) and an overproof (El Dorado 151).
"The idea is to make the products in the portfolio exceptional values. With a small portfolio, we cover every need for rum, starting with Pride & Clarke for affordable, pouring spirits, which is really well received for being brand new. It's the fastest growing brand of pouring spirits in the US. Burke is building on the success it had with Brimley's line of flavored rums –mango, coconut, coffee, vanilla, lime. We've really done well with Shipwrecked Spiced 4-year-old, which scored 9O point from the Beverage Tasting Institute."
Burke carries Chairman's Reserve, a blend of 13 rums from St. Lucia, and since Cantania started, he's brought on El Dorado White, Dark and Gold and its aged line 3-, 5-, 8-, 12-, 15-, and 21-year-olds). Made in Guayana since 167O, the facility is home to the world's oldest and only operating wooden column still. El Dorado owns the trademark on the term "Demerara".
WHEN RUM'S IN THE GAME
This is always one of the more fun segments of this feature to research and write and, hopefully, in turn for you to read, as presumably it gives you insight (if not advance warning), on what "type" of person might be wandering into your establishment inquiring about a particular rum. It's interesting to see the factors that play into the decisions that brands make when it comes to partnering with lifestyle companies, cultural events or sports, as these alliances pretty much guarantee their brand name reaches a targeted demographic.
Gosling's continues to build on its long-held relationship with the yachting community, said Malcolm Gosling, gearing a good deal of its activity toward being the national rum and sponsoring parties at major events around the world, like the Newport to Bermuda race, Marblehead to Halifax, Marion to Bermuda, and the Essex Rum Challenge, to name just a few. Gosling's is also actively involved in the golfing world, serving as the official rum of the several PGA tournaments throughout the year including the Deutsche Bank Championship.
Gosling's was also the official rum of the Boston Red Sox this past season and "We're looking forward to seeing that continue," said Gosling. The Fenway executive space was christened the "Dark 'n Stormy Board Room" and featured various Gosling's cocktails. It worked particularly well because the Bermuda Department of Tourism had its own sponsorship during the baseball season that afforded the two co-sponsorship opportunities around golf, yachting and community events.
Speaking of professional sports, Captain Morgan regularly appears at baseball stadiums. The black bearded mascot threw out the first pitch at 15 different baseball stadiums and made a cameo at the NHL's Winter Classic. "We like him to be involved in many different sports. He's doing great stuff with the Bruins – he's riding in on the zamboni," said Breene. Diageo is working on a different scale with its other brand. In efforts to ally the brand with high end dining, Zacapa has been working on chef-driven initiatives, explained Breene. One of the newer programs of note has been a big promotion with Vail resorts in Colorado, wherein celebrity chefs design meals to pair with Zacapa at high profile events.
Sailor Jerry Spiced Rum is one brand that pulls out all the stops when it comes to partnering with all kinds of festivals and programs. Given the brand's growth, that hasn't been hard to tap. "Customers are coming from other arenas," said Deephouse, and music has proven one of the most useful realms through which to draw them, what with the countless festivals that present opportunities and the music industry's DIY ethos. "There are over 15O indie rock bands we've worked with. We do CDs – it's friends helping friends," he explained, adding that the brand is involved in rooftop film festivals, South-by-Southwest and Coachella, and it did a sponsorship of RiotFest in Chicago. It also held a clambake for industry folks in Boston. Other multimedia projects have emerged as well, like a music-related calendar, and the brand helped in the production and promotion of "Hori Smoku", a feature film about the life and times of Sailor Jerry.
Bacardi Gold is the official marketing sponsor of the NBA (the total franchise not just the Celtics, though the brand does a lot of work with the Boston team). "That comes with media, TV and all that's ongoing, not just media overlay, also on- and off-premise overlay, so we're bringing them to the consumer where the brand is served," specified Lee. Bacardi has recently activated a program in the region that was the brainchild of Bert Saville, Field Marketing Manager for Horizon Beverage and the New England expert. Uniting the popularity of television dance programs with the basketball partnership, Saville has worked with Celtics dancers to create a Bacardi dance program featuring a team of dancers who appear at events when the venue is suitable, talk to the trademark and get consumers excited about the brand.

RUM GOES LIVE ONLINE
More and more brands are making efforts to distinguish themselves online as a way to maintain their visibility to relevant demographics. And brands are seeing the interactive factor pay off.
"Customers are constantly putting new suggestions on Facebook about how they're drinking Captain," said Breene. He said television continues to be a main investment, but Diageo is doing much more in the digital space as consumers spend more time online. Case in point: they've launched a drive to get one million people doing the "Captain Pose" on the Captain Morgan Facebook page, and for every picture that's posted, the brand donates $1 to a responsible drinking charity. To aid the effort, they've enlisted Victoria's Secret model Marisa Miller as the "Captain's first mate".
For Diageo's more premium Zacapa, the focus is still on print advertisements, and simply getting the product to customers' lips. "It's all about getting people to sample it. The bulk of money is put into making sure we're at appropriate events to get them samples," said Breene, adding that they've put resources into the website, media trips to Guatemala and bartender education events.
Gosling said for his rum, it's important to support the brand with print ads in niche publications like golf (and the website, golf.com), because of the strong partnership with the tournaments. And more than ever, the brand is staying current with social media – Twitter, Facebook and there's a Gosling's YouTube channel. "It's a great tool for us – staff trainings are so important as we grow and get into more national and international chain accounts," said Gosling, noting that the "Meet Your Maker" series on YouTube serves as a training tool for teaching people how to make drinks like the Dark 'n Stormy, as it features Gosling himself making the drink (blindfolded, to boot) for when he can't get to a new account right away to train people directly.
The success of Bacardi Gold hasn't happened by acting passively. The company invests heavily behind it, and updating the new media campaign behind the iconic brand is no small part of the coming year's budget. "Our effort is to become the number one most advertised brand on Facebook, said Lee. "It's not just about the number of billboards we run, it's all about integrated impact of the new campaign, 'Bacardi Together' – using 'Bacardi' as a verb. Everyone's become very digital." With the 15Oth anniversary next year, they're revving up now with what Lee calls "experiential activity to interface with the brand." That will be enhanced with a television ad launch in the spring coupled with out-of-home.
Malibu Rum continues its fun-spirited, island-set "Radio Maliboom Boom" campaign on television, which makes a particularly strong showing in the summer. The brand is also ramping up its digital presence. According to Senhouse, they're targeting a younger drinker, the 21- to 25-year-old who "lives on line, so it's important to target them there."
GETTING SCHOOLED
When it comes to getting the word out to the masses, bartenders make the most effective teachers. Many brands continue to employ the ambassador tactic as it's a means of educating on scales both intimate and grand.
Senhouse noted that Malibu engages with the trade through such a program, but the brand's education is "not about heritage, it's about having them learn," she said. "Malibu makes an excellent mojito. Bartenders may not be clear on ways to mix outside Malibu and pineapple. We continue to engage bartenders through education."
Appleton demonstrated a
way of engaging bartenders
with its Remixology contest
organized by Manhattan-based
cocktail consults Contemporary
Cocktails. Boston was one
of several cities where the
contest was held. The winner,
John Mayer from Craigie on
Main, went on to the finals
in New York for a chance
to win a trip to Jamaica.
The competition involved
formulating a cocktail with
Appleton Estate Reserve
inspired by a song selected by
the individual and "performing"
that song. (Old-school MTV
would have had a field day with
this.) The competition was
held at Barbara Lynch's Drink
in August. "It really brought
out all this creativity," said
Craner.
Lee of Bacardi said their education focuses on "intrinsic value" of each product in the portfolio. Their "Project Belief" employs "brand master apprentices", each educated by the master distiller, to teach on tasting and using the products.
A good deal of Zacapa's activity is centered around "tutoring bartenders on taste", teaching them what makes the liquid unique, and about the solera system of aging and other aspects of production, said Breene.
Benjamin Jones, Managing Director of Clement USA and a descendent of the Clement family of Martinique, also said education has been one of the key factors in his brand's ever-increasing success (he also owns Rhum JM), since only once bartenders and consumers fully understand the rum agricole category can they appreciate and use it to its proper extent.
"We've benefitted from all the advertising that's out there already. We've done our work training key industry tastemakers – whether that's store owners or bartenders – about agricole," he said. "We've gotten the Society of Wine Educators involved, because we're talking about AOC, terroir and other words wine people know."
April Wachtel, Bar Manager at The Gallows in the South End, attests to Jones's pounding-the-pavement approach and appreciates the direct contact with a brand owner un-tethered to bigger corporate interests. "I had a conversation with him and it's great to know he's out there affecting change. He's listening to our community. It's hard to know about rum in general because across the world, it's unregulated. But he helped clarifiy things, such as the AOC of agricole in Martinique."
RAISING THE BAR AT THE BAR
Rum is nothing if not egalitarian. "This is the most educated and curious I've seen people be about rum over the years," said Wachtel of The Gallows. She has tended bar at Woodward at Ames and The Beehive in years past. "They've read about rum agricole, and they want to try it. People ask, 'What do you have for Haitian or Jamaican rums?' They figure that if there so many, there must be something about them. It has encouraged discussion." She suspects that people are also more predisposed to inquire because the rums are prominently on display, occupying an entire shelf at eye level at The Gallows, which opened in June with a broad selection that included Myer's Platinum, Sailor Jerry, Gosling's, and selections from Venezuela, Martinique, Nicaragua. She figured she'd start strong and build off that foundation.
Erik Johnson, Wine Director of the New France Restaurant Group, which includes l'Espalier and Sel de la Terre, said "We're starting to get calls for sipping rums. It's the next category people are exploring. There was the big single malt craze ten years ago, and that sparked the interest in whisky that led to the big boom in bourbon. Tequila is still on the rise, that's something people are looking for, but the next category is definitely rum."
He said rums such as Bacardi Superior Lite, Captain Morgan, Gosling's, Leblon Cachaça and Myers have long been stalwarts at each outlet and are mixed into basic drinks such as mojitos, rum and Cokes, daiquiris. "But we're also getting sipping rums for after dinner at l'Espalier, more so than in previous years," he said. "People are realizing that where you get rum from makes a difference, there are a lot of different flavor profiles." Over the past year, he added Pyrat, Rhum Clement, Rhum Barbancourt, Zacapa and Sailor Jerry at all the venues. In addition to the standard rum cocktails at Sel de la Terre, he's been having success with original cocktails as well. The Dread Pyrat Roberts, a witty nod to a character in the cult classic "The Princess Bride" is St. Elizabeth Allspice Dram, Clement spice sugar cane and apple cider, shaken and served in a martini glass and garnished with an orange twist. At l'Espalier, the Spicy Rum Smash has gone over like gangbusters since it went on the menu in October. It's a Sailor Jerry-based concoction with velvet falernum and brown sugar simple syrup seasoned with cinnamon, allspice, star anise, and madras curry. His summer rum hit, which also employed some unconventional spices, was a Martinique Rum Punch with Clement, coconut, pineapple, mango, and pink peppercorn.
As a testament to rum's versatility, witness The Trousers, a creation of Danielle Marshall's at The Gallows. As Wachtel explains it, it's spiced rum, honey, Fee Brother's bitters sprinkled with cinnamon and served in a snifter.
"Rums have gained better respect and that goes hand in hand with having quality spirits to use, good aged things, products used for sipping and cocktails," said Bob McCoy, head bartender at the new Island Creek Oyster Bar in Kenmore Square, a sister of Eastern Standard in the Hotel Commonwealth, where McCoy previously worked. "Rum's gift and curse is that it doesn't have rules and regulations to adhere to. In the past, rum producers have gotten away with making not such good products. But quality drinking is back. You can see that those trends followed." McCoy points to three buzz words that pique his guests' interest: "Market-fresh", "local" and "tiki". "On the opening cocktail list, we had Ragged Mountain Rum from Berkshire Mountain Distillers," said McCoy, explaining a drink dubbed "Puritans' Punch" that is made with that rum as its base, then mixed with honey infused with cardamom, fresh ginger and cinnamon, fresh lime and finished with nutmeg. "We're also trying to use the Ryan and Wood gin from Gloucester. Trends are toward the more quality products that are coming out. Part of rum's gift – that they're not held to constraints like whiskey. It's a fine opportunity to mix them together, and you can get something that's better than the sum of its parts."
In the tradition of Don the Beachcomber, the godfather of tiki, McCoy works with his own rum blend for his Snug Harbor Smash that employs Appleton Reserve, Barbancourt 8 year, El Dorado 3 year, and Smith and Cross navy strength rum from Haus Alpenz. That Smash is the four-rum blend mixed with crushed mint, lime and demerara syrup and served over crushed ice.
"It's got the rustic, fiery Smith and Cross, the caramel of Appleton, the grassy agricole. You can drink lots of that," he said. But on a less complicated, less labor intensive note, he said one thing that's become more apparent over the past few years cocktail-wise is an interest in substituting rum for another aged spirit, like whiskey, in classic recipes. He's using his blend as a house rum in, for instance, an Old Fashioned. "It's a gateway to tiki drinks. We can make that a house cocktail, then extend that and do a variety of cocktails."
McCoy also opened with Don Q as the house white rum, claiming that a far as he was concerned, it's closest to the original style Puerto Rican white rum. Also on his shelf is Sailor Jerry filling the spiced rum category, Appleton Estate, TK Rum Agricole and Diplomatico Reserve Exclusiva.
In Harvard Square at the Grafton Street, General Manager Kelly Sprouse said that as long as the staff is educated, that's what moves products to his largely regular crowd. "A lot of reps come in and educate and it does miracles," he said. In an attempt to stay ahead of the zeitgeist, he said that at the beginning of the summer, he changed a good part of his rum selection over to more aged rums. "For us, we're pushing higher end sipping rums, from the shelf as single malt Scotches, like Appleton 21-year-old, Pierre Ferrand's Plantation Rum from Jamaica, Montanya Rum from Colorado. There's a little something to do with being bored with other spirits, I think. It's almost like we want to give people more options. When it comes to sipping rums, people might opt for them instead of a dessert wine."
He also noted that in his bar's neighborhood, organic is a key word, so Crusoe Organic Spiced Rum, made by the Tru Vodka, does well. Cocktail-wise, Grafton keeps its focus on volume. "We're crazy-crowded, so we want easy drinks to prepare. Our cocktail list introduces people to new products, but it helps is when an employee starts talking it up. That's the most incentive," he said.
WHAT'S IN STORE
Gino Pignone, General Manager at Blanchards Wines and Spirits in West Roxbury, said he multiplied his rum selection by 4O% throughout 2O1O. "We increased the rum section, I cut back facings and added selection," he said. "We have basically a whole spectrum of people coming through the door, and there's something there for them. Chairman's is doing well, we've sold multiple cases in the last few months. And the spiced category, too, has more than doubled, with Captain Morgan 1OO Proof, Kraken Spiced Rum, Cruzan Spiced, all the spiced rums you can think of. And a lot of sipping rums and specialty items." And where flavored rums go, the category is doing well in general, but Bacardi's "Torched Cherry is on fire" he said. "While people have gotten more sophisticated in their rum choices," he says, value rums are selling just as readily as always, and, in fact, are selling year-round. He also makes the interesting observation that people will buy the smaller bottle size of premium brands instead of trading down altogether.
At Liquor World in Cambridge, Manager Joe Grotto says his rum selection has grown by about a third in the past few years, fostered by what Grotto deems a "branching out" of his clientele in the aged rum realm that's occurring in tandem with the expected movement of handles of Captain Morgan and Bacardi. He did mention that Don Q has been making a splash lately, too. For sipping rums, Barbancourt from Haiti, Brugal from the Dominican Republic, and a few smaller brands that he's picked up from Ideal (Smith & Cross, Scarlet Ibis, Ron Abuelo) are doing well, but often, that can be credited to hand-selling. Once a staff member has called attention to a brand like Brugal's Extra Viejo, which is just over $2O, people realize that given its age, it's a fine value. "Customers are more interested in trying new things. They've come to terms with rum as cocktail spirit," he said. "I don't see a lot of people moving up from white, they typically stick within a category. If someone wants to buy an ultra premium white rum for a mojito or sipping, they'll buy 1O Cane. People realize they can get good stuff for cheaper and have a knowledge of how it works in cocktails."
Jones of Clement says he sees growth trending upwards faster on-premise than off. Substituting rum agricole for other aged spirits in traditional recipes is catching on. However, off-premise always provides a great opportunity for his brand because of the "value rum brings. Here's an opportunity not to trade down in quality and to save money," he said. We're getting a lot of interest from high end tequila and small batch bourbon drinkers – people interested in flavor, and people conditioned to spending $5O for a bottle."