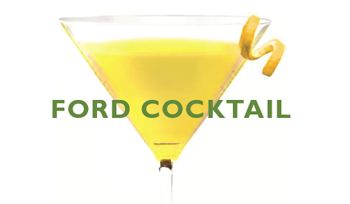 Endangerd Cocktail of the Month: Ford Cocktail
5OO YEARS IN THE MAKING
COCKTALE New spirits and liqueurs spring up all over these days, each with stories and talking points designed to build intrigue. Yet few stories are so beguiling as that of Bénédictine. This mysterious liqueur was invented by a monk in 151O in the Abbey of Fécamp, in Normandy, France. Bénédictine was developed by Dom Bernardo Vincelli, who as a member of the order of Saint Benedict, was devoted to a life of prayer, labor and intellectual work. His specialty was hermetic philosophy and his work was focused more on alchemy than herbalism. The most familiar facet of alchemy seeks to turn metals into gold, but another classic aim is to prolong life and develop secret elixirs that will help do so . . . and Bénédictine was born.
The recipe for Bénédictine was nearly lost in 1789 during the French Revolution only to be rediscovered in 1863 by wine merchant Alexandre Le Grand. While sorting through some old family papers, Le Grand discovered a recipe book that had fallen into his family's hands decades earlier when the last monk to leave the abbey of Fecamp entrusted them with several of their most precious books. It took Le Grand a year to decode the recipe and recreate the elixir transcribed by Vincelli over three centuries earlier. Le Grand secured the right to use the name and the coat of arms of the Benedictine Abbey in Fécamp from the Superior of the Benedictine order in Rome, keeping the indication D.O.M., the motto of the Benedictines standing for Deo Optimo Maximo (God infinitely good, infinitely great), as a nod to the liqueur's roots.
Bénédictine is a bewitching blend of 27 different plants and spices, all proprietary of course. It became popular in cocktails in the 188Os "as mixologists, seeking to expand their palettes of flavor, began little by little incorporating the more complex herbal liqueurs into their drinks," writes David Wondrich in Imbibe!
Sampling Bénédictine in a Ford Cocktail is a sure way to shake off winter's chill, and perhaps even up your chances for longevity. It is, after all, an elixir for long life.
FORD COCKTAIL
Adapted from Vintage Spirits & Forgotten Cocktails
by Ted Haigh
1 ounces Old Tom Gin
1 ounces dry vermouth
3 dashes Bénédictine
3 dashes orange bitters
Stir well with finely cracked ice and strain into a cocktail glass. Garnish with an orange twist.
Cin Cin!