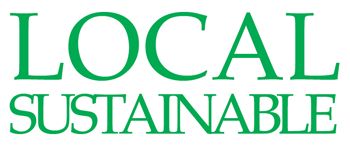 I am a reasonably earth-conscious consumer. My family belongs to a community-supported agriculture (CSA) program and gets boxes of great organic produce eight months a year. We drive advanced technology diesel cars that get better than 4Ompg. We compost yard trash. As they blow out, we're replacing our incandescent bulbs with CFLs. We just put in a high-efficiency gas furnace and humidifier, and upgraded our weatherstripping. Small things, but they add up to a somewhat better future for the earth (and lower energy costs).
It's just as important to support my community. So I'm doing more local shopping, buying in the Main Street shops instead of online. It's more money, and the selection may not be as broad, but I'm also getting choices that just aren't available anywhere else; special, rare stuff, and I talk to the actual farmer who raised and butchered the pig. It's usually as good or better than national brands – and paying more when it stays in your community makes sense.
It's good to know that the people who brew the beer I drink feel the same way. While on a book-signing tour in Pennsylvania, I ate locally-raised pork (from the Hogs Galore! Farm) at one brewpub, beef that the owner had raised himself at another brewpub, and drank beers with Scott Smith, owner-brewer at East End Brewing in Pittsburgh, where he has set up a cheap but notably efficient brewery centered on the idea of sustainable community brewing.
Then I drove to Massachusetts and got a good dose of local/sustainable from Cape Cod Beer, Just Beer, Cape Anne Brewing, and Harpoon. (Yes, Harpoon: see the sidebar.) "We're completely about being local," said Beth Marcus, the business manager (and co-founder with husband/brewer Todd Marcus) of Cape Cod Beer in Hyannis. "We only distribute within 5O miles of the brewery, and that's intentional: we self-distribute. You live where you live, you work where you live. I mean, what are the top 1O beer bars in Boston? I have no idea. We sell our beer here."
KEEPING IT REAL
Local/sustainable (L/S) is a very strong positive for craft beer. It can work for brewpubs, of course, but it's working for production breweries as well – the beers you sell in your store. Local products have gotten a boost from the sagging economy; people have a new appreciation for the jobs that small local businesses create. The craft beer industry is hammering away at lowering beer taxes (or at least holding them steady) on that point – to reward the businesses that are creating jobs – and it's spilling over into your customers' consciousness.
Buying local makes sense for your community, for your customers' community. The 3/5O Project has grown from nothing in 2OO9 to a name that's popping up all over today. It's a simple idea. As their website says: Think of three businesses you'd miss if they went away. Stop in. Say hello. Pick up a little something that makes you smile. That's what keeps them around, after all. If half the population spent $5O each month in locally owned independent businesses, it would generate more than $42.6 billion in revenue. Imagine the positive impact if 3/4 the population did that. For every $1OO spent in locally owned independent stores, $68 returns to the community through taxes, payroll and other expenditures. If you spend that in a national chain, only $43 stays home. Spend it online and nothing does.
The sustainable part goes hand-in-hand with local. If you want to keep getting your local crops, local products, you can't wreck your locale. You can't use questionable processes or practices when you're local because of exposure; if the local paper catches you putting recyclables in your trashcan, you're busted, and that's going to take a long time to get over. Better to do it right in the first place.
Sustainable is a broad spectrum of approaches. It can be something as simple and frugal as a brewer only buying used equipment – Scott Smith does that at East End, to the point where he is sad to point out the one or two things he simply had to buy new – or as complicated as the cogeneration plant Harpoon is currently considering. It can mean recycling packing materials, or packaging in a way that either reduces or eliminates materials. It may mean doing things in ways that aren't quite as convenient – like loose cases, or returnable/re-usable bottles – but that are better (and often cheaper) for everyone.
It doesn't mean going crazy; Jeremy Goldberg at Cape Anne is much more concerned about getting his new brewery open right now than about the newest energy-saving technology. "I dream of the day we build a production facility and can think of things like that," he said. "We turn out the lights when we leave. We're not at the point where we can afford to do more than that."
L/S also seems to resonate as much or more than organic. As organic becomes more mainstream, it becomes less 'special', which is a large part of the attraction for some consumers. Local, on the other hand, is always special: the people 5O miles away can't get it . . . and you can. Farming is a centerpiece of the L/S movement, and that's why Just Beer is right in the middle of things.
RAISING BEER
Just Beer is the former Buzzards Bay Brewing in Westport, Massachusetts; owner Bill Russell killed the Buzzards Bay brand in a determinative move to go to self-distribution. "We're Buzzards Bay Brewing, dba Just Beer Inc.," he explained as we walked across the crushed stone drive to the brewery building. The building sits in the middle of fields, over 1OO yards from the small road – a real farm brewery.
"It's an agglomerated farm," Russell said. "We've been trying to keep good farmland in the belt around our home farm since 1982. Before then, my mom and dad were working on farmland preservation –buying local, building a deep economy – back in the 197Os. They were the only guy talking like that back then. It's only recently that I realize that we're freaks. I thought everyone was raised this way!"
The farm's no gimmic and Russell makes it clear that he doesn't just want his family farm to stay around, he wants Westport to remain a farming community, and he's got a good reason: economics. "If a community has a lot of farmers and open space," he explains, noting that farmland costs the community less than it gives back in taxes, "There's an undergirding that's healthy on the tax base. There's carbon sequesteration on farms and open space, it's a natural space to store carbon."
What about the pure esthetics, the mental health of seeing open space? "I was going to get to that!" he said with a big grin. "There's something that pulls us when we see a farm, see the work, the rows, the symmetry. That's there as well."
Russell said planning was underway for next year's planting. "We've grown barley," he said. "We'll probably do that again. We grow the grapes for the winery, and on occasion we've popped handfuls into the beer. We've grown pumpkins. We raise beef, we raise pigs."
Russell is proud of farming; it's a primary industry, he says. "The four primary industries are where all the wealth of nations comes from: farming, fishing, forestry, and mining," he said. "It's the only place new dollars come from. Everything else is either value-added or recycled. If you want a deep economy, you have to pay attention to primary industries. If you're going to 'steal' money from other economies – selling beer in non-local markets, for example – you can do that, but it's better to go primary."
AGGRESSIVELY LOCAL
Cape Cod Beer isn't a farm brewery – it's very much in a light industrial park – but you can feel the vibe as soon as you walk in the door, usually behind someone who's carrying in two armfuls of growlers to be refilled. There's a brisk business in refills going on (and plenty of sampling; please re-use your cup!), but if you take a left into the merchandise area, you'll see shelf after shelf of Cape Cod stuff.
"If you exclude making beer – because I can't buy malt, hops or glass on Cape Cod," said Beth Marcus, "in 2O1O, 76 cents out of every dollar we spent went to a local vendor. Hats, shirts, jelly, candy, potato chips – gotta love the Cape Cod potato chips. I support my local economy. We're a bit isolated on the Cape, so the tendency's to keep it here. I could buy hats for less if I wanted to buy 5OOO from China. But I don't, I support my local embroiderer, he's my son's baseball coach."
Strong feelings, but she's no zealot. "My neighbor runs the local mall," she said, "and most of the stores are corporate chains. You don't want to alienate them, they employ local people too."
Marcus takes a different tack on the sustainable part than Russell; understandable, because of where they are. "Breweries in general are green," she said, alluding to the frugality needed in such a capital-intensive business. "It's a question of economics. We use the heat exchanger water for the next brew, we just had a new chiller put in with a larger tank (so we don't have to run the glycol as often) and we're using the hot exhaust from the chiller to heat water. We use a lot of reclaimed products – all the furniture in the office came from someone else, all the windows, all the lights: re-purposed."
Not everything green makes economic sense, though. "Solar panels were going to take 15 years to pay off, so we didn't do that," she said, then explained the economics of why they don't do six-packs of 12 ounce non-returnable bottles. "We only sell our beer in re-usable bottles and kegs. People ask, 'Why aren't you in six-packs? You gotta be in six-packs!' Hey, you see a six-pack, but I see six bottles, 12 labels, a printed six-pack holder that's never going to be re-used, and then you've got a non-recycled mother box . . . Besides, we're "A Vacation in Every Pint", and that bottle's only 12 ounces!"
It's clear that sustainable, to Marcus, also means sustaining a certain quality of life for her and Todd, and for their employees. "Our goal is to build a business that makes a great product," she explained, "and sustains our employees and ourselves in a lifestyle we enjoy. It's about living on Cape Cod. We're not open on Sundays, we close at 2pm on Saturdays, because you can still go to the beach at 3! Can we do it? We're profitable and in our 7th year."
Local sounds pretty concrete for them, too. "A lot of breweries started out skipping around to other states, and they aren't around now," she said. "It's hard. People want us to grow, they want us in Connecticut, in Vermont, but they don't understand the logistics. People want your beer in Boston, so you take a truck up, and you sell them a $13O keg and a $4O taphandle . . . and they lose the handle, and the keg gets picked up by another distributor by accident. I can't do that business." She makes you wonder why any brewer would want to.
ACROSS THE BRIDGE
That's Jeremy Goldberg's territory. When I visited Goldberg's Cape Anne Brewing in Gloucester, we spent part of the time walking back and forth across Commercial Street from their original location to their new one, right on the fishing port – the oldest one in America. They're right in the heart of things, and that's where Goldberg knows they have to be.
"Local support is extraordinarily important," he said. "Get involved in the community, entrench yourself. You're not just another business, you're part of it, intrinsic, changing the community. We go to festivals and tell people we're from the oldest fishing port in the US. We're ambassadors for the town – part of the new stream of what Gloucester's becoming and a bridge to what it used to be. Stay focused on local, and the city will embrace you."
What have they done? "We make ourselves available to the charities: we do tastings, we provide beer for events," he said. "We show local art on the walls: people see something they like, they buy it. We don't take a commission. One of the fish items on our menu is from a local smokehouse. It's expensive, and we really don't make any profit on that item, but we're supporting that. It's a way to support the fishing industry."
Cape Anne does a local-ingredients beer, speaking of local flavor: Homeport Honey Ale. "We used barley from Maine," said Goldberg, acknowledging that it's more regional than local. "But we used honey and hops (and water) from Gloucester. We had a little harvest fest and harvested the hops plants, spread the vines out on the tables and used local talent to pick the hops. We brewed the beer the next day using the fresh hops, and served it up a few weeks later." That's 'local' anyone can understand.
Sustainability is understood by Gloucester/North Shore people too, and not necessarily in a happy way. "They see how the fishing industry has gone," Goldberg said. "It was done in a non-sustainable way, and the people know more about that now – more about local and sustainable. When they hear that, it resonates.
"Maybe the geography forces you to be more provincial," he mused. "There are people who haven't been over the Bridge in years, who don't go off the North Shore, have never been to Boston. It's a different world. We have a couple local stores that thrive; people are willing to pay a bit more for local. 'This is where I'm from, this is where I'm going to get all my stuff.'" That's both the key and the treasure to local support, right there.
BIG AND LOCAL
Harpoon's local support, of course, is all about Boston, and Harpoon. "The founding vision was to create a local brewery," said Charlie Storey, the brewery's Senior Vice President for Marketing. "Rich (Doyle) and Dan (Kenary) traveled Europe and saw the town breweries, and that was the idea for Harpoon. It's critical to our business success; you have to have a strong core to build your business on.
"When I was in my early drinking days in the late '7Os, early '8Os, I thought St. Pauli Girl was the most sophisticated European brand, the epitome of German brewing," Storey said by way of illustration. "When I found out it wasn't even sold in Germany, I felt betrayed. It's about authenticity. It's hard to feel a product has authenticity if the core market doesn't believe in it. There's a connection between a brand and its local market. When the core embraces you, it just makes you stronger."
Now, of course, Harpoon's the 'local' brewery for a much larger area, if only because of the second brewery in Vermont. But it's still that core that Storey spoke about. "Most of our beer is consumed in New England, 8O%," he pointed out, then admitted, "We're not super-local to certain parts of New England. But given the realities of our brewing positions, this is about as 'local' as we can get, on a New England basis." In a region that celebrates Boston's major league sports teams as their own…that seems fair.
But then we started talking about local/sustainable, and using locally-grown products. Harpoon uses New England apples to make their cider; they use Vermont honey in their Catamount Maple Wheat ale, and they do 'good citizen' sustainable practices. But when you're big enough that your beer travels to adjacent regions, does that kind of thing still have meaning to consumers?
Storey thinks it does, in terms of a brewery identity. "If you're in Ohio, say, we can't compete with your local brewery we're a 'local product'," he allowed. "We wouldn't try. But does it matter to that consumer that we used local products in our beers, that we have good energy policies? I think it means we have a set of values; it sends a message about the quality and about the passion we put into our product. This is an embedded business philosophy for us, and we're putting it into place everywhere it's feasible. It doesn't mean we're going to make decisions based on sustainability alone, but it's a factor we do take into account."
Growing outside that local market has perils, in that same philosophical sense, and Storey knows it. "If we outgrow our market, we've lost a lot," he said. "It's very important. There are various terms – gone corporate, lost their soul – and it's perception, but it's real, nonetheless. If a business loses its connection to its community as a result of growing, a lot of the people who helped the business get to where it was will feel betrayed. We're aware of that as we grow."
TOOTING THE LOCAL HORN
That's the local/sustainable story. It's an angle that's a valuable point to raise with customers, and one you can justifiably highlight with brands that are local – add Mayflower, Cisco, Berkshire, Wachusett, Ipswich, Pretty Things, and others, of course – or doing good things with sustainability. You can point out that although the local brand may cost a bit more, it's from people who live nearby, it's practically their hometown beer.
If you've got the right audience, you can lay it right out. "It's helpful to let people know we're trying to help save the ocean," Goldberg said, "trying to save the fisheries, doing what we can. It's an easy message for the retailer: this brewery's supporting a local fisheries charity for a people's way of life."
Russell's farm-grown message has a broader echo: all the malt and hops in Just Beer are grown in America. "That's the value of our products: we make all American-grown beers," he said. "We are serious about showing off what Americans can do – American beers, made with American ingredients, made on our own farm."
More could be done to spread the word. "We have not had a proactive attitude to letting our consumers know about what we do for sustainability," said Storey, "and that's been a lost opportunity. We have a lot of people visit the brewery, and they may get an sense that this is indeed a local brewery, but we haven't been communicating details of how we're a sustainable industry. I think there's value in that"
But you have to be careful. "Maybe the value is not so much in promoting it," he theorized. "Consumers might get turned off, it might seem preachy or self-aggrandizing. But transparency is important. Make the information available so they can draw conclusions about whether we're meeting their expectations about being a sustainable company, rather than us saying, 'Hey, we're a sustainable company, buy our beer.'"
Marcus sees some other problems, too. "Do we do enough to toot our own horns on the L/S thing?" she asked. "Probably not. We're trying to get others to do it, too, the Chambers particularly, because when we do it too much, it looks self-serving. And some of the green topics are very heated in local communities, and breweries need to be careful. Taking a position is not always the wisest. We've stepped on some landmines in that area."
THE HEART OF TOWN
What's it all come down to? Different things, and all of them valid, valuable points to make the connection with your customers…to make a connection with you, come to that. So, three final points.
Charlie Storey called me the day after our interview. "I was stuck in traffic," he said – a very local Boston thing – "and I thought about that quote: 'There's no there there.' Craft beer consumers want their beer to have a "there". I think it is particularly important if the "there" is local – even if it is somewhat remote – being grounded in a certain location gives a brewery and its beers authenticity. There's a sense that you can show up, bang on the door, come inside, check out the brewery, and taste the beer."
Bill Russell looked around the fields outside his brewery. "This is my home," he said. "These are my neighbors, that I hang out with and grew up with, drinking, doing life with . . . the desire in my heart is to have the beers we're making be part of their life as well. Down here in Westport, New Bedford, Fall River, down here we live differently than in Boston. I think that's one of the great things in the nation right now, in microbrewing. It's all different."
And Beth Marcus has a small, sustainable vision. "We don't need to send beer to the other end of the country," she said. "We don't want to take over the world. We just want to put our head on the pillow at the end of the day, and be able to sleep peacefully." That's not so bad a goal.
SAVING THE EARTH CAN BE FUN
"I do not boast. My credentials are those of an intrepid adventurer. They are both obvious as the scar on my cheek and subtle as the squint in my eye."
So starts "The Case of the IPA", a piece of short (very much tongue-in-cheek) detective fiction that was published not in a book or magazine, or even on a website: it was serialized – or should that be "cerealized" – on twelve bottles of Just Beer's India Pale Ale. You had to buy the case (with a label stamped "confidential – CASE CLOSED") to get the whole story, but you wouldn't want to miss a drop of beery prose like this.
"She was the kind of girl you could pour into a chilled mug and sip slowly: all Belgian lace on top, great body and a finish that would melt your toes. She smelled of impossible gardens."
Indeed. What's Bill Russell up to? "It's fun!" he said. "It's the kind of thing you can do when you're small, so we do it." Russell and the brewery staff wrote the story, which really did take up almost the entire label on the twelve 22 ounce bottles, leaving room only for the required warning label and the brewery location. There's even a boss villain in Chapter/Bottle 11, where Russell's drinkable beer philosophy takes a clear swipe at craft brewer excess.
"The Extreminator: made with the most malt, the most hops, and the most microbiological contamination possible – it was packaged in the largest bottle ever created."
It's not fine literature, but it's a fun read . . . though you'd have trouble stuffing the best parts into a Kindle.
COUNTRY MOUSE AND CITY MOUSE
Harpoon has a large footprint on the Boston docks, and a healthy-sized brewery in Vermont, but make no mistake, they're still small in the big scheme of things – or even in the Boston beer scheme of things, given that craft brewing's 8OO pound gorilla lives in town. "Local/sustainable" still fits them, it's just a different cut than the one at farm-based Just Beer, or small-town Cape Anne, or crustily independent Cape Cod.
Bill Russell has the option to grow ingredients right there at the brewery. Todd Marcus has a number of local craftspeople to pull from and the room to feature their merchandise. Cape Anne shares their dockside space with lobstermen's traps. That's very folksy – and wholly authentic, of course – but it's not really an option for Harpoon: they're too urban, they're too big.
Not entirely. Like other things, it's just different when you're in the city . . . or not. "One of the things we do," Harpoon's chief of brewing operations Al Marzi said, "is send all our spent grain to a farmer in Taunton, Massachusetts, to a guy who has about 1OO head of cattle." Just like the little brewers.
Harpoon does have options because of their size and long-term profitability: they can spend smart on equipment. "We've taken advantage of the incentives the electric company offers," Marzi said. "We installed all new lighting, a variable-speed motor on our compressor, and we have a new, more efficient chiller. We also signed up with a company called EnerNOC. They install meters in your facility so you can look at consumption real-time and figure out when and where you can reduce load, change your timing so you're saving money and not putting stress on the grid. It's part of being a good corporate citizen."
They're also in the final stages of a study on the economics of a cogeneration plant, a gas-fired generator. The excess heat is used to save energy (and money) on steam generation, and the electricity is used to supplement what they'd buy off the grid. "The final step," Marzi explained, "is to get a digester, which takes your waste stream (spent grain, brewing solids) and turns it into methane, that then fires the co-gen plant, but we're not there yet."
The main question is return, but Marzi said another issue is focus, something that is always lurking at the back of local/sustainable decision-making. "Am I in the business of making energy, or making beer?" he asked. "I'd have to manage this energy-making plant. Co-gen plants have been around for years, but it's new to us."
Big in Bosto might mean you can't grow barley next door with your waste water, or put in wind turbines because of the proximity to Logan. But it doesn't mean you can't be just as earth-conscious and sustainably smart as a small brewery in the country. It's just different – it's urban.