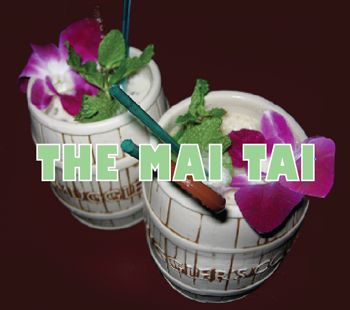 Endangered Cocktail: The Mai Tai
Ever sampled a Zombie, Suffering Bastard, or anything served in a skull mug or Scorpion bowl? With out-there names and kitschy vessels, Tiki drinks are apt to inspire a giggle among cocktail neophytes. In their original incarnation these were balanced, palatable drinks built upon rum, fresh juices and flavorful syrups – legitimate cocktails that would make modern bar snobs swoon.
The roots of the Tiki craze stretch back to Prohibition, when thirsty Americans took to the Caribbean seas (where rum flowed freely) for rum cruises. There they developed a taste for exotic island cocktails, making the market ripe by the time Ernest Beaumont-Gannt opened his "Don the Beachcomber" bar in Hollywood in 1934, just after repeal. Victor Bergeron soon followed suit, revamping his Oakland eatery into "Trader Vic's", complete with South Seas décor. Post World War II, the Tiki phenomenon blossomed into a true craze that lasted well into the 195Os, longer than any other cocktail fad to date.
Both Ernest Beaumont-Gantt, aka "Donn the Beachcomber" and Victor "Trader Vic" Bergeron relied upon the Mai Tai as a cornerstone for their Tiki empire and both took credit for its invention. Trader Vic created the drink as a simple way to make use of a bottle of 17-year-old J. Wray Nephew rum from Jamaica in 1944. He served it to Ham and Carrie Gold, two friends visiting from Tahiti, and after one sip Carrie pronounced it: "Mai Tai-Roa Aé", Tahitian for, "Out of this world – the best." And the Mai Tai was born.
The plot thickens when we learn that Donn Beach's last wife, Phoebe, purports to have written proof her late husband invented the drink: in her files resides a letter from a journalist describing the 1972 incident when Vic confessed that Donn was the drink's true progenitor. Some say both accounts are false and the drink originated somewhere in Tahiti. Debate rages on, even after the movement, and its founders, are long gone.
When properly made, a Mai Tai is a revelatory cocktail; it's no wonder Americans clamored for this delightful beverage and its Tiki cousins for decades.
MAI TAI
2 ounces aged Jamaican rum
¾ ounce fresh lime juice
¾ ounce orange Curaçao
1 teaspoon orgeat (almond) syrup
Combine all ingredients and shake well with ice. Stain into an old fashioned glass filled with ice.
Garnish with a lime wheel, a mint sprig and,
if possible, an exotic orchid.
Cin Cin!