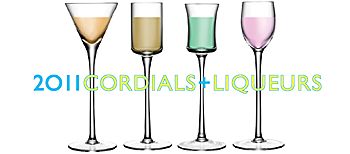 2011 Cordials and Liqueurs
With any luck, 2O11 will see many umbrellas being stowed away as economic storm clouds start to give way to sunnier skies, and may these rays warm the world of cordials and liqueurs. One can only hope that the timeless classics and newly crafted concoctions will brush away the ashes of an off year. But it doesn't take hope to know that the category, in both domestics and imports, is as solid as a wall-ball double at Fenway and one off year does not a crisis make.
Although the category posted an overall 3.6% decline for 2OO9, things are hardly grim in fact, they're increasingly looking up.
THE REAR VIEW MIRROR
I'll begin with a round robin of commentary from some of the brands about the fact that many (but by no means all) of them took a hit last year; a hit which most of them attribute to the still struggling economy and how it lent itself to less on-premise consumption and more at-home mixology. Optimism is woven throughout, however, and if you'll pardon the cliché, the cordial glass is certainly half full.
"The economy is affecting all brands in all industries," states Monica Garaitonandia, Tuaca Global Brand Director for Brown-Forman Beverages.
"It wasn't the best year for the industry or the world," says Bill Topf, Vice President of Marketing for Baileys at Diageo. "My job is obviously to grow this brand so I'm never happy about declines but already 2O1O was a much better year. We're excited about where things are going and are really focused on making that a one-time blip versus a trend. We do think there's a lot of growth ahead."
Campbell Brown, VP, Director of Americas, for Southern Comfort also chimes in. "Southern Comfort, much like other brands, has been affected by the tougher economic times. With the popularity of SoCo & Lime, on-premise consumption has declined so we've been forced to adjust our approach to the business."
"Chambord is an overwhelmingly on-premise focused brand. It is true bars and restaurants have been hit by the tough economy and, in turn, have had some effect on us as well as our competitive set so we responded accordingly and Chambord remains a staple on back bars across the US," says Josh Hayes, Chambord Brand Manager.
Adam Gold, Brand Manager at Pernod Ricard USA, sees things through rosier glasses when it comes to Hiram Walker. "If anything, Hiram Walker has weathered the recession a bit better than other spirits brands have. One of the universal consumer trends in the industry has been a shift from on-premise consumption to entertaining at home.
For John A. Pennacchio, Director of Spirits at Kobrand Corporation, things are sunny. "The Café Boheme brand continues to gain both on- and off-premise distribution in what remains a difficult economic environment for many new and emerging brands."
Optimism is also in the air at Patrón Spirits International: "Even as sales of other liqueurs have declined, Patrón XO Café has posted positive growth in Massachusetts, and across the country," notes COO John McDonnell. "In Massachusetts, Patrón XO Café is up about 5O% this year, and Patrón Citrónge is up about 4O%. Both brands are featured on menus in several bars and restaurants across the state, and Patrón XO Cafe is increasing its presence in bottle service accounts."
John Cooper, founder of Domaine de Canton ginger liqueur, says his product also saw solid growth last year. "We feel lucky because people are discovering the brand faster than I expected."
Antoine Gervais, Brand Ditector for Grand Marnier at Moët Hennessy USA, says that 2O1O was a year of complete re-launch for Grand Marnier with their "La Vie Grand Marnier" campaign. "The campaign was created by illustrator Jordi Labanda. It strongly uses Grand Marnier's signature red color which is instantly recognizable. The design of the campaign and the use of the signature red translates from the ad to our POS items in the on- and off-premise."
Known far and wide for their mixers and assorted other bar products, Stirrings branched out into the liqueur business with the simultaneous launch of six flavors: Triple Sec, Apple, Peach, Pomegranate, Ginger, and Espresso. "The new liqueurs provide consumers with all the tools they need to make simple, gourmet cocktails without sacrificing quality," says Jody Samuels Ike, Senior Brand Manager, Cocktails for Diageo. "All have been doing well but Ginger and Pomegranate have been surprise hits."
Maura McGinn, Group Director-Vodkas and Cordials for Skyy Spirits says that commitment and relationships of Skyy Spirits and having distributors lined up it were two contributing factors to a successful year for Wild Turkey American Honey Liqueur, which sold 13O,OOO cases in its second year. He also cites other key elements. "Having the right product for the right times in terms of trends, giving consumers a strong value proposition with great liquid – nice tasting and at a reasonable price."
BAY STATE BUSINESS
Bill Topf says that Boston is a great market for Baileys and always has been. He filled me in on some recent activities here. "This summer we really focused on reminding people that, while they may think of Baileys first and foremost when the weather gets cold, it's actually quite a viable brand for them year-round."
Topf says that in the summertime, consumers love their ice coffee and there's a huge market for it in Boston. "So why not Baileys in your ice coffee?" asks Topf. "We really made a big effort to communicate that from in-store on-packs of coffee with the ice coffee recipe to outdoor advertising to a Facebook promotion where we partnered bartenders and coffee baristas to bring mixology and coffee making together to come up with some great Baileys and ice coffee drinks. That was really a great program and was something that we definitely focused on in the Boston area." This past fall Topf says the brand's been focused on a new campaign called "Baileys and Friends. Let's do this again."
Campbell Brown speaks of Southern Comfort's new packaging and line extensions. "This year has been action packed year for Southern Comfort launching a new package for the first time in nearly a decade and added Southern Comfort Lime and Southern Comfort Lemonade to the ready-to-serve line of cocktails. We have a more complete suite of products than we did when we started the year and have the ability to meet the ever-evolving consumption patterns of consumers in both the on- and off-premise." She also mentions advertising endeavors noting that the brand is "back on TV for the first time in almost two years supporting the off-premise rollout of Southern Comfort Lime, which was originally launched in May. This is significant because it allows us to have a broader reach and generate awareness for the both Southern Comfort trademark and the new Southern Comfort Lime product. Boston is one of the most popular markets for SoCo Lime, so we're working to make sure people are trying it."
Monica Garaitonandia, Tuaca Global Brand Director for Brown-Forman Beverages emphasizes the role of bartenders. "Tuaca has a heavy focus on bartenders, as they are the ones who've built this brand – they're the ones usually introducing it to their patrons. From a consumer perspective, the brand is very often consumed by millenials, typically looking to discover what's new. However, Tuaca consumers are loyal and tend to stay with the brand." She says the brand will continue to strengthen their relationship with bartenders through the "Tuaca Tenders" program.
I allowed Josh Hayes, Chambord Brand Manager, to veer off – but not too far – from the cordials path.
"This is an exciting time for Chambord as the brand has recently introduced Chambord Flavored Vodka in 13 markets in the US (including Massachusetts) and the brand will continue to rollout the product nationally. Some of the most popular Chambord Liqueur cocktails are mixed with vodka, so extending the brand into the flavored vodka category was a natural step." Hayes says that Boston-specific promotions include a partnership with marie claire that featured the "Pink Your Drink" cocktail party event at the W Hotel. "For the second year the Chambord program has sought to raise money and awareness in the fight against breast cancer. In Boston specifically, Chambord donated $25,OOO to All4One Alliance during the 2O11 'Show Us Your BRA!' calendar launch party which was an evening of art, fashion and music to benefit All4One Alliance and its services for underserved women living with and beyond breast cancer," explains Hayes.
"Massachusetts is the #3 market for the Hiram Walker brand and it's the #1 market for our flavored brandies. Needless to say, it's a great market for the brand, and one that we intend to continue supporting," says Hiram Walker's Adam Gold. "This fall we re-launched Hiram Walker Pumpkin Spice and Gingerbread liqueurs, two limited edition seasonal items. The idea is to provide consumers and the trade with easy-to-execute recipes for the holiday season between Halloween and Thanksgiving. We're pleased to say that both were back by popular demand this season."
"Massachusetts is one of Grand Marnier's leading markets and we've seen much success with the Chilled Shot and the Grand Smash cocktail," says Gervais. He also says that the state is the brand's test market for a new drink that has gotten much traction in Canada called the Grand Cran – Grand Marnier, cranberry juice and a twist of lemon. "We're testing the drink through on-premise menus and retail demos."
Kobrand's Pennacchio remarks that Café Boheme has enjoyed significant success with their value added offerings during Valentine's Day, Mother's Day and winter holidays where, he says, distinctive crèmes flourish. "Café Boheme has a unique taste profile which is not cloying or overly sweet. We close our communication with the thought: 'Resistance is Futile!'"
John McDonnell of Patron Spirits is pleased as punch about the Patrón XO Café and the Patrón Citrónge. "We're very excited about the increasing awareness among consumers and retailers of our Patrón XO Café coffee liqueur. People have discovered that because the base of this spirit is Patrón Silver tequila, the taste of this high-quality liqueur is dry, not sweet like other coffee liqueurs, and it works so well as a chilled shot or over ice, or in any number of cocktails or dessert recipes." McDonnell also says a new campaign has launched telling people that "Perfection has a darker side", which trades on the dark color of the product. The Citrónge is also making some noise. "For Patrón Citrónge we recently introduced a new bottle design which makes it much easier to pour."
Domaine de Canton's John Cooper says that the brand is moving right along with its plans. "We have a 375ml glass gift set which is available year-round for off-premise sale and we are continuing with in-store tastings." Cooper adds that there's been a particular focus in Massachusetts with the tastings and with good reason: "Once consumers try the product, they understand why they are paying $3O+." Cooper says they are also promoting a Bartender-of-the-Year competition in which the winner of the Boston semi-final will be flown to St. Martin to compete for $1O,OOO.
Over at Stirrings, Samuels Ike says that the brand recently introduced Carlo Romero, the Stirrings Naked Bartender and a brand ambassador. "Carlo spends his time traveling across the country inspiring Stirrings consumers to make simply better cocktails. He visited Boston during the Head of the Charles regatta to inspire local cocktail creativity."
Here in Boston, McGinn says that
Wild Turkey American Honey liqueurs has held a number of on-premise events. Their target demographic is 21- to 29-years-olds with an even split between male and female. "We promote American Honey neat or on the rocks in the on-premise environment."
PACKAGING MAKE-OVERS
Three prominent brands went back to the drawing board, so to speak, and rolled out new packaging in 2O1O: Southern Comfort, Chambord and Tuaca. Josh Hayes comments, "Chambord Liqueur recently released a contemporized package. In the 25-plus years since the previous design was released, Chambord's orb-shaped bottle has become an iconic presentation of the brand. The new design continues the tradition." Some of the packaging highlights include an enhanced closure, an easier to grip shape and the bottle is topped with a berry-hued jewel on top. "The new closure is a contemporized crown, while a more traditional crown appears on the new cartouche. The familiar orb shape evolves slightly to included more rounded shoulders, a boosted punt and overall clearer glass than the previous bottle," Hayes remarks.
There's no sense trying to hide the fact that I'm a big fan of Tuaca and not just because I'm an Italian girl. So when I heard they redesigned the packaging I got nervous. My fears were unfounded. The new design, launched in July, has been well-received by both trade and consumers, says Monica Garaitonandia. Tuaca also threw in a bonus attribute. "The 2OOml size features a 'perfect chill' label that changes color to orange when the bottle is placed in the freezer. It's a nice discovery element on a size that is often associated with trial or convenience and reinforces the most popular and best way to consume Tuaca – as a cold shot," explains Garaitonandia. "We've actually used the down times to our advantage to deliver innovative thinking in our packaging and bold shot strategy. Tuaca was built by bartenders and these shots were created by bartenders, so the reception has been fantastic."
FACEBOOK AND BEYOND
These days, if you want to reach your target audience, you've got to be in cyberspace. "Chambord recently launched chambordonline.com, which houses information on both Chambord Liqueur and the new vodka. Additionally, Chambord has launched its first iPhone App which includes information on events, recipes and a product locator," says Josh Hayes. "Chambord strives to actively engage its consumers through both Facebook and Twitter and the brand has seen tremendous success with both."
Adam Gold gives the Hiram Walker online lowdown: "Recipes continue to drive consumers to the Hiram Walker website. To that end, we've decided to revamp the site and make it more user-friendly, especially with respect to accessing recipes." Gold says that consumers also visit their Facebook page for recipes and to share their thoughts on cocktails. "Fans have been extremely responsive to recipe postings, and we like to give our fans what they want."
John McDonnell from Patrón says they also have an online presence. "Our online activities primarily center around our rapidly-growing Patrón Social Club (patronsocialclub.com). We also have a presence on Facebook, called the Patrón Cocktail Lab, where people can contribute and share cocktail creations and ideas. Consumer response to both has been terrific. From Massachusetts alone we have thousands of members."
"The Southern Comfort Facebook page is a key component to our overall marketing strategy and we've worked hard to leverage it in various ways. The 'Beat the Bartender' game challenges consumers to mix a SoCo Lime shot the traditional way before a bartender pours the new Southern Comfort Lime product," says Campbell Brown. "We do have a twitter feed (@soconeworleans) and a mobile website so our consumers have the ability to look up recipes wherever they are."
Pennacchio says his brand's web traffic is high. "The Café Boheme website continues to be a great resource to both the consumers and the trade to better come to know the Café Boheme brand."
Katie Kirby, Senior Public Relations Manager, Beam Global Spirits for DeKuyper says they although they aren't on Twitter, both their website and Facebook pages are quite active. "The website is a resource for consumers and bartenders alike – it offers a wide variety of recipes and is very searchable depending on the usage occasion and flavor profile you're seeking in a cocktail."
Grand Marnier has an impressive online presence says Gervais. "We have a very robust Facebook page with over 47,OOO fans. Our content ranges from new cocktails, step-by-step cocktail videos, event notifications, featured bars, chats with our Master Distiller, and much more." He also says that along with Facebook, Grand Marnier has launched the 'Grand Mixology' iPhone game and users are able to master various levels to become a Grand Mixologist, while learning essential bartending skills like shaking, pouring, mixing, and cocktail creation. "It also includes a recipe library of over 3OO cocktails including step-by-step videos. The Grand Mixology App is available on the iPhone App Store."
Samuels Ike says that they've re-launched the website stirrings.com. "The site features food and drink recipes, entertaining tips and an online shop that sells Stirrings products." Consumers can interact with the brand on Facebook at facebook.com/stirrings, where they can receive, among other things, daily cocktail receipe.
John Cooper says Domaine de Canton has recently jumped on the social media bandwagon but he has a different take on it. "Yes, we have just started. We have high hopes, but at the end of the day, people don't quite appreciate brands such as Domaine de Canton with their keyboards and computer screens."
BARS TO BAARON'S: ON- AND OFF-PREMISE CHATTER
A conversation with Matt Yantz, Store Manager of KJ Baaron's Fine Wine & Spirits in Worcester, reveals both the sting of consumer financial constraints and their quench-defying thirst for new flavors and brands.
"I can tell you that a lot of people have been choosing more of the lower cost brands, for example Duggan's Irish Crème and Kamora coffee liqueur. Customers are definitely strapped for cash and the extra five or ten dollars will go a long way even though people are risking a little bit more on the quality level." But Yantz also said that despite the increase in popularity of off-brands, the entire liqueur section is growing and he zeroes in on one brand in particular. "The Tres Leches Triple Cream Liqueur – I think it will destroy the market. It is by far the best cream liqueur that I've had in fifteen years." Yantz also referenced, much to my amusement, two other new products. First is the wildly popular alcohol-infused whipped cream. "It's called Cream, distributed by Bay State Wines, and it comes in five different flavors." He also mentions Adult Chocolate Milk Liqueur as something new that some of his customers turn to for spicing up their lives.
I also caught up with Steve Katzen, General Manager of Kappy's Liquors in Peabody. "I would say that cordials overall are pretty flat in sales in general but within that there's a couple of bright spots." He first points to Bailey, which is holding up fine, though the three flavor extensions (caramel, coffee and mint chocolate) aren't doing too much outside the holiday season. As for customers still caught in the bad economy crossfire, Katzen cites two cream liqueur substitutes: "There has been a trade down to items like Saint Brendan's and the other one is Carolan's Irish Cream Liqueur." From Baileys we spoke about Kahlua. "Kahlua is a proprietary brand and people don't trade down so much on that. The spirits business is an affordable luxury and you can afford to buy your name brands so although Kahlua across the state has not had a great year, we're a big Kahlua store and we sell a lot of it here."
As for new products, Katzen, like Yantz in Worcester, has his eye on Tres Leches. "We just received and we haven't done any promoting on it yet but I tasted it and I thought it was delicious. It's showing growth." Ending on a bright note, Katzen raved about St-Germain. "It's done very well and it's not expensive – people have flipped the bill for it, it's a fabulous product."
Joy Richard, Bar & Beverage Manager of the Franklin Café in South Boston and newly opened Tasty Burger and The Citizen Public House & Oyster Bar (both by Fenway Park) identifies a trend. "I definitely notice that people are leaning towards a more bitter flavor profile – they're drinking more aperitif drinks, vermouths and sherry cocktails; starting their night with those rather than going to a heavier spirit cocktail." She also says nights are ending on a different note as well. "I see people finishing their meals with digestivos; obviously Fernet-Branca has become a huge seller." Richard says that she put Fernet on draft at The Citizen. She also speaks of the revival of some obscurities. "We're seeing products like Crème Yvette come back so that's been really popular." There's a new product that Richard mentions which is actually an old product that's new to the market. It's called Combier and it's the oldest triple sec on record. The brand also has Royal Combier, which is a cognac-based orange liqueur with an herbal elixir added to it, as well as a cherry liqueur called Roi Rene Rouge which is another old recipe. As for the economy hurting business, Richard states it plainly. "I'm not seeing that at all."
Over at Woodward at The Ames Hotel in Boston, Paul Monahan, Bar Manager and head bartender Bill Codman (aka "English Bill") shared their thoughts. "I think once you are on-premise and you are a patron, the important part is to be educated and understand where stuff like Cointreau and Grand Marnier and Chambord and other cordials come from, what they taste like, the profiles of them," opines Monahan. He also says that on many back bars and even wells, a significant number of liqueurs are overtaking the once "seven-flavored vodkas-and-thirty-five-different-tequilas" and that most back bars are filled with different cordials and liqueurs. "Mixologists are using different cordials and liqueurs with homemade base syrups, with homemade based bitters, and are coming up with crazy, original drinks on a daily basis." Monahan tells of one such cocktail. "We did some great stuff with green Chartreuse and Benedictine." He also says he sees creativity all over the place. "If you go to some crazy little boutiquey restaurants wine bars here in the South End of Boston, on a lot of cocktail lists you don't see vodka, tequila, rum, whiskey. You see drinks with Chartreuse, Aperol and Campari."
English Bill and I talked money before getting into cocktail specifics. He says that some of the less expensive spirits are very popular due to the fact that places like Drink and Eastern Standard have been educating people about what's available. Finances aside, I wanted to know what would hit the spot in say late January and asked Bill what he'd recommend on a 12 degree snowy Boston night. "I would say either a hot toddy or a classic Manhattan. For my hot toddy I actually like to use bourbon and B&B. It's really a good combination because the B&B already has some of the sweetness to it. It has that warming feeling to it but has spice too, it's a combination of honey, brandy and spices. It's a warmer all by itself. B&B on a freezing cold night with one cube in it is just perfect. "
As mentioned earlier, there was a 3.6% decline last year, and that's for both domestics and imports. That number might not be much better when we look at the category this time next year, but happy days will be here again, and for many, they never really went away. For as we all know there are three certainties in life: death, taxes and cocktails.
Recipes
AUTUMN SPICE
2 ounces Domaine de Canton
½ ounce fresh lemon juice
2 ounces apple cider
combine ingredients in highball glass filled with ice.stir. also great with a shot of dark rum or whiskey.
SOUTHERN HURRICANE
1½ ounces Southern Comfort
1½ ounces sweet and sour mix
1½ ounces pineapple juice
1½ ounces orange juice
Splash of grenadine
stir in a hurricane glass. garnish with an orange wedge and cherry.
TUACA HOT CHOCOLATE
1½ ounces Tuaca
2 dashes hot sauce
1 bar spoon chocolate syrup
chili pepper
drizzle chocolate syrup into a shot glass.
shake Tuaca and hot sauce with ice. strain over syrup and garnish with a chili pepper.
BAILEYS SPICED NOG
2 ounces Baileys Original Irish Cream
1 dash St. Elizabeth Allspice Dram
1 whole egg
5 ounces spiced rum
1 dash bitters
Grated nutmeg
mix Baileys, spiced rum, Allspice Dram, bitters, and egg in a cocktail shaker and pour into a snifter glass. garnish with a sprinkle of grated nutmeg.
CAFÉ ROYALE
½ ounce Chambord Liqueur
½ ounce Irish cream
½ ounce hazelnut liqueur
½ ounce orange Liqueur
layer all ingredients except Chambord in a port glass and top with Chambord-laced heavy whipping cream.
GRAND MARNIER SMASH
1½ ounces Grand Marnier
4 chunks (½) fresh lemon
6 to 8 mint leaves
muddle mint and lemon wedges in a tall mixing glass. add Grand Marnier and ice.
shake vigorously and strain over ice in a rocks glass. garnish with a fresh mint sprig.