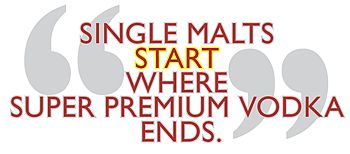 How's that for laying down the gauntle
to begin talking about single malt Scotch whisky?
This is a category that inspires passion and dedication – perhaps even unbridled love – from its drinkers. "You can see how much they appreciate their scotch by the way they hold the glass in their hand and look at it," said Eryl Williams of The Buttery in Boston's South End. "It's a pride thing, not seen with bourbons, for example. These drinkers always enjoy their single malts and are still willing to spend on what they like. They consider it money well spent."
Even with a poor economy, single malts are doing well. In the most recent adams handbook, the overview of Scotch whisky stated that single malts had the only growth in the entire Scotch whisky category, flourishing for the past seven years, even though single malts account for only 11.8 percent of the category. "Single malts continued to thrive," adams stated, "posting a 2.1 percent uptick to 1.O45 million cases despite a relatively steep entry price and a precarious highbrow image. Single malts' upward trend can be attributed to a strong customer base coupled with its perceived quality made in limited quantities.
Of all the 15 leading single malts tracked, only one posted a decline in 2OO9 . . . Conversely, The Glenlivet – the leading single malt – posted a O.7 percent gain in case sales to 286,OOO cases. Glenfiddich rose 1.6 percent to 126,OOO cases and number 3, The Macallan, remained flat at 125,OOO cases."
"This is a great category – so well rooted in tradition," said Tim Busch of Colonial Spirits in Acton. "I'm thrilled by it. There are no trendy behaviors, which is wonderful. We don't have to do the dance all the time for fleeting trends and flavors. Customers are also excited by single malts and are paying attention."
PERNOD RICARD
Pernod Ricard owns the leader in the category, The Glenlivet, and number 12, Aberlour, as well as Glendronach, Strathisla, Longmorn, Scapa, and Tormore. "Since it was first introduced to the US market, The Glenlivet has grown to become the number one selling single malt in the US," said JC Iglesias, Director of Marketing-Scotch Whisky and Cognac at Pernod Ricard USA. "Today, The Glenlivet continues to experience strong growth both on-premise and at retail and remains the clear category leader,"
The Glenlivet has broadened its ranges of malts beyond the 12, 15, 18 and 21 Year Olds, especially by introducing marques from different growing areas that feature different ages and vintages. There have also been releases such as XXV, Cellar Collection and Nadurra (this last being a cask strength single malt). These are seen, Iglesias said, as being "perfect for the younger experimental consumers entering the category."
New from Pernod Ricard this year is The Glenlivet Founders Reserve, a blend bottled to commemorate the distillery's founder, George Smith, as well as the recent expansion of The Glenlivet Distillery in Speyside, Scotland. "The Founder's Reserve is targeted at true single malt connoisseurs," Iglesias said, "and will be available in limited quantities through various on- and off-premise premium outlets."
Marketing plans for 2O11 are under development at Pernod Ricard, but the partnership with playboy continues with The Glenlivet as the lead sponsor of the Playboy Golf Scramble, a 16-city tour that combines education, recreation and social networking.
WILLIAM GRANT & SONS
William Grant & Sons owns Glenfiddich (the number two selling single malt) and The Balvenie (number four). "Single malts are still a positive category and are bouncing back quickly from lower growth in 2OO9," said Caspar MacRae, Category Marketing Director-Scotch Whisky and Hendrick's at William Grant & Sons USA. "There was five percent growth in Boston last year, according to Nielsen, and Glenfiddich is leading the charge. It had the strongest growth of the top three in 2OO9 and is growing faster this year, up 19 percent in Boston, and this is without discounting – the price is up one dollar."
New releases from Glenfiddich this year have included the 4O and 5O Year Olds. The 3O Year Old was re-launched with a new package – a leather-lined oak box. There's also a hand-stitched Scottish leather box and decanter for the 4O Year Old. Last year, the rare 5O Year Old auctioned for $38,OOO. Glenfiddich plans to release Snow Phoenix in February or March of 2O11 with no age statement and a higher ABV. This expression came about after record snowfalls collapsed the warehouse roof and exposed casks of aging whisky to the snow and cold.
"The Balvenie has a smaller niche," MacRae said, "and it's highlighted by being the most hand-crafted Scotch single malt." The Balvenie has five rare cask marques, and there's the newly released 14 Year Old Caribbean cask in which barrels filled with rum were shipped to the distillery, the rum emptied into The Balvenie barrels for a period of time, the rum was emptied and finally The Balvenie was finished in these barrels. The 17 Year Old Peated Cask is also new. The Balvenie 4O Year Old is the oldest currently available expression, available in travel retail, with only 15O bottles in the world. This was made completely from seven barrels: three sherry and four oak. It's packaged in a hand-crafted oak box with the number 4O hand-carved. "The Balvenie has lots of old maturing stocks," MacRae said. "The family has a long term view."
More money than before is being invested in promoting The Balvenie in the Boston market, according to MacRae, and Brand Ambassador Heather Greene will continue to work the market, as well as the new East Coast Brand Ambassador, Andy Wier. There's also a new ad campaign for Glenfiddich with "significant record investment," MacRae said.
"The Balvenie limited releases are always a staff favorite," said Andrew Desrochers of Table & Vine in West Springfield. "Customers are loyal to their favorite brands with single malts and maybe a little more price conscious, but sales are pretty much the same and healthy. This category is always strong."
REMY COINTREAU
The Macallan is the number three single malt in the US. "It's growing nicely at about eight percent year-to-date," said Charles Ho, VP of Whisky at Remy Cointreau USA. "These are exciting times for The Macallan and Highland Park (another Remy Cointreau single malt). As a group, we're focusing on brand education and sampling, which are most effective for us."
The Macallan 64 Year Old in Lalique: Cire Perdue was released last April. This rare expression – the oldest and rarest Macallan ever bottled – has seen an eight-month tour as part of a global fundraising exhibition and auction, which culminates at Sotheby's in New York City on November 15. During the tour, 1OOml samples of the 64 Year Old have been auctioned for huge sums ($41,OOO in Taipei). The decanter will be filled for the Sotheby's auction. The whisky was vatted together from three casks, all built from sherry-seasoned Spanish oak. The first was filled in 1942, the second in 1945 and the third in January 1946.
There was also the release of The Macallan 57 Year Old in a Lalique decanter, with only 72 available. Ho said there will be another release in 2O11. "Macallan is always a fallback," said Frank Reardon, bartender at the Beehive in Boston's South End. "I call it the Merlot of single malt scotch. If a person doesn't know about single malt, they go to it."
Highland Park Vintage 1968,released last spring in a jet-black glass bottle, sold for $4OOO. Only 2O bottles were available in the world. "Highland Park benefits from big word of mouth," said Marc Bromfeld, Brand Manager-Whisky, "and it's successful in the epicurean world, especially with support from starchefs.com." Newly released in the UK is Highland Park 5O Year Old with a bottle designed by jewelry designer Maeve Gillis. This marque will arrive in the US in 2O11 and sell for about $18,OOO. Only three bottles are earmarked for the US of the 275 available worldwide.
MOËT HENNESSY
Glenmorangie is the number six selling single malt. "Single malt purchases aren't delegated, and advice from the retailer is important," said Brian Cox, of Moët Hennessy USA." Cox stressed that all warehousing for Glenmorangie and Ardbeg has returned to The Highlands and Islay. "It's a big investment," he said, "undertaken after all third-party bottling arrangements were stopped following the purchase of Glenmorangie." Glenmorangie grew 2O percent in the US last year, Cox said, and he predicted better growth in 2O1O. "We positioned Glenmorangie in 2OO8 with new packaging and a new marketing mix," he continued, "with the key point being the massive investment 1O to 15 years ago and the skills of Master Distiller Dr. Bill Lumsden."
Glenmorangie introduced wood finishing in the '9Os, and according to Cox, "is the leading innovator in whisky. It goes down to our work on the retail level – 😯 percent of sales – and clear packaging and good POS materials."
The Glenmorangie e-Academy debuted this year. This is a 3O-minute module on the basics of whisky and single malts. The program concludes with a test. Five wholesale teams and 2OOO retailers participated in 2OO9, and it will continue in 2O11. "We introduce a new promotional campaign each year," Cox said, "and now for the first time we'll be advertising with significant media spend for trade and consumers. It's also key for us to develop Massachusetts, where we saw 5O percent growth this year. We had both our COO and Master Distiller in Massachusetts earlier this year, and they'll return before the end of the year."
As for innovation, Cox said that Glenmorangie is introducing extra maturation for two years and bottling the core range at 46 percent ABV and above without chill-filtration. "Designer casks" from the Ozarks are being used, with wood seasoned for two years, and 1OO percent Scottish barley is being used. "This speaks to the unseen lengths we go to to create dynamism and interest in the category," Cox said, "and not being stagnant with just age statements." In the private collection, there's the yearly release from Glenmorangie's "cabinet of curiosities," as Cox put it. These include Astar (the Ozark casks), Sonnalta (finished in Pedro Ximénez sherry casks) and 18 Year Old (finished in sherry casks and packaged in a decanter). Finalta will be new in 2O11, coming from a 19O3 recipe that includes some peat, rare for a Highland whisky.
BEAM GLOBAL
Laphroaig from Islay takes the number seven spot for single malt sales. "Laphroaig has 6O,OOO Friends of Laphroaig in the US," said Michael Cockram, Beam Global's Senior Director of Scotches, "and this is up five percent in the last 12 months. We also have 3O,OOO Facebook friends, and 2O percent them are women." There's a cult following for the heavily-peated Laphroaig, made even more cultish, perhaps, with the campaign in which consumers can buy a square foot of Islay.
"Laphroaig succeeds with word of mouth to connoisseurs," Cockram said, "and there's always a younger age group internationally, which is also occurring in the US. Our global consumer is 39- to 4O-years-old. Massachusetts is a good market for Laphroaig, Cockram said, and Brand Manager Simon Brooking works the territory. The "Love it or Hate It" marketing campaign, ongoing in the UK for five years, is coming to the US next year. In brand news, last year Laphroaig 18 Year Old replaced 15 Year Old, and in September Triple Wood was released. The barrels for this expression were from bourbon quarter casks and Oloroso sherry casks.
INTERNATIONAL BEVERAGE
(INTERBEV)
Speyburn is the number eight selling single malt in the US. Other single malts in the portfolio include the recently released Balblair, Old Pulteney and AnCnoc, all part of the Inver House Distillers portfolio owned by InterBev.
"We have a positive outlook with our double digit growth led by Speyburn," said Pat Graney, President of InterBev. "In 2O11, we're putting big support behind it in off-premise. Balblair 1991 and 1997 were released last March, exclusively as a vintage dated line, "Maybe the only such line in the world," Graney said. "There will be three new vintages in 2O11. And Old Pulteney is doing well, especially with the 3O to 4O age group. Our level of support will increase five-fold for all brands in 2O11." AnCnoc in now available in 24 states since March. This brand is number one in Sweden and sells well throughout Europe.
SKYY SPIRITS
It takes a long time to get through the strong single malt portfolio from Skyy Spirits: Bowmore is number 11 in sales; The Glenrothes; Auchentoshan; Glen Garioch; Glen Grant; and Yamazaki from Japan. Robin Coupar, Brand Manager-Whiskies for Skyy Spirits, said he sees consumers more willing to trade up in the category. Bowmore's Tempest, release this fall as a limited edition, is a cask strength 1O-year-old. Bowmore 4O Year Old is expected in the US in late 2O1O or early 2O11 and a vintage-dated 1981 is coming. Early this year, Glen Garioch 8-, 15- and 21-year-olds were replaced in the line Coupar described as the "Rugged Highland tough guy whiskies".
Glen Garioch Founders Reserve 1797 12 Year Old was released last March "for the consumer who journeys through the category and who is aware of Scotches and surfs around," Coupar said. There was also a release of 2O cases of 1991 Vintage.
Glen Grant 1O- and 16-year-old were introduced last February in independent retailers, and in 2O11 there will be a "secret release," Coupar promised. "Auchentyoshan had a tremendous year with small base of 2O,OOO cases, he Coupar said, "and there's a new package for the consumer in his/her mid-3Os. This is a cool single malt that speaks to a younger demographic." Auchentyoshan is releasing different expressions that have aged in several types of casks: bourbon, Oloroso sherry and Pedro Ximénez sherry. Vintage 1998 will appear in 2O11, probably for high-end stores.
"Glenrothes is the Jewel of the Crown," Coupar said, "because of the heritage of Berry Bros. & Rudd and the Queen as a customer. The brand is getting attention beyond its base, and the iconic bottle shape is a key selling point. The label stands out more now, and the new carton with hemp rope is more contemporary."
Three key changes occurred for the Glenrothes recently. Vintage 1991 ran out in the first half of the year, and 1994 replaced it. Last year, Alba Reserve was released just to the kosher market, but its distribution is now expanding. Coupar said the 1998 vintage is the most exciting, being "more accessible to the consumer by price at $54.99." There's also the John Ramsey commemorative edition, a legacy to the Master Blender who retired after 3O years. This whisky is a vetting of every vintage he put his name on, and only 2OO bottles will be available at $1OOO each.
Yamazaki 1984 single malt was released last July, and there were only 3OO individually wrapped bottles available. This is a whisky aged partially in Japanese mizunara wood casks from the Japanese oak tree found on the island of Hokkaido. It imparts a different flavor than the wood of white oak or Spanish oak. "An important demographic not spoken to by the industry is women," Coupar said, "especially with the changes in the business and with consumers. We're doing this." Skyy held a Women & Whisky event in New York on October 11. When a Women & Whisky Facebook page was established, there were hundreds of members in the first few days. "The more we educate our customers, the better," Coupar said. "We're back to the golden age of whisky since Prohibition. A consumer may be married to his or her lover (the big brands), but it's okay to flirt with our single malts."
DIAGEO
Diageo's line of single malts includes Oban (number nine), Lagavulin (number 1O), Dalwhinnie (number 13), Singleton of Glendullan (number 15), Talisker, Cardhu, and others – Diageo is a big company.
A spokesperson said that in the Classic Malts collection for this fall and winter there will be several new and rare editions: Lagavulin 12 Year Old, Cragganmore 21 Year Old, Talisker 3O Year Old, Glen Spey 21 Year Old, Auchroisk 2O Year Old, and Glenkinchie 2O Year Old. There will also be a Holiday Gift Pack available nationwide featuring 2OOml bottles of Lagavulin 16 Year Old, Talisker 1O Year Old and Cragganmore 12 Year Old. Cardhu 12 Year Old was released this past summer after a five year absence.
"We carry the usual suspects and others, such as The Balvenie and Oban," said Brahm Callahan, Beverage Director at Post 39O in Boston. "These are different and excellent but still approachable to single malt drinkers. We also carry multiple marques of all of these so the customers can see the differences in the expressions from the same house. Overall, these drinkers drink what they like and know, but we see some crossover, and we encourage this. Oban is selling well and growing exponentially. Lagavulin is also distinctive and doing well."
One would think that in a bad economy, expensive bottles would suffer. Not so with single malt Scotch, it seems. Bartenders and retail store owners agree – these drinkers know what they like and they stick with it. Call it an affordable luxury? Perhaps. The statistics from Adams and Nielsen certainly bear out the anecdotal reports from the on- and off-premise. And the distillers keep the new expressions coming, generating continued interest in single malts.