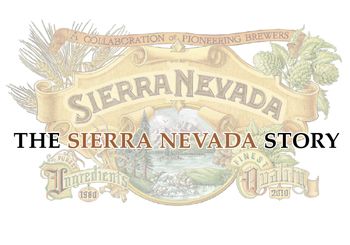 Their clothes are weird, their music sucks, and they drink malternatives.
And now you tell me they probably don't think Sierra Nevada is cool?
This is what the passage of years does to you: it makes everyone around you more stupid.
That pithy bit of bile was the result of a discussion I had with a friend back a few years ago. We were talking about how older beer geeks like us had a reverence for Sierra Nevada that seems to be missing in the newer generation.
We elders of craft beer really do have that reverence, too. I remember exactly where and when I had my first Sierra Nevada beer. It was on August 14, 1987, at 11:5am, in a deli in Tahoe City, California, just up the hill from the boat rental dock. I had a Sierra Nevada Pale Ale and a corned beef special. (Hey, my parents remember where they were when Kennedy was shot; I just have different priorities.)
Why do I remember it? Because it was stop-you-in-your-tracks good, because it was zippy and zingy with Cascade hops, and because it was clean and bright and fresh. It was easily the best American craft-brewed beer I'd ever had, and I'd been drinking every new one I could find for six years. But I've remembered that one beer at lunch over the intervening 23 years because in all that time I've never once had a Sierra Nevada beer that wasn't well-made, clean and bright, and a pleasure to put lip to.
Founder Ken Grossman and Sierra Nevada pioneered – no, they created a large part of the craft beer landscape. The American pale ale, twisted into a whole different direction from its English forebear by the addition of the grapefruit boldness of Cascade hops, was born there. Sierra Nevada brewmaster Steve Dressler (quoted in beeradvocate) was not exaggerating when he said "The moment that American Pale Ale became its own style was when Ken chose Cascade as the hops." They did the same for barleywine. Bigfoot took the typical big malt, big alcohol pattern for barleywine and thrust a third log onto the fire: big hops (Cascades, of course).
Sierra Nevada bottle-conditioned on a mass basis (and still does). They freshness-dated their beer. They never contract-brewed; they built one brewery (and they stuck to one brewery). They stayed privately-owned. They didn't advertise, they sold the beer on its merits and word of mouth. They didn't slam other beers; they were a class act with great beer. People did vertical tastings of Bigfoot back into the 198Os "vintages". Celebration Ale was the model for any number of beefy IPAs. Hell, they even did lagers like the Summerfest and Pale Bock.
Apparently that wasn't enough for some beer drinkers. Even though the pale ale continued to sell well and the brewery continued to grow – until Boston Beer brought their Pennsylvania brewery on-line and took all production in-house, Sierra Nevada was the biggest non-contract brewed American craft beer by far – there was a growing feeling of "What have you done for me lately?"
As the brewery has revved up to its 3Oth anniversary – officially happening on November 15 of 2O1O – Grossman and Dressler and crew (because there's definitely a sense of "crew" at the brewery) have answered that question with in-your-face enthusiasm. We've seen the launch of a series of fresh hop beers – Harvest, Southern Hemisphere Harvest, and Estate Brewers Harvest – a true Bavarian-style wheat beer – Kellerweis – the ringingly-hopped Torpedo Extra IPA, an awesomely smooth blonde bock – Glissade – Anniversary Ale, and the wooden-boxed big-bottle Sierra XXX, not to mention a flurry of draft-only specials and a host of collaboration beers.
They've developed a new way of dry-hopping: the "torpedo" used to make the Extra IPA of the same name. They've added an adventurous barrel-aging program (I got a taste of barrel-aged Bigfoot and a barrel-aged tripel at the brewery not long ago), and they've installed a new big-format cork-and-cage bottling line (although Grossman still won't allow "wild" brettanomyces beers at the brewery). All of a sudden there's the feeling of a sleeping giant that just rolled out of bed very much on the right side.
I asked Ken Grossman about this creative resurgence. What brought it on? "We've been doing lots of different beers for years," he said, referring to draft-only beers that sometimes went no farther than the on-site pub. "There's just more distribution now. We can share it."
What do people at the brewery think about the solidly positive reaction it's garnered?" He smiled – he's a quiet sort – and said "Everybody's loving it."
They're spreading the love with something called Beer Camp, where groups of industry folks (from bars, retail stores, wholesalers, and yes, writers) go to the brewery to formulate and brew a small one-off batch of beer, and to get a look around at what Grossman has wrought. I got to go in April, and it was incredible. (Sierra Nevada paid for this trip.)
This was actually my second trip to Sierra Nevada. The first time I visited was in early 1988, just before they moved up the street to their current location. Things were a lot less polished back then; Grossman made a lot of the equipment himself. His brother Steve told us about the early days, how Ken had learned how to homebrew from a neighbor in 1969 . . . at age 14!
Ken and eleven of his friends all went up to the state college at Chico and Ken got bored, dropped out, and opened a homebrew shop. He met Paul Camusi, they started the business in 1979, and Ken took welding classes to learn how to make his own brewhouse. He did it, too, and the 1O barrel system he fabricated is still brewing beer at Mad River Brewing in Blue Lake, California.
A lot of the early decisions made at the brewery were made to save money. There were the usual ones, like buying used diary tanks instead of new fermenters, but a big one was the decision to go with bottles instead of draft. "We started with bottles because Ken could fix a bottling line," Steve said, "and he wanted to do bottle-conditioned beers. And kegs were expensive!"
Why did they finally start doing draft? They picked up a lot of old Golden Gate-type kegs when Anheuser-Busch switched to Sankeys. "We bought a lot of them for $15 each," Steve said, clearly pleased at the memory. "Then we sold them to someone else when we switched to Sankey." "For how much?" one of the other guys in Beer Camp asked. "Fifteen bucks each," Steve said, and was clearly even more pleased by that memory.
The iconic short brown Sierra Nevada bottle, originally in twist-off? It was the only non-proprietary bottle they could buy without having a new mold made. The twist-off caps came with the bottle. The brewery got a lot of complaints when they changed the bottle and went to pry-off caps a few years ago; people were still trying to twist them off and ripping up their hands. The change was for quality reasons; it was better for the beer.
That was one thing I kept hearing the whole time I was there. The extensive QC lab, the blind tasting carrels for doing "triangle testing" of the beer; the use of whole flower hops instead of pellets (Sierra Nevada is the largest user of whole flower hops in the world); the 'gentle' grain-handling system; the incredibly expensive and sophisticated "wet mill" (one of only five used in American craft breweries); two weeks of bottle-conditioning before the beer leaves the brewery (for Pale Ale, Stout, Porter, Celebration, and Bigfoot). Ask them why and you get the same answer: "We don't have to do it, but we do. It makes better beer."
It's all worked well for them. The first year they sold 8OO barrels, and doubled that in their second year. Today, they're making over 7OO,OOO barrels a year. When they outgrew the 1O bbl. homemade brewhouse, they got a used 1OO bbl. Huppmann brewhouse out of a German brewery. When they outgrew that in 1997, they were doing well enough that they commissioned a new Huppmann brewery with 2OO barrels capacity, and put it in alongside the other one. Both are still running, along with a new 1O bbl. pilot brewery (made by American firm Mueller).
You can tick off more amazing points about this brewery quite easily. They grow 9 acres of hops, they grow barley on a 3O acre field beside the rail siding they had built to bring in their malt from Canada (the siding saves them about $5OO,OOO a year . . . and also has solar panels). The barley and hops are for their Estate beers, and they're in the process of building their own maltings.
They don't just do fresh-hop beers; they do three. Harvest is made with US hops, like everyone else does; Estate's from that hopyard they planted themselves; and the third, Southern Hemisphere, is done with New Zealand hops that are flown in fresh. "When we do the wet hop beers," said Terence Sullivan, brewer/educator, "the hopstore is just full to the ceiling." You could probably fit three tractor-trailers in the hopstore; that's a lot of hops.
They've gone green in a big way, too. The brewery gets 9O% of its electrical power from on-site solar panels and fuel cells (planned to go to a full 1OO% in 2O11); co-generation heat from the fuel cells is also used in the brewing process. They have their own water treatment plant (they didn't have to do it, but they did, to take pressure off the city's system). They recycle or re-use 99% of the solid waste from the brewery and the large on-site pub and concert space. These guys are greener than their labels!
But if you want amazing, on a very small and personal level, let's talk Beer Camp. We started bright and early in the Fishbowl, the windowed conference room, where Steve Grossman filled us in on brewery history. Then we toured the brewery, and it was eye-popping. Nose-popping, too: with three operating brewhouses on-site, there was always an aroma of mashing malt or boiling hops in the air. We walked through fermentation halls where huge tanks hung above us, and we saw the seven-foot tall stainless steel cylindrical dry-hopping devices that give Torpedo Extra IPA its name.
(Torpedo was a success that, Sullivan admitted to me, had caught the brewery somewhat off-guard, as initial sales sucked the pipeline dry. It was the biggest-selling new craft entry of the year by far, and only came second to Bud Light Lime. "So now," he said, "we have a problem: do we do draft? We could sell a lot of draft Torpedo, but will it take a tap away from Pale Ale? Pale Ale is the flagship, we want to support it. But they're begging for Torpedo on draft!" The problems of success.)
Then we got serious with a summit conference in the pilot brewery, where we developed our special Beer Camp brew. I was there with eleven other industry people: bar owners, managers, retailers, and one other writer. We dreamed up a 5.8% Baltic porter we named ExPorter, brewed with just a touch of smoked malt for extra depth of flavor, and the staff brewers made our dream a real formulation (there's actually another stage to the project, but I'm sworn to secrecy, so it's going to have to wait till next year).
We brewed the beer the next morning. Well . . . we poured in hops, we carried a bucket of yeast, and we shoveled spent hops out of the hopback. At one point we pushed some buttons. The real work was done by the brewers. We toured the barley field and the rail siding (a one-man operation; the brewery employs about 45O people in Chico and in the national sales force). We were stunned by the size of the bottling lines and the massive rush of green labels (I have to admit to having stopped the line by accident twice; I don't think I'll be invited back).
Finally, at the end of Day Two, we wound up in the pub, where there were more Sierra Nevada beers on draft than we'd known existed, among them two different versions of Pale Ale, Sierra XXX, a cask-conditioned Bitter, and a few taps of previous Beer Camp beers. It was hard to leave.
The real prize of Beer Camp, though, comes weeks later, when you see the beer – your beer! – on draft in your home market, something I just experienced last week. I clinked glasses of Philly ExPorter with Terence Sullivan, who'd come to town to celebrate with us, and enjoyed the hell out of a glass of dark beer that started like a dry stout and just kept expanding.
Am I telling you think just to make you jealous? No, because Beer Camp is actually ramping up. They've become confident on how to do it, and of its value, and they're expanding invitations to other industry partners, homebrewers and some lucky Sierra Nevada drinkers. That's how this brewery has done things since the beginning: not with point-of-sale materials, advertising or marketing ("Marketing?" Steve Grossman responded when asked about the company's marketing plan. "We started that about a year and a half ago. Still figuring it out."), but by concrete example and delivery.
There's more coming from Sierra Nevada. The Anniversary Ale is being replaced this fall by Tumbler, a rich brown ale. There are more collaboration beers coming, brewed with fellow brewing pioneers like Fritz Maytag, homebrewing author Fred Eckhardt, and Jack MacAuliffe, who founded the first new American microbrewery, New Albion. Brewers Association founder Charlie Papazian was at the brewery sampling his brew when we visited.
I asked Ken Grossman why he'd invited these men in to do collaboration beers (he'd also done two beers last year with Dogfish Head founder Sam Calagione: Life & Limb, and Limb & Life). "It was a good time reminiscing," he said. "Fritz and I had a great time. We go back a long ways. As [Anchor] was growing, we were able to buy his old equipment. We bought his old bottler, his old filter.
"We also thought about the people who maybe didn't get enough credit," he added. "Jack MacAuliffe gave us some pretty sound advice. He actually got a few parts from us, too. We tracked him down. It was great, telling stories about the early days, people we knew."
I was thinking about that newer, Sierra Nevada-dissing generation when I asked him what these collaborations with figures from American microbrewing's earliest days might mean to the younger craft beer drinker. He was honest; that's not who these are for, and the names may not mean much to them.
"They may not have heard of them," he admitted. "People who know the industry know the roots. We're not selling a ton of these. It's a thank you to the pioneers who helped put the craft brewing movement on the map."
Well . . . their loss. More beer for us Elder Geeks. In the meantime, a big thank you to Ken Grossman and all the pioneers at Sierra Nevada who helped put the craft brewing movement on the map, and continue to be explorers of new territory.