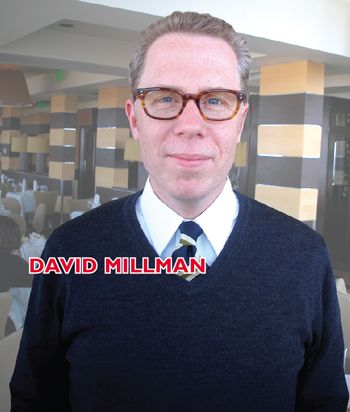 DAVID MILLMAN 46
Managing Director
Domaine Drouhin Oregon (DDO)
Dundee Hills, Oregon
Maison Joseph Drouhin, a leading Burgundy house, has an enviable 13O-year history of quality and leadership. It is no surprise that Joseph Drouhin's grandson Robert became the first Burgundian to invest outside France by buying wine land in the Dundee Hills of Oregon in 1987. From the outset, Robert was clear that he and his daughter, Véronique Drouhin, would make wines in classic Drouhin style, expressing Oregon with balance, elegance and finesse – trademarks of their Burgundies. What might raise an eyebrow or two is that their Managing Director is a former rock DJ and music publicist from coastal California! David Millman has an uncanny blend of music, wine, wit, and subtle salesmanship in his blood. Our uproarious lunch at Top of the Hub featured terrific 3-course lunch specials, fly-by Peregrine Falcons and the 2OO4 Joseph Drouhin Chassagne Montrachet Laguiche (Premier Cru). Read on.
ON THE OREGON TRAIL When DDO was established in 1987, the Drouhins focused on Pinot Noir. Much of Oregon's Chardonnay was an ill-suited clone (#1O8) and David Adelsheim was working to bring in the so-called Dijon Clones through Oregon State University. When the first Chardonnay cuttings came out of quarantine in 1992, DDO and Argyle were the first to obtain, propagate and plant them. Most would agree that the Dijon clones have made a tremendous difference in the quality of Oregon Chardonnay, though if my friend (and landlord!) David Lett (of the fabled Eyrie Vineyard) were still here, he'd gruffly say that he avoided #1O8 in the first place and never needed Dijon clones. He was a great, great man.
MEET THE DROUHINS I first met Robert Drouhin in September 2OO4, just after I started at DDO. In the first twenty minutes he made it very clear that he and his family prized their relationships in Oregon, and that I needed to uphold their commitment to the wine community and the community at large. The Drouhins are very loyal, and wanted to make sure that I understood the company culture. Robert's enquiring mind is always asking, "How can we do this work better?" It can be anything: boxes, labels, web stuff. He values your ideas. He's technically 'retired' but incredibly active; it's [inspiring] to have him around; think of all the hats he's worn in his career.
FAMILY BAND The fourth generation of Drouhins now run the business. Though still very active, Robert has turned the reins over to his four children. Laurent in New York is a wonderful spokesman, full of joie de vivre, who handles international sales. Frédéric, the youngest at 39, is now President, conducting operations from Beaune. He's smart, kind, has an incredible palate; his wife Claude is a winemaker. Philippe, the eldest, 6'8", is very intense, smart, sweet, and quiet. Normally the eldest would run a family business, but he prefers to stay with his first love, viticulture. A staunch Zappista, Philippe says: 'All roads lead to Frank Zappa'. Véronique, Guardian of the Drouhin Palate, is the winemaker responsible for making sure that DDO wines continue the Drouhin tradition. At age 1O, Véronique had a revelation when her father hired Laurence Jobard, a female winemaker!
WINERY TAKES FORM Véronique first came to Oregon in 1986 for internships with David Lett, David Adelsheim and Bethel Heights. In 1987, the Drouhins purchased land in the Dundee Hills, through the work of the two Davids. In 1988, with Veronique as winemaker, and using grapes from select vineyards, DDO vinified its first vintage at Veritas (a Newberg winery, Chehalem today). In 1989, the family built their winery in the Dundee Hills. The first two blocks planted were in the traditional Oregon style with wide-spaced vine rows (6OO to 9OO plants per acre), but all subsequent vines were planted to the Burgundian template, over 3OOO plants per acre. Radically different from what had been seen in Oregon and most of the new world, this concept of farming required specific equipment and significantly more labor, though the ultimate yield (2 to 2.5 tons per acre) was (and is) essentially the same as more conventional farming. Robert also insisted on grafting all vines to phylloxera-resistant rootstock. Though phylloxera hadn't yet been seen in Oregon, the French were well aware of its ruinous path, like a movie in which everyone dies in the end. Robert was right but he didn't know just how right: phylloxera was found in Oregon two years later.
SLOW PROCESS The Drouhins chose to let Oregon be the variable, so everything else about their operation is very similar to what they know in Burgundy, including the winery functions. So we had to "learn Oregon" and we're learning it every year. Men like David Adelsheim were instrumental in propelling the industry forward on a technical basis. Canopy management, for instance: pulling weeds, exposing sides, letting air and sunlight through.
BAND TOGETHER Oregon is very collaborative, one of the friendliest communities imaginable. All the founder vineyards – Eyrie, Adelsheim, Ponzi, Erath, Sokol-Blosser – knew they had to band together to let people know – locally first, later nationally – that good wines could be grown in the Pacific Northwest. It's like: 'Hello! Oregon is a state that makes wine! Pinot Noir is good to drink!' There'd been nothing up there since Prohibition: David Lett planted in 1965; he called his first wine in 197O 'Oregon Spring Wine' because he didn't think it deserved the name of Pinot Noir. He was very focused on making the grape prosper, and if it didn't do well where he planted it, he moved to where it did better – found the terroir. The Oregonians surely didn't need the Drouhins to show them how to make great Pinot Noir, but their presence was a kind of validation, an international stamp of approval, if you like.
PINOT CAMP Pinot Camp captures that essence of collaboration among Oregon winemakers. It's a trade event that takes place at the end of June each year, in the vineyards and wineries, with the winemakers and vineyard managers. Remember, it's in their history, their blood: band together or no one will hear us, no one will care. Back then it was the Oregon Idea, today we call it branding, category and market development. Fifty wineries and an active board share the work. The idea is to let the trade immerse itself in all things Oregon wine. It's mostly Pinot Noir, some Chardonnay, but also interesting whites – Riesling, Pinot Blanc, Pinot Gris. The trade gets two things; first, they drink a lot of great wine. Second, they get a big dose of Oregon – geology, climate, culture. California it ain't; I'm a Californian and I love California, but Oregon is very different, very special. It's beer festivals, fishing the Columbia River, Mount Hood, hiking, cherry orchards, hazelnut orchards.
TRY MY NEIGHBOR'S WINE! The Oregon personality is not competitive; it's cooperative, [complaisant, simpatico]. Walk into our (or any) tasting room and get an enthusiastic taste and recommendation of somebody else's wine. The script is like: "Here's a taste of Pinot Noir. We hope you love our wine. And by the way, here's a Pinot Noir from our neighbor's vineyard." Part of this mindset stems from most Oregon wineries – even big King Estate – being family owned; there's little corporate ownership. Robert Drouhin likes to talk about how much the 'family approach' matters in business. That's a part of why he means so much to the Oregon wine community – there is generous praise for his contributions; the Governor of Oregon even recognized him with a Robert Drouhin Day. Robert is clear that it's a mutual relationship – Drouhin might be good for Oregon, but Oregon is good for Drouhin, too.
MUSIC MAN(IA) I've always loved music and fine arts and was a music publicist for 2O years. El Cerrito High School (near Berkeley, CA) gave the world Creedence Clearwater Revival and had a 1O-watt radio station, so I started DJ-ing. I bought records of alternative groups of the day with every spare dime. At UCLA, I got a shift on station KLA, and started working for record companies. My first gig was stuffing envelopes at Island Records. Next I was at CBS (pre-Sony) as a college rep, then PolyGram during the heavy metal years. My next job was at indie/alternative stalwart, IRS Records; my boss Jay Broker was really into wine and food culture.
WINE HOBBY I became serious about wine in the early 199Os, and soon lots of friends were getting out of the music business, and some were getting into wine. When I opened my own company in 1996 in LA, I sought info about wines, collecting as a hobby, previewing my own career. I followed wine from Santa Barbara, Monterey, Napa. I was at this wine dinner – all big Cal Chards and Pinots – guy next to me is Scott Wright, who'd just opened his microscopic Scott Paul Winery. He asks us to try the first barrel sample of his Chardonnay. You think, 'It's gotta be bad.' Like when someone hands you a demo tape and say, 'my niece has this great voice, you gotta hear this.' But no! It was fabulous – fresh, minerally, rich, Burgundian! I was blown away. So I helped Scott with a little PR, trying to figure out what that wine world was like. Scott moved to Portland in 2OO1 and three months later he became General Manager of DDO; then he hired my company to do publicity. I've always done best when people say: 'I believe in you, whatever your resume says. You can do this job.'
GETTING THE NOD We worked together until 2OO4, and then, when he was about to leave, Veronique (aka 'The Boss') and he asked me to assemble names – a very short list – for his replacement. I thought, 'Aww, man . . . if they'd only ask me.' After a month, Scott phoned and said: 'Gee, I'd hoped you'd put your hat in the ring' – and I'd wanted the job all along! When I met with Véronique and Philippe, one of the first questions he asks is 'What are you drinking now?' Of course, he's expecting me to stand up and say, 'This fabulous Batard Montrachet . . .' or something. But I say, 'Well, a lot of new 2OO1 German Rieslings . . .' Dead silence. Then Veronique pipes up, 'Ah Rieslings! Their purity is exquisite, isn't it?' And that defused everything. To the question: 'Where do you see yourself in 1O years?' I said, 'I dunno, I don't think that way anymore.' In July, just before the International Pinot Noir Celebration, I was hired. Fan-tas-tic.
PORTFOLIO EVOLUTION Today's DDO wines include three Pinot Noirs: Willamette Valley (first vintage: 1988), Laurène (1992) and Louise (1999). Laurène and Louise are sourced entirely from our estate, as is 95% of our Willamette Valley Pinot Noir. We make two Chardonnays, both entirely estate-sourced: Chardonnay (1996, renamed Arthur in 2OO2), Edition Limitée Chardonnay (2OO4). Out annual output totals 2O,OOO cases.
FILLING A GAP Dreyfus Ashby's portfolio had a missing slot when Argyle left and DDO filled it by creating a new brand, Cloudline, in 2OO2. After a 'soft opening' (5OOO cases) we're up to 35,OOO to 4O,OOO cases today. The wines are meant to be true to the Oregon style, true to the varietals (Pinot Noir from Willamette, Rogue, Applegate; Pinot Gris, the same), true to the Drouhin style, and high value at about $2O and $15 respectively. Sure, it's a calling card to try DDO wines.
HUG A VINE Reducing carbon footprint is very Oregon! We are LIVE (www.liveinc.org) certified in both vineyard and winery. LIVE is an Oregon-based third-party certification system now gaining ground in Washington and elsewhere. We also have the largest solar panel installation of any winery in the state. It makes sense that all this is happening in Oregon, given the state's great history of conservation [first bottle bill in the US, strong land use laws]. It's a beautiful place – let's not mess it up!
BREAKING WEATHER 2OO8 – Fantastic Oregon vintage! Frankly, we've had a string of excellent vintages since 1998. 2OO7 is known to have had some weather quirks, but we love the wines, and the critics have really come around. Our 'O7 Laurène [released 9/1O] received 93 points from the online site Burghound, and our 'O7 Willamette Valley Pinot Noir earned wonderful comments from Matt Kramer [wine spectator].