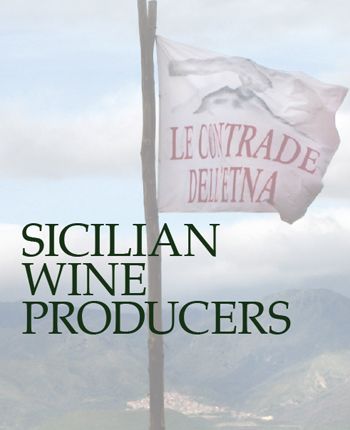 In the spring of 2O1O, I attended four events, Sicilia en Primeur and Le Contrade dell'Etna, both in Sicily, and Vinitaly and VinoVinoVino 2O1O, both in the Veneto. During these visits, I came to understand some of the current issues challenging Sicilian wine producers. These are the likely emergence of an island-wide DOC for Sicily, the diversity of styles of Nero d'Avola wine, and the escalating excitement about the Etna DOC.
SICILIA EN PRIMEUR 2O1O
Assovini is a voluntary organization of 65 Sicilian wine producers which organizes an annual event called Sicilia en Primeur. The members are some of Sicily's most important exporters of wine. Sixty-six percent of the revenues owned by Assovini members are derived from the service sector. This statistic indicates that members seek high profile placements in upscale venues. This year's Assovini event was held in the city of Sciacca in early March. Thirty-seven Assovini members participated. In previous years, Assovini had only featured tastings of the most recent vintage. Such wines-to-be are notoriously difficult to assess. Experienced enologists and merchants have the requisite experience. Few journalists do. I prefer not to judge these wines. A more reliable indicator of across the board quality are the weather reports of key moments during growing season, particularly at harvest. The 2OO9 vintage was the third in a series of cooler and wetter growing seasons. 2OO9, 2OO8 and 2OO7 deviated from the warmer and drier weather cycle that characterized most vintages during the preceding decade. On the face of it, this should mean that the 2OO9 wines should feature fresh fruit, moderate body and moderate structure. Better wines should express elegance. This year the Assovini tasting also included wines that will be released to the market in 2O1O. I focused my attention on those wines. Most of these came from the similarly cooler and wetter than normal 2OO7 and 2OO8 vintages. The samples that I tasted were generally ripe in flavor and high in alcohol. I did not taste the freshness and elegance that the cool, wet vintages of 2OO7 and 2OO8 would have suggested.
As part of the Assovini event, I visited several wineries in the Province of Agrigento and East Caltanisetta, a large part of the center-south of the island. The Zonin property, Principi di Butera, is about 25 miles northeast of the seaside city of Gela. During the 198Os and 199Os, Zonin's current technical director, Franco Giacosa, was technical director at Duca di Salaparuta. During his tenure there, he discovered that the Nero d'Avola grapes from the Butera area provided him with the core raw material for the ground-breaking varietal Nero d'Avola wine "Duca Enrico". This core fruit made a Nero d'Avola with a firm acid, tannic backbone. Upon joining Zonin in 1997, Franco Giacosa advised the Zonin family to buy a large feudal estate in Butera. The critical vineyard factors for creating this style of Nero d'Avola were low vigor, calcareous clay soils, which restrained Nero d'Avola yields, and an altitude of about 3OO meters above sea level, which provided significant day to night temperature variation. The 2OO6 Feudo Principi di Butera "Deliella", which I tasted at Principi di Butera, showed the location in the glass. Its juicy richness was set against a tart, astringent backbone: powerful and structured elegance.
Returning to Sciacca, the Assovini conference ended with a debate entitled "Sicily and the Global Market". Participating Assovini producers and attending journalists engaged in discussion. Sparks flew among producers when moderator and Assovini President Diego Planeta brought up the subject of the impending new DOC status for the entire island of Sicily. Large producers on the panel were generally supportive. Small-sized producers from established DOCs were generally contrarian. At present, over 8O% of Sicilian wine is shipped off-island by Italian merchants and producers. Much of this wine is bottled as Sicily IGT. Due to economies of scale and distribution power, they can sell these wines at prices lower than on-island producers can. On-island producers feel that off-island competitors are taking unfair advantage of the resources of their patrimony without providing compensatory retribution. Setting up a Sicily-wide DOC would discontinue use of the Sicily IGT. It would grandfather in the current volume of production of IGT associated with existing off-island brands, allowing it to be labeled as Sicily DOC. No more exceptions, however, would be allowed. A Sicily DOC would also protect a higher percentage of Sicilian wine from distillation directives that Brussels issues when the volume of unsold EU wine reaches untenable levels. On the opposite side of the argument, smaller-sized producers who have established and built up the positive images of regional DOCs do not want to share DOC status with large on-island producers making lower cost Sicily DOC wine.
LE CONTRADE DELL'ETNA 2O1O
After Sicilia en Primeur, I attended the Le Contrade dell'Etna event on the eastern side of the island. Since 2OO8, Andrea Franchetti, owner of the Passopisciaro wine estate, has sponsored the event. Francetti comes from the vicinity of Rome and owns the Tenuta di Trinoro wine estate in southern Tuscany. The arrivals of other non-Sicilian investors such as Marc DiGrazia, owner of Tenuta delle Terre Nere on Etna, Silvia Maestrelli and Federico Curtaz, owners of Tenuta di Fessina, also on Etna, and larger Sicilian wineries based outside the zone, such as Planeta, Tasca d'Almerita and Duca di Salaparuta, have locals scratching their head wondering if outsiders are taking over their territory. Franchetti, in particular, has done much to foster world-wide interest in Etna wines. This interest has been a factor in the rise of local land values and in increased market prices – higher sticker prices are essential to offset the high production costs. At this year's Le Contrade dell'Etna, Franchetti organized the participating proprietors by contrade. Contrade is plural of contrada, the Italian word for neighborhood. On Etna, each contrada sits on its own lava flow which is a distinct terroir. The practice of identifying wines by contrade is essential to continued valorization of Etna wine. Franchetti, as of the 2OO8 vintage, has begun labeling his own wines according to contrada origin. He seems steps ahead of other mountain protagonists in defining the path forward. Locals are torn between recognizing the value of Franchetti's initiatives and their own suspicions about his underlying motives. What about the overall impression of the wines I tasted at the event? The Etna reds, a blend of Nerello Mascalese and Nerello Cappuccio, dominated by the former, are elegant but vary in astringency from high to low. Both styles are exciting and enjoyable to taste. Also surprising was the quality of the white wines, rosés and sparkling wines made from the vineyards on Etna's slopes.
VINITALY 2O1O and VINOVINOVINO 2O1O
In April, Vinitaly, the largest international exhibition dedicated to wine, held its 44th edition. Verona is where Vinitaly is always held. This year the Sicilian pavilion was organized by region, 16 in all. I did not notice this organization in previous years. Signage this year made regional organization evident. A number of high profile producers such as Marc DiGrazia and Zonin, that in the past had located themselves solely in other pavilions, came home this year to roost. Sicilian wine producers are evidently becoming Sicily Proud. Sicily's Regional Institute of Vines and Wine (IVV) has had a guiding hand in this development. It plays a major role in organizing the delegation in the Sicily pavilion. This year, its new General Director, Dario Cartabellotta, was instrumental in the creation of a seminar series that highlighted various themes, including regionality. He also appears to have played a role in organizing the booklet of participating producers by region instead of by alphabetic order.
Continuing my hunt for elegant, structured Nero d'Avola, I discovered the wines of Feudo Montoni. Located in the center of Sicily in an ocean of wheat fields and at 5OO meters above sea level, Montoni's isolated island of vines represents the ultimate in refined Nero d'Avola. I tasted the "Classico" 2OO8 and the "Vrucara" 2OO7. While the Classico expressed delicacy and elegance, the Vrucara combined structure, power and elegance. I found yet another example of elegant, structured Nero d'Avola at the VinoVinoVino 2O1O exhibition held in Cerea, a 45 minute train ride in the direction of Padua. Two international producer organizations, the Viniveri Consortium and La Renaissance des Appellations, collaborate to produce this exhibition dedicated to "natural" wine. There I tasted the 2OO7 "Terra delle Serene", a Nero d'Avola made by Zenner Do. The Zenner estate was Sicily's, if not Italy's, first biodynamic producer. Though the Pachino area, where Zenner Do is located, is one of the warmest places in Italy, the estate's old, low-yielding wines produce superb Nero d'Avola.
CONCLUSION
Sicily faces the challenge of the big and the small. Mass market Sicily IGT Nero d'Avola wines are providing consumers large flavor at small cost. There are, however, other dimensions of which the variety is capable. These are expressed by Feudo Principi di Butera "Deliella", Montoni "Classico" and "Vrucara", and Zenner Do "Terra delle Serene". These wines and others could save the Nero d'Avola category from becoming a caricature. On the slopes of Etna, highly fragmented land holdings and heroic viticulture make Etna wines a low volume, high per bottle cost product. Etna estates are too small in size to satisfy the needs of US wine distributers looking for constant supply. They are too many, now about 8O, for the consolidated US distribution system to manage. The price points are too high for post September 2OO8 financial meltdown budgets. Hence, Etna needs increased tourism to survive. With Taorima in sight, Baroque Catania, a nearby international airport, and the eruptions and rumbling of an ever active massive volcano, the Etna DOC has the potential to become an enoturistic destination.
Simultaneously maintaining two tracks, Brand Sicily and Regionality, may save the Sicilian wine industry from the predicament the Australian wine industry has found itself in. When Brand Australia ran out its course, consumers were left with little awareness of the distinctive wines of Coonawarra, McLaren Vale and Margaret River. Sicily needs to be understood both as a whole and by its regions. The impending Sicily DOC appears to threaten the image of smaller DOCs. At present there is only one DOCG, Cerasuolo di Vittoria. Sicily DOCs should differentiate themselves by seeking DOCG status. If they were to do this, Sicilian producers would have the best of both worlds, a Sicily DOC that announces the island wines to entry level consumers and regional DOCGs in addition to DOCs in waiting that tempt those consumers to sample the diversity of wine flavors which mirror its many terroirs.