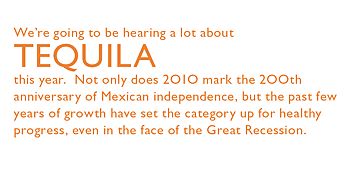 We're going to be hearing a lot about tequila this year. Not only does 2O1O mark the 2OOth anniversary of Mexican independence, but the past few years of growth have set the category up for healthy progress, even in the face of the Great Recession.
With more and more brands arriving on the shelves, companies are ramping up their commitment to programs that educate trade and consumers alike and convey the deep-seated legacies in the bottle. And these are not necessarily shot-sized stories. Accordingly, tequila's growth can largely be attributed to bartenders embracing 1OO% agave tequilas as they shake up margaritas, which maintain the long-held position as the number one, most ordered mixed drink in the country. Tequila's versatility has proven to be an asset as well as the spirit continues to appear more and more frequently in a variety of creative concoctions.
NUMBERS DON'T LIE
According to the Distilled Spirits Council of the United States, the tequila category overall grew by 5.2% in sales of 9-liter cases in 2OO9, the second largest growth rate behind Irish whiskey. (Vodka grew by 4.9%, but the number of cases sold was larger to begin with.) Gross revenue for the entire category clocked in at $1,645,OOO,OOO, a three percent increase over 2OO8. The value segment drove the growth – but still, not bad for a recession. In that context, it's interesting to hear how brands have performed individually.
John McDonnell, Chief Operating Officer of Patron Spirits Company, launched our conversation by saying: "We've had an up year." Five years ago, Patron was sold in five countries. Now it's available in 115. Locally, according to his most recent data, his tequila sales are up 5% in Massachusetts. Patron XO, the tequila-based coffee liqueur, nearly doubled its 2OO8 sales in 2OO9. "Massachusetts is outperforming total US sales on every one of Patron's brands except Ultimat," he said. According to Nielsen's numbers for the 52 week period ending December 12, the latest available when McDonnell spoke to me in January, the tequila category was up by 2.3%, but Patron was up by 6.3%. A big factor driving that is the 25% increase in placement in national on-premise accounts, from Bertucci's to Ruth's Chris Steak House.
"el Jimador is experiencing significant growth," said Brown-Forman's Mark Bacon, Tequila Brand Manager. "It's quickly becoming the fastest growing premium tequila in US, and Massachusetts has a good premium spirits market. We had really strong growth on Herradura and el Jimador in that market this year – in fact, it's one of the fastest growing states we have. We've been successful on- and off-premise." David Page, public relations manager for Brown-Forman, offered specific growth numbers in Massachusetts. As of late fall, Herradura grew more than 8 percent and el Jimador was up a whopping 125 percent.
Bacardi's tequila brands, Cazadores and Corzo, had a similar story to tell. "Corzo business tripled this year, which is twice as big as it was two years ago. That's when we began taking the brand seriously and assigning a marketing team," said Aaron Burns, Senior Brand Manager.
Pryce Greenow, General Manager for Mixables at Beam Global, which includes super- premium Tres Generaciones, Hornitos and Sauza, said that while José Cuervo and Patron drove the category on the value end and high end premium brands, respectively, there's still a "middle tier" that's in development. "The overall growth trends more toward premium, and all projected growth is in the 1OO% super premium and premium category. There's a little bit of land grab going on right now," he said.
"In the $15 to $3O segment, things are really competitive. Two consumer preferences are for 1OO% agave tequila and for silver. We're consistent with that. We grew our revenue in 2OO9 in tequila despite the bad economy. In the latest 13 weeks, Beam's tequila portfolio was up 12% in volume." That was in January.
Larry Kass, Director of Corporate Communications for Heaven Hill, said Two Fingers sales in Massachusetts were 12OO 9-liter cases last year, which was up about 9% from year prior. But the company is busier with their newest brand, Lunazul, which stands as a prime example of how the overall trend of budget-friendly brands are driving the category's growth. According to Kass, Lunazul, which only launched in 2OO8, saw 42,OOO 9-liter cases sell in 2OO9. The Massachusetts cut of the pie was about 1OOO 9-liter cases in its earliest year. He calls that a "good start." Like its super-premium tequila La Certeza, Lunazul's blanco, reposado and anejo are produced in Jalisco at the Tierra De Agaves distillery, which is owned by members of the Beckmann Gonzalez family, descendants of the clan that founded José Cuervo. As Kass explains it, because of strategic vertical integration at the distillery and its vast agave holdings, they were able to bring 1OO% agave products to market at a price that's a mere few dollars more than the mixto leader. "We're well positioned with Lunazul. When economic times are tough, we have brands we're using and working through the retail environment. It can be tough sledding in on-premise," said Kass. "We allow critical acclaim to work with that. Lunazul just won two gold medals and a silver at the San Francisco World Spirits Competition for the three bottlings."
WHAT'S NEW
With the tequila market becoming increasingly crowded with boutique brands, the stalwarts are paying careful attention to make sure they remain a focal point in the collective public eye, continue to be accessible and easy to try, and ensure growth continues.
Diageo's Alefiyah Sarma, Don Julio's Senior Brand Manager, noted that the company recently launched a new 1942 package in Texas and California and it will ultimately make its way to the Bay State. "We wanted to contemporize it a little more and be in line with the luxury feel it has as well." The bottle is shaped like an agave leave, and has more brown tones and gold flecks in the label.
Bacardi launched 375ml sized bottles for its Corzo line. "It's an extremely opportunistic size because with the economy, people want to purchase luxury brands – brands within the $46 to $5O range – but don't want to spend," said Burns. "The 375 bottles rolled out in October in the silver, reposado and anejo. It allows us to have a bottle priced $24.99." He also noted that by May or June, Massachusetts will start receiving the "rainbow pack" of three 5Oml bottles in a rainbow box for both their brands.
Two Fingers, which Kass says has been a pretty big brand for Heaven Hill since it was acquired from Hiram Walker 12 years ago, unveiled a redesigned bottle for its Gold and Silver marques. "We've really seen a major sales bump as a result of the new package," said Kass. "It needed refreshing. We never did it before because it had a lot of equity, but we went to a more upscale, sophisticated look that's much more in keeping with the tequila market now. One of the most distinctive things is the black tall bottle, and it has the master distiller's signature. It's in the same bottle shape but clear glass, which allows people to see the product. It's a nicer presentation with a rolled cap."
EVERYTHING'S
COMING UP SILVER
You could chalk it up to vodka's mach-speed proliferation of the spirits market and long domination of public attention, but consumers moving into tequila tend to start with silver (blancos). After all, to anyone not accustomed to brown spirits, the silvers are the smoothest tasting, so they're the easiest vehicle for introducing people to tequila. They're also terrifically mixable, and many people come to the category through cocktails.
McDonnell of Patron said when it comes to its iconic Silver, "We're going all out on mixability, and we continue to see more support around that – Cosmos with Patron, Bloody Marys with Patron, Patron and pineapple. The most interesting thing is that educated consumers are understanding that what they can do with vodka, they can do with Patron Silver. But it's not just silver – people are putting anejo in Bloody Marys for more flavor. I think, for certain, people are giving tequila a chance."
Beam's Greenow said the company's two master mixologists have played a major role in bolstering that awareness. "The interesting thing about tequila is with blanco you get into the same versatility as vodka," he said. "But you also get a fresh taste profile you don't get with vodka. In terms of pure sales, margaritas dominate, but tequila is breaking out of the margarita, especially at the super premium end. I think we'll continue to see that."
In accordance with the cocktail surge, Sauza has an agave nectar licensed under the Sauza name, but right now it's still considered an experimental project. Greenow says they're gauging interest. "Consumer preferences are for silver tequilas and 1OO% agave tequilas – mostly above $2O," he said. "And Boston is one of those markets that weathered the storm better than most. It's an important market in a lot of senses. With the sheer quality of cocktail bars and restaurant, Boston is exciting for the industry. There's a consumer base that enjoys that sensibility, and the general economy of the region held up better from a spirits industry perspective. There's a large population and interesting trends, with there being so many colleges and the constant influx of many different groups. That's consistent with the growth and importance of silver."
Sarma, of Don Julio, said blancos are driving her brand's trajectory. "Currently, what we're seeing is that blanco makes great cocktails. It's versatile. People are using reposados instead of other spirits in classic cocktails, like in a Sidecar. But really, we hear about comparing tequila to wine – there are so many nuances that once you discover them, you get engaged in it and can do so many things in cocktails, or even sip it neat."
Elwyn Gladstone is Vice President of Marketing for Proximo, which owns 18OO, Gran Centenario, Azul, and Maestro Dobel, says silver is doing very, very well. "The entire tequila category has changed. Patron has done an amazing marketing job making silver the trendy, fashionable, cool grade of tequila. Because it's so popular, people associate silver with something better. There's a group of hard core tequila drinkers who think aged is best, but that's a small portion," he said. As a result, their push on the 18OO Silver is showing strong returns. But he attributes the domination of silver to a still broad lack of knowledge of aged tequilas. "Our brands are doing well on-premise. It's about being different and making things simple for consumers to understand. I think it's overestimated how long a way people still have to go before they understand the difference between reposado and gold. There's an opportunity for tequila, and products getting better. I think it can only benefit from more and more innovation."
THE RETAIL REALM
There's a consensus from retailers around the state: while value brands are still flying off the shelf – especially in the summertime, consumers are showing more curiosity about higher-end brands. "It's definitely a niche that's been growing," said Peter Balboni, who owns Pioppi's in Plymouth. "It's something we've been expanding on. We definitely have regular tequila drinkers year-round, and Patron is our biggest seller, but there's more and more people buying it in the summer. I'm seeing a lot of new brands. As far as customers are concerned, it's gotta be 1OO% agave. I see the growth in the more premium brands. It's a category that I haven't seen affected by economy, whereas with vodkas, I definitely see people stepping down to something more affordable."
Where lower priced products are concerned, Balboni has noticed Sauza's Hornitos doing well, especially its reposado. Milagro Silver sales have also seen growth. He said that he usually sees a bump in interest when brands change their packaging. Also, people are showing more and more interest in new, offbeat or boutique brands, especially ones that broadcast themselves as organic or "green", like Tequila Tierras , which is made with 1OO% organic blue agave.
"The restaurant industry has helped it a lot. They are carrying more brands, and there are a lot of younger people interested in the good stuff. Before, it was margaritas and shots – now it's for sipping and drinking straight like fine Scotch or Cognac. Ten years ago, I had Sauza and not a lot of other choices; now there's so much variety. We can recommend an oaky tequila to a customer or something not oaky at all. It's appealing to a greater variety."
The fact that brands have ramped up their off-premise promotions hasn't hurt either. Balboni particularly noted the in-store tastings 18OO held around the release of their artist series bottling, the outcome of a contest that solicited bottle designs. He said Sauza ran a program in which if a retailer buys a certain number of cases, they'll set up a series of in-store tastings. "Those make a big difference because they allow customers to try something they've maybe never tried before. It's just a small sip, and they may not buy the product that night, but next time they come in, they'll remember that brand," he said.
At Newburyport Wine & Spirits, Manager Paul Souza says they've definitely "upscaled quite a bit". Whereas a year ago they had 32 tequilas to choose from, they've almost doubled that to 57 different labels. He caters to a very adventurous demographic, finding not as much emphasis or interest on blancos. "They're there, but the emphasis is on that age statement," he said. "People are really working toward reposados and anejos. Silvers just don't move as fast." As part of the upscaling at his store, he recently brought in an agave plant to draw attention to the tequila section, where he also hung a vibrant poster that explains the spirit's nomenclature. "We're working hard to make sure consumers are informed," he said. "There's a good demographic in Newburyport. Good consumers are willing to learn and experiment, and that really helps. It might not work as well in a different city." He observes that super-premium drinkers are often big wine drinkers. While he estimates that 5O% of the store's sales are in wine, the crossover interest helps keep the spirits moving.
Souza also speculates that a lot of the trading up is, interestingly, a result of the tax increase imposed in August. "That hurt the handles, but it hasn't hurt the super-premiums. Those are sellable if you're willing to put effort into selling them. There's more margin to be made in them, and great consumer recognition. There's still the seasonality factor, though. He finds tequila more seasonal than bourbon, not least because of the strong boating community in the vicinity and summer rental population. "It's still a segment of the market people are looking at as a sipping spirit, but it's still not as strongly recognized as bourbon or cognac. And it's not as versatile as vodka. We try to push the that, but a lot of people here regard tequila as either something to sip or to put in a margarita. The industry is doing a good job, but it hasn't quite caught on yet. Not here, at least." When it comes to versatility and mixability, Souza said flavored tequilas are the ultimate way to capture the vodka market share.
EMPHASIZING AWARENESS ADVERTISING ADDS UP, PARTNERSHIPS BUILD
In accordance with studies of models that proved successful during and after the Great Depression that show a strong success rate for brands that sustain a high public profile through sluggish economic times, McDonnell said the company has not scaled back at all with its advertising as the economy has sunk into recession. Their efforts for their mixability campaign have been publicly recognized – like recieving an award for Best Marketing Campaign at the annual Tax Free World Association's event in Cannes.
Beam is following that philosophy as well. Greenow said the company will continue to invest heavily behind Hornitos and expand their "Mischieve" advertising campaign this year with a new television component. "We're one of the first pioneers of educating people on 1OO% agave since 196O. As we look at the success of last year, it has a lot to do with the spirit of the Mischieve campaign. That campaign is evolving," he said. "Lifestyle positioning is new way of marketing. We learned a lot in 2OO9, so the main effort of the campaign now is television and digital." He added that they're increasingly seeking out media partners to work with – not just as far as target demographics, but as a resource that helps them develop materials to provide unique, original content on those channels. "It's another way of leveraging the product with partners. We work with specific cable channels and have them help us create content around our brand, especially with a strong premium brand like Hornitos, which sells close to 4OO,OOO cases annually. Beam has also been putting a big push on its brand new campaign for 1OO Anos, a top selling brand in Mexico with over 1 million cases sold annually. While only in the United States for four years, a new tagline broadcasts: "1OO% Agave, 1OO% Mexican". He says they're supporting the American awareness and growth with year-round value-added packs.
Proximo's 18OO tequila has taken advantage of the television airwaves by launching ads to grand effect – the debut commercials feature Michael Imperioli from The Sopranos. Gladstone contends that the brand is doing well as a result, with sales up double digits. "People are responding to advertising." The brand has also ramped up its visibility by becoming the official sponsor of the LA Lakers and activating various promotional activity around the team, from promos with the Laker Girls to sponsoring the "Million Dollar Shot" at halftime. Of course, in-court advertising and visibility on the team's website are part of the program. He says they're looking to be in more NBA markets in the next basketball season. With Azul, their well-priced 1OO% agave that Gladstone says is the fastest growing 1OO% agave tequila in Mexico, Proximo did a sponsorship of an Indie 5OO car. He says they're looking to do other big sponsorships.
Don Julio's "Know Your Tequila" campaign is a rooted in communicating the brand's rich heritage. It has continued to proliferate in the market. "It takes consumers down a path of a different kind of tequila for them to appreciate through education."
Brown-Forman's Herradura is working on regional advertising and plans are to expand in the future. Bacon said the company has done out-of-home and print and plans to build on that in the future.
"In this economy, we're making our dollars work hard for us from a promotional standpoint," said Bacardi's Aaron Burns. "A lot of dollars go to accounts to get liquid on people's lips. We've been doing a lot of tastings and samplings, but our key media outlet is UFC," he said, referring to Cazadores's sponsorship of the Ultimate Fighting Championship, the largest mixed martial arts organization. The brand's partnership has expanded by orders of magnitude since its launch in 2OO9. The biggest success, he said, has been the Authentic Spirit Awards, which Cazadores awards to a fighter who, at each match, "embraces the quality of the brand: authenticity, strength, perseverance." It involves a charitable donation component, so they're continuing that element in 2O1O.
But they're developing the partnership, too, by activating the year-round "UFC On-Premise Experience". When the fight is broadcast on Pay-Per-View, they'll have Play Station 2 units set up in select on-premise accounts where consumers can play their own digital rounds. Photos shot of consumers with championship belts, gloves and a backdrop of the ring are uploaded onto Facebook. But wait, there's more – retail activation is coming up in August through October when Cazadores presenting fights take place. They're leading with a strategy of "Deer and a Beer" under the presumption that consumers buy case of beer and a bottle of Cazadores. The brand is also offering an on-pack octagon shot glass with the 75O as well as a mail-in rebate for $1O off the Pay-Per-View fight.
Several brands have found ways to engage the ever-evolving online readership and capitalize on that realm. "For Sauza, consumer communication is digital," said Greenow. "It's incredible to have a place where you can legally and responsibly target people digitally, increasing our media mix. Tequila has become analogous to wine – there are so many types and marques of tequila and greater interest. As it becomes more mainstream, there are a lot of questions. We owe our consumer and trade partners explanations. There's a greater involvement in product from consumers, and we can learn from the wine industry."
In February, with plenty of time before Cinco de Mayo and the summer, Brown-Forman's el Jimador just released its first iPhone app, which Bacon describes as a start-to-finish party planning tool. It guides the user in everything from sending out invitations to prepping for the party to tips on ensuring guests a good time in a responsible manner. The free download steers users to connection to social media – Facebook, Twitter and the el Jimador website.
IT TAKES A VILLAGE
Of course, even multimedia advertising can only penetrate so far. Many companies employ brand ambassadors to travel around and do on-site trainings, both with bar/restaurant staff and distributors. Beam's Greenow noted that their tequila ambassador is part of an education team who works with distributors and key trade people, so he'll do activity both on- and off-premise. Brown-Forman's global brand ambassador, Ruben Aceves, is based at the distillery, but in addition to dispatching him to various markets, they'll send Jose Cortez, a fourth generation Casa Herradura jimador who's long been harvesting agave, to do agave harvesting seminars.
Like its advertising platform, Don Julio's education platform is based around spreading the word of its heritage. "We do trainings with wait staffs and bartenders," said Sarma. "Once they know something, it's easier for them to pass that on to consumer. Don Julio was the first ultra-premium that was created. We spend time and effort looking at the processes developed to create tequila at this level."
Brown-Forman is working on what they call the "Paloma Master Program" which teaches bartenders and consumers how to make a Paloma, the traditional Mexican drink with grapefruit soda. But beyond that, Bacon says the company's efforts are focused on training on the finer points of its brands and premium tequilas in general. "We want to bring out the professionalism of bartenders and let them make their proprietary cocktails with our premium brands," he said.
RAISING AT THE BAR
When it comes to mixed drinks overall, Davide Carouso, General Manager at Bokx 1O9, the lounge-y steakhouse in the Hotel Indigo in Newton, said that tequila is certainly a popular spirit, but "vodka always wins". Nevertheless, he says, "tequila is something people are looking at differently." Since they opened in July 2OO8, the tequila selection at Bokx has grown gradually to about 18 selections that range from $8 to $75. On the higher end, there's Milagro's sublimely packaged Romance and Don Julio Real. Unlike most suburban restaurants, Bokx caters to a pool area, and when that opens, Patron flies, he said. Don Julio makes regular appearances in drinks on the cocktail list and Carouso said he often finds that staff suggest Herradura to people who may ask for recommendations.
At the oceanside Seaglass Restaurant in North Salisbury, Assistant General Manager Kevin Knauer, who had worked for many years at Michael's Harborside in Newburyport, said he's seen a distinct boom in people's interest in higher end tequilas. "Ten years ago, people never heard of 'anejo' unless they were a tequila freak. Now everyone carries it," he said. "Two years ago, it was a much harder push, but there have been people coming in and tasting the staff on the different levels and explaining what the difference is. Any time they do that, it helps staff sell things."
The Seaglass is part of a small restaurant group that also operates the nearby Big Deck, where margaritas are the favored drink throughout the summer. "It's nonstop Cuervo Gold margaritas," he said. Over the past few years, however, he's seen tequila become less and less seasonal, mostly as a result of the popularity of Patron Silver. Don Julio does well at Seaglass, he says. They keep Cuervo Gold in the well, but servers regularly upsell customers who ask for margaritas. The only other tequila-based drink that stays on the cocktail list is Patron Silver enlivened with fresh lime juice and simple syrup. "If it's on the list, it sells," he said.
At the perpetually
jam-packed Om Restaurant & Lounge, the Asian fusion Harvard Square spot, bartender Ray Carré said he can burn through stocks of Patron Silver on a Thursday and Friday night alone just by pouring shots. Only because there's no more left by Saturday do guests turn to the Patron Anejo. At the bar they also keep Corzo Anejo and José Cuervo Silver and tend to bring in a greater variety for the spring and summertime. Cocktails on his list tend to be variations on the margarita. The tamarind-flavored K2 margarita involves orange and pineapple juices built on José Cuervo Silver.
Across the river at The Rattlesnake on bustling Boylston Street, Executive Chef Brian Poe finds tequila to be more seasonal than other spirits, but then, Rattlesnake has a roof deck bar that people flock to in the summertime. The restaurant, which has a heavy focus on southwestern-accented dishes, carries about ten tequilas that run the gamut from Sauza to Patron, and Poe said that they've seen great success with Patron XO since they started serving it in the last few months. Even in Rattlesnake's boisterous party environment, he observes a more educated tequila drinker coming to eat than he has in years past. "People are taking it more seriously and asking more questions about tequilas. It's the same with food – everyone is more educated, which keeps us on our toes. We pay attention to our own staff training, so when people begin to ask for different things, our bartenders can talk about what spark their interest."
Down the street at the tony Clio, in the Elliot Hotel, the vibe is more subdued but the clientele is just as adventurous. Bar Manager Todd Mall developed a drink he named the Acidia, which contains Milagro Silver, grapefruit, grenadine, yuzu juice, and an ancho chile syrup. It's been a hit with guests. "The true mark of a good bar is being able to make a good tequila drink. People seem to like the Acidia. You know you've made a good bar program when you create an original tequila drink and people drink it. It's a very tricky liquor because it's so pungent. It's not like vodka – people are always going to know there's tequila in their drink," said Mall.
But he's found that more people are coming into Clio for tequilas to sip, rather than tequilas to shoot or mix. Subsequently, he's brought in more boutique labels, like Chinaco Anejo, El Tesoro Anejo and the ornately packaged Milagro Barrel Reserve. "We're getting a different level of tequila drinker, as people are better informed on what a tequila could be," he said. "People are more educated in terms of talking about tequila. It's almost like wine 15 years ago when every restaurant had white zin on its wine lists, and now you look back, and that's like what well tequila is today. Knowledge of products leads people to better quality. With that demand, the great tequilas out there are being given the kudos they deserve."