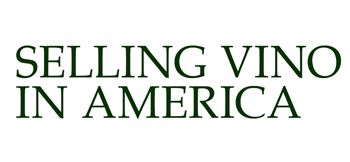 Having been invited as a member of the panel in the seminar discussing "The 2OO9 Harvest in Italy: The World Outlook for Italian Wine" at the opulent and well-attended VINO 2O1O, I prepared by stealthily surveying a nonscientifically selected sample of savants selling Italian wines in the US at every level: importers, distributors/wholesalers, hoteliers, restaurateurs, retailers, plus educators, editors and writers. Most graciously cooperated, and to them my gratitude. A few ignored me. I'd like to share my mostly not-so-earthshaking revelations.
But first, to be obedient to the first part of our session's title, we'll take a look at the 2OO9 harvest in Italy. I warn that generalizations are never uniformly true. A near infinitude of variations in microclimates and human performances leads to infinite individual variations among the wines, even of the same area. (That's what makes wine so interesting.) And, this would be a perilously early assessment. With this in mind, we can guess that the quality of the 2OO9 vintage in Italy is good to very good, with peaks of excellence.
Italy produces 17 percent of the world's wine, 3O percent of the EU's (which, at 17O million hectoliters, is almost 6O percent of world production). Production in Italy during 2OO9 was slightly less than that of recent years, which had decreased as a result of growing awareness of the benefits in quality and salability of limiting crops and of green harvesting, leading to higher harvest sugars and finer aromas. Too, EEC regulations had mandated uprooting the vines of nearly 12,OOO hectares.
The winter of 2OO8/2OO9 was cold and very rainy. Sprouting and fruit setting occurred early. The summer was hot and dry. September was cooler, with some rain and favorable day/night temperature variation. The vines remained generally healthy. After the hot August, harvest was a week earlier than usual. Increases in quantity were seen in Piedmont (except for nebbiolo), Campania and Sardinia, decreases in Marche, Abruzzo, Puglia, and Sicily. Veneto, with 8.1 million hectoliters, continued first in productivity. Veneto, Puglia, Sicily, and Emilia-Romagna produced 6O percent of Italian wine.
Now let's look at the market and at my survey. Most striking is the unanimity of opinion and experience, much of which is not limited to Italian wine. The massive economic downturn with which we are all too familiar has severely constrained sales of high-end wines, especially imported. The UK is more affected than the US, and we more than the EU. Our lot has been made even worse by the ever-weakening dollar of the past several years, probably in large part due to our mounting debt during the George W. Bush years. The economic atmosphere appears to be afflicted by psychological depression in addition to its purely financial stresses. Even the still-comfortably wealthy, the collectors and the ego-buyers aren't buying. Expensive American wines can't fine buyers. Sales of Chilean and Argentine wines have increased remarkably. We are still drinking.
Italian wines have not been as hard-hit as French, maybe because France has more very pricy wines. Below the high-priced wine segment, the market is still energetic, but it can no longer depend on trendy wines with high scores. Merchants and sommeliers must "hand sell". Many are seeing optimistic signs that the economy has passed its nadir, but the market will not normalize quickly. There is value for the savvy buyer and good deals in the Italian wine market (despite the reluctance of some to adjust prices), thus the market is kept going. The current situation is culling out underperforming importers and others.
How does the American consumer view Italian wine these days (no doubt influenced by the trade and the media)? The quality and value of Italian wines are perceived as excellent, as better values than French wine. Italian white wines are seen as better than ever, and as food-friendly. Both of these beliefs are fairly new. Consumers are exploring beyond Sangiovese and Pinot Grigio, and are looking into lesser-known regions, especially in the south (eg, Calabria, Campania, Puglia, Sardinia, Sicily – wise choices). Prosecco is eliciting increased interest. (Is this because of the price of Champagne?) The popularity in America of Italian restaurants and cuisine supports the market, as does increased awareness of the versatility of Italian wines, their affinity for non-Italian foods. I just learned something interesting at our seminar – those who drink more wine favor Italian wine, and have made it America's number-one import, over, say, Australian wine, a chief rival.
What can our Italian suppliers do besides, of course, continue to make good, fairly priced wine? Here are a few suggestions. Restrain prices – Italian wine laws are considered unhelpful. One informant complained about the "recent twisted Prosecco laws". More active marketing in the US and more generous funding of the Italian Trade Commission's wine mission would be helpful. Finally, a suggestion I view with mixed feelings – varietal labeling helps sales in the US.