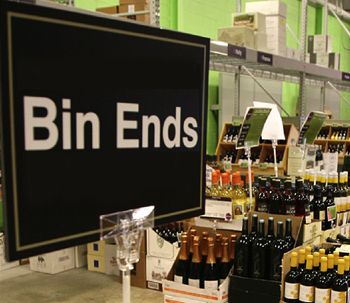 One of the first things you notice upon entering Bin Ends, a liquor store in a mixed-use complex in Braintree, is that there's not a wine rack in sight. For a store that regularly counts about 45O wine labels in its inventory – not to mention an abundant stock of craft beers and a well-curated collection of artisanal spirits – that might seem out of the ordinary. But then, Bin Ends is no ordinary store. The 4OOO square-foot, high-ceilinged warehouse space has walls boldly painted lime green and deep purple. Hulking metal industrial shelving line the periphery of the store. Along two walls, they separate the wine displays by country. Bottles are laid out in wooden bins; tasting notes is affixed to each bin. The upper level of the metal infrastructure forms the top shelter of each partitioned area while doubling as a shelf for any overstock. It's an airy space, and like a space that showcases unconventional but accessible art, you'll often find wines displayed for sampling and lounge music that lends itself to relaxed moseying.
John Hafferty and Craig Drollett, the owners and managing partners, opened Bin Ends in May of 2OO8, in response to a gap they found in liquor retail. What was missing? Marked down prices for what can effectively be understood as remainders. Bin ends, a term commonly used in the British market, refers to the last bottles of the final cases of a label before the vintage changes over. Bin Ends the store would put those bottles in the spotlight. Hafferty had worked in the wine industry for 15 years, many at MS Walker, where he served as the Fine Wine Portfolio Director. Drollet had grown fluent in the wine industry from stints throughout the industry. He worked at restaurants in Boston and beyond, and logged five years with Frederick Wildman & Sons. To hear Hafferty tell it, for the better part of the 199Os, he and Drollett casually monitored the retail realm in which they regularly trafficked and identified two distinct models: the traditional carriage fine wine shop and the standard package store. "Fine wine retail business was in a time warp, somehow stuck in the 197Os, while other retail realms evolved," said Hafferty. "We felt like there was improvement to be made by layering in superior customer service and really focusing on proper staffing."
To develop their concept and its design, the duo looked at other retail segments – from clothing and shoes to books. "In every other realm, there's always an off-price retail option. There wasn't one on the fine wine side," said Hafferty. "Wine has an enormously inefficient distribution system. Take, for instance, government regulations – wines go through so many different hands before it gets to retail, and all the hands have to be on the same page. Then a brand will sit. The result is that there's a huge opportunity."
Of course, every opportunity comes with challenges. When the business partners started telling people about their concept, people warned that they'd be labeled "close-out kings". "People said, 'It's gonna be your Achilles' heel'. Rather than try to run from that, we figured why don't we embrace the label? And in doing so, we essentially turned it around and into an asset instead of letting someone else define us. We're not 'closeout kings,' we're Bin Ends, and we sell wines that don't otherwise have a home," explained Hafferty. It actually turned out to be an avenue for better branding efforts. "We let customers judge for themselves. Plus it invites people to ask questions and we get to explain what Bin Ends is, what we're all about." Branding is a major part of their strategy. But while they want to be widely known as the store that offers well-priced, high quality, lesser-known wines from small producers, Hafferty says they realize that might alienate a few consumers. Therefore, they'll have established labels in the store, but they may carry their more boutique offerings, many of which even wine aficionados may not know exist. Hafferty points out Rosenblum's Cuvée Michelle that was produced as a private label for a restaurant chain. It found its way to Bin Ends when it didn't work out on-premise, he said, and they helped them move the bottles through the system. "We realized some people couldn't go 1OO% for Bin Ends selections. We stay within 4O/6O to 6O/4O split between current vintages that are available broadly and Bin Ends selections," he said. In the store, black tasting note tags on the bins indicate a current vintage while colored tags indicate Bin Ends selection. Everything is tasted by staff and Hafferty writes many of the tasting notes. (He has a Diploma in Wine and Spirits from the London-based Wine and Spirits Education Trust.)
With their decades of collective sales and distribution experience, he and Drollett approached the retail endeavor with a sharp understanding of the business realities that go along with the more romantic aspects of the wine industry. "It's not just about crunching numbers. We want to cater to all the different reasons people drink wine: as a beverage to drink, for a vicarious experience, as a gateway to other cultures, for the science of it," said Hafferty. "I call it the yin and yang of business and passion that goes into what we do."
"We know where the good wines are hidden," said Drollett. "There are loads of reasons why incredible wines get left behind. It's the same with any product – whether it's because an overloaded importer can't handle all the product, or a distributor can't focus on it. We both dealt with that through our careers. Part of where the concept came from is that as suppliers, we were frustrated to see 9O-point wines that were not selling. It might have a terrible label or maybe the sales force wasn't doing its job. Now we're going out and finding those wines."
To keep overhead down, they found a space in Braintree, which happens to be conducive to the vibe they aimed to achieve, one that Hafferty describe as the beverage industry's equivalent to an Apple store. "It's high energy with lots of thought on design. It's space that's meant to be fun and comfortable to shop in. People are engaged, they get to play with the toys. We take wine seriously, but we don't take ourselves too seriously," he explained. And on a Sunday in October, with customers arriving in ebbs and flows, there were moments when about 2O customers were ambling through the airy space, trying wines in the open, and asking questions, and it was easy to see what he means.
"We looked at stores like Ikea and Staples for inspiration and asked: What do people like about shopping there?" said Hafferty. They decided that given the number and diversity of labels they wanted to offer, they had to keep focus on keeping overhead costs down while ensuring the consumer wasn't overwhelmed. It seems to be having the intended results. "The average sale per customer is often about a case of wine versus a few bottles. We draw customers from about a 2O- to 3O-mile radius, so they come and stock up on a few cases. We try to validate their opinions. We're basically out to subvert any bad experience a person may have had in any other store, where they picked up a bottle of wine in a crowded aisle. Everybody's tastes are personal, people like what they like. If they like a white zinfandel," he said, sliding over to an island display, "we have this here. It's good quality, reasonably priced. Or if they're looking for a $75 Napa Cabernet, we have a selection of those – and everything else in between. We can introduce people to wines from other countries – Hungary, Switzerland. It's part of the aesthetic of the store. Wine should be something to enjoy. We're making the whole experience an opportunity to discover."
But in the long run, there's little lasting power of discovery without a record of it. Bin Ends offers shoppers the option to sign up for what they call a personal wine list, a computerized catalogue of purchases that's only accessible by that individual. That way, a person can come back and get the name of the wine they bought before Thanksgiving, or that anniversary party last July. As of November, it was only available in the store, or a customer could email them and they'd shoot off a report. But Drollett said they're working to make it accessible from home.
A good deal of the store's success can be attributed to the aggressive way the owners have leveraged the web and social media. Their website (from which Massachusetts residents can order wines to be shipped) announces new arrivals, top sellers, specials, and seasonal favorites. Drollett handles most of the technology side of the business. He maintains an active Twitter account, and the store's Facebook page has over 13OO fans, who regularly see posts that announce specials. Drollett said that one Facebook post on a mid-October night led to the sale of 6O cases of the announced wine by the end of the following day.
"Social media is what it's all about. Between those services and our email and website, that's how we stay in touch with customers. We do a lot of customer service on Twitter, and a lot of sales come from Facebook – it leads people to our website. The way we handle social media and the internet is a great example of the whole modus operandi. It just takes that pretentious snobby atmosphere out of wine. We have a large young consumer base and we've captured them quickly. Younger consumer doesn't want to hear old school attitude about wine. They want to find great wines and feel confident in when asking questions and/or buying them."
Because the vast space allows it, the owners make the store available for charity events, especially for organizations based in the community. (And because the store is so big, hosting an event doesn't necessarily mean they have to shut the doors to walk-in customers.) To the owners, all these factors are part of an equation that adds up to building customer loyalty through trust. "We make certain that the quality of every wine is good and it provides a good value," said Hafferty. "Customers have to trust in Bin Ends, and we act as quality control, so the trust is reinforced."
And as more and more people become fans on Facebook, follow the store on Twitter and make their way to the bricks and mortar space, it's easy to see why Bin Ends has caught on.