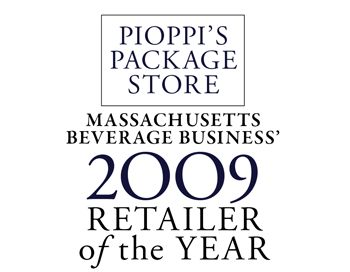 2009 Retailer of the Year
If any liquor store has a storied past, it's Pioppi's Package Store. If any shop has a particularly New England storied past, it's Pioppi's. The Plymouth shop is something of an institution in its own right, earning the Best Liquor Store nod from the readers of Old Colony Memorial 11 times, including 8 years in a row. Now, 76 years after it first opened its doors in a back room in a distribution warehouse, Peter Balboni, the third generation owner, not only maintains its legacy, he keeps building on it. For that reason, among many others, Massachusetts Beverage Business has honored Pioppi's as its Retailer of the Year.
The Retailer of the Year award recognizes that business owner who goes above and beyond and finds innovative ways to drive business, especially in rough economic times, and make his/her store an engaging experience. With so many ways to reach both current and potential customers, all of the finalists for Retailer of the Year demonstrated an ability to leverage the many avenues of communication to connect with people in their community and beyond. Sales performance, retail innovation, store layout, staff training, customer loyalty programs, and community involvement were all factors in considering the finalists and ultimate winner. But perhaps the biggest determining factor – the element that defines the difference between a good store and a really good store – is the one that cannot be quantified or easily articulated: passion. On the visits to finalists' establishments, each owner or manager who showed their respective store was like watching a parent.
Peter Balboni of Pioppi's demonstrated that to the fullest. He also offers several nontraditional ways of bringing in customers and, subsequently, revenue, from stocking specialty items, like home brewing supplies, that draw shoppers from great distances, to establishing a party rental outshoot of his business, which only boosts the convenience quotient for customers. He is involved with the community in many capacities, and he leverages communication channels strategically, not least by airing TV spots that reach cable viewers in the area.
For Balboni, the award was validation of the countless hours he and the generations before him logged making the store the welcoming space that it is. "I consider it an honor. I'm very happy about it. It's very rewarding. I work very hard and I'm glad to be able to receive such an honor, especially as it falls on our 75th anniversary year, and especially since my dad is still around. He worked so much to make the business what it is," he said. "There are chains stores with three or four outlets and you're hearing their names all time. It's good to know you can not only compete with them, but that you can be the best."
A HERITAGE for the HISTORY BOOKS
As the story goes, Balboni's great-grandfather, Gustavo Pioppi, who immigrated to Plymouth from Italy, was a carpenter who took up building homes in the town. One of the dwellings he worked on was purchased by a wine merchant, and it's Balboni's belief that knowing that merchant is how his great-grandfather's son, Anthony "Tony" Pioppi, first developed ties to the liquor industry. Ironically, Tony later bought the house from that merchant. He also knew a number of community leaders and kingpins, including Louis Knife, who owned Knife & Sons, the Budweiser distributor at the time. When the 21st Amendment was passed in 1933, Knife and Tony Pioppi rode through the center of Plymouth on the now iconic Clydesdale horses to notify citizens that beer was once again available after the "Noble Experiment's" thirteen dry years. In April, 1933, the Old Colony Memorial, a local paper, ran a story announcing, "With automobile horns blowing full blast through the center of town, Plymouth's first beer arrived yesterday afternoon. Three large truckloads were paraded through town, having been brought here from Boston by Louis Knife & Son and Anthony Pioppi."
Tony had owned a Pepsi plant, and when Prohibition ended he took on Ballantine Beer, a distributorship based in the center of town. The beer warehouse had a backroom up a narrow flight of stairs, and that's where the quickly obtained retailer license was first put to use the following year. In the late 193Os, the business moved to a bigger space in the center of Plymouth, where it was adjacent to, but separate from, another business the family started up: Pioppi's Bar and Grill, which was shuttered decades ago. It was in that space that Tony passed the management on to his son Dennis – Peter Balboni's father. The currently operating Court Street store is the third location, which has been the site of the store since 1973.
As Balboni sees it, an equally important aspect of his grandfather's business acumen – something that Balboni himself maintains – was the one-on-one relationships he had with customers. It doesn't hurt that Balboni was born and bred in Plymouth. "Being a lifetime resident, I know how everybody knows everybody. It's usually for the better," he said. Naturally, that lends itself to Balboni's committed engagement with the community and its institutions. "The involvement with the community hasn't changed," said Balboni. "Technology may be the biggest thing that's changed." In the fall, the store's digital newsletter mailing list was 2OOO subscribers strong.
At the HEART and in the HEART of the COMMUNITY
Pioppi's embodies the classic small-town sensibility, the core of an old New England town. Balboni's involvement with numerous Plymouth institutions – from schools to hospitals to libraries – is evident in the simple fact that Balboni always answers when he's called upon to help. "Community activity is huge," said Balboni without hesitation. Stores, of course, cannot give donations because of the laws surrounding donations of alcohol. Balboni's successful model is to sponsor events that benefit area agencies and institutions in a financial capacity. "It's good will, and you can't put a price on that." It also ends up being a boon for the store because it gives Pioppi and his team a chance to meet new people who live nearby. "Maybe they never shopped here, but now, the next time they go out, they'll think of us."
Balboni still stays active with the huge Thanksgiving Day parade each year. Six years ago he bought a 1938 Ford pickup, a cobalt blue affair, that he fixed up and now uses as a set piece, of sorts, for everything from parades to wine tastings. But this past year he rode in the parade on Clydesdales himself to celebrate the 75th anniversary of the store's opening, even though the license was issued in 1933, the store didn't actually get up and running until the following year. He also regularly works on events with local institutions, like Jordan Hospital in Plymouth. In October, he participated in "Taste of the Town", the annual fundraiser for the Plymouth Public Library, which brings in about 3OO people. Over the course of the night, guests had the opportunity to try over 7O wines. Sacred Heart Elementary School, in Kingston, approached him to get the store involved with the school's annual fundraiser which was also held in October. Guests were provided with a well-designed brochure created by a store employee. That program provided tasting notes for each of the wines available and a price list that proudly displayed a note: five percent all orders placed that night would be donated back to the school. It turned out well for the store – according to Balboni, in that single night, 5O new people added their name to the email list.
Interestingly, an entirely new arm of business has developed as a logical offshoot of all the off-premise events they do, which also include private tastings. A-Plus Party Rentals was established in 2OO8. Balboni rents an off-premise warehouse where he keeps glasses, chairs and tables for rental. The proverbial light bulb went off one day when he was speaking to someone at a party equipment rental company who hinted it may not be worth his time to rent only glasses time and time again and suggested he buy his own. Now he has enough party necessities and equipment to accommodate up to 3OO people. He also has five TIPS-certified, insured bartenders on call. Two are full-time, as they're store employees, and three are part-time, people he works with who tend bar in area restaurants. When Balboni gets involved in an event, he also provides programs designed by someone in-house. He said he's found having someone fluent in computers and design programs "vital".
Balboni also makes a point to stay involved in the industry's community. He's been a strong force in voicing his stance against the increased liquor tax that went into effect last August. "It affects everyone, regardless of location, but it especially hurts stores on the Rhode Island and New Hampshire borders. It was a terrible move on the part of the state and I'm doing everything I can to change it. I contact local reps, and I encourage others to do the same because you'd be surprised at the results you get. And it's important to call local representatives not just to complain, but to thank them, too. I've gotten a good response from them. I'd like to see a referendum on the ballot. People didn't realize how much taxes we're paying, so no one spoke out. In the long run, the state isn't making up the money. I mean, now you have to count unemployment into the equation, too. I have signature forms at the counter."
WHAT'S in STORE
Looking at Pioppi's recent past, it would seem that the key to sustaining long-time success is to have one eye fixed on the past while keeping pace with times. Balboni's parents, Dennis and Brenda, ran the store for decades, overseeing the move from downtown to the Court Street location. (His mother, Brenda, kept the books for her husband and now Balboni's wife, Kim, does the same). Balboni's initial involvement with the store, while not surprising, wasn't exactly deliberate. In 1989, he graduated from the University of New Hampshire, where he majored in tourism. He was working at a marina after college when the government passed the luxury tax, so boat owners decamped for foreign shores. With work hard to come by, Balboni figured he'd spend some time in the family business until things picked up again at the area marinas. That, of course, didn't go as planned.
After working for five years as a clerk, Balboni became a manager, a role he's now held for the past 15 years. Six years ago, he took steps to increase the store's visibility by adding television spots to his budget. The series of commercials, humorous and engaging, feature a pair of Italian men chatting in Italian (the ads are subtitled). One is always stunned to learn about the other's newfound wine expertise. The bottom line: the sudden connoisseur owes it all to Pioppi's. The commercials run in a six months on/six months off cycle within the local viewing range of major cable channels, such as ESPN and The Food Network. Around the same time those started to air, Balboni got to work on his building, tripling the size of the sales floor with an additional 3OOO square feet. He simultaneously built a basement, digging out space for about 35OO square feet, complete with freight elevator. He also added coolers, increasing from 1O-door to 16-door coolers. The cellar space provides him with plenty of real estate so he can stock up on wines that require more time in the bottle before setting them up for display. "Not everything we buy is ready to drink right away. The big cabernets aren't at their optimal drinking age; French wines come later, so now we have lots of space for them in the cellar," said Balboni.
His father was skeptical at first about investing on a build-out, but only at first. "The older generation, you know, thought business was just fine before, but I knew we had to grow with the times. My mother and father were thankful when it was all finished. They always stop in to check on me," said Balboni.
With more space, he could boost his inventory all around, and that variety is necessary for maintaining the store's broad appeal to consumers of all different taste preferences, not to mention spending habits. "We're thought of as the go-to place.
What makes the spirits selection notable is that there's a little bit of everything at a full range of price points," he said as he walked in front of a massive shelf containing a well-curated selection of whiskies, rums, vodkas, gins, and brandies. "We try to keep a little bit for someone at every price range. It's easier to have three rows of a huge brand and not fill it every day, but we stock daily and keep the stock filled."
But while options are key, like so much else at the store, many of the inventory decisions – particularly where wine is concerned – come down to a keen awareness of what their regular clients buys. "I know our customer base – it comes from the time I log in the store, which can be up to 7O hours a week," said Balboni. He estimates he knows about three-quarters of the people who walk through the door, which allows him to offer rather personalized service. "I get a lot of people asking me to mix them up a case of white or a case of red. They're customers you love, so you're not going to sell them something they don't like."
On the beer front, Balboni delegates a good deal of the buying to his long-time employee, Dan Sullivan. The beer shelves house a well-rounded selection of craft beers and Belgians. But Pioppi's is a source for more than just the average beer geek. The store has a full stock of home brewing supplies – instruments and ingredients alike. "Over the last five years, home brewing has come back. A lot of people have been going online to buy equipment on websites like Crosby and Baker. Then we started to get calls all the time for special orders."
Speaking of special orders, that's another service for which Pioppi's has become known. Four years ago, Balboni hired Lauren Papa specifically to take care of special orders. He also has an employee who specializes in gift baskets, which the store has offered for several years. They have a voluminous inventory of gourmet foodstuffs that they arrange in customized orders, which range in price from $3O to well into the $1OOs.
AN EDUCATED, ENGAGED CONSUMER is a LOYAL CONSUMER
Under Balboni's management, the store has not just become a place to run into on your way to a Friday evening dinner. It's also a resource for education and socializing. Over the past several years, Pioppi's has instituted and arranged a variety of special events. Five years ago, they introduced a series dubbed "Sunset Wine Cruises". It runs for eight weeks each summer and has become one of their most popular happenings. The last series sold out within a month of its announcement. The wine cruises, which run once a week from July 4 to the end of August, have 4O spots on a boat that departs from the Plymouth Harbor. Over the course of each two-and-a-half-hour cruise, guests sample up to eight wines paired with food prepared by a chef from a local restaurant.
Throughout the winters, Balboni has orchestrated "Sunday School", which, he jokes, is a great excuse not to go to church. More formal than the cruise, the event can accommodate about 45 guests and usually features a wine maker, wine representative or beer expert who gives a lesson in their drink. And that's on top of the regular in-store tastings. In the fall and through the holidays, a rep from a wine company can be found each Friday evening in the store pouring two or three vintages from his or her portfolio. When the warmer weather rolls around, the parking lot outside the store becomes the festive site for "Grill and Chill". A wine rep will come in each week to work behind a grill set up under a tiki-style cabana. Meat paired with wine is the modus operandi for these free, informal sessions. "The more educated a customer is, the more you can sell them on," said Balboni. "If they're used to drinking an $8 bottle of wine, you're not going to sell them a $2O bottle. But once you expose them to something different and explain to them why it costs more and tastes different, you can sell them on the higher end of anything." These events also serve as staff education. The employees are invited to participate in seminars and tastings. Other than that, their training is very one-on-one, explains Balboni.
Supported by a deeply entrenched foundation of history and maintained by an owner who has a profound perception of his varied customer base and an attentive eye on the future, it'll be little surprise if Pioppi's is still thriving in another 75 years.