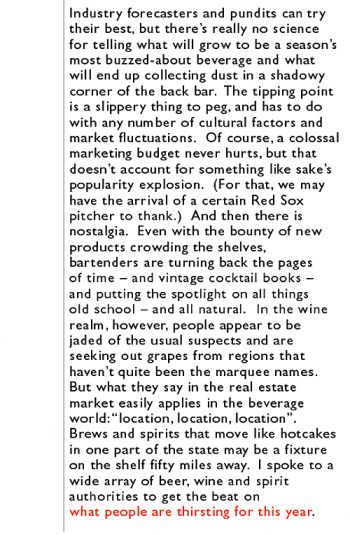 What Is Everyone Drinking This Year
AMERICAN
MICROBREWS
In evolutionary
terms, the time wasn't long ago when the American beer
industry was ruled by titans. American craft beer was
perhaps considered quaint by some, a novelty by others. But
now craft is king. "American craftsmanship is certainly the
wave of popularity right now," says Alan O'Campbell, General
Manager at Downtown Wine and Spirits in Somerville. He says
he's seen a rise in interest in dark, hoppy beers among
consumers. "There's a resurgence of breweries and
possibilities. It happens every five to eight years –
something comes around and everything just shifts. Weaker
companies fall off and find their way into obscurity and
that gives birth to new monsters. Brewers are shooting for
the extreme. They really want to shake things up. They're
putting ten hops in a beer or taking things over the top,
using extreme hops and sweet malts at the same time." He
continues, "The trend for general populace is more on the
hops side. People are going for malt, darker beer. It's The
American Way, really – just cram everything into one bottle.
People want it all – now." He notes that within that extreme
movement, Rogue's Imperial IPA and Brew 1O,OOO have been in
high demand. Mike Cimini, president of Yankee Spirits in
Attleboro and Sturbridge, has also seen a marked spike in
interest. "There's a resurgence of craft brew movement. On
the commercial end, it's Sam Summer. People are moving away
from lagers and ales to try something different," he says.
"The commercial test will always be a leading indicator in
terms of sales." At Julio's Liquors in Westborough, beer
manager Jose Santos stocks about 9OO beers and says that
among them, the over-the-top hoppy beers are crowding the
shelves. "We've seen it for the past two years and it hasn't
slowed down. Every brewery is putting out extremely hoppy
beers. Brewers have always made normal IPA – but now there
are double IPAs and triple IPAs," he says. While he gives
Dogfish Head much of the credit for the movement, and says
they're still constantly "pushing the envelope", he suspects
a lot of the interest from younger clientele stems from
their traveling more and getting more exposure. "A lot of
barrel-aged stuff is on fire," Jose adds, noting that
Kentucky Breakfast Stout from Michigan's Founders Brewing is
particularly popular. Other big sellers at Julio's are
Allagash Curieux and Weyerbacher from
Pennsylvania.
But the beer
connoisseur's instinct is always to seek out the new. Many
insiders see microbrews as a phase. If that's the case, what
comes after? Erik Johnson, Wine Director at Sel de la Terre,
says when people move beyond the microbrew, they go back to
the source. "People are interested in what's coming out of
Germany in Belgium – really high caliber things. I think
it's a continuation of what happened 15 years ago to
microbrews. There's an interest in smaller producers and
they move to smaller craft beers. The next transition is
trying classic European styles that a lot of microbrews are
based on. It's like people who are interested in wine: they
start domestic. California leads to Australia then to
Europe, where wine the tradition began." But according to
Jose, the movement flows both ways. "We've always done huge
numbers with Belgians. Outside of microbrews, it's the
second biggest categories," he says. "We've always had
American brewers create with Belgian brewer overseas, but
now it's vice versa: Belgian are becoming
hoppier."
HOP
to IT
La Schouffe's Houblon Chouffe
Rogue Brew 1O,OOO
Founder's Devil Dancer
Allagash Curieux
Stone American Pale Ale
WHISKEY:
MADE in the USA
Liquor store
shelves are crowded with spirits and wines from all corners
of the globe – rums from all over the Caribbean and Latin
America, and India, too, cachaca from Brazil, pisco from
Peru, and sochu from Japan. But when it comes to whiskeys,
there seems to be a huge resurgence of anything made in the
USA. "When people are searching out new things, they find
themselves in America rather than searching out foreign,"
says Alan at Downtown Wine and Spirits. "I stock every
whiskey I can, especially American rye. It's still a rarity,
there aren't too many available all the time, but people are
starting to understand it better and drink it a little
more." A rarity now, perhaps, but that appears to be
changing. "Bourbon drinkers are rediscovering rye and single
barrels [bourbon] are definitely selling," says
Carri Wroblewski, co-owner of BRIX Wine Shop in the South
End. She says that Pappy Van Winkle disappears from the
shelves quickly, as does Sazerac – "whenever we get our
hands on it" – that is. "The category does well overall.
It's still a warhorse. Elijah Craig 18 has developed quite a
following," says Gary Park, owner of Gary's Liquors in
Chestnut Hill. "And Buffalo Trace – every time we get our
hands on a case it disappears. We're a very big Jim Beam
store," he says, referring to Jim Beam's Small Batch Bourbon
Collection, which includes Booker's Bakers, Knob Creek and
Basil Hayden's.
On premise, an
increasing number of restaurants of all culinary styles are
finding more and more patrons calling for rye. Dawn
Lamondola is the Corporate Beverage Manager for the
Commonwealth Restaurant Group, which owns and operates
Mistral, Sorellina, Teatro, and Moo. She says they have
Michter's on the shelves at Sorellina, and while the
industry has long been flocking to it, the brand's cachet is
quickly catching on.
Dave Stuart, the
bar manager who opened Chef Tony Susi's Sage when Susi moved
from the North End to the South End, noticed that based on
his stint at City Bar in the Lenox Hotel, people are much
more discerning about their bourbons than they were just a
few years ago. He made sure to stock a decent selection of
single barrel and small batch bourbons at Sage. Among
others, the selection includes Blanton's, Elmer T. Lee and
Old Overholt. In the past six months, he says people have
been calling for rye more. The rise in consumer awareness
and interest is hardly consistent throughout the state. Mike
Cimini at Yankee Spirits has seen the American brown spirits
growth as a "supplier-driven trend" without the consumer
demand to match. He comments, "There's been an explosive
growth of small batch bourbon and small quality craft
distilled bourbons and ryes. That's been a supplier driven
trend. There's not a lot of take away. There's a
proliferation of new brands, [but] brown goods are
in a spiral and people aren't jumping on it the way they are
vodkas. We have 44 linear feet, four shelves high devoted to
vodka. A year ago it was 4O feet." Paul Boyle, Vice
President of National On-premise Accounts for Martignetti
Companies, the largest wholesaler in the northeast, says
consumers in the region have become much more discerning
about their bourbons, remarking that there's been a rise in
sales on-premise of Beam's small batch labels. He sees rye,
however, as being slow to find its footing in the
mainstream. Boyle perceives rye as something for "the
independents looking for an edge". But among cocktail
experts, rye is perfectly fitting with the rebirth of
classic cocktails. "With mixology goes rye whiskey – and I
say that about gin, too," says Ryan Magarian, who co-founded
Aviation gin and runs Liquid Relations, a cocktail and
spirits consulting agency based in Portland, Oregon. He's
working globally with the Fairmont Hotels and Resorts to
implement a new cocktail program that puts a premium on
featuring the classics in their traditional proportions. He
was in Boston in March training the staff at the Oak Bar.
"Manhattans, Juleps, Sazeracs – they all have a story – and
they all prefer rye to bourbon." American whiskey is even
getting play in major corporations that aren't specifically
food and drink-based. Paul Nardone, President and CEO of
Stirrings – the fast growing Fall River based company that
makes premium cocktail mixers – reports that the company has
teamed up with Delta Airlines to develop signature drinks
with Stirrings products to be served in-flight. One of the
drinks, the Big Apple, is Woodford Reserve and Stirrings
Apple Martini Mixer.
MADE
in the USA
Basil Hayden's
Pappy Van Winkle
Sazerac
Thomas Handy
Old Overholt
GOLDEN
OLDIES
Just as in
fashion, bygone cocktails have a way of coming back into
style. Right now we're in the throes of a full-on classic
cocktail renaissance. Mixologists are digging through
vintage cocktail books for long-forgotten gems to add to
their menus. They're finding cocktails that put a premium on
bitters and vermouth. Instead of liberal use of simple
syrup, as was de rigueur in so many technicolored cocktails
over the past two decades, sophisticated herbal liqueurs are
often used as sweeteners. "Liqueurs have sugar content,"
explains Ryan of Liquid Relations. "A lot of the time you
just need liqueur against citrus acid and you've got a good
cocktail. It's a balancing agent and also as an
accent."
"People are
rediscovering what's old is new," said Brandy Toth, Bacardi
USA's Field Marketing Manager for New England. "With the
advent of the martini craze, vermouth is back and part of
classic cocktails. Our brands, like B&B and Drambuie,
are coming back in cocktails. We've had quite a few more
placements. And there are all kinds of bitters and vermouths
sitting on back bars now. More bartenders are digging up the
history and quirkiness of brands." Chris Himmel, Vice
President of American Food Management, which owns and
operates Excelsior, Grill 23 and Harvest in Harvard Square
adds, "Years ago I toyed around with perfume bottles and
misting vermouth. Now people are more accepting of vermouth
– they're not shy about having it in their martinis
anymore.
I can walk
around the restaurant and see tables where half the people
are having dirty martinis." The recently expanded menu at
Eastern Standard has egg drinks set apart in their own
"oeuf" category, harking back to an era when ordering a
"flips" or "sour" was as common as a Jack and Coke is today.
Around Easter, Misty Kalkofen, bar manager at Green Street
in Cambridge, also introduced a two-fold egg drink list. The
first segment is dubbed "The Whites of their Eyes" and the
other is "The Yolk's on You", with cocktails incorporating
the egg's second half. Months earlier, she helped Green
Street owner Dylan Black devise a menu he calls "Cocktails A
to Z", an expansive list of vintage gems, many of which are
sweetened with Pastis. He favors Ricard as a rinse in drinks
like The Fascinator (Plymouth Gin, French Vermouth, Ricard,
and mint). But it's not only the small cocktail-centric
establishments that draw clientele for their cocktail lists.
Corporations are hitching their wagons to the classic stars.
"Bars are operating more like wine bars," says Ryan. He
notes that people who go to wine bars are decidedly focused
on the product. Whereas the purpose of a bar has long been a
social forum with alcohol as the accessory, he says the
explosion of artisanal cocktails has driven people to make
decisions of where to go based on whose cocktails they want
to drink. In addition to training the staff at the Oak Bar
at the Fairmont Copley, he's worked with McCormick &
Schmick's to integrate vintage cocktails to the restaurant
on a corporate level. "McCormick and Schmick's didn't have
an identity for their bar, so I proposed to them a way to
[present] their bar through cocktail history," he
says, explaining that he rewrote the manual for the company,
developed drier, more consistent recipes, and trained their
trainers. "It's the evolution of palatial entertainment. Why
can't cocktails be at the same level of complexity as
food?"
With the
popularity of classic, well-crafted cocktails, people are
keen on unleashing their inner mixologist at home. Mike at
Yankee Spirits says Martini and Rossi Dry is already up 5%
from the same period last year. "Everything on the cocktail
side is big, which is amazing," says Carri at BRIX. "People
come in and ask: 'Do you have the stuff to make a Sazerac? A
Sloe Gin Fizz?' Places that used to make tutti-fruity drinks
are going back to the basics.
Bars are
starting to stock more bitters than just Angustora."
Consequently, BRIX has been special ordering Peychaud and
Regan's Bitters. As of the end of May, she said they've
reordered 12-packs of Regan's twice. "There's different uses
for different bitters. It all ties into the rise of rye
whiskey." Accordingly, BRIX initiated the BRIX Mix in March.
Each month, the "to-go" cocktail package features all the
ingredients required to make the month's selected cocktail.
When it launched in March, the featured drink was the
Brooklyn and the package included full size bottles of
Rittenhouse Rye, Nolly Prat, Luxardo Cherry Liqueur, and
Amer Picon. They sold out by mid-month.
A
PEAR
APPEARS
In the
increasingly crowded vodka arena, pear, it seems, is the
next blueberry. At the end of 2OO6, Absolut introduced
Absolut Pears. With a great amount of fanfare, Grey Goose
released La Poire in February. Considered more refreshing
than raspberry or blueberry vodkas by many in the industry,
it's been making a solid showing on- and off-premise. At Om
in Harvard Square, within three months of putting Grey Goose
La Poire on the shelf, bartender Matt Szymanski featured it
in two cocktails. The Sassy Miss is La Poire, Mathilde Pear
Liqueur and Lillet Rouge, and the more recently added Wham
Bam Siam is La Poire, pear and mango juice and a dollop of
Sriracha, a Thai hot sauce for spice. "It's a good flavor
for the casual drinker, for someone who's not into the
classic martini," says Matt. "It's a soft fruit flavor so
it's easy to get into. Whenever people ask for something
fruity, the Sassy Miss is one I go for all the way. Plus
pear is such a light, mellow fruit – it's easy to cover a
wide range of tastes. It's what you drink when you don't
want to feel like you're drinking." At Finz in Dedham, the
Blood Diamond is a mix of Grey Goose La Poire, Cointreau,
blood orange puree, a splash of fresh sour mix, and an
orange sugar rim. "Mistral always has always had a pear
martini," says Dawn with Commonwealth Restaurant Group. "We
tried to wean it off the drink list but that didn't work."
At Teatro they offer the Belle d'Anjou – La Poire, Belle de
Brillet and Limoncello topped with a Prosecco
float.
Keeping right up
with the current trends, the Stirrings company is taking
cues from the market. "People can expect to see a pear
product from us soon," says President and CEO Paul Nardone.
"Pear is an idea from the spirit companies with traction.
The pear vodkas from Grey Goose and Absolut caught our
attention. Bartenders find them to be interesting products.
If they have a pear mixer, then there's more usage
application to pear spirits out there." Every year, it seems
that a new flavor aims to be the next big thing. Last season
when Stoli Blueberi made its big breakout, that flavor was
talk of the town. But even with pear making its presence
boldly known, it seems that pomegranate is still holding its
ground. "We don't have pomegranate printed on the menu at
Mistral, but we have the ingredients. There and at Sorellina
we get enough requests that we don't have to print it," said
Dawn, adding that they mix a pomegranate margarita at
Sorellina, too. That could be a good signal of what's to
come. According to Brandy with Bacardi, "Whatever happens in
the non-alcoholic beverage sector crosses over to the
alcoholic sector. We're seeing a lot of acai and goji berry
in vitamin waters, teas and juices. They could find
themselves in more creative martinis."
"We look at how
to do things differently and play on flavor trends seen on
spirit world or culinary world," says Paul at Stirrings.
"Because of the strong response to pomegranate and
blueberry, anti-oxidant fruits are more well known. Acai and
currants are viewed favorably as well. We're always
experimenting with ways to bring out interesting
products."
QUITE
a PAIR
Grey Goose La Poire
Absolut Pears
WHITE
HOT
White may be the
absence of color, but in the wine world, it's the presence
of flavor. As consumers are becoming more attuned to wine,
attention is shifting away from American chardonnays. T.J.
Douglas, a sales rep with Avon-based Ruby Wines, says people
are gravitating away from oaky buttery chardonnays in favor
of unoaked varieties, especially from Western Australia.
They come from a cool climate, so people are drawn to their
great acidity. And they're crisp, refreshing and aromatic,
which makes them a step away from the once ubiquitous Pinot
Grigio. "I started to notice it at Teatro, then it started
happening at Mistral: a lot of people were asking for
unoaked chardonnays," says Dawn. She notes they've been
selling quite a bit of Trevor Jones Virgin Chardonnay from
Australia by the glass.
Austrian Gruner
Veltliners have also become increasingly fashionable in the
white wine category. "There's been an increase in requests
for Gruner Veltliner," says Pete Hemenway, Wine Manager at
Federal Wine and Spirits near the Financial District.
"Gruner Veltliner is a go-to wine for food pairing. It does
really well because it's so food-flexible that it boggles
the mind," says Dawn, reeling off the food it goes with:
arugala, pasta, chicken, and, because it's got great acidity
and nice white pepper, fish. "We're definitely selling twice
as much Gruner Veltliner as we used to," says Carri at BRIX.
"Chefs love it because it's very versatile. It pairs with
things that most wines retard, like leeks or asparagus. It's
a good price by the glass and just a great Monday, Tuesday,
Wednesday wine." She says BRIX sees a good deal of movement
of Gruners in the under-$2O category, but she loves to plug
Stephen Hall ($23.99), not least because of its Vino-Lok
closure, the latest landmark in bottling technology. "It
looks far more elegant than a screwcap or Stelvin closure.
When you present it, it's more elegant," she says, adding
that she ends up reusing the glass stopper with a rubber
gasket on other bottles. It's starting to make a deeper dent
in the industry, too. "It started off with Austrian wines –
mostly Gruners. Now I'm seeing it on bottles of Cusamano
from Italy. Those are the two I've seen it most on."
"Vino-Lok is an entirely new stopper that I think is gonna
be the wave of the future," said Gary Park. "It reseals. It
looks like something out of a perfume bottle. Now it's owned
and marketed by Alcoa. It's a whole lot nicer than screw
caps. It'll still having a tough time being accepted, but
this will be the answer that the screw cap
wasn't."
FOR
WHITE NIGHTS
Huber's Obere Steign
Leth Gruner Veltliner
Stephen Hall
Wachau
Elderton
SPANISH
WINE
Gone are the
days when the mention of Spain evoked Rioja exclusively. For
that, thanks are owed to the Spanish government's financial
support of the nation's vineyard owners and the Spanish
tourism board's successful efforts to drive up tourism. The
country's high quality fruit-forward Spanish wines tend not
to be heavily oaked. They're catching the attention of
oenophiles who may have adopted a "been there, done that"
stance toward Italy and France. "We're starting to get some
really high quality wines from Spain that are reasonably
priced," says T.J. with Ruby Wines. He says that wines that
receive a 9O point rating from Robert Parker can retail for
as little as $9.99. "Restaurants Tapeo, Toro and BarLola all
have high quality Spanish wines. Wines of that quality from
anywhere else in the world cost two to three times as much.
Some are from vineyards older than France and Italy."
Regions like Yecla, Rueda and Penedes are turning out summer
and winter wines in different styles that spend less time in
oak. They're considered "new world" as opposed to Rioja,
which sticks to more tanic and dusty qualities.
Dellie Rex, wine
instructor at New England Culinary Institute in Montpelier
and Essex, Vermont, was the consultant to the government of
Spain for its Wines from Spain program, handing New England
for eight years in a stint that ended in 2OO3. In that time
she saw awareness of Spanish wines grow and consumers'
interest get more esoteric. "If someone's only going to
spend $1O, get a wine with real regional character as
opposed to lower priced mass produced wine from new world
(Chile, Australia, California)," she says. "There's real
regional character in wines from Spain – and Portugal – and
people have gotten braver about trying them." That interest
translates directly into off-premise sales. Mike at Yankee
Spirits, says that after fifteen years in the business, this
is the first time he's seen not one, but several Spanish
wines break into Yankee's top ten best seller list. Segura
Viudas, a brut reserve, is the first sparkling wine to
position itself among both the top ten best selling
sparkling wines and the top ten Spanish wines. "Provenance
has driven Spanish wine," he says. "It's not as commercially
developed yet and American consumers' exposure to it is
relatively new. People are discovering it for the first
time. It hasn't had an 'it' thing, like Beaujolais from
France and Pinot Grigio from Italy. It's an authentic
product from an authentic place – a real place making real
wine for real people. People don't think of Spain as a mass
production area."
ONES
to WATCH
Rex Hill
Raimat
Segura Viudas (brut reserva)
EUROPEAN
LIQUEURS: APERITIFS and DIGESTIFS
In restaurants
of all cuisines, people have been turning to a traditional
style of European imbibing with aperitifs and digestifs.
Erik at Sel de la Terre says he's been surprised at the
popularity of Pineau des Charante and white Lillet. At the
new Sage, Dave Stuart has about ten liqueurs at any given
time listed on the dessert menu – including Fernet,
Chartuese, Pimm's, Pernod, Lillet, Ricard, Dubonet, Strega,
and Aquavit. Within the first month of being open, he says
he went through two bottles of Averna. But while it's tied
to an old world tradition, the herbal liqueurs are gaining
an urban hip repute in some circles. Jagermeister, which
established itself as a party staple decades ago, may have
triggered that trend. Gary at Gary's Liquors describes
Jagermeister as having a "cult mystique" while Mike at
Yankee says Jagermeister continues to show more growth. Now,
it seems, that interest has led to a willingness to
experiment with other herbaceous liqueurs. "It's the liquor
of moxie!" says Alan at Downtown, referring to Fernet
Branca, fake absinthes and Chartreuse. "Pastis has been on
fire lately. There's certainly a lotta old anise-driven
cocktails out there." Want proof? No. 9 Park has seven
different bottles of pastis. "It's always been popular as an
aperitif [in France]. It shows the connectedness
between the bar and the kitchen," says principal bartender
John Gertsen. "The dining room is about classic technique of
French cuisine." Gary remarks, "Absente is selling more than
in the past. It still has that Van Gogh appeal to it. Plus,
when it comes with slotted spoon and sugar cube it's a nice
little show." On April 29, the new york times reported the
New York debut of Veridian Spirits' Liquid, "which is being
marketed as the first legal, genuine American absinthe in
nearly a century." Looks like here in the Bay State the
groundwork is already laid for its release. Some in the
industry have already started buzzing about The Knot, a new
1OO proof Irish whiskey-based liqueur imported by William
Grant and Son. Gary describes is as an Irish Southern
Comfort. "It's 1OO proof, but it doesn't taste 1OO proof.
You get vanilla and caramel," says Gary. "It looks like a
hard core Irish whiskey until you try it. It's going to be
big once people figure it out. It could be like Jagermeister
with its cult mystique. Jager does very well, always. It's a
big college thing. I think the Knot's got
potential."
HERBAL
REMEDIES to SEEK
Absente
Pernod
Chartreuse
The Knot
SAKE:
the ASIAN INVASION
Sake has been
gaining steam in the past few years, but this year it's
definitely been hit out of the park. "Sake has always been
around, but so many people know it as the warm stuff with no
flavor. What we're doing now is bringing in a lot of artisan
sake," says T.J., noting that people are beginning to
approach it as something to drink chilled in a wine glass or
champagne flute. He also says that many sakes are available
in 3OO milliliter bottles, so two people can go out and
experiment with two – or more – different sakes. Jenny Chow,
a co-owner at Douzo Restaurant & Lounge on Dartmouth
Street in the South End, has seen a change in sales of the
rice wine. "People want to have sake cold, not warm – the
way all Japanese restaurants started introducing it. The
trend totally changed," she says. "The percentage of people
who want hot versus cold is about 34% versus 66%. But things
have changed," she said, noting that in past years, about
7O% of sake drinkers were ordering sake hot. As people
discover sake, the sheer variety of the stuff often blows
them away. Leah Ikeda, General Manager at Pho Republique on
Washington Street, has long made an effort to stock a
diversity of different selections in an effort to help
people understand how complex sake can be. "It's definitely
peaking. The Japanese takeover of mainstream culture has
made the audience wider," says Leah. "We have samples of
each sake that every beginner sake adventurer should know."
In addition to traditional sake, she was quick to list some
more unconventional sakes that people should try, like
Dreamy Clouds, a cloudy Nigori, which she describes as
having a "chewy texture and crazy rice particles." Another
one of note is Moon on the Water, made by the only female
brewers in whole world – which is significant because 2O
yars ago, women weren't allowed in the breweries. Perhaps
one reason for the cachet is that these small bottles fetch
as much as a bottle of wine. Moon on the Water fetches $34
for a 3OO milliliter bottle. She's also fast to recommend
Fun Sake, an unpasteurized sake that arrived in the Boston
market last year. A can fetches $12. Sake is also turning up
in cocktails around town – either as the base, like in the
Cherry Blossom Mojito at Pho (Kaori Sake, muddled with mint
and sugar over ice with cherry concentrate syrup) – or as a
floater, as it's used in the Thai Express at Sage. It's made
with lemongrass-infused vodka. Dave likes the sake floater
because "it's not an overwhelming flavor and it's clean and
crisp and won't take over a drink." The Thai Express also
exemplifies how the sake phenomenon has inspired bartenders
to experiment with other Asian ingredients in all kinds of
cocktails. At blu at The Sports Club/LA, the Spicy Effen
Mojito features Thai chili ginger syrup. At Aujourd'hui in
the Four Seasons, bartender Ari Bialikamien introduced a
gimlet this season with Stoli Strawberi and fresh yuzu
juice.
ON
the FAST TRACKS from the EAST
Momokawa
Moon Rabbit
Sake Romance
Fukucho Moon on the Water Junmai Ginjo
Komachi Brewery Sparkling Nigori
NEW
ZEALAND
Time was when
you mentioned New Zealand in the beverage industry, it was
assumed the conversation would be about Sauvignon Blanc. The
South Pacific nation of islands has long been known for its
tourism but not necessarily its export market. That seems to
be changing. With a variety of beverages simultaneously
catapulting the country's profile, it's easy to wonder how
long it will be until ads for New Zealand vineyard tours
start taking over the pages of the travel glossies. This
year Bacardi USA bought 42 Below, which has been the number
one super premium vodka in New Zealand and the number one
premium vodka in Australia. Three flavors that are as
attention-grabbing and exotic as the long unsung country are
available: kiwi, fisoa and minuca honey. The buzz around its
release literature has emphasized that it's made with New
Zealand water, which holds the world's standard benchmark
for air and water purity, which speaks to the modern
consumer's demand for all things earth-friendly. But New
Zealand's presence in the wine world is also expanding as
their production and distribution of Pinot Noirs grows.
According to Ryan Maloney at Julio's Liquors in Westborough,
New Zealand Pinots are the fastest growing of his stock of
southern hemisphere wines. Gary at Gary's Liquors says the
interest is only in the nascent stages. "New Zealand
Sauvignon Blancs are still growing and the ever elusive
Cloudy Bay disappears every time we get our hands on it.
We're just starting to see an interest in New Zealand Pinot
Noirs," he says. "We went from carrying one last year to
seven or eight varieties now. I'm actually marking them in
the pinot section – just to give a perspective. Some people
are scared by them, so I merged New Zealand and California.
Side by side it's a different perspective."
KNOW
BEFORE YOU GO
42 Below Vodka
Felton Road
Isabel
Ata Rangi
Nobilo
Oyster Bay
ROSY
ROSE
After years of
being pegged with a limp reputation, roses are red hot. Erik
at Sel de la Terre, saw a clear upsurge in interest of rose
last year and anticipates it being "enormously big" this
year. "People are over their fear and trepidation. Pink is
the most misunderstood wine color in the US. People expect
it to be sweet like a white zinfandel, which is not the
norm. Most of the world's production of roses are dry style.
When you're dealing with rose, you get the best of white and
red – the crisp, refreshing of white, earthy underpinning,
robustness of a red. Because it has a foot in each camp, it
goes well with lots of food. Rose is great because is the
only thing that pairs with ketchup," he deadpans. "Imported
roses continue to amaze me that they're on the comeback,"
says Gary. "Definitely pretty much since we opened we've
been a big rose store," says Carri at BRIX. "We used to
carry 15 to 25. This year it's closer to 25. We sell 1OOs of
cases of rose. Retailers and restaurants are driving it,
exposing it. Just because it's pink doesn't mean it's sweet.
I was doing a private tasting this spring and I included a
rose. It's so important when you have people's undivided
attention [to] explain: this is why it's not sweet,
because a lot of times people will say it isn't something
they'd pick off the shelf if someone hadn't pointed it out
to them."
DON'T
BLUSH. ASK FOR:
Jean-Luc Colombo
Taltarni
Simi Wines Roseto
MARKET
FRESH
Sometimes a
bartender's best ally is a chef. Electrifying results can
come of the synergy between chefs and mixologists.
Bartenders are increasingly using the kitchen for more than
just the fresh fruit to make juices. They're teaming up with
chefs to create ingredients for innovative drinks. Chris
Himmel of American Food Management says the bartenders at
each restaurant work with pastry chefs, sous chefs and
executive chefs to develop premium cocktail ingredients like
strawberry reduction, peach, blueberry, and strawberry
purees. Ari Bialikamien, bartender at Aujord'hui in the Four
Seasons, often works with Chef de Cuisine William Kovel, who
orders exotic ingredients for him to use at the bar, like
cumquats and edible flowers. At blu in the Sports Club/LA,
the kitchen, fronted by Executive Chef Michael Kraus, has
been supplying cocktail ingredients, from various extracts
to blueberry water to sugar-dusted fried sage, the latter
two of which are used in the potato vodka-based Po' Boy.
Jason Santos, Executive Chef at Gargoyles in Somerville,
applied his culinary wizardry to the cocktail list when he
put the Beet and Aloe Sangria on his menu in May. The
concoction is chilled with a few spoonfuls of liquid
nitrogen, which he's been playing around with in dishes on
the dinner menu.
In the
off-premise realm, the homemade craze has been integrated in
to the BRIX Mix. "Everyone now has house-made infusions,"
says Carri. "We're using house-made simple syrup in the BRIX
Mix. In the Whiskey Smash Mix, you get a muddler, fresh
mint, lemon, bottle of rye."
Here today, gone
tomorrow? It's as mysterious as the formula for Chartreuse.
You never know when the next film/song/cultural figurehead
will step in to change the tide. Trends are, by nature,
ephemeral. Achieving "warhorse" status is the perpetual
challenge. While consumers these days seem to be clinging to
products and cocktails that have a legacy or tell a story,
the public always seems ready to be seduced by new flavors
and concepts. If a product is well crafted and can capture
the attention of savvy bartenders – who in turn capture the
attention of an increasingly educated public – you may just
have the seeds for longevity. If bartenders and the
neighborhood liquor store owner can push it and the public
can take it, then maybe the trendy can become
timeless.