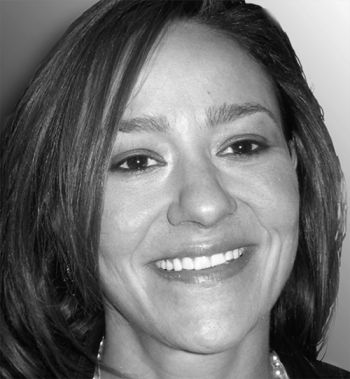 TIFFANY
TAYLOR • 35
• Wine Director & Restaurant Manager • Rialto
Restaurant, Charles Hotel, Cambridge, MA
---
Even the elegant places suffer stressful moments; Rialto,
the Charles Hotel's flagship destination dining room – since
its 1994 opening the bailiwick of award-winning Chef Jody
Adams – has weathered wintry changes. Restaurateuse par
excellence Michela Larson departs as co-owner, major
renovations shut down the room from New Year 'til almost
Valentine's Day, and Chef Adams is revisiting the Italian
table that bring her kudos from afar and near. The morning
after working half the night hosting a 3OO-guest party
honoring Jack Connors of Hill Holiday that required moving
Rialto's furniture twice, Tiffany Taylor made it in to this
interview, a little fuzzy but professionally clad, and
totally game.
---
CHICAGO
RAISING I started
at Northwestern and transferred to University of Chicago in
business. I love the city: boating, dining, walking around
that dynamic architecture, great blues. But it's low key
too. I worked in restaurants throughout college and kinda
fell in love with wine. It has to rub off on you, and every
year you re-educate yourself with new vintages, new
products. There's so much out there now – even wines from
Ohio! Chicago used to be very Italian-oriented, but today it
has gotten so much more adventurous, across the board. I
still love going to Tru, one of my favorites.
CUSTOMER
PROFILES In Boston,
I briefly worked at Todd English's Kingfish Hall and Sauce
in Davis Square, after managing, buying wine and waiting
tables in Ann Arbor, Michigan, my home-town. Ann Arbor's a
lot like Cambridge, with a liberal mix of university,
hospitals and business. After tastings, I'd suggest that my
manager buy certain wines on the list. He did, and we sold a
lot of them. It grew from there; I eventually became buyer.
Like Rialto, there was a regular clientele; you'd get to
know the customers and their tastes. Here, we use the Open
Table reservation system, where you can insert notes about
customers' preferences. Though I'm here four to five of the
seven nights we're open, our incredibly wine-savvy servers
can check on a guest's wine notations. That's a huge
plus.
STAFF
EDUCATION During
renovations, we ran sensory training comparing and analyzing
red and white wines. The staff tried various wines with
Jody's dishes in blind tastings. We're looking to continue
with structured, focused monthly wine tastings. It might
depend on what's available, what's open. Sometimes I'll run
it, sometimes a distributor. We've had afternoons tastings
with Jody in our bar, very informal, just tasting dishes
with various wines and talking about them. This is for the
public, but sometimes staffers sit in, too.
TOASTERS
& TASTERS
Tasting is the way for people to learn about wine, to trust
their tastebuds, and keep them engaged at dinner. 'Toasted'
is our casual concept to introduce our dishes and wines to a
younger crowd…after-work professionals can enjoy a
reasonably priced glass of accessible wines. From 5 to 7
weekdays, we pass all types of bruschetta – roasted duck and
others – and wine tastes in 2 or 4 ounce pours. Nice in the
afternoon, and Jody's often out there.
NUITS
d'ETE I spent a
couple of summers in France, visiting friends who were
studying at the Sorbonne: it's absolutely mandatory to visit
the vineyards! Wine in France is so much more a food
accompaniment than just something to drink. It soon got to
me what it brings to a meal to have a really nice
wine.
WINE
EPIPHANY The first
time I had Latour, oh yeah. It was a 1982. I was with
friends, in the early '9Os, somebody brought the bottle. It
was such a complete wine: I'd never experienced that before.
The finish lasted forever, it was perfectly balanced.
Fantastic. But even some of the second and third growths are
impressive.
PREMIER
AMOUR French wine
is my first love. I would say (Chateau) Gruaud Larose is a
favorite. Eric Texier's Rhones are terrific; he does some
fun stuff with single varietals that are very good value.
Among whites, Alsace has its rieslings: Trimbach and
Josmeyer Dragon and Zind-Humbrecht. Olivier Humbrecht is
quite the character, have you met him? His wines are wild,
over the top, going in unexpected directions. I love
rieslings for food, Alsace and German, too. We have Kerpen
and Spreitzer Mosels; they're phenomenal, but really
hand-sells.
RIALTO
STARTUP Patrick
Dubsky (ex-Pillar House, Rialto sommelier until 2OO5) and I
were together here for a year. He's one of the most gracious
people I've ever worked with in this industry. He's a true
gentleman, a consummate professional with a great palate,
and he shares my preference for old world wines.
ITALIAN
MOVES We're going
more in the direction of Italian wine, because Jody's going
again more toward Italian cuisine. Absolutely! Many of her
signature dishes, beloved by our regular clientele, are
Italian. Italy has a lot of boutique wineries with
high-profile producers behind them; Jody has met a lot of
these people, such as the owners of Badia a Coltibuono.
They're a fairly large winery for Italy, but they're very
consistent. We're going to become more engaged in regional
cuisine paired with regional wines.
NORTHERN
REDS I'm still
exploring Italy: that should be fun. Favorite regions?
Piedmont and Tuscany. I'm starting to acquire a taste for
Barolos and Brunellos. The prices are high, because the Euro
is up. Some Barolos are beginning to drink well: Boroli 2OOO
($85), Ceretto Zonchera 2OO1 ($95). I like the Chiarlo
Brunate 2OO1 (reserve list, $15O) because it's feminine, a
softer style, not so big and hard. Barbera's getting pretty
popular now. We pour the Boroli by the glass (list reads the
Ceretto, $9/$17). From Tuscany, of course – Solaia. Some of
the fuller Chianti Classicos are great with food, Coltibuono
and Fontodi. Villa di Capezzana Carmignano is a beauty, too:
halfway between new and old world in style; people who've
never had it before end up loving it. And the Torti Pinot
Nero (Pavese) is so different from new world or even
France!
WEST
COAST MOST Lemelson
Pinot Noir from Willamette Valley is a go-to because it's
affordable and dependable. We keep special bottles (like
Barolos) for those who ask on our reserve list. Syrahs?
Rhones, Tensley (Santa Barbara), Edmonds St. John (El
Dorado), and Clarendon Hills and Elderton (Barossa Valley
Australia) are wonderful.
SIGNATURE
DRINKS As far as
cocktails go, there's a trend toward housemade infusions by
our executive sous-chef Carolyn Johnson. We have Diabolique,
a local bourbon infusion from Somerville, MA. Our bartender
Todd Maul was recently featured in an article about 'retro'
cocktails, such as Gin Fizz made with egg whites. A popular
item fall item we've kept on the list is Jody's Moscato
d'Asti cocktail with pear nectar, dried cranberries and
fresh rosemary.
CHOICE
GLASSES Wine by the
glass is a great way for people to try something new,
experiment with varietals they might not have had before, or
having steak and fish at the same table. We're expanding our
half-bottle program, too, but we're steering away from
having the list become too large or unmanageable.
READY
REFERENCES wine
advocate is on my desk; it's important to stay aware of
what's new and well-regarded. The wine spectator's top ten
wines are always going to go up in price. I've always
referred to The Windows on the World Wine Course for basic
training; it's not loaded down with details. Hugh Johnson's
World Atlas of Wine is a must-have, as is Jancis Robinson's
Oxford Companion.
LAST
TRIP I went to
California, Napa and Sonoma, I was amazed that so many
famous wineries are so small. I was impressed with
Benziger's wines – biodynamic and marvelous – and Artesa's
fabulous high-tech winery in the middle of the natural
beauty of vineyards.
AREA
HANGOUTS I like
visiting Boston's dining spots. In Cambridge, I like going
to OM. Downtown, it's B&G for a good cozy space and fine
charcuterie. I like the space and outdoor seating and the
atmosphere.
PHILOSOPHY
The basic tenet of the service industry is that the guest is
the most important person in the restaurant. When guests are
satisfied with their food selections and their wines, that
creates an enjoyable experience. The correct pairing of dish
and wine is measured by a person's individual taste. Wine is
meant to complement food, but first and foremost it must be
a wine the guest likes, in price range, style and
taste.