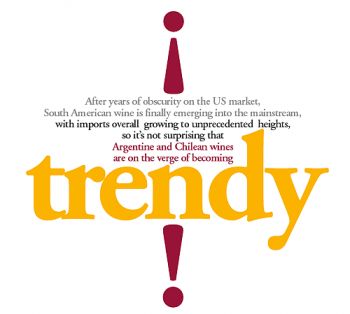 South American Wines Just Keep Getting Better
Resistance
to the more premium, limited production wines of each
country has begun to crack as the market moves upscale. The
only problem is that both Chile and Argentina have
established their reputations primarily as deep value
players in a world where consumers now show increasing
willingness to pay up for quality and image. What's hot, or
what's soon to be though, are the more distinctive wines
from each of these countries.
Why? For the
same reason that the value-priced wines have proven so
successful. Odds are that when you taste a Chilean or
Argentine wine that costs $15 you're surprised that it's
only $15. Same thing with many that are $1O or, for that
matter, $25. They offer more than you'd expect for the
price. The ratings they have consistently garnered in the
mainstream press bear this out. Whereas I've long advocated
that anyone searching for a serviceable low cost varietal
Merlot or Cabernet Sauvignon need look nowhere other than
South America, it's now clear that in the middle and even
moderately higher price ranges the same advice may apply.
Although South America is not the first place we associate
with producing unique wines of terroir and place, my recent
tastings have shown that there are several made there now
worthy of consideration.
The reasons have
to do with several natural advantages that these Southern
Hemisphere vineyards enjoy: brilliant sunshine, low amounts
of rainfall during the growing season, low costs of
production. The main premium wine producing regions of each
country enjoy larger than average swings in diurnal
temperatures, advancing ripening but also retaining
structure. Quality distinctions among vintages are not as
significant as elsewhere so it is possible to develop
positive associations with a winery or a brand without
having to adjust to radically different tasting wines each
year. As new cooler climate zones within Chile and Argentina
are planted this may change, but for now it appears that
wine enthusiasts enjoy the best of all possible worlds in
terms of quality and consistency.
I
highly recommend all these wines. Each in their own
price and stylistic niche shows another side of the
tide of enthusiasm swelling around the top wines of
this still under-appreciated continent. They are
listed in order of price.
MORANDE
TERRARUM RESERVA, Casablanca, Chile
2OO5
To me the highly esteemed coastal Casablanca Valley
origins constitute a sign of quality, in the same
way that it was once possible to associate
Marlborough, New Zealand on a wine label as
guaranteeing a particular style. This single
vineyard unoaked Sauvignon is straightforward and
lemony with a gentle texture. Clearly more
understated than some examples of the varietal,
without tropical elements, its firm acidity is
refreshing, its flavors pure. You actually couldn't
ask for more for the money.
$1O
BODEGA
LURTON PINOT GRIS, Valle de Uco, Mendoza,
Argentina, 2OO6
This is a stunner. Think Alsace more so than Italy.
Pure and unoaked, with round, ripe apple flavors
and hints of allspice, this wine is a juicy, softly
textured crowd pleaser. I served it recently at a
dinner in the company of several more exalted wines
without mentioning price and the guests thought it
was much more expensive. Produced by the
international winemaking duo of Jacques and
Francois Lurton, it shows a stylishness and
restraint that is rarely achieved with this grape
anywhere.
$1O
Casillero
del Diablo Carmenere, Rapel Valley, Chile, 2OO5

Made from what has become Chile's signature grape
by the Concha y Toro winery – Chile's largest –
this distinctive wine is plummy and smooth, with a
tobacco-leaf, spice component on the finish. Don't
be fooled by the price; it's harmonious and gentle
on the palate but has enough of an edge to the
ripe, dark fruit to spark flavor interest among the
most demanding palates.
$1O
Pascual
Toso Malbec, Mendoza, Argentina, 2OO4

One of Argentina's more venerable boutique
wineries, established in 189O by an immigrant from
Piemonte in Italy, this is one of the many
properties to benefit from the expert advice of a
consulting enologist, in this case renowned
Californian Paul Hobbs. Produced in the Maipu
District, it shows why this Bordeaux grape attains
such appealing flavors in the brilliantly sunny
high elevation vineyards of the Andes. It is lush
and smooth, with blackberry and anise notes, and a
trace of toast from the French oak maturation, but
without any coarse tannins.
$11
La
Posta Bonarda, Mendoza, Argentina, 2OO3

An obscure grape from Northern Italy's Piemonte
region that shows some of the viticultural
diversity you'll encounter in Argentina. Tart and
raspberry like, with a refreshingly bitter twist of
spice on the finish, this medium-bodied, dark
colored red wine is made from an old vine planting
that evokes maximum intensity from the fruit. Ripe
and penetrating in flavor with a long slightly
peppery finish.
$12
Casa
Lapostolle "Cuvee Alexandre" Chardonnay, Casablanca
Valley, Chile, 2OO4
Produced by the renowned Marnier-Lapostolle family,
owners of Grand Marnier Liqueur, this wine is
richly oaked with a buttery, lush texture that
complemented a poached salmon to perfection. Made
under the supervision of consulting enologist
Michel Rolland, it's honeyed but dry with a
well-modulated core of lean fruit. For Chardonnay
lovers who are looking for a bit more overt
ripeness than Burgundy but just a bit.
$18
Veramonte
"Primus", Casablanca Valley, Chile,
2OO4
A powerhouse blend of Carmenere, Merlot and
Cabernet Sauvignon, this Casablanca Valley shows
some of the earthy, black currant, minty notes you
might expect from a Northern California wine. Big
and hearty it provides a lavishly rich, spicy
mouthful of fruit and tannin at this stage of its
development. A wine either for the cellar or for a
charred steak.

$18
Catena
Malbec, Mendoza, Argentina, 2OO5

Many consider Nicolas Catena the greatest
practitioner of Malbec in Mendoza. There is a
depth, yet polish to this wine that shows his
skillful hand. Floral and delicate, with clove,
black cherry and licorice tones, this is one Malbec
that gives a deceiving initial impression of
softness. The tannins, however, are substantial.
Ripe and layered, I would suggest trying this blind
against most Bordeaux-based wines from elsewhere
that are 5O% more expensive and see which you
prefer.
$2O
Terrunyo
Sauvignon Blanc, Casablanca, Chile,
2OO5
This unoaked Sauvignon is thicker and more
concentrated, with a soft velvety feel balancing
the tart fruit. Produced by Concha y Toro, it is
part of an elite series of wines based on
individual vineyard blocks within single estate
vineyards. Enologist Ignacio Recabarren has long
been celebrated as one of the continent's most
exacting, and in this wine the purity of the fruit
from its low yielding parcel is evident. A hint of
minerality on the finish accents the ripe,
concentrated fruit. In a previous vintage Robert
Parker referred to it as "one of the very finest
Sauvignons I've tasted from the Americas."
$28
Terrunyo
Carmenere "Peumo Vineyard", Rapel Valley, Chile,
2OO4
The companion piece to the Sauvignon Blanc, this
wine is made from a block of twenty-five year old
vines. It has a velvety smoothness and finesse that
one does not usually associate with the grape
variety. The flavors are ripe and dark: black
cherry, mocha and a touch of smoked bacon. No rough
edges. I wouldn't hesitate to serve this to a
completely skeptical wine snob who will only drink
wines from France or California. Blind, of
course.
$3O
Achaval
Ferrer "Quimera", Mendoza, Argentina,
2OO
Quimera translates to an impossible ideal of
perfection, a mystery, and this wine's
concentration level and complexity set it apart as
a world class effort. A boutique producer whose
spare-no-expense quest for quality has led him to
keep yields to just over a ton per acre, Santiago
Achaval crafts this Malbec based Bordeaux blend
with aging in mind. It has an "old world"
minerality and earthiness that offsets the herb,
spice and blackberry flavors. Oozing with flavor,
length and intensity, it's great now but can age
for seven to ten years.

$4O