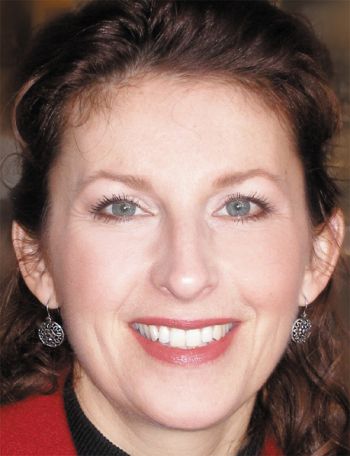 Profile: Kim Stare Wallace
KIM
STARE WALLACE
Vice-President & Director of Marketing • Dry Creek
Vineyards, Sonoma, CA
---

Thirty five years seems a long time to own a California
vineyard. Kim Stare was just 8 when her family packed
everything into a station wagon and headed from Wellesley,
Massachusetts to Davis, California. Dad was going back to
school – in enology. Kim is a chip off the old block of
David Stare – civil engineer, sailor, wine pioneer in Dry
Creek Valley – who's placed work ethic and making friends
high on his to-do list. Kim's superb graphics skills, innate
sense of design and hard-earned hand-sell tactics have won
the winery scores of honors for marketing, advertising and
public relations, including three first-place awards from
beverage dynamics. In 1994, Dry Creek Vineyards was voted
Sonoma's "Best Marketed Winery". Her role has gradually
improved web content, new logos and labels, a modernized
strategy – all backing consistently excellent wines at value
prices.
---
GETTING
the TASTE Both my
parents took wine courses with Fred Ek in the late '6Os.
They loved what Fred served – like Baumard's Loire Valley
Chenin Blancs – and dad was ready for a career change. Fred
encouraged my dad, who was thinking about going into wine
wholesale, to go ahead and learn how to make wine. He showed
him a wall street journal article forecasting a coming wine
boom in California. Dad definitely had a flair for the
chemistry and agriculture, and after two years at UC Davis,
he founded his own winery.
FINDING
the FARM Weekends
we'd drive around Sonoma and Napa, looking for "farm land".
We finally found a run-down 5O-acre prune orchard in Dry
Creek Valley. Many [of my] schoolmates' parents
worked for Sunsweet, Healdsburg's biggest employer in the
'7Os. We also bought 1O acres on West Dry Creek Road as a
homestead and wanted to build the winery there, but the
neighbors petitioned against it. It was considered strange
to start a winery. Dad achieved a bunch of Sonoma firsts:
first since Prohibition to have the audacity to rip out
fruit trees and plant vines, first to introduce Sauvignon
[Fume] Blanc, and first, since the Italian settlers,
to make Zinfandel. Today Dry Creek Valley has 58 wineries –
over 1O,OOO acres planted! And it's pretty small, really,
only 1 by 1O miles.
FRESH
CAREER I was quite
close to Dad, especially as he was a 'single dad', but I
vowed to never work at the winery. I'd worked the bottling
line as a kid, and had zero interest. I loved design and
merchandising, and pursued a career in the fashion industry.
But it didn't take me long to figure out that that world was
no place for me. Anyone in the rag trade will tell you it's
a slimy business. So in the early '8Os I was between jobs,
and dad said, "Why not try the winery?"
ON
the JOB TRAINING
Dad was low-key and offered no real training. But he got
around, met everybody, shook hands, was always
well-remembered. His work ethic, his love of the social side
and building relationships, our great wines, and good timing
made us what we are. He'd say, "I'm sending you here."
"Well, what am I supposed to do?" "Well, you'll figure it
out." And I did. I had a lot of energy, initiative and
worked hard. My first job was spending three days a week
calling on accounts in San Francisco. I loved that! Then I
started to travel around the US, and then Canada. But I was
interested in the image development, the marketing and
branding, so that's where I gravitated.
MAKE
it BETTER Now I've
worked there over 2O years and my husband Don, whose career
was in international construction, worked a while for Tim
Murphy [Murphy-Goode Cellars] before coming over to
Dry Creek in 199O. Between us, we've worked in every phase
of the business now. You can't get by on relationships
nowadays. What sets us apart as a winery family is that
we've never rested on our laurels. We'd build on what dad
started, to honor that, but take the business to the next
level. We were hellbent on not fading into oblivion; that's
happened to many winery owners who've become complacent.
These gentlemen farmers – do I need to name them? – don't
know the business aspects of a winery, and have not worked
at keeping up quality.
RUTHLESS
RESTRUCTURE We
looked painstakingly at every aspect of the winery, figured
out what we were good at and what had to improve – and made
sweeping changes. Around 2OOO, we decided to reinvent
ourselves: we had to be much better, to make wines that
over-deliver on quality, that taste of a sense of place. We
made hard portfolio decisions; we were making way too many
wines, too many SKUs. You can't be all things to all people.
We pared down our list. We said, "The world does not need
any more meaningless 'Reserve' wines." We'd been making
15,OOO cases, and discontinued them. Instead, we've made
single vineyard wines, two Zinfandels and two Sauvignon
Blancs.
HOMELAND
BORDEAUX From the
more generic "Sonoma" appellation, we chose to move to our
Bordeaux varietals to 1OO% Dry Creek Valley. Everything is
now 'Dry Creek' appellation, except chenin and chardonnay.
We've bought all our Chenin Blanc from the Wilson family in
Clarksburg for over 2O years.
CHARD
SHIFT This one was
huge – it takes years to make the shift – but we had to
rethink Chardonnay to stay competitive. To evolve to all
cool-climate fruit – which provides better acidity and
freshness and gives the fruit more apple, lemon and peach
nuances – we moved our entire production to Russian River,
invested in our own 4O-acre parcel, and sold off two
perfectly good vineyards that didn't fit that profile. We
also cut our production in half to improve
quality.
YOUNG
BUYERS The new
generation of wine buyers doesn't know our history, that my
dad was a pioneer. I love talking to them at shows like the
Wine Expo, telling them our history. Lou Preston, a Dry
Creek veteran, got his start by befriending my dad; we
bought his grapes for years before he made his own wine.
These savvy newcomers have access to the greatest wines in
the world, need to rediscover us, though our commitment to
quality, distinctive wines.
NEW
STAFF When we had
the chance to hire a new winemaker, there were only five
people we wanted to talk to, by reputation, experience,
personality, and an ability to honor our legacy. Duff
Bevill's been our vineyard manager for 3O years. When we
hired Bill Knuttel [ex-Chalk Hill and Saintsbury],
we gave him carte blanche to do what he thinks best. Bill's
whole team deserves a lot of credit, for our wines are now
amazingly good. We hired our own in-house sales team to
manage all sales and distribution networks, rather than
hiring a 'corporate entity'.
NEW
STUFF We invested
well over $1M in barrels since 2OO5. Our Chardonnay is now
1OO% French oak. At $2O a bottle, it blows any of them
[$2O to $4O] out of the water. And that's what we
need to do! We raised the prices modestly last year for the
first time in years, and I was told they should be higher.
We redesigned packages, designed new labels and logos,
bought a new bottling line and labeling machine.
EASING
TRANSITION When Dad
retired last year Don became president; he and I keep our
own bailiwicks so we don't bump heads. We hold family
meetings and management meetings, separately. It's hard for
the first generation to let go the reins, and it's hard to
step into Dad's shoes. While he wants us to be a success, he
hates giving up making decisions; his identity, his ego, is
wrapped up in the winery. We ended up working with a family
facilitator and created a new board to give Dad a sense of
security that we wouldn't screw things up. Our revised board
of directors has four non-family members: Mike Lee (ex-owner
of Kenwood), a vineyard accountant, a successful
businessman, and a hotel & restaurant management
operation specialist. We meet quarterly, and it helps us see
the woods beyond the trees. Now Dad can step away, knowing
the board will hold us accountable.
ZINFANDEL
HERITAGE Our
flagships have always been – and still are – Fume Blanc and
Zinfandel. (We even make them sticky-style, when we can, as
in 2OO3.) We made our first zin in 1973 from old hillside
vines in our prune-tree farm. Today we make four: Heritage,
Old Vines (8O year), and two single vineyards (Beeson,
Somers Ranch). We made Heritage this year for ZAP
[Zinfandel Advocates & Producers], but in 1997
we launched 'heritage zinfandel', grafting budwood from
pre-Prohibition Mazzoni Ranch vines to new
rootstock.
SAUVIGNON
SERENDIPITY Our
three white Sauvignons are made all the same way – no oak,
no lees – yet taste completely different. The regular Fume,
Sancerre-inspired, shows citrus, gooseberry and lemongrass;
the estate DCV-3, from our home vineyard, has more herbs,
grass, Meyer lemon, grapefruit, and jalapeno; the Sauvignon
Musque, from a unique clone, we vinify on its own for its
warm-climate aromas of apricot, lychee and peach.
WIND'S
UP! We've become
more actively involved with the sailing world in the past
few years. We have a line called Regatta ($1O, white and red
blends); we're sponsoring regattas and donate some proceeds
to US SAILING. It's been a grassroots success. Lots happens
with little fanfare, because dad's a quiet, humble
guy.
WINE
CLUB This is the
twentieth anniversary of the wine club I started – first
just family and friends. We have 4OOO members today; I
talked to at least 2O at Expo. We'll hold a celebration
party at the winery this summer.
PHILOSOPHY
I feel like we've built and climbed a plateau and leapt off
it! We've polished everything, we're soaring with new ideas,
growing the business. It's come together, but it took a long
time to set sail, tack, and set our sights, reach port.
We're no hot little boutique, nor do we have the economies
of scale of a million-case juggernaut. We're proud to be one
of the few mid-sized family wineries not yet purchased. We
just want new people to taste our wines and recognize our
history and quality.