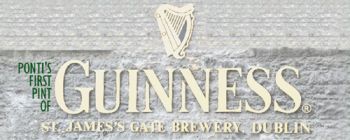 Ponti's First Pint of Guinness
Since
I had already waited so long to finally try my first taste
of Guinness, I figured why not wait just a little bit longer
and go straight to the source. Next stop: Dublin, Ireland's
Guinness Storehouse, located on the expansive 64-acre
grounds of the St. James's Gate Brewery. It was there I had
my first sip while on a tour and then my first pint while
enjoying a 36O-degree view of the city in their Gravity Bar.
I couldn't have asked for a more superb rite of passage into
becoming an official Guinness drinker.
For it wasn't
just a pint of the fabled beer to quench my thirst on a
Thursday afternoon; it was a key into the history of Ireland
itself where the Guinness tradition has been woven into the
fabric of Dublin and beyond for almost 25O years. Oh yes,
that first sip was divine, and I'll get to that for sure.
But first some history that I uncovered with the help of a
terrific tour guide named Kevin Hynes who wove a keen
narrative of Guinness and fielded more questions than any
one person should ever have to answer. What I'm not going to
do is give a blow-by-blow of the entire brewing process; the
experience was far too poetic and it makes more sense to
speak of things like barley and hops like the musical notes
on an Irish harp that, when played just right, there is no
superior sound to be heard. And if you listen really close,
you just might hear the ancient echo of founding father
Arthur Guinness himself sounding quite pleased after a
tasting session.
The Guinness
Storehouse is Ireland's number one tourist attraction. Seven
floors (which is tall for Dublin) are formed around a glass
atrium designed to look like a pint of Guinness. You know
what? It does. Seven floors tell the story. No stone is left
unturned. You'll come to know every step of the brewing
process in as much detail as you'd like. You'll see, and
touch, barley. You'll see equipment dating back to the 17OOs
and 18OOs. You'll peruse displayed archives of bottles,
labels, promotional items, and ad campaigns that act as time
capsules to the Guinness history. This includes the work of
artist John Gilroy, whose Guinness cartoon animal characters
are universally recognized and adored. Master Brewer Fergal
Murray, who is in many ways the face of Guinness for the
general public, gives a virtual narration through every stop
along the way providing first hand knowledge while
incorporating archival footage. It all culminates at The
Gravity Bar, where you'll receive your complimentary pint,
and can see the present day landscape of Guinness equipment
and how it fits seamlessly in and among all that is historic
around it.
As for our guide
Kevin, he added another dimension to the tour from which
I'll share my favorite moments of learning. One of the first
things that was explained was that the essence of Guinness
is the roasted barley, which smells and tastes not unlike
coffee. All of the barley used to make Guinness is grown in
Ireland and approximately 15,OOO tons of it is roasted every
year at St. James's Gate. The hops are imported from
countries including The Czech Republic, Austria, Germany,
and Australia. The climate in Ireland isn't conducive to the
cone flower which grows in vines that can be up to 5O meters
long. As for the yeast, it's a crucial ingredient and the
same original strain, which is kept under lock and key and
is still used today. The water used in Guinness comes from
the Nicklow Mountains, which lie north of Dublin. 8 million
liters are used every day. Water used for brewing is
referred to as liquor and the liquor from those mountains is
about as pure as you'll find anywhere. Kevin then explained
that the final ingredient in Guinness is the skill of Master
Brewers like Fergal Murray. There's a team of them and these
men and women are dedicated to consistently delivering the
high standard that Arthur Guinness set. "Although Guinness
family members are no longer actual board members, they are
still involved and are a thriving family," explained Kevin.
He added that they are a family well known for their
philanthropy and for treating their employees exceptionally
well by providing benefits such as pensions, paid holidays
and housing. At one time there were 5OOO people in the
Guinness Brewery family. Now owned by Diageo and streamlined
by technology that number hovers at around 12OO in
Ireland.
There's never a
dull moment though as the brewery is in operation 24 hours a
day, seven days a week. A new brew starts once an hour. The
barley roasting process takes two and a half hours and to
this day is still very much a hands-on process. Fermentation
takes two days and this is followed by a seven day
maturation period. In all, it's about a ten day affair to
bring you that perfect pint.
THE
MOMENT OF TRUTH
It was about 2pm
on Thursday afternoon, March 22 of this year, when I had my
first taste of Guinness. Don't ask me why I've never tried
it before; I have no respectable answer. Kevin hopped behind
the small tasting bar and drew me a few inches into a beer
glass. I gave pause to the moment, savoring the visual
symphony that was the settling of the head. With my right
hand, I raised the glass to my lips, tilted my head back and
was at the point of no return. Like anyone, I had my
pre-conceived notions and tried to remain totally neutral.
However I was stripped of all rational thought the nano
second the first swell of the storied Guinness foam met with
my lips, my mouth, my throat. It was one of those moments
that held such significance because it punctuated my visit
to Ireland by allowing me to experience something that's
been so revered and so much a part of the country. It was a
bookend to a spell-binding week in the land of infinite
shades of green. And do you want to know something else? It
was excellent. It was both refreshing and flavorful and its
signature bitter finish was not lost on me either. "Thank
you, sir, may I have another?" was all I was able to say to
Kevin. The tour ended with him depositing my friend Jessica
and me at the Gravity Bar where I learned how the perfect
pint is achieved by bartenders around the globe; including
the woman who poured ours. The glass is tilted to 45 degrees
and filled three quarters of the way full. Then it must be
placed on the bar to settle for about 119.5 seconds. I can
only imagine what things have been decided on, solved,
pondered, and smiled at during this tiny break from life
that Arthur Guinness graciously bestowed upon us. When the
surge has calmed, fill the glass to the brim but this time
tilt the tap away from you so as to pour the last bit
without nitrogen. With a twinkle in your eye, place the
glass on a mat and present it to your customer. Your work is
done; the rest is up to them. Jessica and I toasted to
Dublin, toasted to Ireland and, upon finding seats that
afforded a view of St. Patrick's Church, we toasted to
Arthur Guinness himself. I'm not sure if my next pint will
equal the first one I had in Dublin but if only all of
life's worries were so wonderful.
A
CLOSER LOOK AT FERGAL MURRAY
Master Brewer
Fergal Murray represents Guinness around the world at
different events. In fact, he was in Boston for three days
just before St. Patrick's Day on a pub tour in which he
visited several local establishments that serve Guinness.
Although he and I weren't able to cross paths in person, he
entertained my questions via e-mail and commented on the
presence of Guinness in Boston.
"The Guinness
was flowing wonderfully. The flavor and the quality was as
good as you could get anywhere in the world, as I would
expect from well-run Boston pubs," noted Murray. "Boston
does great pints. I will be back and hopefully soon." In
addition to thoughts on Boston, I told Murray all about my
enchanting first pint at The Storehouse and asked him what
it means to him to be a Master Brewer for Guinness. "I am
not surprised you have fallen in love with our beer. Being a
master brewer for Guinness is special. There is an integral
link to the past and to all our customers all over the world
of which we have to be very much connected to," said Murray.
As for what he likes best about his job, Murray points to
the people.
"My favorite
part of the job is when out in the markets listening and
chatting to the consumers, hearing their questions and
correcting the misconceptions."
A
half-pint of Guinness 1O1
Under the category
of "Did you know?", here are some standouts taken
from my visit.
• In addition
to Ireland, Guinness is also brewed in several
other countries
including Antigua,
Belize, Cameroon, New Zealand, and
Tanzania.
• New York's
Pinkerton and Hart took their first delivery of a
shipment of Guinness in 1842.
• The
Storehouse building was completed in 19O4 and was
constructed in the style of the Chicago School of
Architecture. Its original purpose was to house the
fermentation process. It did just that until the
late 198Os. It re-opened in 2OOO as a tourist
attraction and is also used for employee training
and business conferences.
• St. James's
Gate has been used as a brewery since 167O. On New
Year's Eve 1759, Arthur Guinness took out a 9OOO
year lease on the property. A copy of this lease is
imbedded under glass on the first floor of The
Storehouse.
• In the
177Os, Arthur Guinness II began brewing "Porter", a
strong black beer made with roasted barley which
explains its dark color. Ladies and gentlemen, thus
was the birth of today's Guinness beer.
• St. James's
Gate is the biggest stout export brewery in the
world.
• 1O million
(give or take) pints of Guinness are consumed
around the world every day.
• Almost one
in two pints of beer consumed in Ireland every
single day is Guinness.
• Arthur
Guinness, who was born in 1735 in Celbridge, County
Kildare, passed away in 18O3 at the age of 78 where
upon his son, Arthur Guinness II took over. In the
mid 185Os, Arthur II's son, Sir Benjamin Lee
Guinness, took on the leadership role upon his
father's death. In 1868 the brewery was passed onto
Benjamin's son Edward Cecil who doubled its size to
over 5O acres. His son Rupert succeeded him in 1927
as chairman.
• In 1862 the
trademark Guinness label was introduced. Its first
incarnation was a buff oval label with the harp and
Arthur Guinness's signature. The harp was
registered as a trademark in 1862.
• Guinness
will be celebrating its 25Oth anniversary in
2OO9.