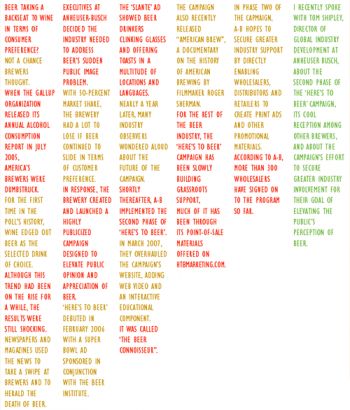 Can A-B Rally The Troops?
ANDY
CROUCH To start,
why don't you tell us a little about how the Here's To Beer
campaign got started.
TOM
SHIPLEY That would
go back to the end of the summer in 2OO5. All of 2OO5 and at
the end of 2OO4, there were lots of negative stories in the
general media about beer. We sort of hit this perfect storm
of slight declines in share of total alcohol coupled with a
Gallup Poll, which we could argue with Gallup on the
validity of that poll. They polled a thousand people that
summer of 2OO5 and about four-hundred of them said they were
underage or didn't drink, so then they had a pool of about
six-hundred people. Then they asked the six-hundred people
who were left, 'What form of alcohol do you prefer?" It was
widely touted by Gallup, 'Now more people prefer wine to
beer." You and I both know the reality of that. People
behave one way and might have an attitude another way. So
there was an opportunity to work on people's attitudes. Too
many of those six hundred people thought the correct answer
was wine even though their behavior indicated that two out
of three of them were more likely beer drinkers.
We saw an
opportunity to address that, to set the record straight
about the sheer size of the beer category and to remind them
that it is 57 or 58-percent of total alcohol. But also to
set the record straight because that Gallup Poll, some
declines, as well as some pretty aggressive PR by the hard
liquor industry started to drive a lot of media stories. One
was even on the cover of the Advertising Age. It was a
gravestone that said 'Beer R.I.P.' and the headline was
'Beer is Dead.' That really motivated us to
action.
August Busch IV
asked my boss, Bob Lachky [A-B's Executive Vice
President of Global Industry Development], to put
together a group that would be focused on the beer category
from a PR and ad perspective, which we got to with the
rollout of the Super Bowl commercial in 2OO6. [Busch
also asked us to] get aggressive with industry groups
and constituents that we identified as influencers. We've
done speeches to the usual suspects, the Brewers Association
and the Beer Institute and state wholesaler groups across
the country, but also to academic groups across the country,
press clubs and any media we can get an audience with. We
talk about the size of the category, to set the record
straight, and also the variety and styles of beer and how
well they pair with food.
The overall
objective is to elevate and enhance the image of beer and
it's evolved into a pretty powerful platform. We've been
pleased with the response from the craft community and from
other brewers. Now, in the beginning there were some things
about who is supporting the campaign and who is not
supporting it. I think that by and large everybody supports
it but it just depends on how you define support. If support
is sending a check to Anheuser-Busch to help fund this
thing, nobody supports it. If support is activating the
press with the materials we have on HTB marketing, I think
we have support from about 3OO beer wholesalers and brewers
outside of our A-B system.
AC
I read an interview recently in which Bob Lachky said that
the brewery was looking to "go it alone" on the campaign.
Can you talk about the early days of the HTB initiative and
what efforts were undertaken to get other industry players
on board?
TS
In the earliest days, we took a hard look at other industry
campaigns, such as 'Beef, it's what's for dinner,' 'Pork,
the other white meat,' 'the Incredible, Edible Egg,' and
'got milk?' All of those things are check-off programs,
which basically mean that all the dairy and beef producers
contribute a certain amount of pennies per pound or gallon
of milk they sell and it goes into a big fund – that's how
those are funded. Looking back, maybe it was a little naive
to think, 'Hey, why don't all of us throw into this fund and
we'll put the people behind it to run the campaign?' We did
that through the Beer Institute. It was successful in that
the Beer Institute, through a vote of all its members, said
it would support the first Super Bowl ad through the
perspective of PR, press conferences and media outreach.
Beyond that, where we went in to have everything contribute
money or convert some of our media-that's where, looking
back, we decided to go it alone. Those that decided not to
put money into it helped us make that decision. Then looking
back, if you think about it, any kind of creative endeavor
especially where it is advertising, the fewer number of
decision points the more efficient the process
is.
AC
I know there was some grumbling in the industry, and
especially in the craft market, about Anheuser-Busch and its
possible motives for doing an ad campaign like this. Are you
at all disappointed that there hasn't been more industry
support?
TS
I agree with you that in the very beginning there was
grumbling but I think the campaign has sort of proven itself
to those that have criticized it. I haven't heard anything
from those critics in the last year . . . It's telling that
there hasn't been any criticism. It's really neat to read
some of the threads lately from the Beer Advocate folks.
There has been more than one that has said, 'Well maybe
they're really trying to grow the pot.' Disappointment is
long gone and has been replaced with pride and validation in
the campaign. We knew all along that it's a campaign to
elevate and enhance the image of beer. If a 'critic' says,
'You're just trying to grow the beer category because you
guys have almost half the category' we have to say, 'Guilty
as charged'. That is true and we're not really trying to
hide that. It's pretty public knowledge the share we have in
total beer. I think it's also telling that a big part of
this campaign, you can see it in print and in television
spots, is to educate people about the wide variety of beers.
That includes beers of all different flavors, styles and
colors. The majority of what we sell, let's face it, is in
the American Lager and American Light Lager categories. But
you're seeing us really emphasize other categories and other
styles. Part of the reason we're doing that is to elevate
and enhance beer . . . When you consider what the average
consumer thinks about wine, if you could take that average
consumer twenty years ago they could probably tell you there
are two types of wine: red wine and white wine. Now that
average consumer may not know every specific geography and
style but they certainly know there is more than just red
and white wine.
AC
Tell me about how the American Brew movie project got
started?
TS
That goes back to about the time when our group got started
in the Fall of 2OO5. Ken Burns approached Anheuser-Busch, as
I'm sure he approached other companies, looking for
corporate sponsorship of his next major project . . . As we
we're in discussions about the sponsorship, we suggested it
would be great to do a history or documentary on beer . . .
Ken recommended his partner at Florentine Films, Roger
Sherman. He has a rich body of work himself, an
award-winning documentarian. We met Roger and quickly came
to terms and commissioned a documentary about beer. The name
of the project, who was interviewed, how the story was told,
was all in the editorial control of Roger. We gave him a lot
of leeway and I think that comes through in telling the
history of beer and the renaissance of beer
today.
AC
I know the Here's To Beer campaign also has an industry
component.
TS
We're going to continue to work internally, in the industry,
to invite and encourage more people to get on
HTBmarketing.com and download materials. Herestobeer.com and
HTBmarketing.com essentially started at the same time in
February 2OO6. Herestobeer.com had lots of traffic with a
slow decline over the next eighteen months. It's shot up
again since we changed it and the numbers are going up. The
numbers at HTBmarketing.com since the beginning have
continued to increase and we're seeing an increase in
downloads. You can download point-of-sale materials and
print it out to merchandise the category. The lowest hanging
fruit there is for wholesalers to merchandise retail
accounts or retailers to merchandise their own accounts with
this beer themed point of sale, it's not branded point of
sale. It's for accounts that historically have not wanted
any beer advertising in their stores because it doesn't have
the image that fits with their store. When the wholesalers
present them with the new materials with a different look,
not branded and just about beer and beer styles, that is
where they are getting a yes and getting the opportunity to
merchandise accounts. People should get on HTBmarketing.com.
All people have to do is tell us who they are and where they
work and they get a username and password. They can then go
ahead and find opportunities to use the
materials.
For the
campaign, the big push is to be more entertaining on
Herestobeer.com. That will continue to change and inform and
be more fun. Then there is this platform of pairing beer
with food. It will help general consumers to understand that
beer pairs with food in many cases better than wine pairs
with food, but I guess we have to crawl before we
walk.