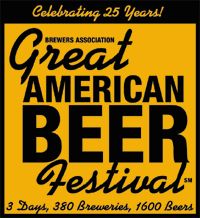 Riding
an impressive and seemingly unbreakable wave of industry
growth, the Brewers Association recently celebrated the
twenty-fifth anniversary of its signature event, the Great
American Beer Festival (GABF), in Denver, Colorado. With
expanded floor space and increased offerings, the festival
broke its old records and new ground in the promotion of
craft beer.
The festival
benefited from a 39 percent increase from the 2OO5
attendance level, booming to a record of 41,OOO attendees at
the newly expanded Colorado Convention Center. Ticket sales
were unexpectedly high in early September, with 'sold out'
signs greeting visitors to the Saturday evening session. "We
knew we would have high attendance, but the excitement about
the festival was amazing," said Cindy Jones, marketing
director for the Brewers Association. "This is the first
time we sold out before a session opened."
Spread over an
additional 44,OOO square feet of convention space, the
three-day event allowed attendees from around the world to
sample more than 165O American beers. With 384 breweries of
the 45O represented at the festival pouring beers, beer
lovers had the unparalleled opportunity to sample the widest
imaginable range of offerings. This year's GABF featured a
marked departure from the adventuring efforts of past
events, with brewers making noticeable attempts at producing
more traditional beers.
On the floor,
only barrel-aging continued to be a popular means of
experimenting with flavor, while brewers offered a range of
new organic beers.
GLUTEN-FREE
BEERS One
interesting new trend in the craft beer category is the
emergence of gluten-free beers. Millions of Americans suffer
from a physical inability to tolerate a protein in wheat and
other grains, including barley and rye, called gluten. Known
as Celiac Disease, it is an autoimmune disorder whereby
ingestion of these proteins causes a reaction in which the
small intestine is made incapable of absorbing nutrients
from ingested food or beverages. The symptoms can range from
abdominal bloating and diarrhea to anemia, osteoporosis and
malnutrition. More serious complications can develop if even
small amounts of gluten are ingested over a long period of
time.
Celiac Disease
sufferers generally avoid commercially produced beers or
have been forced to settle for highly dumbed-down versions
of beer. In response to the problem of thirsty,
gluten-averse drinkers, craft brewers have started producing
palatable beers made with non-traditional ingredients.
Brewers have formulated their beers with 1OO-percent
gluten-free ingredients and processes that ensure the purity
of the consumable product.
The new
substituted ingredients often include sorghum, buckwheat,
rice, maize, corn, and sunflower.
Sorghum and
buckwheat are by far the most common ingredients used in
American gluten-free beer. Native to northeast Africa,
sorghum is a grass that tolerates dry weather and is
frequently used in African brewing circles. With its origins
in central and western China, buckwheat is an herb of the
Buckwheat family Polygonaceae.
Unlike with
non-alcoholic beer, which is with few exceptions not
mistakable for real beer, American gluten-free beers are
passing a new standard for consumer taste tests. In this era
of experimentation where brewers strive to expand the very
definition of what constitutes beer, craft brewers are
producing gluten-free beers that not only serve a niche
market but also appeal to adventurous beer drinkers. The
gluten-free beers I tried during the GABF were clean and
full of unusual flavors. A real standout product is New
Grist, a gluten-free beer produced by the Lakefront Brewery
in Milwaukee, Wisconsin. The brewery claims the beer was
"fueled by consumer demand and a relentless pursuit of
brewing great tasting beer." The New Grist is brewed with
sorghum, hops, water, rice, and gluten-free yeast grown on
molasses. A brochure promoting the brand quotes
Celiac-sufferers from across the country asking when the
beer from the little Wisconsin craft brewery will be
available in their areas.
Honestly, I
never thought much of gluten-free beers until I tried the
New Grist. Pouring with a light pale golden color, the aroma
is slightly sweet and faintly of cotton candy. The taste is
oddly like a fermented, cherry Halls cough drop – but in a
pleasant way. The flavor is lightly fruit and tart, like
dull melon at times and similar to passion fruit at others.
Overall, the beer is somewhat spritzy and very drinkable. If
you're used to big, bruising malt bombs, sorghum beers are
unlikely to be your thing. But for those who otherwise would
have to stick to soda pop or other non-grain based alcoholic
beverages, beers like the New Grist suggest a promising new
future.
THE
COMPETITION The
festival's famed judging event continued to set new record
marks this year. Comprised of 2431 beers from 452 breweries,
this year's entries competed for gold, silver and bronze
medals in an eye-opening 69 style categories. Gone is the
non-alcoholic beer category, replaced by a host of new
styles representative of the expanding creativity of
American brewers. The average number of beers entered in
each category was 35, with 94 entries marking the high in
the American-style India Pale Ale category.
Brewers crowded
the expanded award ceremony stage as Judge Manager Chris
Swersey announced the three beers that best represented each
beer-style category as described and adopted by the Great
American Beer Festival. In an impressive feat, two breweries
repeated their wins as Brewpub of the Year and Mid-Size
Brewery of the Year. The breweries, the Pelican Pub &
Brewery of Washington State and the perennially lauded New
Glarus Brewing Company of Wisconsin, not only repeated their
wins but also managed to win in the same categories with the
same beers. New Glarus won gold medals in 2OO6 and 2OO5 in
the Wood-and-Barrel-aged Beer category for its Cherry Stout
and gold in the Fruit and Vegetable Beer category for its
Belgian Red. The Pelican Pub won silver in 2OO6 and 2OO5 for
its MacPelican's Scottish Style Ale and gold for its Kiwanda
Cream Ale in the Golden or Blond Ale category. While some
critics complain that the judging of beer is an inherently
and unreliably subjective undertaking, to win categories in
back-to-back years with different panels of judges should be
enough to silence the naysayers.
While California
and Colorado breweries continued to dominate the winner's
list, with 39 and 28 medals respectively, New England
breweries managed a very respectable showing despite
relatively poor attendance at the festival. New England
brewers have for a long time chosen not to focus their
efforts on the GABF, for a variety of reasons. Some cite the
expense of attending versus devoting more time to developing
local markets, while others claim an inherent disadvantage
in their ability to compete due to long-distance shipping to
the event site. Regardless of the reasons, New England
breweries and brewpubs have enjoyed remarkable successes
considering their scarcity at the festival.
Steve Schmidt of
the Cambridge House Brewpub in Granby, Connecticut, won a
silver medal in the German-style Brown Ale or
Dusseldorf-style Alt Bier category for his "Alt 45". The Opa
Opa Brewing Company of Southampton, Massachusetts, won a
silver medal in the American-style Hefeweizen category for
its American Wheat. Will Meyers of the Cambridge Brewing
Company continued his winning-streak at the festival, not
with his famed Benevolence, but by branching out to win gold
in the Herb and Spice Beer category for his The Wind Cried
Mari heather ale. Brewed with aromatic Scottish malt, Will
adds fresh, hand-harvested heather flowers from the Sylvan
Nurseries in Westport, Massachusetts, along with sweet gale
and lavender to the boil. The brewpub describes the beer as
having an aroma and flavor that are "a surprising jog of
ancient memory, with notes of sweet gale, heather, an
obscure wildflower spiciness, and a grace note of lavender,
complemented by the interplay of mild but assertive,
toasty-sweet malt."
Redhook of
Portsmouth, New Hampshire, won a silver medal in the Rye
Beer category for its seasonal Sun Rye. The Boston Beer
Company picked up another gold medal in the German-style
Marzen or Oktoberfest category for its Samuel Adams
Octoberfest. The Amherst Brewing Company won a gold medal in
the highly competitive American-style Amber or Red Ale
category for its Anniversary Ale.
Rob Tod of the
Allagash Brewing Company added a couple more medals to his
collection, and this time he did it without his category
defining White beer. In the highly competitive Belgian-style
Abbey Ale group, Allagash's Tripel won the gold medal, while
its baby brother, the Interlude, took a silver in the
Belgian-style Strong Ale category. The Interlude is another
release in Allagash's experimental series. Presented in
75O-milliliter bottles, the beer employs two yeast strains,
including Brettanomyces, and is aged in French oak barrels.
The beer includes an interesting mix of flavors including
fruit and toast, and a distinct, dry finish.
THE
BREWERS STUDIO The
Brewers Association debuted a new event at the festival
designed to promote education about beer and the
personalities behind the breweries. The Brewers Studio was
set up to "explore the intersection where great brewing
talents meet – and where the creativity behind some of
today's most successful craft beer stories comes alive." The
forum featured interviews and stories from Vinnie Cilurzo of
Russian River Brewing, Matt Brynildson of Firestone Walker
Brewing, Rob Tod, Adam Avery of Avery Brewing, Sam Calagione
of Dogfish Head, and Tomme Arthur of Port Brewing Company.
The Brewers Studio pavilion also hosted a series of beer and
food pairings and cooking demonstrations from brewers and
chefs alike.
ANHEUSER-BUSCH
MAKES A SPLASH
America's largest brewer used the GABF as an opportunity to
promote its rededicated efforts to the promotion of beer
generally and its specialty release portfolio. Starting with
a fancy media event at the new Hyatt overlooking downtown
Denver and following up with a media tour of several
breweries in Fort Collins, A-B jumped into the better beer
fray. Since 1997, A-B's Michelob Specialty Sampler
Collection has included several unusual offerings for the
company. A-B rolled out a series of new releases at the
festival, some impressive, many unremarkable. Their
Bavarian-style Wheat beer is brewed with wheat malt, is
unfiltered and is fermented with a hefeweizen yeast strain.
It is an impressive beer, full of clovey and light banana
aromas and flavors. Overall, the wheat beer is on style and
remains very drinkable with a great malt balance. The
Michelob Porter is brewed using aroma hops from the Pacific
Northwest and two-row caramel and chocolate barley malts.
With a deep, burnished, off-red hue, the beer has a mild,
roasted aroma with a touch of cinnamon. The beer is full in
flavor, with sharp yet refined bitterness and a distinct
roasted malt finish. While a perfectly enjoyable version of
the porter style, it is a bit disturbing that A-B brews this
beer, and indeed all of the other specialty release beers
with the exception of the wheat, with its standard Budweiser
house lager yeast strain. Some brewers and writers at the
festival marveled at this achievement, but I think it
demonstrates a continued disconnect between the big brewery
and the core philosophies of the craft brewers. This
detachment is best demonstrated by the brewery's continued
reliance on Continental European-style hop varieties,
including Saaz, Hallertau and Tettnang for its English-style
pale ale.
CONTINUED
IMPRESSIVE PERFORMANCE
The Brewers Association also used the festival as an
opportunity to promote the continued growth of the industry
as a whole. Though official numbers will not be available
until early next year, the BA reported that the volume of
craft beer sold in the first half of 2OO6 enjoyed a robust
11 percent increase compared to the same period in 2OO5.
"The rate of growth in the craft beer segment appears to be
accelerating," said Paul Gatza, Director of the Brewers
Association professional division. "This is the third
straight year we've seen an increase in the craft beer
growth rate."
On top of 7
percent and 9 percent growth in the last two years, this
year's impressive numbers appears to solidify the permanent
status of this category. "This growth represents strong
performance by established craft brewers over several
years," said Ray Daniels, Director of Craft Beer Marketing
for the Brewers Association. "Unlike the early days of our
industry, newly founded breweries do not add significantly
to industry-wide production."