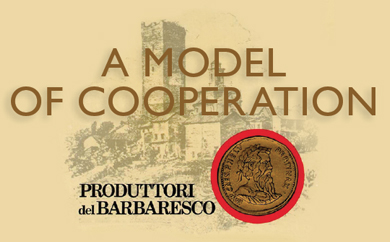 A Model of Cooperation – Produttori del Barbaresco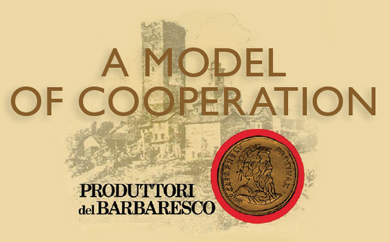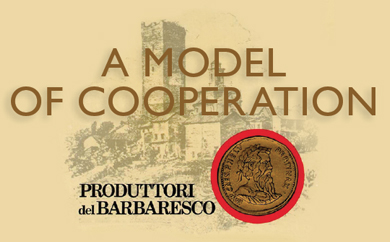 by HARVEY FINKEL
THERE ARE cooperatives, and, then, there are cooperatives.  This might be especially true in Italy, where I have visited industrial-sized wineries out of Chaplin's Modern Times, whose watery emanations used to be served free on tourist-class international flights, and have marveled at others – blessed is the Alto Adige – which make some of the best wines of their regions, usually at attractive prices.  Produttori del Barbaresco is one of the latter class.
I recently had the pleasure of participating in a small group gathered to dine on food prepared by Watham's excellent restaurant, Il Capriccio, while studying and enjoying an array of Barbaresci assembled by knowing collector Angelo Manioudakis, assisted by retired importer Fred Ek.  Wine in general, and perhaps Italian wine in particular, shows to best advantage, and is most healthful, accompanying food.  I shall focus on the six wines of the Produttori del Barbaresco for today's lesson.  Before exposing my own impressions of these wines, a few words on Barbaresco as a whole and this producer's place in this tiny, though nature-favored, enclave.
Piemonte, Italy's northwestern region, engraved in the foothills of the Maritime Alps, has a venerable and honored culture, especially in wine and food.  Three of the jewels in its crown, white truffles, Barolo and Barbaresco, are concentrated around Alba.  The wine we call Barbaresco is named for that village just northeast of Alba, in the valley of the Tanaro River.  Its vineyards occupy a belt from 15O to 35O meters of elevation, facing south on slopes of the Langhe Hills, steep, but round topped.  The river valley and the autumn mists help moderate the climate and enable proper ripening most years nowadays.  The soil is largely calcareous marl.  Viticulture was taught to the tribal inhabitants by Greek travelers more than 26OO years ago.  Nebbiolo, the informing and only grape of Barbaresco, is not an only child.  Barbera, Dolcetto, Moscato, and some French varietals are also grown.  Nebbiolo, indigenous to Italy's northwest, is called Spanna in the Novara and Vercelli areas of Piemonte and Chiavennasca in Lombardia's Valtellina.  Some believe its generally used name of Nebbiolo refers to the prevalent autumnal fog.  Others prefer it describing the thick natural bloom covering the ripe grapes.  Forgotten by most, Nebbiolo was traditionally vinified as a sweet wine until the 184Os, when, aligned with the usual French influence pervading the region, an imported French winemaker began the shift to wines akin to those we know today.  Barbaresco received its DOC in 1966, DOCG in 198O.
By the late 19th century, all was not well in the Barbaresco zone.  Quality was variable; image was wanting; sales were seldom.  Something had to be done, Domizio Cavazza, head of the enology school in Alba, had stimulated the modernization of the vineyards and cellars of Barbaresco and Barolo, both backward, isolated, rural, and poor in those days.  In 1894, Cavazza organized a cooperative, the Cantine Sociale di Barbaresco, the spiritual precursor of the Produttore del Barbaresco.  Until then, most of the Nebbiolo that now qualifies as Barbaresco was sold off anonymously in bulk for blending, much to Barolo.  The reforms began to right the ship, but Cavazza's illness and death and the depredations of the Great War, the bad economy, and especially of Musolini's Fascisti forced the Cantine to close in 1923.
Conditions in Piemonte were no better following World War II, when, in 1958, another local champion appeared.  Don Fiorino, the village priest in Barbaresco, organized a new cooperative of growers.  Initially 19 families growing Nebbiolo in the Barbaresco zone joined.  Taking some pages from their predecessor's book, they wisely required that each family must submit all of its Nebbiolo to the coop's winery.  Each soci was paid a bonus for quality of crop and for low yield.  Their winery would produce only Barbaresco.  At first, the wine was made in the church basement.  In 1961, a winery was opened across the village square.  For the first few years there was only one pooled Barbaresco.  Individual crus began to be bottled in 1967, and since 1982, an auspiciously fine vintage, nine crus are released in addition to the blended Barbaresco, if the quality warrants.  If it's only a good vintage, then a single Barbaresco is bottled, still worthy of attention.  Lots of lesser finesse not destined for long aging, though far superior to ordinary table wine, are declassified to Nebbiolo della Langhe.  On occasion, one of the crus may be singled out with a special label and the coveted designation Cavaliere del Tartufo.  The now-54-member family growers own a substantial portion of the best crus in the zone.
Winemaking remains mostly traditional: long maceration (4O-6O days) and fermentation, once in wood, then concrete, now stainless steel; aging in used botti for three years, instead of four or five.  The managing director since 199O is Aldo Vacca; cellar master since 2OO8 Giulio Occhiena; winemaker since 1987 Gianni Testa.  The soci farm 11O hectares of Nebbiolo, constituting nearly a quarter of Barbarescos.  About 35,OOO cases total are produced on average: 4O percent riservas from the nine crus, 4O percent Barbaresco normale, 2O percent declassified to Nebbiolo della Langhe, all varying with the vintage.
WINE NOTES
The six wines were double decanted about four hours ahead of drinking.  Most Italian winemakers I know would have preferred to decant them the day before, or even earlier.  Practical factors dictated our timing.
BARBARESCO 1964
Pale.  Delicate and subtle.  Very long finish.  Fruit comes slowly and grows.  Unusual in showing the tar and roses often talked about, but seldom encountered.  Bouquet quite tarry for first 2O minutes.  Roses in smell and taste emerge later.  A most auspicious start.
BARBARESCO RISERVA SPECIALE RABAJÀ 1967
One of the first cru bottlings, from an illustrious vineyard.  Looks younger than it is.  Retains vigorous fruit.  No hurry.
BARBARESCO 197O
Dark, but smells old and has lost fruit.  Would longer airing have helped? Unlikely.
BARBARESCO RISERVA OVELLO 1971
CAVALIERI DEL TARTUFO
A specially cited cru riserva from a memorably great vintage.  Very dark.  Reserved.  Deep fruit still on the tree.  Remarkable retention of vigor without any sign of weakening.  Probably still on the upslope of the maturation curve.  I wonder how long this wine will live.
BARBARESCO 1974
Very dark.  Good wine, but either has not quite reached peak or has just passed it, likely the latter.
BARBARESCO 1978
Darkest of all, with a younger hue.  Obviously full of itself.  Will develop further.  Don't touch it yet.  A good one.
LESSON LEARNED
The better vintages of the Produttori's wines, especially the cru riservas, give great intellectual and sensual pleasure after decades of aging under good conditions, and are to be had at relatively reasonable price.  Younger readers are well advised to take note.
The most detailed treatment I know of the Produttori del Barbaresco's story is that of John Gilman in A View from the Cellar, July-August, 2OO9.