PINK LADY'S ENDANGERED COCKTAIL OF THE MONTH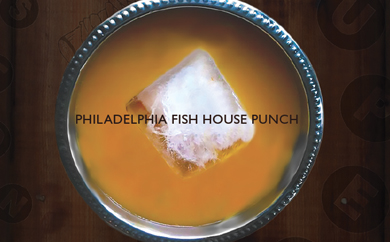 RUM is a delightful sip, and with our most patriotic holiday on the horizon it seems fitting to familiarize ourselves with a great recipe for a rum punch to raise in celebration.  Philadelphia Fish House Punch is older than America itself and was a favored tipple of William Penn's followers down in the City of Brotherly Love.
The Colony of Schuylkill was a rod and gun club founded by 3O men in 1732.  As David Wondrich writes in Imbibe!: "The 18th century Englishman was an extremely clubbable fellow," who formed social associations "at the drop of a tricorn hat."  These were informal places, spots to sip punch, eat roast, and in the case of Schuylkill to hunt and fish.  After the Revolutionary War they changed from "Colony" to "State", like the rest of the burgeoning USA.
The gents met in a simple wooden fishing house which they dubbed "The Castle" and every member and visitor had a job while there (unlike other rich person clubs) assigned according to his abilities.  George Washington visited in 1787 and there's no record of how he pitched in, but the Marquis de Lafayette "turned steaks" while there in 1825.
Drinking in the Colonial era was no joke, so proceed wisely when you serve this to guests as you gather around the punch bowl this summer.  It tastes like juice-y goodness but packs, well, a serious punch.
---
PHILADELPHIA FISH HOUSE PUNCH
from David Wondrich's recipe
1 1/2 cups of superfine sugar
2 quarts of water
1 quart of lemon juice
2 quarts of dark rum
1 quart of cognac
4 ounces of peach brandy
In a large bowl, first dissolve the sugar in enough of the water to do the trick then incorporate the lemon juice.
Next, add the spirits and the rest of the water, or as much of it as you wish to contribute (less in summer, to allow for melting).
Add a large block of ice.
Let stand in a cool place for an hour or so before serving.