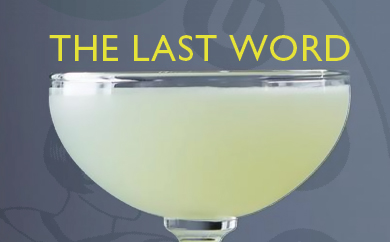 PINK LADY'S ENDANGERED COCKTAIL OF THE MONTH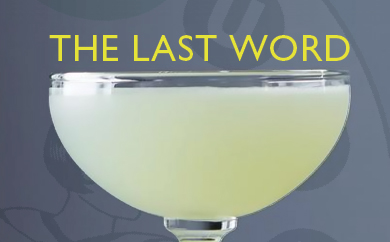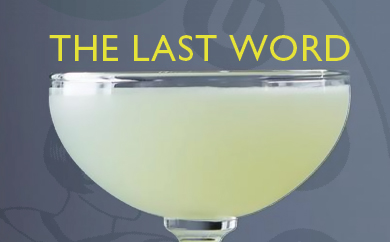 THE LAST WORD
3/4 ounce of gin
3/4 ounce of Chartreuse
3/4 ounce of maraschino liqueur
3/4 ounce of fresh lime
Shake ingredients with ice in a cocktail shaker.
Strain into a chilled cocktail glass.
SPRING SURE TOOK its sweet time arriving this year in New England, but we're happy to report that gin season is officially here.  Lighter clothes and longer days make us long for lighter spirits, and what better way to toast the season than with a Last Word cocktail?  This gin-based drink is a pre-Prohibition gem that has become a stalwart of the cocktail renaissance thanks to a Seattle bartender named Murray Stenson.
Earliest sightings of the Last Word Cocktail place the drink at the Detroit Athletic Club circa 1916; it cost 35 cents and was the most expensive drink on the list.  The recipe pops up for the first time in a cocktail book in the 1951 edition of Ted Saucier's Bottoms Up, where he credits its creation to a Vaudevillian monologist named Frank Fogarty, "The Dublin Minstrel".  Fogarty enjoyed the drink and popularized it upon returning to his home in Red Hook, Brooklyn.
The drink was all but forgotten until Seattle bartender Murray Stenson unearthed it from Ted Saucier's book while looking for classic drinks for his cocktail menu at the Zig Zag Cafe.  Stenson was something of a local legend in the 'OOs and sitting at his bar was an exceptional pleasure.  He'd been collecting cocktail books since the '8Os – who knew serving up forgotten drinks to his regulars would impact the cocktail scene writ large?  "Stenson's name among the cocktail elite was secured when he discovered and began serving the Last Word, a pre-Prohibition-era cocktail of zero renown," writes Robert Simonson in A Proper Drink, his chronicle of the cocktail renaissance.  "The drink – simple, yet arcane, and effortlessly delicious – soon reached the opposite coast."
Nowadays you can find the Last Word at most any bar that can shake a proper drink, and "Modern cocktail recipes that riff off the Last Word's equal-parts-sour template are legion," writes Simonson.
We recommend dressing this classic cocktail up with a modern gin like Brockman's, which features 11 botanicals including the usual suspects of juniper, lemon and orange peel, angelica and coriander, alongside some not-so-usual ones like blueberries and blackberries.  It's a perfectly berry-tinged springtime sip.  Raise a glass to Murray while you're at it!