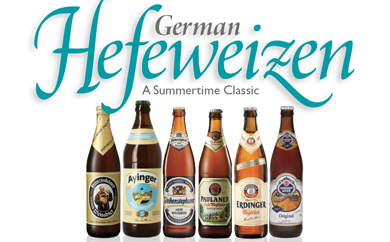 by ANDY CROUCH
SPRING HAS ARRIVED but as I write this snow is falling lightly out the window, promising another backbreaking afternoon of shoveling. The thought of summer is fleeting at best. But soon the summer beer drinking season will be in full swing. For my money, there is no better summer beer than the noble, classic German Hefeweizen. Perhaps a bit out of vogue in the minds of hardened beer geeks, all it takes is the passing of a beautiful, tall, and shapely weiss glass filled with a hazy sun-kissed mixture of off-yellow hues to turn every head in the bar. Made with a strong addition of wheat malt, often fifty-percent of the mash, Hefeweizens achieve a rare lightness of body without giving up on any flavor or character. The classic Hefeweizen aroma is redolent of banana, bubble gum, and spicy clove notes, dry wheat hints, and a small tinges of tartness. The flavors generally mimic the aroma, often with slightly more subtle results. The banana flavors rarely play through, leaving only light small fruit traces, ending with a light and refreshing character on the palate. The ultimate thirst quencher, the low hops levels leave the beer very approachable.
FRANZISKANER HEFE-WEISSE
Spaten-Franziskaner-Bräu
Munich, Germany
ABV 5%
The Franziskaner Hefe-Weisse is always an unexpected delight to find on tap. It pours with a cloudy pale yellow hue and a solid cap of white foam, leaving impressive lacing as the beer is consumed. The aroma boasts sweet fruits, with the usual banana and clove notes, but also with some more tropical hints and spices. The flavor is considerably more bready, with quick flits of clove and dried fruits. Touches of grainy wheat also pop up occasionally. There is a brisk carbonation to the beer that leaves it quite quenching and crisp on the palate. franziskaner-weissbier.de
AYINGER BRAU WEISSE
Brauerei Aying
Aying, Germany
ABV 5.1%
The small town of Aying is a classic Bavarian beauty, surrounded by some rolling hills and green farm fields. It also hosts one of the world's prettiest breweries that serves an all-welcoming Hefeweizen as its star beer. With its natural haziness cloudiness and off orange-yellow hue, the Ayinger weiss starts with a frothy white head that sticks cleanly to the glass. There is a sizable German malt character on the nose, mixed with mild spicy phenols and interesting banana notes, asking you to return for another sip. The body is surprising light, but never thin, with touches of mild spice and wheat flavor for balance. Bits of banana and clove hang out at the fringes, ending with a nice creaminess. A cleansing carbonation level brushes the palate after every sip. A Bavarian classic that is great on any summer day.
WEIHENSTEPHANER HEFEWEISSBIER
Bayerische Staatsbrauerei Weihenstephan
Freising, Germany
ABV 5%
A classic and perhaps style-defining offering from the world's oldest brewery, this flagship Hefeweissbier is cloudy with orange hues and a substantial white head that results in plenty of lacing. The beer's sizable German malt character base fills the aroma with splashes of banana, dried fruit, and other fun and spicy phenolic notes. It is medium-bodied, with a modest but helpful level of carbonation that works hard to clean the palate. It packs in a solid malt punch, along with excellent fruit and wheat notes. A centuries-old brewery making a world-classic beer.
PAULANER HEFE-WEIZEN
Paulaner Brauerei Gmbh & Co. Kg
Munich, Germany
ABV 5.5%
The top selling wheat beer in Germany, the Paulaner Hefe-Weizen remains a great seller throughout the world, including here in the United States. The brewer's herald their yeast suspension in this beer, which is quite a looker. It pours with the usual haziness and substantial off-white head but the hue is ever so slightly darker towards light orange. The aroma is less aggressive than some other hefeweizens, but still with ample notes of spicy yeast, bubble gum, wheat, and banana. The beer is considerably more bready in nature, with big wheat notes mixing with balancing additions of spice, bubble bum, and dried fruit. The medium-bodied beer employs light touches of Herkules and Taurus hops to balance out the other fine attributes. paulaner.de
ERDINGER WEISSBIER
Erdinger Weissbräu
Erding, Germany
ABV 5.6%
Another entry from just outside of Munich, Germany, the Erdinger Weissbrau, as the name suggests, focuses solely on the production of wheat beer. The brewery derives its name from its hometown of Erding and dates back to 1886. It is likely the world's largest brewer of wheat beer, though numbers are always hard to verify. Erdinger offers several different varieties of wheat beer, including a traditional hefeweizen, a dunkel, and a kristall. The brewery also produces a surprisingly flavorful alcohol-free version of its popular wheat beer, called Alkoholfrei. Served in a hybrid pilsner and wheat beer glass, the Alkoholfrei pours with Erdinger's signature bright, big white foamy head. The aroma is crisp and filled with scents of new, earthy hops. The flavor and aromas are entirely reminiscent of the alcohol version of the product, making it worth checking out. The standard Erdinger Weissbier presents with a cloudy yellow hue and the usual solid dollop of white foam, with excellent head retention. The nose fills lightly with banana, fruit, and wheat, and is milder than many other versions of the style. The flavor, however, bursts with a complex melange of wheat, bubble gum, spicy yeast, and banana characters. It is lighter on the body than other examples but still retains a substantial carbonation level to wipe the palate clean after every sip. erdinger.de
SCHNEIDER WEISSE
Weisses Bräuhaus G. Schneider & Sohn Gmbh
Kelheim, Germany
ABV 5.4%
For more than 14O years, six generations of the Schneider family have led this weiss-focused brewery. It produces at least nine versions of its wheat beer, including Octoberfest and hoppy themed varietals. The Tap 7 version, deemed "Mein Original," dates back to the original recipe of Georg I. Schneider in 1872. The beer pours with a substantially different color than most other weissbiers, with distinct orange hues and another solid, pristine white head of foam. The beer is decidedly hazy, with aromas of mild banana, light yeast spice, wheat, and the occasional bit of nutmeg. The mild carbonation levels balance against light hints of spice, resulting in a slightly more malty drinking experience. The hop balances include Hallertauer Tradition and Herkules. Those looking for a more adventurous weissbeer experience are encouraged to give Schneider's Aventinus Eisbock a try. Weighing in at 12 percent alcohol, this beer pours with a big, brooding, dark ruby to nearly translucent brown hue with a massive track of off-tan to brown foam. The first smell will warn you this is not some mild mannered weissbeer but is instead a power packed ride. Strong, boozy alcohol notes, like brandy or plum wine, fill then nose, followed by hints of plum, clove, banana, dark chocolate, and some nutty hints. The flavor follows suit, more reminiscent of an old ale or sipping beer than one to be consumed quickly on a hot day. Served in the brewery's bulbous, almost cartoonish glass, this beer is a potent looker. schneider-weisse.de