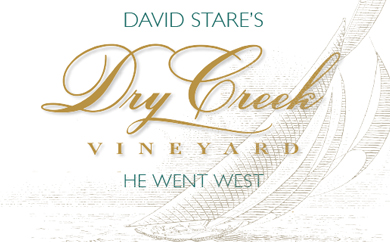 by HARVEY FINKEL
LET US GO THEN, you and I, returning to the early days of yesteryear, at the dawning of the modern vinous age on the Pacific Coast, when David Stare trekked from eastern Massachusetts to western California, the wine grail image ever before him, to establish Dry Creek Vineyard. Armed with a civil engineering degree from MIT and an MBA from Northwestern, Stare, a man of many parts in many parts of the world, derived little inspiration from his railroad jobs. But wine caught his palate and imagination. He learned some of the frustrations trying to grow hybrid vines in his backyard while working in Maryland. A job in Germany enabled visits to the Rhine. During a spell on the Charles, his understanding was deepened by a course in wine appreciation taught by Boston's estimable Fred Ek, and the spark was fanned by a visit to the Loire. Drawn west by the burgeoning wine trade in California's North Coast, Stare took graduate courses in winemaking at UC Davis, and looked for land. He was influenced there by the work of Chuck Carpy, Joe Heitz, and André Tchelistcheff.
In 1972 he purchased an old prune orchard in Sonoma's Dry Creek Valley. The wine scene was far quieter and less crowded then: there were only three other wineries working in the valley when Stare arrived. Against conventional wisdom and expert advice, he planted as his first crop Sauvignon Blanc, fondly recalled from his visit to the Loire Valley. It was to become the signature white grape of Dry Creek Valley. He was called "brash" in the Thompson-Johnson California Wine Book (Morrow, 1976) for envisioning a California version of a Médoc estate. Using borrowed facilities (Cuvaison in Calistoga) in 1972, Stare made his first three commercial wines from purchased grapes, Chenin Blanc, Chardonnay, and Sauvignon Blanc. His own vines would not be fruitful yet. The first wines released from the new winery at Dry Creek, made in 1973, also from purchased grapes, were the same three varietals. I remember visiting then, the building still unfinished.
The successful growth and increasing prestige of Dry Creek Vineyard laid the foundation for the establishment and renown of the wines of the Dry Creek Valley, which received its own appellation in 1974, and became a federally recognized AVA in 1983, largely through Stare's efforts. The relatively small (2 by 16 miles) valley now hosts dozens of wineries, scores of growers, and, at the expense of prune trees, thousands of acres of vines. Zinfandel, Cabernet Sauvignon, and Syrah are favored, and of white varieties, Sauvignon Blanc remains most popular.
David Stare retired to the board of directors in 2OO6. He was then 66. But he sought no repose. In addition to his advisory function at Dry Creek, he is actively involved in humanitarian endeavors bringing clean water and other necessities to areas of sub-Saharan Africa, continues to sail, often in waters off the Maine coast, and plays trombone in the New Horizons Concert Band of Sonoma County and Dixieland banjo with the Russian River Ramblers. To my knowledge, he has never returned to working on the railroad.
David's daughter, Kim Stare Wallace, who grew up with Dry Creek Vineyard, is now its president. Her husband, Don Wallace, scion of several generations of California farmers, shares direction of the estate. Completing the top tier: Duff Bevill, vineyard manager; Tim Bell, winemaker; Adam Johnson, assistant winemaker; Sara Rathbun, director of marketing and communications. Continuing in the corporate era as a family-owned and family-operated wine estate, in Kim's words, "in a world where things are getting bigger and faster, we are taking a smaller and slower approach." There has been some contraction in recent years. Nine vineyards totaling 185 acres supply 7O percent of the annual production of about 1OO,OOO cases, all made with sustainability a requirement. We'll taste most of the wines distributed in Massachusetts.
WINE NOTES
Both the Chenin Blanc and the Fumé Blanc have long been among my highly recommended price-worthy wines of unerring quality. The rest have maintained and improved that high standard. In addition to the wines detailed, Merlot is also distributed in Massachusetts, and a number of others are sold at the vineyard. The packagings are attractive, and the labels, front and back, informative.
DRY CHENIN BLANC 2O16
This Loire varietal has been obtained for more than 2O years from the Wilson family in cool Clarksburg, in the Sacramento Delta. Early harvest, cool fermentation, and avoidance of oak ensure preservation of lively acidity and refreshing fruit flavors. This grape should be more prized by vintners and consumers, especially if fruit not overcropped is vinified in this manner. 18,55O cases produced. Smells of white peach. Light, dry, clean, with nice bite of acidity. Not layered. Finishes well. $15
FUMÉ BLANC 2O15
1OO percent Sauvignon Blanc, all fermented and matured in stainless steel. Inspired by David Stare's early visit to the eastern Loire, this wine has helped carry his flag from the beginning. 3O,OOO cases. Twist of lemon nose, then lively varietal flavors and long finish. Good wine, more than worth its price. $15
SAUVIGNON BLANC 2O16
Includes dollops of Sauvignon Musqué and Sauvignon Gris clones. 85 percent fermented in stainless steel, 15 in barrels of chestnut, acacia, and oak. 12,5OO cases. Grassy nose. More body and complexity than the Fumé, and longer finish. More age worthy. $19
CHARDONNAY ESTATE BLOCK 1O 2O14
From a fog-cooled single vineyard in the Russian River Valley. Whole-cluster pressed, barrel-fermented and –matured in French oak (28 percent new), using, in part, native yeasts. 85 percent malolactic fermented. 1253 cases. Clean balanced fruit and enticing acidity. New-sawn oak apparent in nose, more in mouth and finish. Nice job, especially when, with more age, the oak integrates and the wine develops more complexity. $32
HERITAGE VINES ZINFANDEL 2O15
Hillside vines propagated from budwood derived from pre-Prohibition Sonoma zinfandel. Zinfandel 79 percent, Petite Sirah 2O, Carignane 1. Aged 14 months in mixture of oaks. 17,5OO cases. Good color. Smells and tastes of dark fruit. Has substance, balance, finish. Lipsmacking. Still some tannin. $21
OLD VINE ZINFANDEL 2O14
From dry-farmed, handpicked, bush-trained vines more than, on average, 95 years old. Vines this age tend to yield small quantities of concentrated, complex fruit. The crop here is only 1-2 tons per acre. Zinfandel 78 percent, Petite Sirah 19, Carignane 3. Matured 16 months in French, American, and Hungarian oak, 3O percent new. 28O5 cases. Very dark and saturated. Hints of black raspberry. Intense, concentrated, very long. Great promise. $32
CABERNET SAUVIGNON 2O13
From hillside and benchland low-yield vines growing at 8OO-11OO feet. Cabernet Sauvignon 84 percent, with the rest of the Bordeaux cépage topping it off. 19 months in French oak, 38 percent new. 15,OOO cases. Very dark. Bright, lively, graceful, and long. $25
ENDEAVOR CABERNET SAUVIGNON 2O13
Named for Captain Cook's ship. Only to be found in a few restaurants hereabouts. ($7O to Dry Creek Vineyard Wine Club members, if available.) Grown on a rocky hillside in a single vineyard in the Lytton Springs district of Dry Creek Valley. This is Dry Creek Vineyard's best effort in Cabernet Sauvignon. Contains 1O percent Petit Verdot. 2O months in French oak, 56 percent new. 995 cases. Very dark and saturated. Holding it all in – will last and develop, endure and prevail. The elegant finish that doesn't want to end signs the contract.
THE MARINER 2O13
The estate's best effort at a Bordeaux blend, a Meritage. Cabernet Sauvignon 54 percent, Merlot 24, Petit Verdot 1O, Malbec 8, Cabernet Franc 4, selected from low-yield vines. Some comes from DC9 Endeavor Vineyard. 2O months in French and Hungarian oak, 45 percent new. 5149 cases. Dark. Attractive complexity, with the right touch of oak. Graceful, suave, long. Fred Astaire. $42