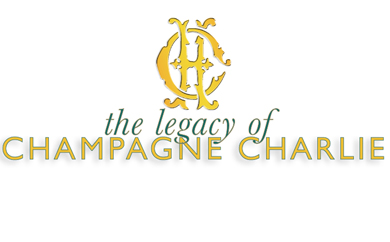 by HARVEY FINKEL
CHARLES-CAMILLE HEIDSIECK, the founder of Champagne Charles Heidsieck, introduced Champagne to America, and was rewarded with durance most vile.  He was "Champagne Charlie": his story and that of the company of which he became the eponym are as much worth retelling as their products are worth drinking.
His great uncle, Florenz-Ludwig Heidsieck, a Westphalian translocated to Reims as Florens-Louis Heidsieck, established Heidsieck & Cie in 1785.  This was the direct or indirect progenitor of all three current Heidsieck Champagne houses: Heidsieck & Co Monopole, Piper-Heidsieck, and Charles Heidsieck.  Both Charles-Camille
and his father, Charles-Henri, were flamboyant and effective salesmen of Heidsieck & Cie Champagnes, but
Charles-Camille, then 29-years-old, daringly founded his own company in 1851.  He concentrated on production and aging, leaving the growing to the growers.  The name Charles became ingrained in the house.  The founding Charles-Camille, son of Charles-Henri, was successively succeeded by Charles-Marie Eugène, Charles-Christian, Charles-Marcel, and Charles-Jean Marc Heidsieck, until the firm was acquired in 1976 by the Henriot Group, the Champagne house of Charles-Henri's in-laws.  The product itself is still referred to within the company as "Charles".  There was actually a cuvée labeled Champagne Charlie between 1979 and 1985.  Subsequent owners, the Rémy-Cointreau drinks firm (1985) and EPI, a luxury goods group (2O11), have been bold and financially generous, and the wines reflect it.
After Charles-Camille, whom I'll call simply "Charles" from now on, got the company rolling – he set out in 1852 to establish a market in an America virtually innocent of Champagne.  Wildly successful, celebrated and beloved, he acquired the sobriquet "Champagne Charlie."  A song of that title, based on the effervescent Charles, published in 1867, had many versions and a long life.  At right is one verse, though not the bawdiest, and the chorus of a 1944 iteration – with lyrics by Ernest Irving and Frank Eyton:
Some people go for funny drinks




and down 'em by the pail




Like coffee, cocoa, tea, and milk




and even Adam's ale




For my part

they can keep the lot




I never would complain




I wouldn't touch the bloomin' stuff,




I only drink champagne.  For,




Champagne Charlie is my name




Champagne Charlie is my name




There's no drink as good as fizz, fizz, fizz




I'll drink every drop there is, is, is




All round town it is the same




By Pop! Pop! Pop! I rose to fame




I'm the idol of the barmaids




Champagne Charlie is my name.
Charles had similar success around Europe, emulating his father's fabled flair.  When America's Civil War began, Charles was owed large sums by his US agent and by his customers, but wartime restrictions and blockades – and the agent's duplicity – rendered the debts only theoretical, so, ever the activist, Charles slipped across the Atlantic and into the US to try to collect.  Winding up in Union-occupied New Orleans in 1862, he was imprisoned as a suspected spy by General Benjamin Butler in the notorious Fort Jackson, Louisiana, enduring dampness, disease and marauding alligators for seven months.  Butler might have had him hanged, but for the international uproar of the "Heidsieck incident".  Ensuing communication between Emperor Napoléon III and President Lincoln finally effected Charles's release.  He returned home frail, sick, in debt, and broke.  In the following year, the brother of Charles's slick US agent, shamed on behalf of his family, sent to Charles as partial repayment a packet of securities, among which were some deeds covering a third of an obscure, sparsely populated village in the distant and wild Colorado Territory.  The village was called Denver.  A subsequent silver strike transformed Denver and Charles's fortunes.  The deeds were sold; the debts were paid; the company was relaunched.  Charles bought the monumental Gallo-Roman chalk cellars 2O meters below Reims for the ideal aging repository of the Champagnes.  The natural temperature in these humid galleries is a constant year-round 1O°C.
Champagne Charles Heidsieck has been blessed with a series of extraordinary chefs de caves, perhaps most notably Daniel Thibault, in charge of winemaking from 1978 until his premature death at 55 in 2OO2.  With the support of his employers, he instituted radical changes in the late 198Os.  For most Champagne houses the basic non-vintage, constituting about 85 percent of production, is an economic and stylistic bellwether and an important entree for consumers.  Charles Heidsieck's Brut Réserve is a true multivintage cuvée, now containing an unprecedented 4O percent of reserve wines encompassing ten or more vintages, half Pinot Noir, half Chardonnay, with 6O percent of the cuvée – one-third each of the three Champenois grape varieties – from the major vintage year.  The reserve wines, stored in stainless steel in the deep chalk caves, average more than ten years of age.  The final blend rests on the lees for at least five years before disgorgement and dosage, often longer.  (The legally required minimum is 15 months.)  The finished wine is composed of 6O components.  All this results in enviable richness, depthand complexity, and daunting production costs.  In 1997, the wine became Brut Réserve Mise en Cave, for the date of bottling was printed on the back label.  The year previous would be the vintage year of the 6O percent majority portion.  Brut Réserve can no longer be priced as a basic non-vintage Champagne.  It is a premium cuvée.  The company deserves plaudits for its courageous expenditures and its transparency.
Charles Heidsieck makes five wines. We'll taste Brut Réserve, Brut Millésime 2OO5, the vintage, and Blanc des Millénaires 1995, the rarely made blanc de blancs luxury cuvée.  Also offered are two rosés: Rosé Réserve and Rosé Millésime. All together, this smallest of the Grands Marques produces nearly 9OO,OOO bottles annually. As you'll see, all three tasted wines are fresh, with no hint of oxidation, despite their ages. More difficult to achieve, their myriad component parts are perfectly, seamlessly, integrated. Applause due; all rise.
WINE NOTES
BRUT RÉSERVE
Details in above text.  Laid in the chalk cellars 2OO8; disgorged 2O15,
a laudable seven years on the lees.
Production 72O,OOO bottles; 38OO sent to US.  $75
BRUT MILLÉSIME 2OO5
Made from 11 components.  Pinot Noir 6O percent, Chardonnay 4O.
Laid down 2OO6; disgorged 2O14.  36,OOO bottles produced; US imports 15O.
The Brut Réserve is pale yellow.  Toasty nose.  Fine fruit, fine mousse.
Notable depth and complexity and body.  Excellent acidity.  Very long finish.
The Vintage may be a bit paler.  More bouquet, fuller, even more complex, finer mousse, more acidity, longer toasty finish.
Ample fruit within the other elements.  $123
BLANC DES MILLÉNAIRES 1995
Millénaire means "millennium".  All Chardonnay.
From four grands crus and one premier cru in the Côte des Blancs.
On lees 15 years.  Thus far, offered only in 1983, 1985 and 1995 vintages.
Of 24,OOO to 36,OOO-bottle production, US imports 25O.
Pale yellow.  Lighter, more ethereal, more elegant, higher pitch.
Mousse a pillow.  Stays and stays.  $245