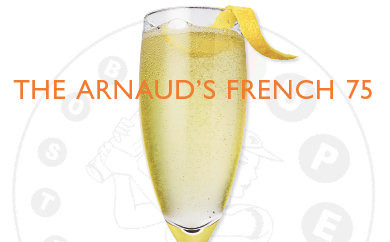 by PINK LADY
THE FRENCH 75 is a magnificent and iconic Champagne cocktail.  Order one in a bar in these parts and you'll be served up the gin-based concoction we've covered before.  Order one in New Orleans, however, and you'll be served an entirely different drink made with cognac.
Huzzah for extravagance.
The commonly accepted lore about this drink is that it was invented in France and named for the 75mm field gun, a piece of heavy artillery designed there and used during World Wars I and II.  Harry's American Bar is alleged to be the source and the drink is served there with a gin base and an Absinthe float.  "Hits with remarkable precision," writes Harry Craddock in the savoy cocktail book.
Across the pond and down the Mississippi River in New Orleans, America's own cradle of the cocktail, the drink is served with cognac as a base, which some say is how it was originally served en France.  The first place you should swing by to sample one is the French 75 Bar at Arnaud's – an iconic Creole institution opened in 1918 by a French wine salesman named Arnaud Cazenave.  The room originally housed the "Gentlemen's Only" area of the bar, which was scrapped when Arnaud's daughter Germaine inherited command of the place.
Arnaud's was a swinging hot spot during the Roaring 2Os and continued to serve liquor in its locked private dining rooms, via disappearing back bars, and from China cups instead of stemware during the Noble Experiment of Prohibition.  Cazenave was repeatedly fined and even tossed in jail, but his spirit remained indomitable.
Stop in for one next time you're in The Big Easy, or enjoy a little of the laissez les bon temps rouler lifestyle by mixing one up at home.
THE ARNAUD'S FRENCH 75
1¼ ounces of cognac (Courvoisier VS)
1 teaspoon of freshly squeezed lemon juice
¼ teaspoon of simple syrup
2¾ ounces of Champagne (Mumm's Cordon Rouge)
Lemon twist
Place the cognac, lemon juice and simple syrup in a shaker filled with ice, shake only long enough to chill.
Ppour into a frosted champagne tulip glass.
Top with Champagne and add a lemon twist.