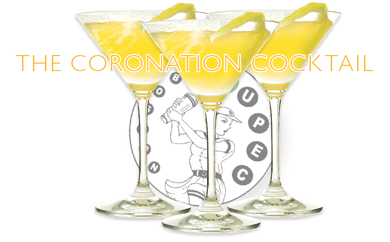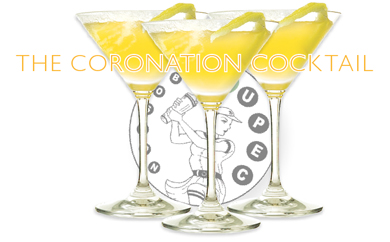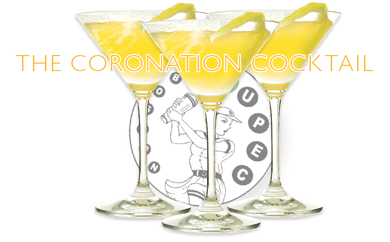 By Pink Lady
THE CORONATION COCKTAIL
1 ounce of Laird's Bonded Applejack or Boulard Grand Solage VSOP Calvados
1 ounce of Noilly Prat sweet vermouth
1 ounce of Noilly Prat dry vermouth
1/4 ounce of Marie Brizard Apry apricot liqueur
Add all ingredients to mixing glass.
Add ice and stir for 3O seconds.
Strain into chilled cocktail glass.
Garnish with lemon peel.
OLD COCKTAIL BOOKS are part of what drew many of us LUPEC ladies into this whole "mixology" thing in the first place. As the cocktail renaissance has evolved, many of these fantastic books have been revised and resurrected by today's publishers, making the old new once again. We were thrilled to find a new revised and expanded edition of the iconic Waldorf Astoria Bar Book on the shelves at our favorite cocktail tool and supply shop, the Boston Shaker. Originally published in 1934 (the year after Prohibition's repeal), it is based on the actual bar book used behind the bar by their bartenders before the Noble Experiment. All you need to play vintage hotel bartender is crack the spine.
The Coronation Cocktail is one of those drinks that has several different recipes associated to its name, but the Waldorf's version is our favorite. The first was published in 1914 in Jacob Straub's Drinks and another was published in the famed Savoy cocktail book in 193O. Each recipe is quite different but they share equal parts as their format. The Waldorf's recipe, made with Applejack, America's oldest distilled spirit, sweet and dry vermouth and apricot liqueur is a delightful aperitif.
Have a sip and raise a glass to the new old Waldorf Astoria bar book and its author Frank Caiafa!