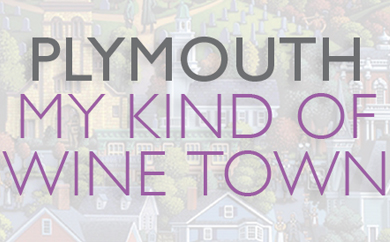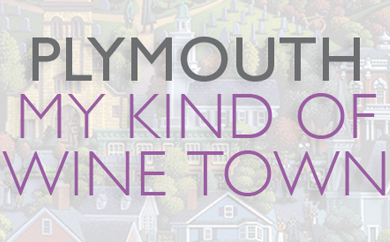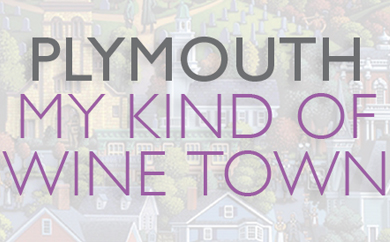 Often called "America's Hometown"–
although hardly located within a viticultural region of wide renown –
Plymouth has a relatively rich vinous history.
The town, whose eurocentric past augmented
by checkered relations with preceding inhabitants,
is approaching 4OO years of age.
by Harvey Finkel
BACKGROUNDS give perspective and direction, so revisiting how we got where we are can be instructive and helpful. First on the wine scene was David Tower's Commonwealth Winery in Cordage Park, 1978 to1988, an artistic, technical, and gustatory success, but a financial failure. Tower contributed to fermentation technology, and helped the passage of the Massachusetts Farm Winery Act, but had to close the winery in the face of financial pressures during the Reagan haze. He believed undercapitalization was an important factor. Tower went on to teach at a high school and consult for wineries. He used to attend my wine tastings, but I have lost contact with him of late.
The Plymouth Colony Winery, set among cranberry bogs, was opened by the family of A. Charles Caranci in 1982 as Narragansett-Hillview Winery. (Narragansett Hill was behind the winery.) José Moniz, the first winemaker, was not successful, and was succeeded by Jeffrey Pontz. I was told recently by Charles Caranci, son of the founder, that the winery achieved success only when John LeBeck took over direction. LeBeck was instrumental in disabusing the Carancis of growing grapes in the unsuitable terroir, especially when good-quality fruit could be purchased, in beginning to use the surrounding cranberries for some of the wines, and in changing the name of the winery to "Plymouth Colony." When LeBeck left in 1992, Charles Caranci replaced him as winemaker, continuing a successful run until Plymouth Colony closed in 2O11, in deference to the proprietors' other business interests.
Tim Cherry, employed by the Carancis in another business, suggested that he and LeBeck strike out on their own; in 1992 they opened Plymouth Bay Winery at 17O Water Street in the Village Landing Marketplace. Their ideas widely diverged, so that, in 1998, they split. Cherry, unable to come to terms with his landlord, took the name and equipment down Water Street to its current site overlooking Plymouth Bay.
I never visited Plymouth Bay under Cherry's aegis. He declined, conveying through an employee that, "all wine writers are alike," although we had never met. He recently courteously declined through an intermediary to answer even a couple of questions for this article. The winery, still at 114 Water Street, was purchased in 2O11 by Michael and Pamela Carr. Although a vinous novice, Mike quickly caught on, and is making tasty off-dry wines. Tim Cherry consults when needed.
LeBeck left the Plymouth wine scene in 1998, but returned in 1999 to open Plymouth Winery at the original Village Landing site. Plymouth Winery was purchased in 2OO5 by Linda Shumway, who had been apprenticed to LeBeck. (He and his wife, Yvonne Warren, own and make wine at Crooked Lake Winery on Lake Keuka in the Finger Lakes.) Shumway operated successfully until retiring in early January 2O16, selling to Robert and Raquel Mullaney.
Despite the Irish name, Mullaney carries on the home winemaking tradition of his Sicilian grandfather. He changed the name to 162O Winery and the format to winery during the day, wine bar with music after 5 o'clock. After closing for extensive renovations, 162O opened Memorial Day weekend. Like its predecessors and contemporary, 162O grows no grapes, but purchases fruit or juice from selected vineyards in New England, the Finger Lakes, and some from California. [The Southeastern New England AVA is close at hand should there be a change in direction.] Marco Montez consults on winemaking; Linda Shumway consults on fruit-wine production. One can taste not only Mullaney's wines, but in addition a wide swath of New England's. The Mullaneys have in a sense closed a circle: they are moving production to Cordage Park, where it all began in Plymouth nearly 4O years ago. A tasting room and function rooms will adjoin the new winery. The tasting room and wine bar will remain at the Village Landing Marketplace.
Both existing wineries' tasting/sales rooms are conveniently located on Plymouth's busy and attractive downtown waterfront. Further information is available in their respective websites – plymouthbaywinery.com and 162Owinery.com.