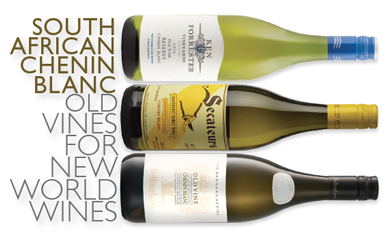 SOUTH AFRICAN CHENIN BLANC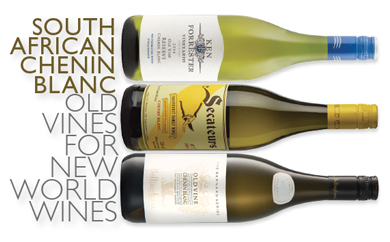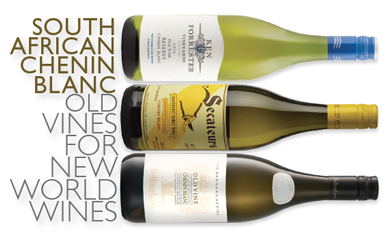 By Harvey Finkel
Chenin blanc, a grape that gets little respect, sometimes with good reason, yields truly great wines when handled right, wines of character and balance, and the durability to age gracefully into honeyed treasures. It is versatile enough to be made credibly into almost any style of wine, save red. Originating in Anjou and Touraine of the Loire Valley, a sibling of SauvignonBlanc, the variety is now also favored on America's west coast and, especially, in the southwestern Cape region of South Africa, where it remains the most planted vine, occupying 19 percent of that country's 1OO,OOO total hectares of vineyards (eighth in world rank). More Chenin Blanc is grown in South Africa's Cape Province than anywhere else in the world.
South Africa's first European settlers, the Dutch, arriving there in 1652, harvested their first vintage soon thereafter. It was pointed out to me that South Africa has just had its 357th vintage. (Along with the wines of the Americas and the Antipodes, those of Africa are considered by Europeans as New World wines.) The wine was fine, especially welcomed because it was thought to ward off scurvy from the sailors of the far east trade. [Unlikely, for the vitamin content of wine is negligible.] Quality and variety took a leap forward in 1688 with the arrival of French Huguenots bearing skills and cuttings. The upthrust, however, was later reversed by a succession of disasters: a severe phylloxera plague, the Boer War, the Great War and the depression in its wake, a strangling bureaucracy, and the isolation engendered by apartheid. Most of the grapes were grown and wines made by cooperatives, still strong, and much was destined for distillation or grape concentrate. There had been little emphasis on low-yield, high-quality wine production. The wine trade began to emerge from these shadows in the late 198Os, the country a few years later, but lingering effects have kept South African viti- and viniculture behind much of the rest of the world's. The work force is still underpaid and undertrained. Outside investments and cross-fertilization, the dissolution of draconian governmental controls, and a tilt toward private production are closing the gap quickly. There are even a few majority-owned wineries now.
This beautiful country presents a variegated array of soils, terrains, and microclimates to the vigneron. The soils are among the oldest on earth, 5OO million years. The prevailing temperatures are cooler than the latitude would suggest along the southwest coast, because of the Benguela Current from Antarctica and cool southwest winds. But growing seasons get plenty of sun and heat, though not much rain. Irrigation is permitted, sometimes abused. Mountains may block winds in some places, funnel them in others. Because Chenin Blanc retains its valued acidity in warmer climates, the cool coastal areas are now tending to be planted with other varietals, Chenin being grown farther inland.
The bane of Chenin Blanc is overcropping, which gives insipid, watery wines when growers are seduced by astonishingly high yields. But skillfully grown with integrity, the grape makes memorable wines, often at easy prices. Vouvray, Savennières, Coteaux du Layon, and Quarts de Chaume are among my fondest and most enduring wine memories. (The grape is alternately known in the Loire as "pineau de la Loire.") Notable Chenin Blancs in France may be sec, demi-sec, fully sweet with botrytis enhancement, or sparkling. In California, the Chenin Blancs of Dry Creek and Chappellet stand proud, and good ones are coming out of Washington.
It is time to learn what the South Africans can do with Chenin Bblanc, which they like to call "Steen". Records reveal that not until the 196Os was Steen realized to be what the rest of the world called Chenin Blanc. World class Chenin Blanc, or Steen, is being produced in South Africa, among others of more mundane quality. The keys are bush-trained, low-yield, dry-farmed, old vines, coupled with modern winemaking technology. Most growers subscribe to sustainable practices, a good omen.
Let's learn by tasting a few selected examples.
WINE NOTES Chenins in South Africa are mostly dry. The hand-made wines we favor are enticing concentrated complexes of fruit ( green apple, peach, quince) and minerality, with lipsmacking acidity lingering into the finish. To me, readily discernible oakiness obscures the major assets. All the following are hand-harvested, old-bushvine (37 to 45 years), unirrigated dry Chenins. All have seen oak, to variable extents. All three are part of quality levels well above basic.
OLD VINE RESERVE
KEN FORRESTER 2O14
Stellenbosch estate founded 1689, acquired by the Forresters 1993. Nine months on lees in oak, 2O percent new. A selected wine. Fragrant, with peachy and faint vanilla notes. Concentrated, balanced fruit and acidity. Oak not intrusive. Very long finish. A winner. $14
SECATEURS
BADENHORST FAMILY VINEYARDS 2O15
Swartland estate founded 1596. Grown on granite slopes. Aged on lees in concrete tanks and old oak casks after traditional natural fermentation. Subtle nose. Youthfully shy in mouth, but with pleasant texture, balanced fruit, and good long finish. $14
OLD VINE
LIMITED BOTTLING BELLINGHAM WINES 2O14
Estate founded by van Vuuren couple in 1693, he Dutch, she Huguenot. Relaunched 1943 by Bernard Podlashuk. This wine part of the Bernard Series. Grown in three coastal vineyards. Natural fermentation and 12 months aging on lees in half new, half second-use oak barrels, with regular batonage. Some oak in nose and out front in mouth. Otherwise similar to the first two wines. $22