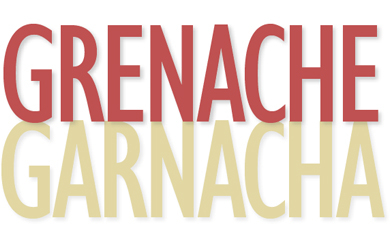 By Sandy Block, MW
GRENACHE, or Garnacha as it's known in its country of origin, , is my favorite underdog red grape. Although it may be beginning to achieve some measure of the recognition it deserves, for decades Grenache has contributed anonymously to blends such as Châteauneuf du Pape, Gigondas, Côtes du Rhône, Rioja, and Priorat, not to mention oceans of jug wine and generic European table wines. Why is the grape so invisible and so poorly appreciated? Much has to do with its very success in ripening ample quantities of reliably flavorful grapes with fruit and acidity, in a great diversity of climates and growing conditions. In regions that were simply purveyors of plonk, Grenache could be the workhorse counted on to add some flavor, liveliness and weight. In these conditions yields were pushed while aroma and flavor concentration were minimized – not a path to establishing a fine wine reputation. On the other hand, in regions where conditions encouraged lower yields and where the market proved agreeable to paying a little extra for quality (such as the aforementioned Châteauneuf du Pape, for example, where no less a classic producer than Château Rayas has used the grape not in a blend but exclusively) it's made a wine of unquestioned distinction.
Grenache is nothing if not versatile. It produces lovely rosé, light fruity reds with minimal tannin, powerhouse blockbuster reds and fortified dessert wine (notably in Banyuls in Roussillon). There is even White and Grey Grenache. What the good examples of all styles share is a sensual texture, forward expression of lush fruit flavors and savory spice nuances, all in a mellow, soft acid package. The grape likes to bask in the sun, so it doesn't thrive in marginal, cloudy climates. From its origins in the Mediterranean influenced regions of eastern Spain, with their hot, dry but windy summers, it spread to coastal Catalonia, then to southern France, Corsica, Sardinia, southern Italy, Sicily, Croatia, and even Greece before finding new homes in Australia, California and North Africa. Today, Grenache is the most widely planted red vinifera varietal in the world.
Interestingly enough – for a grape that is so widely dispersed – it expresses itself quite differently based on the terroir when made into a wine. It excels in drought conditions, as it sets deep roots which resist water stress, even though the variety tends to ripen late in the season. Old vines are especially important if Grenache is to develop flavor intensity. When part of a blend, the grape adds bright, aromatic and fruity characteristics to darker colored more tannic varietals, such as Carignan, Mourvedre and Syrah. As a low tannin grape prone to oxidation, Grenache does not always age so well in small barriques, unless there are significant quantities of these other sturdier grapes present.
Whether varietal or part of a blend, whether white, rosé, red, or even sweet, what Grenache shares is an open, expressive nature, medium weight and charming fruit. The following wines are all highly recommended.
HALTER RANCH GRENACHE BLANC PASO ROBLES 2O15
One of the rare white examples of the grape on the market. Grenache Blanc does well in the southern Rhône, where it is almost always blended, and here in the rocky soils of the Central Coast's Paso Robles district, Halter Ranch crafts a wine blended with
14% Picpoul, 4% Roussanne and 2% Viognier, to add acidity and perfume. After fermentation in neutral wood, the lees are stirred twice weekly – resulting in a lush and silky white wine, with a perfume of peach, lilies and cantaloupe. Soft and mild, it has a somewhat oily texture and lingering, succulent fruit finish.
M. CHAPOUTIER COTES du RHÔNE "BELLERUCHE" ROSÉ RHONE VALLEY 2O15
The reason Grenache makes such fine rosé in France and elsewhere is its aforementioned lack of substantial tannins. Most Provencal rosé is Grenache based, as are the spicier and slightly more vibrant rosés of the Southern Rhone. Chapoutier makes a wonderful red Côtes du Rhône, but its rosé is a standout too. Mixed with Syrah, it is medium pink in color, with a charming fragrance of wild berries, dried flowers and pepper. Lively, fruit driven and lingering, this is highly quaffable by itself or with lighter fare.
BODEGAS MUGA ROSADO RIOJA 2O15
As recently as 5O years ago, Garnacha constituted the vast majority of vineyard plantings in Rioja. It has been replaced by Tempranillo and is now a minor player, but this wonderfully dry and concentrated rosé produced by Muga, one of the top bodegas in the region, is 6O% Garnacha. Pale pink with some orange tinges, it's mixed with 3O% Viura (a white grape that constitutes the majority of Rioja Blanco) and 1O% Tempranillo, with all three grapes fermented separately before mixing. This is a style traditionally called "Clarete" in Spain. It shows a delicate red berry and thyme aroma, with clean, spicy, tangerine-like flavors and a crisp finish.
BRECA "OLD VINE" GARNACHA CALATAYUD 2O12
There are five Denominations of Origin in northeastern Spain where Garnacha is the predominant grape: Calatayud, Campo de Borja, Cariñena, Somontano, and Terra Alta. This Calatayud vineyard (where they use the spelling "Garnatxa") perches at close to 3OOO feet in elevation. The landscape is windswept, ultra-steep and desolate. Breca uses 8O-year-old ungrafted vines that grow out of slate and clay soils for this wine. Medium deep in color, the grapeskins are pressed off before fermentation in wood ends. It's super aromatic with aromas of fresh black cherry juice, cola and nutmeg. Smooth and very supple, with a delectable mineral-accented finish.
BORSAO "TRES PICOS" CAMPO de BORJA 2O14
Campo de Borja is another remarkable source for moderately priced Garnacha. Like Calatayud, the vines here are growing at mountain elevations in very dry, windy, high desert conditions. Aged for 1O months in used barrels, the wine nonetheless has an aroma of mocha, almond and toast. It's ripe, creamy and very concentrated, with dark red fruit, soft tannins and a lingering spice flavor.
ALTO MONCAYO CAMPO de BORJA 2O13
This a superbly concentrated wine from the same region made from vines planted between 7O and 1OO years ago on infertile clay, iron and red slate soils. The yields are minuscule, the flavors ultra-ripe and the body substantial. Aged for two years in all new wood, the color is black with purple highlights, and the velvety textured black berry, licorice and boysenberry fruit is rich and lingering.
BODEGAS MAS ALTA "ARTIGAS" PRIORAT 2O12
From the Catalan coast, the vines that make this blockbuster grow on loose granite-like black slate "llicorella" soils in the steep Vilella Alta terroir. At these elevations the vine roots need to penetrate to extraordinary depths through the slate cracks in search of water. A blend of 7O% Grenache, with 25% Carignan and 5% Cabernet Sauvignon, Artigas is aged for 16 months in small French oak barrels. Very expressive of its edgy mineral rich soils, it shows a gorgeous perfume of spring flowers, clove, blackberry, and wood smoke – with full body and lush tannins.
BODEGAS "LA CARTUJA" PRIORAT 2O13
This 7O% Garnacha and 3O% Carinena blend is another irresistible Priorat, showing the same earthy minerality as the Artigas, but in a slightly fruitier, more medium-intensity package. There are floral notes, raspberry and a hint of dark chocolate. Excellent with grilled poultry.
ARGIOLAS "COSTERA" CANNONAU di SARDEGNA sardinia 2O13
Sardinia lies almost 2OO miles west of Italy's mainland and its main red grape is Cannonau (yet another name for Grenache), which probably arrived on the island from Spain. Sardinia's warm dry summers are ideal for ripening Grenache. Grown at lower elevations than in northern Spain, this wine originates from 35- to 4O-year-old vines planted on rocky calcareous clay loams. Aged in used barriques, it's light on its feet, with fruity, savory notes of bitter herbs, red cherries and oregano. Low in tannin, high in charm.
PALA CANNONAU di SARDEGNA RISERVA sardinia 2O13
This is a family-owned producer growing Cannonau in roughly the same vicinity as the Argiolas. The grapes are organically farmed from similar rocky soils. Aged in neutral wood, the wine is a bit darker and more concentrated, with ripe dark berry flavors, more earthy tones, gaminess, and savory spice.
CANTINA SANTADI "NORAS" CANNONAU di SARDEGNA sardinia 2O11
This delicious wine is made by a coop in southwestern Sardinia, proving once again that in certain parts of the world it is not only the private estates that make distinguished wine. Blended with 1O% Carignano, this is a floral-scented, dark berry flavored wine, oozing with an almost liqueur-like texture. Very polished and satisfying.
DOMAINE du GRAPILLON D'OR GIGONDAS RHÔNE 2O13
This venerable 5O acre family estate, dating back to 18O6, blends 2O% Syrah into their Grenache. Aged in tank and older oak barrels, as are most Southern Rhônes, it's more about red fruit than black, with grace notes of herbs, clove and pepper. Perhaps it was once true that Gigondas was "Baby Châteauneuf du Pape", but today this wine has an identity all its own, with rustic flavors that approximate those of slow cooked meat stews.
FAMILLE PERRIN "LES SINARDS" CHÂTEAUNEUF du PAPE RHÔNE 2O11
The Perrins are the largest organic producers in the Southern Rhône. 7O% Grenache, 15% Syrah and 15% Mourvedre (a classically proportioned "GSM" blend), this is quite bright and vibrant, with a cooked red berry fruit flavor, lively stoniness and medium soft tannins that are hard to resist. To retain fruit and freshness, the Grenache proportion of the blend is fermented in stainless steel, after which aging takes place in neutral wood.
YALUMBA "BUSH VINE" GRENACHE BAROSSA VALLEY 2O13
As in Rioja, Grenache was once the most widely planted grape varietal in Australia. Here, Shiraz and Cabernet have long since supplanted it. Yalumba is Australia's oldest family winery and one of very few in the world to own its own cooperage. It farms some of Barossa's oldest Grenache vineyards, with vines ranging from 4O- to 11O-years-old. This wine has a charming red jam flavor, with notes of fennel, roses, black pepper, and tobacco. Aged in large neutral wood, it's a bit higher in acid, which helps balance the ample fruit and alcohol.
ADELINA GRENACHE CLARE VALLEY 2O1O
This is a deeply concentrated wine originating from a tiny, two acre parcel of 8O-year-old vines in the moderately warm Clare Valley. It spends over a year maturing in small oak barrels. Beautifully balanced on the palate, it exhibits a combination of red and black berry fruit, with mocha, cigar and Indian spice notes.
JOEL GOTT "ALAKAI" GRENACHE MONTEREY 2O13
California Grenache is a well-kept secret and certainly a labor of love rather than expediency. Blended with 4% Syrah and 4% Petite Sirah, this soft textured North Central Coast example is medium in weight, with bright blue and red berry flavors and a savory dried herb finish. Its fruit flavors are balanced with delicate baking spices, and earthy root vegetable notes.
BONNY DOON GRENACHE "CLOS du GILROY" CENTRAL COAST 2O14
The uber-talented Randall Grahm blends 9% Mourvedre and 2% Syrah into this Monterey County wine, and produces a remarkably graceful Grenache, with floral, herb-accented, mushroom-like flavors balancing its round raspberry like fruit. There are hints of tealeaf, cinnamon and white pepper in the finish; very savory and very compatible to a wide range of fish and white meat dishes.
T-VINE CELLARS GRENACHE NAPA VALLEY 2O11
This is full throttle Grenache with a generous dollop of creamy, darker berry fruit. Rich in texture, it has a ripe black raspberry, bitter chocolate, kirsch flavor that coats the palate with its aromatic spice and silky fruit extracts.