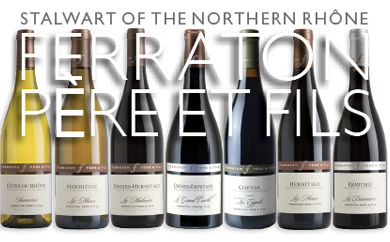 FERRATON PÈRE ET FILS STALWART OF THE NORTHERN RHÔNE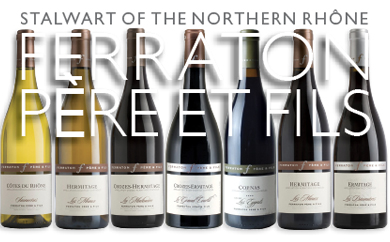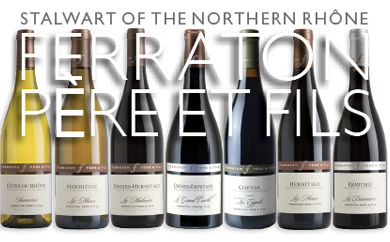 by HARVEY FINKEL
FERRATON PÈRE ET FILS, a respected northern Rhône family firm of vignerons, unfortunately no longer includes any Ferratons, but it still offers fine wines at affordable prices. Damien Brisset, Ferraton's head of production and chief enologist, visited Massachusetts recently, carrying knowledge and tasting samples. He was conducted about by the estimable Creative Palate people.
It is worth reviewing the company's history for perspective. In 1946, following the depredations of World War II, Jean Orëns Ferraton, scion of wine growers, founded the firm based on a O.3-hectare parcel of Hermitage. His son Michel expanded the tiny enterprise, acquiring more vines in Hermitage, Crozes-Hermitage, and Saint-Joseph, and became a négociant as well. The third generation Ferraton in the business, Samuel, set at age 3O to succeed to a leadership role, was grievously and permanently injured in a motorcycle accident in 2OO2. Michel had entered into a joint venture with his friend Michel Chapoutier in 1998. In the wake of Samuel's impairment (wheelchairs cannot cope with steeply sloping vineyards), Chapoutier acquired the entire Ferraton company in 2OO7. Wine production, however, remains independent.
Brisset came from Bordeaux in 2OO5 to take over direction. The estate now totals biodynamically farmed 37 hectares, which provide 2O percent of production. Stabile relationships enable purchase of sustainably grown fruit from predominantly the northern Rhône, though 7 of the 28 wines I counted come from the south. As identified by strip labels, the wines are stratified into three tiers. Ten red-labeled Tradition wines are négociant blends, each within distinct appellations. Five green-labeled lieu-dit red wines, partially or wholly from estate vines, are each grown in a specific single vineyard. Five silver-labled Sélection parcellaire wines come from elite tiny-production parcels within one or two estate vineyards. Three are red, two white. Ferraton's headquarters in Tain-l'Hermitage features the winery, impressively modernized in 2O13. Winemaking continues in the labor-intensive and time-consuming traditional manner: long fermentations in concrete, judicious use of oak for aging. Total production is 35O,OOO bottles annually, of which 2O percent comes to the US.
There follows the most important portion of what I learned, the wines themselves. An increasing variety will be appearing in our market as the year progresses. Prices may be lower than officially listed.
WINE NOTES
CÔTES DU RHÔNE BLANC SAMORËNS 2O15
The name honored his father and son, as Michel, with Sam, developed these sources. Grenache Blanc 6O percent, Viognier 2O, Clairette 2O. Lovely fragrance. Body by Titian. Long finish. Astonishing value. Fresh and virginal – no oak, no malo. $14
HERMITAGE BLANC LES MIAUX 2O14
Miaux is dialect for "middle," where the plots are located on the Hermitage hill. Marsanne 1OO percent. Fermentation by indigenous yeasts. Aged on lees 6 months in used oak demi-muids (6OO liters). Fine nose and texture. Just starting to gain complexity. Finishes well. Needs the time that too often white Hermitage doesn't get. Will age well. $75
CROZES-HERMITAGE ROUGE LA MATINIÈRE 2O13
Named by Michel for his wife, Colette, a habitual early riser. Vines 25 years old. Aged 12 months in concrete vats (no oak). Good color. Leather in nose. Fine juicy ripe fruit with good length. 5O,OOO bottles produced. $22
CROZES-ERMITAGE ROUGE LE GRAND COURTIL 2O13
From low-yield, 4O-year-old vines with southern exposure. Aged a year in used demi-muids and 6 months in concrete. Very dark and saturated. Concentrated and tannic. Great promise. Needs time. Surpasses its appellation. 5OOO bottles produced.
[For estate wines in Crozes-Hermitage and Hermitage, Ferraton spells it the old way, without the H.] $41
CORNAS LES EYGATS 2O11
The lieu-dit, Les Eygats, sits high, at 35O meters above the Cornas village. Windy, cool, mineral-rich. Aged a year or so, 1O percent in new oak. It is elegant and deeply flavored, not at all the rough style textbook description of Cornas. $69
HERMITAGE ROUGE LES MIAUX 2O11
About half each from Hermitage parcels Le Meal and Les Donnières. Tight, needing ample time, but contains the deep heart of syrah to reward the wait. $85
ERMITAGE ROUGE LES DONNIÈRES 2O13
From 4O-year-old vines of not classic Syrah, but Sérine. There is no unanimity about what this old cultivar may be. Small, ovoid, concentrated, and meager in yield, susceptible to disease, it is found on the hill of Hermitage only in this parcel, and in some in Côte Rôtie. Argument continues that it is a Syrah-related elder, a clone of Syrah, or a totally distinct variety. I believe that much of the confusion is generated by use of the same name for different grapes, some as far away as Albania. Aged nearly a year and a half, a quarter in new oak. Ripe, a bit tarry. Full, complex, elegant. Great future. $1O8
NOTE COURTIL, EYGATS and DONNIÈRES are old names of vineyard parcel.