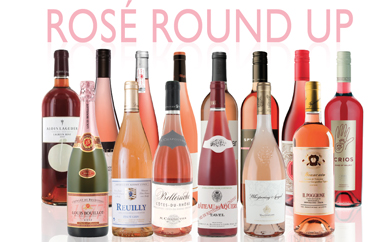 by Sandy Block, MW
FOR THE LAST few years rosé has been sizzling hot on the US market. In this regard, we are catching up with our European brethren, who have long consumed Rosés both before and with meals. In reality, a little known fact, the French actually drink more Rosé than white wine, and not just in Provence. There's also a lot of it enjoyed throughout Italy, Spain and Portugal as well.
Now that Americans have overcome their fear of being seen in public with a glass of pink wine, we are also losing our exclusive association linking this category with warm weather. While it may be true that the natural season for drinking a chilled rosé is spring and summer, restaurants and stores are stocking the wines year round, as the consumer's thirst for the pink stuff no longer automatically ends on Labor Day.
The casual nature of rosé consumption plays into several current trends. While few of the wines age, research has confirmed that over 95% of the wine Americans currently buy at retail is consumed within 48 hours. The thirst for variety and experimentation, which are hallmarks of millennial consumers, is satisfied by a category that is fully as diverse as wines that are white, red, or sparkling. A rosé's character is determined largely by the quality of the grapes that comprise it, as is true in all wines. And most rosés remain reasonably priced wines under $2O retail, in the sweet spot of contemporary consumption patterns.
The following are wonderful examples that stand above their peers in a wide diversity of styles. They are from several different categories or varietal mixes. Note that if you like more body or intensity, you should choose rosés from warmer climates where the grapes achieve higher degrees of ripeness; if you want something more delicate, cool climates are where you should look. If you like both and you do a lot of grilling, go for the warmer climates; if you're more inclined towards salads, cooler climate rosés may work better.
LOUIS BOUILLOT CRÉMANT DE BOURGOGNE Rosé, BRUT NV
Rosé sparklers combine two festive attributes, color and bubbles. This AOC wine is delightfully fresh, bright medium deep pink in color and very lively. Bone dry, it is made traditionally in the saignee method with skin maceration (only Rosé Champagne can be made legally through the addition of still red wine to white bubbly.) Located in Nuits-Saint-Georges, this is made with Pinot Noir, Gamay and Chardonnay. It has an engaging strawberry and herb-scented aroma and a slightly chalky flavor undertone. The best news: it's less than half the price of a similar wine from Champagne.
DOMAINE DE REUILLY, PINOT GRIS Rosé, REUILLY, 2O15
Vin Gris is literally gray wine, an onion-skin colored pale rosé made by removing the red grape skins from the juice immediately after crush. Made in this case with Pinot Gris from organic grapes grown in the tiny eastern Loire AOC of Reuilly (more naturally thought of as Sauvignon Blanc territory), it is delicate and understated, with a hint of spice and some apple skin notes. A wine to enjoy with lighter fish dishes.
CHAPOUTIER CÔTES DU RHÔNE"BELLERUCHE" Rosé, 2O15
The Rhone produces a lot of rosé from a grape that is ideal for this style of wine due to the low concentration of pigments in its skin: Grenache. Chapoutier is one of those names that delivers quality across the board, from its most modestly priced wines, like this, all the way through the line to its single vineyard Hermitage reds. A prophet of biodynamic viticulture, Michel Chapoutier's Belleruche Rosé is a mix of Grenache and Syrah that undergoes a surprisingly long fermentation, which extracts spice, fruit and earthy flavors in abundance. With an aroma of wild cherry and ripe red berry flavors, this is a bargain hunter's dream.
CHATEAU D'AQUERIA, TAVEL, RHÔNE VALLEY, 2O15
Traditionally considered France's most pedigreed rosé, Tavel is an AOC that doesn't make any other color of wine, so all of the grapes are grown to produce this color, rather than being a byproduct. This wine has a firmer structure than basic Côtes du Rhône, with more brambly fruit and peppery fruit flavors. A product of Grenache, Cinsault (AOC laws mandate at least 15%), Syrah and Mourvedre, it is a fuller earthier style wine that can stand up to assertive salty flavors, like charcuterie.
CAVES d'ESCLAN, WHISPERING ANGEL, CÔTES DE PROVENCE, 2O15
Provence's main wine style is rosé, and many of the wines in this warm Mediterranean climate seem to be coasting on tourists and others enamored with the aura surrounding this paradise on earth. Not Whispering Angel. When Sacha Lichine set out to make world class rosé from his inland property at La Motte, he enlisted Patrick Leon, former winemaker at Mouton and Opus One. A blend crafted from Grenache, Rolle (the white grape known as Vermentino in Italy), Cinsault, Syrah, Tibouren, this wine is fermented cold to preserve fruit, and is then aged on the yeast lees with batonage twice weekly. Pale in color, it has a sleek, smooth texture with juicy, wild strawberry, cranberry flavors. Fresh, delicate and understated enough to work with most delicate seafood preparations.
IL POGGIONE Rosé BRANCATO, TUSCANY, 2O15
This is made by the 5th generation of the Franceschi family who craft one of the classic Brunello di Montalcino expressions from their estate in Sant' Angelo. Pure Sangiovese Grosso, it's given a day of skin maceration, followed by a long, cool fermentation. This is one of the few wines covered that retains a bit of residual sugar, which in this case balances nicely the assertive acids and slight phenolic bite. It's a delicious, herb and spice accented rosé that would stand up to grilled salmon.
ALOIS LAGEDER LAGREIN Rosé, TRENTINO, 2O15
One of the most versatile local varieties of Trentino in Italy's northernmost region, Lagrein is capable of making a diverse range of wines. This herblike, minerally rosé is lighter in body, but very intense in flavor. Grown at elevations of 75O to 1OOO feet, it benefits from direct sunlight and cool winds sweeping down from the Alps to produce a floral, fruit-accented spicy wine with a touch of pepper on the finish. Like the Whispering Angel, it spends several months on the lees and has a bit more body than you might expect if you're more familiar with lighter rosés.
HUBER Rosé OF ZWEIGELT, TRAISENTAL, 2O15
Zweigelt is one of those savory lighter tannin red grapes that Austria grows that has yet to fully catch on in the market. This one is given just a few hours of skin contact, so it remains fresh, with light cranberry and strawberry flavors, savory herb notes, and intense tomatoey acids. Medium in body, it works with pasta, grilled fish, or white meat preparations.
TXOMIN EXTANIZ Rosé, GETARIAKO TXAKOLINA, 2O15
There are three different tiny regions producing Txakoli in Spain's Basque country. Getariako, close to the fabled culinary mecca of San Sebastian, is where the red grape Hondarribi Zuri thrives. The Txomin Extaniz is grown on 6-foot-high granite trellises on low yielding rocky slopes overlooking the Bay of Biscayne. The wine is electric in aroma and flavor, with an assertive spritz of carbon dioxide to balance the sharp, racy berry fruit. Pale salmon in color, it's light in body, very refreshing and saline in flavor. A dry rosé from one of the more obscure, but memorably delicious denominations in Spain.
BODEGAS MUGA RIOJA ROSADO, 2O15
This is a blend of red grapes (6O% Garnacha and 1O% Tempranillo) with white grapes (3O% Viura), grown at one of the greatest Rioja properties on chalky-clay and alluvial soils. It's given a 12 hour maceration on skins and ferments for over three weeks in small wooden vats. After spending a few months in neutral wooden vats it is filtered and bottled, so it has a bit more body than most of the other rosés. The Garnacha grapes they use are shaded from sun they're able to retain more of the grape's fruity notes. Pale in color, it's an earthy, mushroom accented rosé with hints of tobacco that will complement heartier fare, like sausages, or grilled chicken rubbed with herbs.
SIDEBAR Rosé, RUSSIAN RIVER VALLEY, 2O15
This unblended Syrah rosé is made by the esteemed David Ramey from grapes grown at the Lauterbach Hill Vineyard, in Sonoma's Russian River Valley. It is concentrated in flavor, with black raspberry fruit notes and undertones of clove and licorice. No tannins, but otherwise you might think you're drinking a red wine. This is aged on the lees in stainless steel for several months and is round in texture but lingering and fresh. Enjoy with barbecued meat.
SPY VALLEY Rosé OF PINOT NOIR, MARLBOROUGH, 2O15
Taking a cue from the great Sancerre rosés, this Marlborough Pinot Noir is earthy, minerally and tuned up in acid. Bone dry, it's super fruity, with red berries, crisp apple and plum flavors. There are minty, delicate baking spice notes and a lingering clean stony finish. Ideal with seafood salads.
DEMORGENZON DMZ Rosé OF CABERNET, STELLENBOSCH, 2O15
Even the mighty Cabernet Sauvignon can make good rosé if the tannins are managed. This South African charmer is fresh, fruit forward and a bit deeper in aromatics, but no less charming than the wines made from less powerful varietals. Electric pink, it's made from early picked Cabernet that has no trace of greenness, but is bright with red currant and beet root notes.
CRIOS DE SUSANA BALBO Rosé OF MALBEC, 2O15
This is made from fruit growing at almost 4OOO-foot elevations in Mendoza's Uco Valley. Hand-harvested and fermented cool, it's a softer, mellower rosé, with smooth cherry pie notes and a hint of cocoa.