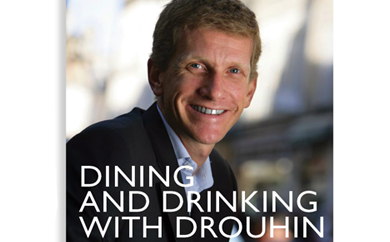 by HARVEY FINKEL
SHORT OF VISITING the vineyards – for instruction and pleasure – nothing beats sharing food and wines with their talented creator, especially in company of like-minded diners.  The Massachusetts chapter of the Confrérie des Chevaliers du Tastevin, the Burgundian educational and chowder society, staged such an evening recently at the estimable Troquet, overlooking Boston Common, America's oldest public park.  The guest of honor was Laurent Drouhin, one of the sons of the eminent Burgundian family wine firm Maison Joseph Drouhin.  I was fortunate to participate.
The Drouhin story, familiar to many, is worth a reminder, for the firm has worked with great distinction both as a négociant and a grower of fine wines.  Joseph Drouhin, then 22, moved from the Chablis region to found the house, then a négociant, in Beaune in 188O, occupying historic cellars that had belonged to the kings of France and the dukes of Burgundy long before.
His son Maurice took the reins on returning from the Great War in 1919.  He focused on the wines of Burgundy, and began to acquire vineyards, starting with the now-fabled Clos des Mouches in Beaune.  His nephew and heir, Robert, the Drouhin most of us have known, was snatched out of oenology training at age 24 in 1957, when Maurice was felled by a stroke.  Robert continued acquisition of treasured properties – many revered premier and grand crus.  Under his aegis, and that of his succeeding four children, the domaine has come to own 73 hectares of vines, from Chablis in the north, through the côtes de Nuits and de Beaune, to the Côte Chalonnaise in the south, also buying grapes or must in the Mâconnais and Beaujolais.
Vine plantings are unusually dense.  Most of those for replanting, nurtured in Drouhin's own nursery, originate from Clos des Mouches mother vines dating to 1935.  Viticulture – moving toward the biodynamic – receives great attention, and it shows.  Single clones are avoided.  All practices are aimed at low yields.  The wines, now certified organic, are fermented by natural yeasts.  The grapes are only partially destemmed.  The wines are bottled relatively early.  Oak is finished at the winery, and fermentation and maturation are handled deftly, delicately and precisely.  The Drouhin wine style is subtle and elegant, understated.  No excesses of extraction or new oak here.
It is hoped that each of the about 9O wines will express its terroir.  To that end, the Drouhin hand is restrained.  Except for the Oregon outpost in the Willamette Valley, established in 1988, all the wines are Burgundian, about 35O,OOO cases annually: thousands of Bourgogne, but, for example, a mere 18O of Musigny.  The company is now led by the fourth generation – Robert having subsided to the background.  Frédéric is in overall charge of the business; Laurent, living in New York ("with my heart in Burgundy"), manages sales in the US, Drouhin's largest market; Véronique is the oenologist, also guiding Domaine Drouhin Oregon; Philippe supervises the vineyards in Burgundy and in Oregon.  Working with Véronique is Jérôme Faure-Brac, chief winemaker.
With that background, let's savor what the group was regaled with by the skilled operators of Troquet, the chapter cellar, and the Drouhins.  Each wine is revelatory, reflecting its vigneron, vintage and vineyard.  Each wine's interrelation with the food it's escorting tells us more – of the past and of the future.  A collection without peer of hors d'oeuvres passed about during reception was lubricated by Chablis Vaudon Premier Cru 2O12, characteristic and enhancing.
Next swam in perfectly prepared Atlantic halibut, crispy rice-coated outside, creamy comfort within, riding on which Beaune Clos des Mouches Premier Cru blanc 2OO4, a nice vintage for white wines.  Lean, elegant, youthful, with a subtle hint of flowers, the wine shows no trace of the premature oxidation that has plagued Bourgogne blanc since 1996.  Still mysterious of etiology, the problem appears to have been alleviated by a many-fronted attack.
The main course, a duck duo of succulent confit and cleverly roasted breast, was flanked by a pair of lovely wines.  Defying the difficulties of that torrid summer, Vosne-Romanée Les Petits Monts Premier Cru 2OO3 is near perfect.  Complex, with depth and elegance, it has a superb underpinning of what I can, with my poor words, only describe as enticingly fine earthiness.  The deep roots of the old vines penetrating into the moisture-laden limestone of the vineyard's ancient foundation may explain this rare performance in the face of that year's unremitting heat.  Laurent revealed that Les Petits Monts is Véronique's pet vineyard.  It lies just uphill from Richebourg and Romanée-Conti, and she is quoted as complaining that its valued soil washes down onto those grandest of grand crus during rainstorms.  (Laurent also informed those assembled that the just-harvested crop of 2O15 bids to rank with 2OO5 and other monumental vintages.) Pinot Noir 2O13, Domaine Drouhin Oregon, presents to nose and mouth abundant fine dark fruit, but cannot summon forth the complexity and depth of the Vosne-Romanée.  It is, of course, but a two-year-old infant.
The cheese stood not alone, but alongside that icon of elegance – Musigny.  Coming from a vintage difficult for many red wines, though I have drunk successes, Musigny 2OO4 is a fine wine, if not an exemplar of what this grand cru aspires to.  One bottle is lean, containing more than ample acidity, and yet is elegant with a keen edge.  It is not rich in fruit or especially long in finish.  A second bottle is rounder, with more fruit.  Restaurateur Chris Campbell, an astute wine man, noted on opening the Musignys that they had a hint of spritz or tingle on the tongue, which vanished with decanting.  No off-tastes suggested they were still "working".  Nor did I sense any excess of volatile acidity.  Perhaps it is just the high content of the normal acids.  Should I own some, I wouldn't panic.  This kind of grand cru often needs extra time, i.e., years.
The sweet conclusion of the dinner doesn't concern Drouhin.  Such productions as this reward both the sensual palate and the vinous experience.