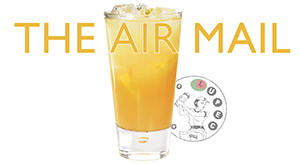 IF WE LUPEC LADIES know one thing to be true it's that Champagne makes everything better. Pour a little into your orange juice and your sad, late breakfast is magically transformed into brunch – the most fabulous of meals. The simple popping of a cork signifies celebration. Holidays are all about festive fun – and they keep coming earlier and earlier each year. Thus our daily dose of Champagne began to flow alongside the Christmas decorations that popped up in stores the day after Halloween.
With all the Champagne swilling that ensues, it's a good idea to have some Champagne cocktails in the drink arsenal. You could pore through the pages of vintage cocktail tomes and commit some classics to memory to achieve this, but we're here to let you in on a little secret: any cocktail can become a Champagne cocktail! Just splash a little bubbly into your favorite libation, dress it up with a new name and voila! You've created a fancy new drink. A French 75, for example, is nothing more than a gin sour with a bubbly topper. Why reinvent the wheel when you can tweak it for delicious results?
Another easy one to add to your cannon is the Air Mail. This classic drink comes from the 1949 edition of Esquire's Handbook for Hosts. It's little more than a Daiquiri made with honey instead of sugar syrup and topped with Champagne. The drink is a delight and since honey is a natural sweetener, the beverage will be less harsh on your body than if it were made with simple syrup. Which is cause for even more celebration.
THE AIR MAIL
2 ounces of golden rum
½ ounce of lime juice
1 teaspoon of honey
5 ounces of Champagne
Shake all ingredients except Champagne
with ice in a cocktail shaker.
Pour unstrained into a Collins glass and
top with Champagne.
Cin-cin!