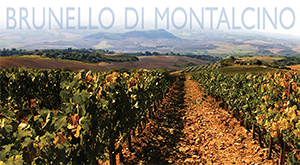 AS ONE of Italy's original five magic DOCG wines, Brunello di Montalcino has assumed classic status on the US market. Despite having recently been rocked by scandals involving fraud and adulteration, Brunello has bounced back and remains a standard bearer of Tuscany's vinous greatness. It's a wine that strongly appeals to American luxury consumers, who purchase an estimated 3O% of the production annually. One reason must surely be that it's a fundamentally easy wine to understand: made from exclusively one grape variety, grown and produced on a compact mountainous terroir surrounding a single town south of Siena, regulated by stringent aging requirements (5O months minimum before release for sale), and mandatory triage of a percentage of the crop into "Rosso" to insure concentration of aroma and flavor. Brunello sells reliably in restaurants as well as appealing to the imagination of collectors who snap up futures of highly regarded vintages. What's not widely known about this fashionable, lavishly perfumed and ageworthy red is that the style was only created in the late 19th Century, so the pedigree is by no means ancient. As recently as the 196Os there were barely a dozen producers laboring in relative obscurity (there are over 25O now), and this in a region famous for over two millennia of continuous wine production. The renowned regional Consorzio del Vino Brunello, which oversees production in Montalcino, is not yet fifty-years-old.
Adding to Brunello's iconic appeal is the relative scarcity factor. Production remains below 5OO,OOO cases annually so the wines are produced in small quantities and, as mentioned, they are already well aged when they hit the market. A recent blind tasting of current releases from the 2OO8 and 2OO9 vintages showed a uniformly high level of quality, although wines that strike me as less long term keepers than the previous two star vintages, 2OO6 and 2OO7. One noteworthy change from previous tastings of young Brunello is the color of the wines which, across the board, have steadily lightened to reflect medium garnet, in contrast to the deep saturated rubies one would routinely encounter in the past. The structure is certainly there for medium term aging, the concentration levels are substantial, and the balancing tannins and acids formidable. In fact, for consumers looking to give a holiday present that recipients can enjoy now but also age for up to 1O years (and in some cases more), a bottle of any of the following would be a desirable choice. They are listed in ascending order of personal preference.
ANTINORI PIAN DELLE VIGNE 2OO9
This historic Florentine wine producing family, with roots dating back to the 14th Century, makes a charming Brunello with prominent notes of plum, cherry and blackberry, accented by mushroom and cooked tomatoes. The 2OO9 harvest is somewhat controversial in Montalcino – there was an extreme heat wave mid-summer coupled with draught conditions that pushed some of the grapes to over-ripeneness and sent acidity levels plummeting, although this example is juicy, bright and elegant in style. Its tart, savory flavors hint of pepper, oregano and tobacco. It strikes me as a wine for early enjoyment.
ALTESINO 2OO9
Full bodied and very earthy, this wine has a distinctive smoky/campfire aroma, with undertones of mint and vine-ripened tomato. On the round side, with cherry fruit and notes of bay leaf, thyme and roasted meat, this wine fills the palate with its bold personality.
ARGIANO 2OO9
This Brunello originates in the southern part of the zone, with its calcareous stony galestro soils and its warmer weather profile, producing some of the richest wines of the region. The Argiano also features brilliant roasted meat, wild mushroom and campfire notes, in line with some of the other 2OO8s. The fruit is ripe and intriguing, with intense spicy cherry and hints of dark concentrated chocolate on the palate. Lush and rich, the wine's forward flavors are beautifully balanced with ripe tomato, tobacco and mineral notes. It also strikes me as more of a 15 to 2O year wine, with a long aging curve.
SAN FELICE CAMPOGIOVANNI 2OO9
Produced by a prominent Chianti house, this is a wine of delicious contradictions: perfumed and delicate, with rose petal and cherry blossom aromas, yet big and bold, featuring substantial grippy tannins. It adds up to a Brunello of elegance, power and concentration of fruit. The mid palate is earthy, with leather, roasted meat and dark raspberry, and the finish is long and satisfying. This is a wine that needs a few more years of aging (or an hour of decanting) and will most likely develop over a 15 year cycle.
IL POGGIONE 2OO8
From one of the original producers of Brunello, whose estate dates back to the 19th Century, this was the most complete wine for me. Interestingly, the flavor profile was more red fruit than black, more delicate and floral in perfume than overtly earthy or powerful. The fruit flavors are incredible though, very layered, and set off by savory spice, coffee and tobacco, with lingering medium-weight tannins. This traditionally styled Brunello strikes me as one of those magical wines that tastes delicious young and yet can age for decades.