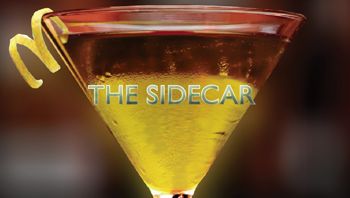 The Sidecar was a gateway cocktail for many of us LUPEC Boston gals, a drink not unlike the Manhattan that is curiously still kicking in modern bars, despite its vintage roots. Many will claim the Sidecar was invented in France in the 192Os at Harry's New York Bar in Paris. In one charming story, the bartender whipped this up to quench the thirst of a US army captain, a regular who traveled to and from the bar via a motorcycle and needed a tipple to take off the winter chill. But savvy cocktailians will recognize this drink as little more than an evolved Brandy Crusta. The Brandy Crusta was invented in the Crescent City by bartender Joe Santini, who took over management at the New Orleans' City Exchange in the 185Os. At the time, it was a unique blend of two different drinks – the "cocktail" which was then considered a short drink with bitters, and a "punch" which was a long drink with citrus. Now, of course, we all drink "cocktails" much as we were all drinking "martinis" in the 199Os. But in those days, the category name had some relevance. In any event, the Crusta was enjoyed mostly locally until Professor Jerry Thomas included instructions for how to mix it in his 1862 recipe book, The Bon Vivant's Companion. By the 189Os, adding citrus to "cocktails" was de rigeur. 3O years later, Crustas were out and Sidecars were in.
SIDECAR
As originally made, adapted from Vintage Spirits & Forgotten Cocktails
by Ted Haigh.
1 ounce of brandy
1 ounce of Cointreau
1 ounce of fresh lemon juice
Shake ingredients in an iced cocktail shaker. Strain into a chilled vintage cocktail glass.
Garnish with a lemon and sugar rim.
Cin Cin!