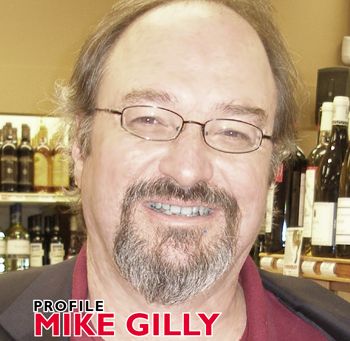 Blanchard's Liquors Mike Gilly Profiled
MIKE GILLY 48
Wine Buyer • Blanchard's Liquors, MA
Mike Gilly opens the door of Blanchard's Liquors in Jamaica Plain and steps into the sunshine, carrying a case of Ostatu Viura. Rick Dunfey awaits with his back hatch open, and Mike slides it into the trunk. Rick, who publishes red sox yearbook and a golf magazine, has a preference for Riojas and Chiantis; he says Blanchard's is his go-to store and Mike's the man for wine.
Mike says, "Rick's been a regular here since back when" – which for Mike was 1994, when he joined Blanchard's – its wine buyer since 2OOO. Gilly splits his time between the West Roxbury, Jamaica Plain, and Revere stores.
Blanchard's Jamaica Plain has a strong neighborhood vibe and walk-in clientele. The store-front sports a funky '5Os red-and-neon sign that fits its retro feel and easy-going pace. Across the street is The Real Deal Café, a monicker that suits its neighbor, too.
"It's kinda hard to get here from anywhere," explains Mike, "so most of our customers are from here. We get to know them by face, by name, by tastes – and they stay loyal. Demographics are getting younger here: blue-collar, renters, students, always on the edge, plugged-in, looking for something new. JP shows me trends first: Prosecco, Gruner Veltiner, Picpoul de Pinet, and micro-brews all became huge here."
It's an easy contrast to other Blanchards. "Revere is more about brands," remarks Mike, "magnums, four-liter wines, box wines. It's at Routes 1A and 6O, so people drive in. I haven't been able to sell a $25 to $3O box wine there, where Franzia is big. But here in JP it's Pinot Evil, Big House Red and imported Black Boxes of New Zealand Sauvignon Blanc."
Gilly says that it's 'like family' working here, with low staff turnover and general employee enthusiasm. Blanchards was originally a retail business established in 1838 in Boston's Scollay Square. The founders of Blanchards stores as we know them today were Mary and John Corey and their four children, dating from 1958. Today the family is still involved in the operation of their individual and separately owned stores.
As today's beverage world grows in complexity, Gilly's grateful for having studied geography and macroeconomics at Boston University. "Argentina used to mean Mendoza Malbec, but Masciarelli has a winery from Patagonia, 1OOO miles further south, called Bodegas del Fin del Mundo – Winery at the End of the Earth!
"And the SKUs, man! I can't keep track of them all. They've grown by a factor of ten – easy – since I started here 17 years ago. Woodbridge used to have a white and a red in 199O; they've just come out with a Malbec. Line extensions go flavorwise: Smirnoff used to mean 'vodka', now it's 'flavors' – 2O of them! Proprietary brands are no longer big among clients. Consumers don't seek upscale, heavily branded item, today it's less of a commodity and more of a brand – and Grey Goose is king.
"When I was in plumbing and heating supplies, our bathroom fixtures, Kohler's of Wisconsin, came in a huge range of colors. The salesmen told us, 'We know you can't keep 'em all in stock.' Some consumers today expect the whole range, but our suppliers know it's impossible – both from a dollar amount and floor space. We pick and choose, then special order that Watermelon Smirnoff. Every brewery's got its seasonals – Summer Ale, Pumpkin Beer, Harvest This, Winter That – and beer has to move on the freshness factor. With wines, all I worry about is getting rosés done by August and Beaujolais Nouveau by Christmas!"
"Seriously, my job is made easier because the store managers know their stuff. I don't walk in on a Friday and worry, 'Uh-oh, what happened here?' Steven Grant laid out this store, recently fitted in new Ruby Racks [so-called because Ruby Wines supplies the 11-case steel racks to the state.] He also fitted out our tasting room, where we now hold all our tastings since restaurant wine dinners were big in the '9Os. We held a memorable one with J. Lohr at Icarus that drew 1O7 people. Problem was, we couldn't sell off-premise and these events did not sell wine. When you can't get customers to commit on the spot with the credit card, you lose 'em. Today we have grand tastings of 1OO or more wines each spring and fall. We also have people promoting their wines run tastings here, 2-3-4 wines, each week.
"People bought high-end stuff more two years ago, now we sell six- or case-sales of less expensive stuff. Our last two grand tastings saw sweet wines make a come-back – moscatos, sweet reds, rieslings, lambrusco. The Coca Cola generation chugs sweet drinks with caramel all day long and sweet strikes them. Chateau Ste Chapelle's Idaho red, Primal Roots, Apothic is huge. Companies do their consumer research and realize that sweet taste is in."
Gilly expresses his strong preference for French wines. "Bordeaux has had many good years in a row. The wines are fuller and richer. Technology, enologists and possibly climate change have combined to create great vintages. Even lesser vintages like 2OO1 and 2OO4 produced good values. I like the 2OO1 style a lot. It reminds me of the wines I tasted in the 198Os. Classic, Masciarelli and Monsieur Touton are our biggest sources for Bordeaux."
"Pinot Noir reminds me of a favorite tenor saxophonist – Lester Young. You might think of him as a Pommard or Volnay – lush, bright, subtle, yet elusive. Oregon's best are from Montinore and Evesham, France's from Bouchard and Domaine de la Pousse d'Or. I'm also high on Ant Hill, made by cellar rats from Williams-Selyem."
Gilly stresses the democratic principle of wine selection. "I don't go to a lot of trade tastings, except our grand tastings. If I find something I like that's allocated only in a small amount, I'll send some out to each store. If a store doesn't go for it, it won't get sold. The sales people have to be passionate to share their excitement. I don't believe in this top-down forcing of my tastes on others.
"We make sure they all get into our newsletter. Quarterly, we get together and taste 16O wines, pick 25. Each guy gets his say, picks a fave, but the 25 choices must be unanimous. How many suppliers? Used to be 1O now it's over 5O."
"We get samples from Monsieur Touton and Jeff Slavin at Hangtime. It's good to have a large number of wholesalers, especially smaller companies that import directly from the wineries. This keeps prices lower and gives our customers some of the best examples of that appellation. Oz Pacific, Baystate and Ideal are great wholesalers that consistently uncover exceptional values."
Over lunch, Mike mused on Boston's primacy and variety in the marketplace. "Boston's really cool because of the great food and wine! For many wineries, we're their top US market after NYC and Miami or Chicago. The state's wine business is large compared to per capita size. Joel Peterson of Ravenswood loves coming here. When I was starting in the '8Os, I was floored by John Vyhanek, Master Chef at Harvard Street Grill! Pairings there became synergistic. And "Bowtie Bob" Bowker sewed up all those Indian restaurant accounts for Classic 2O years ago. One night at Rialto, our party sat near Julia Child's table as she ordered steak and frites with Chateauneuf du Papes and Gigondas."
We shared 'aha!' wine moments. "When I was working at Marty's," recalls Mike, "I asked [fellow employee and Tufts MD] Ed Sullivan to hook me up with a world-class wine. He pulled from the lock-up a 1979 Chateau Latour, then 7- years-old. Boing! That gave me a touchstone to great wines. I've been reading Robin Kelley's biography on Thelonious Monk – an eye-opener! What a life! What patience! How long it took to get people to understand his music. I read it on the plane to Bordeaux. I'd play Monk while drinking – ah – Crozes Hermitage."
Dinner wines – Terlano 'Winkl' 2OO9 Pinot Gris with pork tenderloins, Spinetti's Ca di Pian 'O6 Barbera with cheeses – get us talking about favored pairings.
mike "Give me – anytime – Wellfleet Oysters with William Fevre Chablis or Westport Rivers RJR Brut. At O Ya, waiter Tim Fahy suggested Elk Cove Pinot Gris with the tea-braised short ribs. Oh, yeah!"
mike mused on larger pairings "You can enjoy music better with a nice bottle of wine. People may use musical terminology to describe wines. They're both arts that require some science. I usually pick wine before food at a restaurant. So let me pick a bottle: Domaine Dujac Morey St. Denis 'O6 with duck in Montreal's Au Pied du Cochon. I've been experimenting with making paella and serving it with viura rather than tempranillo, even though my wife Michelle prefers rich, buttery chardonnays (Patz & Hall, Meursaults, Ramey, Davis Family)."
Summing up Boston retail, Mike smiles expansively. "Boston has lots of great music clubs, sports venues, restaurants, and wine shops. Retailers want customers to try and buy what they think are the best examples of each category of wine for the price. Lots of guys have been doing it lots of years: Len Rothenberg, Kent Gern, Tom Schmeisser, Howie Rubin, Carri Wroblewski, Patrick Dubsky. I've got 18 more years to go at trying to do my best at it."