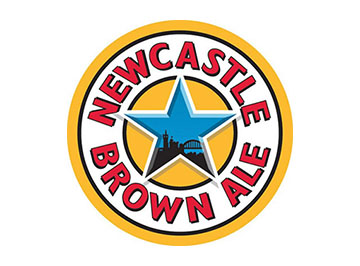 Newcastle Summer Grilling Recipe Series
Just in time for summer, Newcastle Brown Ale is releasing a series of grilling recipes in partnership with MasterChef Season 7 champion, Shaun O'Neale.
Before appearing on the hit FOX cooking competition show, Shaun was a DJ performing at some of the biggest music festivals and nightclubs around the country. Since taking home the MasterChef trophy, Shaun has officially taken his talents from the club to the kitchen, and has kept up a solid winning streak from the publishing his first book, teaming up with his favorite beer, and marrying the love of his life.
To jumpstart the summer grilling season, Shaun has created 10 signature grilling recipes that incorporate Newcastle Brown Ale, from savory dishes like smoked brisket and oyster Rockefeller, to s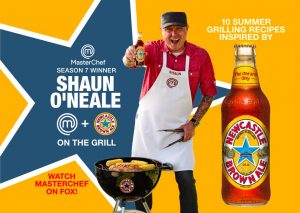 weet indulgences like bread pudding and ice cream. Each recipe complements the full-bodied flavor and slightly sweet caramel finish that is the hallmark of Newcastle Brown Ale, and were created with the home chef in mind to offe
r a mix of simple, out of the box recipes that are sure to impress at summer events and barbeques.
"We are so excited to partner with MasterChef winner, Shaun O'Neale, to help put Newcastle Brown Ale front and center as we kick off the summer grilling season," commented Amy Tay, Brand Director, Five Points Trading Company. "Shaun has been amazing to work with and his recipes offer creative new ways to enjoy the great taste of Newcastle Brown Ale, whether served cold in a pint glass or hot off the grill."
"Shaun O'Neale's signature modern American cooking style is the perfect pairing with Newcastle Brown Ale to create the ultimate flavor experience," says Tamaya Petteway, SVP Brand and Licensin
g Partnerships, Endemol Shine North America. "Shaun's elevated dishes complemented with Newcastle's full-bodied finish kicks any home cooks' summer grilling game up a notch."
A Las Vegas resident, O'Neale will debut the partnership and preview the Newcastle Brown Ale summer grilling recipe series during the Vegas Uncork'd Grand Tasting event on May 11th hosted at Ga
rden of the Gods Pool Oasis at Caesars Palace. To amplify the program, O'Neale will make special appearances at select events throughout the summer and support the brand's digital efforts by releasing one of his new recipes every Thursday for 10 weeks.
At retail, custom designed POS materials including case cards, recipe cards, aprons and Newcastle Brown Ale branded barbeque grills along with life-size standees of O'Neale himself will capture shopper's attention and encourage them to grab a pack of Newcastle Brown Ale to enjoy while whipping up his signature grilling recipes.
"I'm a big fan of Newcastle Brown Ale and was thrilled when the brand approached me to develop and promote a range of summer grilling recipes," commented Shaun O'Neale, "The beer's signature full flavor and smooth finish was my creative inspiration. I think we've got some really amazing recipes that anyone at home can create and enjoy themselves, along with a cold Newcastle Brown Ale."