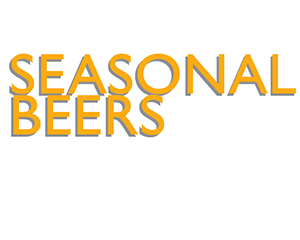 THE SEASONAL CHANGES in beer offerings is one of the industry's strongest sales tactics. Beyond merely pushing beer during big holidays and trying to get by during the rest of the year, the introduction of seasonal beers allows breweries and retailers to offer consumers something fresh and new. Each release offers the public something to look forward to, whether on a regular schedule or as part of an oft-changing rotation.
The idea of seasonal beer in the United States has experienced a quiet evolution over the past forty years since Anchor Brewing Company's Fritz Maytag reintroduced Americans to the concept of seasonal beer with the introduction of his then super hoppy Anchor Liberty Ale. As the putative grandfather of all American IPAs to follow, Maytag and the Anchor staff believed that consumers would enjoy experiencing a departure from their regularly scheduled beers. He continued this practice with his paradigm shattering Our Special Ale, a winter special brewed with a different recipe and label every year.
In distinguishing themselves from mainstream macro beers, early microbrewers tried all sorts of ideas. Some added extra hops, while others sought refuge in passive, ubiquitous ambers. The popular Harpoon IPA has its humble origins as one of the brewery's first summer seasonals. Due to its popularity, the brand shortly thereafter entered the company's year-round portfolio, vaulting to flagship status. Similar stories have played out around the country, with breweries using seasonal sales slots as an opportunity to introduce customers to a new beer without fully committing to its year-round production.
Today, as many craft brewers adhere to a traditional release calendar with seasonally classic styles as do not. You can still find plenty of bock beers in the spring and hefe-weizens in the summer. But you can also find palate crushing imperial stouts in July as well as many more styles, whether sour or traditional, that find no place in a historic calendar.
Of all the beer seasons, perhaps none is more beloved and loathed than autumn. Unlike other selling time periods, the release of beers designed for fall drinking is subject to the sinister animal that is seasonal beer creep. Summer beers seemingly appear out of nowhere in the rainy, dreary days of early April. Where consumers once had to wait until September or October to find pumpkin and Octoberfest style beers, slowly these beers started appearing on shelves and taps in the last week of July, then mid-month, and then anytime after the Fourth of July was fair game.
Part of the magic that is seasonal beers is the anticipation that builds before their release.
Some retailers have pushed back against seasonal beer creep. At Craft Beer Cellar in Belmont, co-owners Kate Baker and Suzanne Schalow announced in July of 2O13 that their stores would not sell any Octoberfest, pumpkin or harvest beers until September, making it one of the first package stores to do so. Noting that it was still summer, the pair fought off seasonal creep and marketing forces that drive brewers, distributors and retailers to release these popular beers earlier and earlier each year. Craft Beer Cellar continues the practice to this day at all of its nearly 2O stores nationwide.
The phenomenon has also led several brewers to release beers poking fun at the practice. The Cigar City Brewing Company in Tampa, Florida, offers the limited release of Seasonal Creep, a 8.3 percent alcohol chocolate-pumpkin ale, in July. Locally, the Somerville Brewing Company has released SeasonALE Creep, a year-round saison hopped with Galaxy hops. Of the beer, Somerville says that "Creep thinks it's funny to release a pumpkin beer in August or a holiday ale in September. He's a greedy little character, robbing us of time and demanding we move on too soon."
Retailers remain in a difficult position on the front lines as distributors continue to push these beers earlier and earlier. However, it remains important to hold strong and not homogenize the seasonal beer drinking experience. Craft brewers should always remember the role seasonal beers have played in expanding their customer bases and their bottom lines. For retailers, it is a fight worth waging, especially after last winter. Let's agree to have another hefe-weizen and keep summer with us for as long as we can.
OCTOBERFEST BEERS
Also called Marzen, this long popular seasonal beer unsurprisingly derives its history from the German brewing hub of Munich. It was developed by Gabriel Sedlmayr II, owner of the Spaten Brewery, in association with his brother Josef and in adaptation of the Vienna style created years earlier by Anton Dreher. Octoberfests are typically amber-hued, full-bodied and boast toasted malt flavor. The lager was served during the annual Oktoberfest celebration in Munich, from which it takes its name. Sometimes known as "Fest" beer, Marzen was originally brewed in spring and cellared during the warm summer months for service in the fall, a practice less followed with modern refrigeration. Versions at today's Oktoberfest celebration are substantially lighter in color and flavor, while American versions tend towards deep gold to copper colors, with strong Vienna or Munich toasted and bready malt aromas, and a slight but present noble hop aroma and bitterness. Oktoberfests are clean lagers with dedication to classic German and European malts and around six-percent alcohol. Many American brewers produce toasty amber ales with a decided fruit aroma and flavor and call them Marzens or Oktoberfest beers.
There usually is not much innovation or new with respect to the style but things are a little different this year with the announcement of Sierra Nevada Brewing Company's new Oktoberfest beer. Not yet available, it is the start of an exploration of the roots of Germany's festival beers, resulting in a German-American collaboration. Sierra Nevada will partner every year with German brewers to create a traditional take on the Octoberfest style. The partner this year is Brauhaus Riegele of Augsburg and the beer will be deep golden in color and made with traditional German Steffi barley.
OKTOBER FEST
STOUDTS BREWING COMPANY
ADAMSTOWN, PENNSYLVANIA
5.O% ABV
A bit of an unusual offering especially from a pretty traditional German-American brewery, Stoudts' take on the Octoberfest style has a lighter golden amber hue and the usual notes of bread, toast and caramel malts in the aroma. These aromas, however, are softer than in many other takes on the style. There is a small herbal quality in the nose as well. The flavor is much lighter than most versions, with a light hand on malt sweetness and a heavier dose of German and noble hops. A bit more of a hoppy amber colored lager, this Octoberfest will intrigue hop heads and those for whom the joys of malt-forward beers have not yet become apparent.
THOMAS HOOKER OCTOBERFEST LAGER
THOMAS HOOKER BREWING COMPANY
BLOOMFIELD, CONNECTICUT
5.7% ABV
Created originally by Paul Davis, a master brewer who now runs the Prodigal Brewery in New Hampshire, this beer is one of the few, true New England fall lagers. Brewed with Munich and Vienna malts and the addition of Spalt, Hallertau and Saaz hops, the beer pours with an copper-amber color, with occasional orange flecks, and has a substantial, creamy white head. The aroma is all malt, bread, toast, and bits of caramel with a pleasant spiciness and even a bit of fruit. The flavor continues with the above descriptors but with the addition of some bite from the noble hops, resulting in a nicely balanced beer for fall.
FESTBIER
VICTORY BREWING COMPANY
DOWNINGTON, PENNSYLVANIA
5.6% ABV
This long time classic from Victory pours with a clear copper hue, a decent touch of carbonation, and with a hefty dose of beige foam that continues throughout the enjoyment. The aroma is appropriately of caramel and toasted malts, with the occasional hint of sweeter malts and a touch of bitterness. Brewed with a decoction mash, imported two row Vienna and Munich malts, and whole flower German hops, the beer has a medium body, with rich but not overpowering malt flavor washing over the palate. The finish dries out a touch and the beer is far from flabby. A very well balanced and enjoyable beer for fall.
AYINGER OKTOBER FEST – MÄRZEN
PRIVATBRAUEREI FRANZ INSELKAMMER KG
AYING, GERMANY
5.8% ABV
A true German classic, this beautiful beer from the Inselkammer family's famed Brauerei Aying is worth searching out amidst a sea of German lesser rans. Pouring with a light amber hue and a tall dollop of white foam, the carbonation is steady. The aroma is full of malt sweetness, with notes of toasted grains and a hint of spiciness. Caramel hints also play a recurring role. The flavor appropriately follows suit, with a strong backbone of substantial caramel and toasted malts and ending with a very pleasant balance of German hop bitterness.
And a fall beer set would not be complete without at least one pumpkin beer suggestion. As you know, American brewers have a long history of brewing with pumpkins and squash, including from early colonial recipes. The ingredient served as a less costly way to add sugar to the process at a time when imported malt was expensive. The popularity of the style is enough to shift markets and calendars. And while many brewers add pumpkin flavorings or make their beers taste like Thanksgiving palate assaults, others take a lighter hand. So let's revisit an old favorite and one that remains more beer than pumpkin invention.
PUNKIN ALE
DOGFISH HEAD CRAFT BREWERY
LEWES, DELAWARE
7.O% ABV
This long-standing craft juggernaut was built on many brands and Punkin is among them. A stalwart and reliable brand for fall, Punkin has a fun back story. Located near the site of the World Championship Punkin Chunkin Contest, Dogfish Head produces a pumpkin beer that you can enjoy while watching air compressors, catapults and trebuchets toss around this Halloween gourd. The annual contest involves machines that throw pumpkins more than four thousand feet. Drink this one at a safe distance. Punkin is brewed with pumpkin meat, brown sugar and spices, and its aroma is strongly of pumpkin and brown sugar. The base brown ale provides an underlying support structure for this pleasantly malty beer with caramel notes.