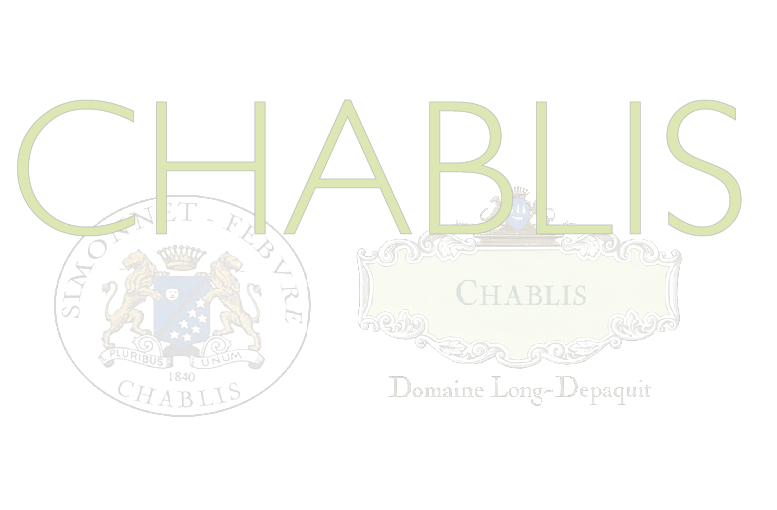 IF YOU'RE looking for classic Chardonnay that tastes bone dry, minerally and understated in flavor, there is little to compare with the wines of Chablis. While the historic village technically lies within greater Burgundy, it is a terroir unto itself, separated from the rest of the illustrious French wine region to its south by about 80 miles. Grown on calcareous fossilized chalk soils, the grapes surrounding this venerable location attain heights of aromatic purity and finesse that makes the wines they produce ideal partners for a wide variety of seafood dishes, but particularly crustaceans.
Why are there no fine wine vineyards between Chablis and the Cote d'Or? Soil and topography. You can read about it but a visit will bring the distinctiveness of Chablis into sharp focus. The commune's greatest vineyards, its seven Grand Cru (comprising 25O acres), all lie on steep south facing, slightly curved hills overlooking the village. Arrayed around them, but lacking their perfect sun exposure (some face south/southeast, while others face west), the 2OOO acres of the 4O Premier Cru vineyards ripen their grapes not quite so thoroughly or consistently. The "village" wines (Chablis AC, which amounts to about 88OO acres) grow on relatively flat plots where achieving ripeness in this marginal climate is occasionally challenging. What the best sites of all three classifications share: a soil derived from shells of the crustaceans who populated the sea that hundreds of millions of years ago covered this now inland terrain. Over the eons, erosion from melting ice brought this shell-infused Kimmeridgian clay to the surface. Soft, crumbly and low in organic material, it limits vine vigor, reduces yields and imparts the steely, flinty character authentic Chablis exhibits.
I have found that the best way to understand Chablis is through the lens of one of the many quality producers that call the village home. It's been my good fortune to visit twice in the past year, once at the house of Simmonet-Febvre – founded in 184O, owned since 2OO3 by Louis Latour, and once at the storied Domaine Long Depaquit – now owned by Maison Albert Bichot. Tasting Chablis is a moving target; the wines evolve and change, opening and closing up in the same manner that terroit-expressive red wines do. The top marques also have considerable aging potential: over a decade for the Grand Crus and 7 to 8 years or longer for a good Premier Cru.
At SIMMONET-FEBVRE the style of the wines is crisp, clean and pure. As the cellar master Jean-Philippe Archambaud states, "We have a very strong and precise message" coming from the terroir and, although the wines rest for a long time on the fine lees, they avoid practices such as batonage (or yeast stirring) which tend to blur distinctions among sites. For the most part oak is avoided, although for certain wines in select vintages they do age in wood. They inoculate the grapes (purchased from 3O different growers) with cultured yeasts to insure a trouble free fermentation at moderate temperatures (65 to 7O degrees) in tank, and encourage all cuvées to go through a secondary malo-lactic conversion.
What follows are notes on the wines I recently tasted.
CHABLIS 2O12
This village wine spends a year on the lees. It expresses a delicate vegetal and lime skin aroma, with bright acidity and a slightly chalky mineral-salt edginess on the palate.
CHABLIS PREMIER CRU 2O11
A blend of grapes from three Premier Crus (mostly Vaucoupins from the right bank of the River Serein and Cote de Leche from the left bank, with a little Vaillons added), this wine has a delicate herb aroma, with notes of apple and citrus. It's relatively high in acid – reflective of the cool 2O11 vintage – but with nicely balanced creamy textures and a lingering spice note.
CHABLIS PREMIER CRU VAILLONS 2O11
From the most famed left bank Premier Cru, a wine of considerably more richness and body, with notes of smoky flint, wax beans, juicy tart apple, and lemon.
CHABLIS PREMIER CRU MONT DE MILIEU 2O11
A renowned right bank Premier Cru, this has an unusually exotic nose of pineapple and other ripe fruit expressions on the palate, balanced by stony, smoky notes.
CHABLIS PREMIER CRU FOURCHAUME 2O11
A bit less flinty or minerally than the other Premier Cru, the Fourchaume has a delicate flowery appeal. Crisp fresh and tart, with vibrancy and a clean citric intensity.
CHABLIS GRAND CRU LES PREUSES 2OO9
From a celebrated ripe and abundant vintage – something Chablis has not seen since – this Grand Cru ages for about 2O months in tank. The part of Preuses from which it originates is very steep and well drained. It has a lush fruit character, with a touch of smoke, wild mushroom, dried herbs, and a fine apple-like purity of flavor.
CHABLIS GRAND CRU LES CLOS 2O1O
Because of their greater structure I'm actually partial to the 2O1Os, which are less acclaimed than the 2OO9s, especially at the Grand Cru level. From grapes grown on a 5 acre estate parcel, this is fermented half in tank and half in older, neutral barrels, after which it spends 2O months aging in wood. It has a ripe, but very minerally aroma, and fleshy, soft fruit flavors, with undertones of clay, cinnamon, stony minerality, and tart apple. Les Clos tends to produce among the most powerful wines of Chablis and this one has the capacity to age for over a decade.
DOMAINE LONG DEPAQUIT owns about 163 acres – including 38 in 6 different Premier Cru's and 25 in 6 Grand Cru's, making them the second largest Grand Cru vineyard owner. They are among the most innovative grape growers in the region, having installed in some of their best sites an expensive system of sensor-activated electrical wires that switch on to heat the vines and combat spring frost. They also hand harvest in some of the Grand Cru, which is very unusual, and do a bit more wood fermentation (in medium toast older Vosges barrels). While pure and terroir expressive, their wines tend to exhibit a bit more silkiness and texture. This may also result from their practice of batonage in cooler high acid vintages like 2O11.
CHABLIS 2O13
With distinctive notes of butter, green apple and leafy herbs, this has a racy, clean purity and brightness uncommon among wines of this designation.
CHABLIS PREMIER CRU LES LYS 2O12
From a part of Vaillons, Les Lys is earthy and intensely mineral-like, with peach, apricot and apple notes. The finish expresses dried herbs and citrus.
CHABLIS PREMIER CRU VAILLONS 2O12
A lovely wine that undergoes 1O% barrel fermentation, this is slightly buttery, with interesting floral and ripe apple notes. Round and smooth, it has a ripe mellow lingering fruit and chalk finish.
CHABLIS PREMIER CRU VAUCOUPINS 2O12
The Domaine owns 12.5 acres of this outstanding right bank Premier Cru. Harvested from very steep hillside vines, the grapes are full-bunch pressed and then fermented primarily in tank, while about 15% undergoes fermentation in a neutral oak barrel. The result is a beautifully creamy, soft and clean, but unerringly tart wine, with ripe apple and chalky notes.
CHABLIS GRAND CRU LES BLANCHOTS 2O11
This is partially fermented in neutral oak (25%) and shows an engaging mélange of ripe apple and pear fruit; lush on the palate but quite tart and high in acid.
CHABLIS GRAND CRU LES CLOS 2O11
This is over half fermented in oak; it is rich and buttery, with subtle hints of fruit and prominent chalky mineral notes.
CHABLIS GRAND CRU LA MOUTONNE 2O11
From a six acre monopole, this unique Chablis is at another level of intensity. Lying primarily within the Grand Cru Les Preuses, but spilling over into neighboring Vaudesir, this is a Grand Cru of monumental proportions, a quarter of which is aged in neutral wood. It has a super ripe, flinty, mushroom-like aroma, with tightly wound tart apple and lemon flavors. A "wow" wine that will continue to age for well over a decade.