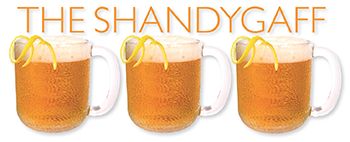 PINK LADY'S ENDANGERED COCKTAIL OF THE MONTH: THE SHANDYGAFF
WHAT COULD BE more refreshing on a sweltering August afternoon than an ice cold beer? A Shandygaff! Beer aficionados (like whisky aficionados and tequila aficionados) shudder at the mere mention of mixing "stuff" in with their perfect brew. We LUPEC ladies do not. If you've never tried it, now's the time. The Shandygaff is a drink of English origin that is a true delight on a hot summer day.
It's origins are hazy: some stories point to Henry VIII as the inventor, others link the drink to an 18th century novel titled "Tristram Shandy". Ask a Londoner for a Shandy and they'll likely pour your drink half ale/half lemonade, which in England means lemon-lime soda much like Sprite. Earlier recipes call for half ale/half ginger beer – much spicier and more exciting on the palate.
Stateside the drink is often just shortened to "Shandy" and made with regular old lemonade. This summer Rhode Island-based producer Narragansett teamed up with Del's Lemonade to produce Del's Shandy, a bottled version of American lemonade and Narragansett beer. It's been a runaway hit, flying off the shelves. If you'd like to mix a shandy of your own, try this Dickens-era recipe from Dale DeGroff's The Art of the Cocktail.
---
SHANDYGAFF or SHANDY
half pint of ale
half pint of ginger beer
1 ounce of orange curaçao
half ounce of fresh lemon juice
1 lemon zest
build ingredients in a mug
and garnish with lemon zest.
Cin-cin!