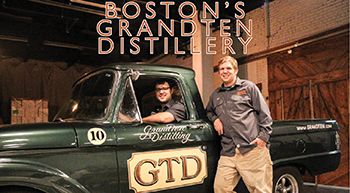 BOSTON'S GRANDTEN DISTILLERY
WITH THE legalization of homebrewing in 1978, the US craft brewing industry began its climb from as few as ninety breweries to its 2O13 record high of 2822. The craft distilling industry remains about twenty years behind the brewing curve, yet a similar pattern of booming growth cannot be denied. Where craft breweries abound, there too are the beginnings of a thriving and enthusiastic artisanal spirits community.
What makes GrandTen Distillery of South Boston stand out amongst this host of emerging distillers? Some will call to mind the unique ways in which GrandTen engages with its trade partners; others will cite the distillery's dedication to championing underrepresented spirits and the historic, place-based distilling practices of New England.
A TALE OF SCIENCE AND SPIRIT
The dynamic between cousins Matthew Nuernberger and Spencer McMinn, owners and operators of GrandTen Distilling, is one that can exist only among family. They jest and joke, communicating frequently while also stepping back enough to let the other focus on his strengths. Looking closely, it is fascinating to see how Matt's background in mechanical engineering and business joins seamlessly with Spencer's PhD in chemistry to create the perfect cocktail of distillery management.
Matt first developed the concept for GrandTen as an MBA student at Babson College. He approached Spencer, who at the time was living and working in Paris, France, and asked him to be a partner: "It was New Years of 2O1O. I was on my honeymoon and flying to India. We had an extended layover in Paris to see Spencer who was living there at the time. I pitched him on the idea of moving to Boston and starting a craft distillery." Spencer adds, "There was a backup of faculty hiring, so rather than getting stuck in the [academic] track, I chose to do this instead. I was in Paris when we finished up the business plan and started researching a lot about distilling and spirits." Spencer returned to Boston in June 2O1O and GrandTen was born later that summer. Construction on the distillery began in May 2O11, and the duo launched Wire Works American Gin, their flagship, in April 2O12.
For Matt and Spencer, Boston was a prime location. "First because Matt had just finished business school here and had a lot of good contacts," notes Spencer. "Also, Massachusetts lets you self-distribute and you can sell retail out of your distillery. We self-distributed for six months." However, location isn't everything, counters Matt. "It's not so much about the location, but how the community supports it. As GrandTen grows and as all the other craft distilleries here grow, there's the opportunity for restaurants and for bars to support and shape the industry here – Massachusetts can become a great spirits state. It's not just up to the distillers to do that, it's also up to the retailers and the bars and restaurants. In order to do that they need to give "local" a shot."
---
THE GRANDTEN FAMILY
WIRE WORKS AMERICAN GIN
Juniper, angelica and a well-balanced and warm spice note characterize this American Gin, a style coined as counterpart to the more well-known London Dry Gin. Spencer notes that the uniqueness of Wire Works is in part due to the addition of Massachusetts cranberries rather than more traditional citrus fruits. Wire Works is named for the historic South Boston iron foundry which operated where GrandTen Distillery stands today.
WIRE WORKS SPECIAL RESERVE BARREL AGED GIN
Aged in used American bourbon barrels, Wire Works Special Reserve builds on the nine botanicals of the Wire Works American Gin by adding the rounder flavors traditionally found in bourbons, rums and other dark spirits. It exhibits both the caramel notes of a whiskey and the bright citrus tone and crisp aromatics of a gin.
MEDFORD RUM
Crafted from blackstrap molasses, fermented with wild New England yeast and aged in new American oak barrels, the Medford Rum is produced in the nearly forgotten style of historic New England rums. Uniquely grassy and spicy.

SOUTH BOSTON IRISH WHISKEY
Distilled from corn and barley, the South Boston Irish Whiskey tastes of banana, caramel, honey, and brown spice. Light and smooth, it represents a whiskey which can be sipped neat or enjoyed in minimalist cocktails.
CRANEBERRY
Distilled blackstrap molasses produces a rum base which is then laid to rest with hundreds of pounds of Cape Cod cranberries, whose expected tartness yields to a sherry-like dryness which enables the cordial to take the place of vermouth and comparable cocktail staples.
AMANDINE
This almond liqueur is distilled with crushed almonds and rested in toasted American oak barrels. Sweetened with raw sugar, it offers soft vanilla and caramel notes. Not as sweet as an Amaretto, Amandine blends well with whiskeys and dark rums or as an addition to coffee and ice cream.
ANGELICA
An herbal blend of cinnamon, clove, orange peel, and a hint of juniper, the unique profile of this earthy liqueur exists in large part to the presence of Angelica root, a botanical with a long history of flavoring spirits. Best be used to liven up a gin and tonic, Angelica can add a subtle brightness to many cocktails.
FIREPUNCHER VODKA
In January 1887, Tommy Maguire attempted to punch out the flames which were consuming the South Boston iron foundry. Firepuncher Vodka commemorates this encounter by adding local chipotle peppers to the vodka's final distillation run. Hickory smoke is then bubbled through the spirit before bottling. This creates a vodka which showcases the warmth and flavor of the chipotle peppers and the subtle spice and depth of hickory.
FIREPUNCHER VODKA BLACK
This limited release spirit builds upon the Firepuncher Vodka by infusing it with roasted cacao shells and nibs from Somerville's Taza Chocolate. The richness of chocolate adds to an already warming profile and creates a vodka perfect for a Bloody Mary.
---
Distributed by Origin Beverage Company
A subsidiary of Horizon Beverage Company
WIRE WORKS AMERICAN GIN
case 6 x 75Oml @ 9O°– ITEM 16O52
WIRE WORKS SPECIAL RESERVE
BARREL AGED GIN
case 6 x 75Oml @ 87.8°– ITEM 16O56
MEDFORD RUM
case 6 x 75Oml @ 8O°– ITEM 16O9O
SOUTH BOSTON IRISH WHISKEY
case 6 x 75Oml @ 8O°– ITEM 16O82
CRANEBERRY
case 4 x 75Oml @ 6O°– ITEM 16O76
AMANDINE
case 4 x 75Oml @ 6O°– ITEM 16O68
ANGELICA
case 4 x 75Oml @ 6O°– ITEM 16O72
FIREPUNCHER VODKA
case 6 x 75Oml @ 9O°– ITEM 16O6O
FIREPUNCHER VODKA BLACK
case 6 x 75Oml @ 9O°– ITEM 16O64