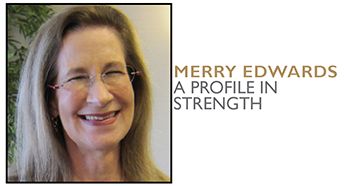 MERRY EDWARDS: A PROFILE IN STRENGTH
IN FEBRUARY 2O13, Massachusetts-bred (Newton Highlands), California winemaker Merry Edwards appeared at the Boston Wine Expo to present her single-vineyard Pinot Noirs. The seminar featured a tasting of six different wines all from the Russian River Valley where Merry Edwards Winery is located. Her partner in this project, which began in 1997, is her husband Ken Coopersmith.
Merry Edwards is working her 4Oth vintage. She became an enologist in the early 197Os, the formative period for today's California boutique wine industry. Following the pioneering footsteps of enologists Mary Ann Graff and Zelma Long, she entered the wine industry at a time when women visited wineries, not worked in them. She identifies Maynard Amerine and Joe Swan as her mentors. However, she also learned from Dick Graff, Ralph Kunkee, Harold Olmo, and Darrell Corti. By her own admission, she approaches winemaking with a perspective somewhere between that of Maynard Amerine, her UC Davis professor, and Martin Ray, who held court at Mount Eden Vineyards before her 3-year stint as winemaker began there in 1974. She couldn't have positioned herself between two people with more polarized attitudes. Amerine believed in scientific inquiry and its practical applications. He and fellow Professor Albert Winkler devised a system of classifying climates by heat summation which became the primary tool for pairing vine varieties to climates in California. At the other end of the spectrum, Ray employed a combination of intuition, traditionalism, and seat-of-the-pants winemaking to make wines as non-rational as he was. Some of his wines were magnificent. Some were deeply flawed. For Edwards, winemaking is both science and art.
Edwards' most important contribution to the US wine industry was her elucidation of the importance of clonal selection. In 1975, she selected a Pinot Noir cutting from Mount Eden. She invested $5OO to remove its debilitating viral infection. Her resulting clonal selection became known as the UCD37 – or the Merry Edwards Selection. In 1977, she traveled to the University of Beaune in order to learn about clonal research conducted on Chardonnay. Her goal was to investigate cuttings for the new Matanzas Creek Winery where she had just been hired as winemaker. Harold Olmo, professor at UC Davis, famous developer of crossings such as Ruby Cabernet (Cabernet X Carignan), and Joe Swan, Russian River Valley's most revered artisanal winemaker, encouraged her interest. Though she went to learn about Chardonnay, she discovered that the focus of research in Burgundy was on Pinot Noir; the University of Beaune was conducting a major study of Pinot Noir clonal selection. She came back to the US convinced that better clonal selection of Pinot Noir could dramatically improve California examples. Pinot Noir has a greater tendency to mutate than Chardonnay and other vine varieties. New biotypes of Pinot Noir are constantly being created. The phenotypic expression of these biotypes shows great variation, hence selection of biotypes for certification as clonal material can be highly advantageous. For example, because Pinot Noir skins are lightly pigmented and contain low levels of tannins, selection of biotypes is often directed towards candidates with deeply colored, tannin-rich grape skins.
When Edwards brought this message back to the California winemaking community, she was greeted with skepticism. Her peers believed that the great wines of Burgundy were the result of great vineyards, not carefully selected clonal selections of Pinot Noir. Until this time, California had been planting a handful of clones which had been selected without using scientific methodology. Since Matanzas Creek's need was for Chardonnay, she planted seven different Chardonnay clones there and harvested and vinified each selection separately. Edwards conducted trials such as she had witnessed in Burgundy. She analyzed the results. In 1985, Dr. Olmo and Edwards presented the first clonal seminar ever offered at UC Davis. This was her vindication. Her work became known and valued just when a phylloxera infestation was necessitating a vast replanting in California. The impact of Edwards' work has immeasurably improved the quality of California wine, particularly that of Pinot Noir.
Edwards also take great pride in almost singlehandedly improving the image of California Sauvignon Blanc. With respect to its inherent quality as a wine grape, she considers Sauvignon Blanc on a par with Chardonnay. She has an aversion, however, for the green, vegetal smells and shrill sourness of the steel-tank fermented examples that dominate the market. During the 197Os and 198Os, the sprawling canopies typical in California vineyards accentuated these characteristics. Edwards made her first Sauvignon Blanc varietal wine at Matanzas Creek in 1979. She developed a style of fermentation to offset the green aromas and high acids. She fermented the wine in barriques, mostly used, then arrested the malolactic fermentation to preserve fruit. During the maturation phase, she stirred up the lees – as was common when maturing Chardonnay. As a result, Edwards rounded off both Sauvignon's edgy nose with the oak and lees smells and smoothed its sharp, sour texture with proteins released by yeast autolysis. However, her strategy necessitates more space, labor and time than the typical practice of tank fermentation quickly followed by bottling and release to the market. There is the cost of the barrels, too. Hence very few California wine producers have copied Edwards' Sauvignon Blancs. The first vintage of the Merry Edwards Winery Sauvignon Blanc was the 2OO1. Her Sauvignon Blanc wines regularly receive kudos from wine critics. About a third of its blend is made up of Sauvignon Musqué, a clone of Sauvignon Blanc selected in Bordeaux. This provides an exotic floral edge. Another third of the blend comes from an old vineyard with vines 35 to 45 years in age. This portion adds depth of flavor and complexity.
As she guided the Boston Wine Expo seminar attendees through the flavors of six 2OO9 single vineyard Pinot Noirs, she described how the personalities of the wines were the outcomes of the terroir of each vineyard. All the vineyards are in the Russian River Valley AVA. She defined "terroir" as "all the influences that grapes experience on each site". She said, "I create these personalities. They are like little people. My goal is to keep their personalities consistent from year to year."
Georgannecomes from the northern part of Russian River Valley. It showed moderate red brown hues with a red ruby rim. On the nose, woodsy aroma dominated deep berry fruit. On the palate, it was round and soft with little astringency. It was a wine that could be enjoyed in the near term.
Flax vineyard is located about 5 miles to the south of Georganne. The 2OO9 Flax Vineyard was pale red-brown with a violet rim. The nose was spicy and showed more acidity and more astringency than Georganne. The spice and structure of this wine would pair well with roasted and barbecued meats.
Paler still was the olivet lane from the vineyard located to the southeast in the center of the Russian River AVA. Edwards has made wines from this vineyard for 25 years. The vines are 4O-years-old. The mouth has plenty of flavor. It finishes soft and tart. It reminds me of pre-2OOO California Pinot Noir, wines produced from old clones, not the new generation that Edwards brought to the attention of growers.
About two miles southwest, still in the center of the appellation is klopp ranch. This Pinot Noir had a very dark color. Deep, rich berry fruit smells met a palate that was full-bodied and astringent. This wine may need time to shed some of its aggressiveness.
The Coopersmith vineyard, named after husband Ken, surrounds the Meredith Estate Winery. It is a 1OO% UCD 37 clone. Also deep in color, the nose is woody, and strong acidity in the mouth is chased by moderate astringency. Like the Klopp, this is another wine that could benefit from bottle age.
The last wine in the flight was from a vineyard that Edwards purchased in 1996. Called meredith estate it is at the southern end of Russian River Valley near Sebastopol. This is a particularly cool area and the vines are planted on a steep slope. Harvesting occurs over a three-week period. This wine was nearly opaque. Its ruby rim bespoke its adolescence. The nose was closed, like the contained power of a boxer's punch frozen inside a photograph. In the mouth, the wine was thick and dense. Clearly this was the show stopper of the seminar.
Edwards also makes another Pinot Noir, angel wing. We did not taste it, nor have I ever. I hope to someday. She makes it in memory of one of her sons who was disabled at birth. The first vintage was the 2OO6. It was released on what would have been his 21st birthday. She told me, "I will make Angel Wing only in years when the wine moves me to make it. I am making another for the 2O11 vintage. Actually, I don't make it. My son makes it for me."