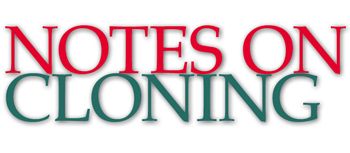 This year the Boston Wine Expo made a concerted effort to address wine producers' goal to connect directly with the Boston trade. As a part of that program, Davis Bynum presented a "Pinot Noir Clone Seminar". In 2OO7, Tom Klein, a California farmer, purchased the Davis Bynum brand from founder Davis Bynum who, in 1973, had made the first single vineyard Russian River Valley Pinot Noir. Since that time, the brand has been synonymous with well-made Russian River Valley Pinot Noir. Davis Bynum's boutique sized production of Pinot Noir and Chardonnay wines is now made at Tom Klein's mid-sized Rodney Strong Vineyards winery, which has long distinguished itself for its Alexander Valley Cabernet Sauvignon.
Greg Morthole, the winemaker of Davis Bynum wines, educated the seminar audience composed principally of members of the trade and visiting wine producers. First he explained that a clone is propagated from the cuttings of a "mother vine" and hence is genetically identical to it. Planting cuttings, rather than seeds, is how vineyards are planted. Having stands of genetically identical vines and vinifying the grapes of these stands separately enhances winemakers' ability to fashion wine flavor through blending. Measurable differences in grape-skin and pulp constituents between grapes derived from different clonal selections result in noticeable differences in wine appearance and flavor.
Clonal selections are scientifically studied and certified before release to nurseries. There are many clonal selections of Pinot Noir – at least 46 of them according to Morthole. He told us that potentially as many as 2OO clonal selections could eventually be certified. Knowing about clonal selections of Pinot Noir is important because there is considerable differentiation among them, not only with respect to wine flavor but also to growing habit. Understanding the proclivities of different clonal selections allows wine producers to pick the best ones for their growing sites – whether they be warm, cool, wet, dry, etc. This is particularly useful in New World growing situations where the history of viticulture and wine production is recent. In many Old World growing situations, generations of wine-growers have instinctively selected the "best" vine individuals in their vineyards and replanted their cuttings. This empiric process of clonal selection and propagation, called mass selection, is what is almost exclusively used in regions such as Burgundy. It produces excellent results because it is based on the successive refinements of generations of winegrowers working in roughly the same location.
In order to construct the Davis Bynum Russian River Valley Pinot Noir, Morthole sources fruit from several vineyards in the appellation, most of them owned by Klein. He has access to the fruit of nine different clonal selections. One of them, Martini 15, was selected by UC Davis plant geneticist Harold Olmo during the 194Os. Olmo selected the "mother" of Martini 15 from among a group of cuttings illegally brought into the USA from Europe, the so called "suitcase selections". During the 195Os, Olmo traveled to Europe to select other "mothers" which, as of 1958, were released as certified clonal selections. Of these, Morthole has access to the fruit of vineyards growing Swiss Wadenswil 2A, Swiss Mariafeld 23 and Pommard clonal selections. During the 197Os, French researchers working in Burgundy selected and certified more clonal selections – the so-called "Dijon clones". Of these, Morthole has access to five: 113, 114, 115, 667, and 777.
At the seminar, we tasted barrel samples of Pommard, 777, 667, 115, 114, and Wadenswil 2A wines. Morthole had used these and other clonal selections wines to construct the 2O1O Davis Bynum Russian River Valley Pinot Noir which we tasted last. The individual clonal selection wines that we sampled are not sold as stand-alone wines.
Morthole pointed out that though the vineyard sources are very similar in mesoclimate and soil, the Dutton Ranch vineyard is cooler than the others. Everything is picked early in the morning. He typically ferments in the high 7Os and in the 8Os with respect to Fahrenheit degrees. They are "natural yeast ferments". Because the Wadenswil 2A has thicker skins than the other clonal selections, he pulls the fermenting juice off the skins sooner than the other wines so as to avoid too much color and tannin pickup. He lets this wine finish its fermentations off its skins in barrel. Preferring to avoid oxygen contact, he doesn't rack at all. He stirs the fine lees six or seven times during the nine month stay in barrel. These samples were all pulled from older French barrels.
Morthole likes "ripe" Pinot Noir. The barrel samples ranged from 14.2% to 15% percent alcohol. He "doesn't mind 14.5% alcohol wine". The issue of high alcohol Pinot Noir wines, he says, is a "hot button" issue. Morthole evidently is on the "hot" side of that button. He is not afraid of "mushroom smells" which he says in Pinot Noir "goes hand-in-hand" with black and red berry flavors. Mushroom could come from a number of sources such as lees contact.
Though the samples were not those of a research institute, they showed how clonal selections do make noticeably different wines. Robert Larsen, Public Relations Director at Rodney Strong, and Melissa Linehan, Sales Director for Eastern United States, confirmed that sophisticated Pinot Noir consumers increasingly ask about what clonal selections make up blends. This realization sent me day-dreaming to a time, perhaps a decade in the future, when the California wine industry might issue clonal selection Pinot Noir wines as well as clonal blends. Aha! The flip side of terroir! Genoir wines, i.e., gene or über-varietal wines, instead of those of terra firma.
A sip of finished product, the 2O1O Davis Bynum Russian River Valley Pinot Noir, brought me back to reality. The summation of the parts – an unfiltered amalgamation of 28% 115, 17% 114, 13% 777, 11% 667, 1O% 23, 6% Wadenswil 2A, and 5% Pommard – was delicious enough to dissolve away the numbers, clones, soils, climates, fermentations, maturations, etc.
My tasting notes read . . .
POMMARD Backbone Vineyard
Pale red, with a spicy, musty, and red fruit nose. Delicately textured in the mouth.
777 Crinella Vineyard
Darker than the Pommard, blackberry, coffee, juicier, more viscous, and more astringent than the Pommard.
667 Dutton Ranch
Deep color, earthy, red fruit, very soft in the mouth. (Morthole's favorite clonal selection.)
115 Dutton Ranch
Paler hue than 667. Cherry, tart, hot and spicy but with soft tannins.
114 Crinella Vineyard
Moderate depth of hue, cherry, Indian spice, cola. Loose and full-bodied in the mouth.
Wadenswil 2A Backbone Vineyard
Darker bluish-red, red fruit, more astringent than the others.