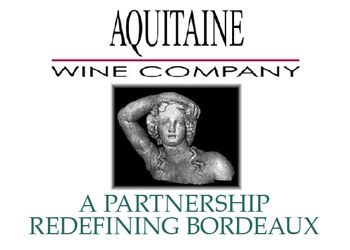 AQUITAINE: A PARTNERSHIP REDEFINING BORDEAUX
Bordeaux wine merchants, Jean-Christophe and Margaret Calvet, gave a presentation at the Boston Wine Expo on January 21 entitled "2OO9 Bordeaux – The Best Vintage Ever?" They own the Aquitaine Wine Company. They stood side-by-side at the podium and shared the presentation. Not only is it rare to find a husband and wife team in the wine trade, but they work in a different way than most Bordeaux merchants. To learn more about their impact in the Massachusetts market, subsequent to their visit, I interviewed Brian Keeping who manages the Carolina Wine & Spirits portfolio of Bordeaux wines.
Talking with Jean-Christophe Calvet about the Bordeaux wine business is like discussing the ocean with a seal. With comfort and command, he rattles off facts and figures and other information about the trade. In 1981, he started his career in his family's historic and famous Calvet wine merchant business. But the business was sold to Whitbread in the following year. Three years later, he left Maison Calvet to work in New York City for Julius Wile and Remy-Amerique. He subsequently worked in South America and Ireland, before returning to Bordeaux in 1998 to start his own merchant company.
During the 198Os while he was in the US, he met and married Margaret Chung. While Jean-Christophe's professional career had evolved within the context of the wine business, Margaret's background was from another world. She grew up in California, earned a BA and MBA in Business from Harvard University, and then became an investment banker at Salomon Brothers and E.F. Hutton, where she developed experience in corporate finance, venture capital, and start-up high tech companies. In 2OO2 she joined her husband as his business partner in the newly created Aquitaine Wine Company. Evidence of her impact was a series of seminars that brought attention to women winemakers working in the Bordeaux wine industry. See "A Taste of Bordeaux – Meet our Women in Wine: Margaret Calvet" at youtube.com/watch?v=WtDz62eS98c. The Aquitaine Wine Company today represents several of Bordeaux's hands-on female petits chateaux owners.
Typically Bordeaux merchants show little loyalty to the producers from whom they buy beyond waiting in a queue for allocations from elite Bordeaux chateaux. They show even less loyalty to the importers to whom they sell. They sell to whoever wants to buy. This includes sales to retailers who use import and wholesale licenses to move around the traditional distribution tier. Without continuity and exclusivity, the US distribution system has balked at promoting Bordeaux chateaux and brands. The inroads made by the California and other New World wine industries into Bordeaux's market share have been built on providing permanence and exclusivity within the distribution chain. Unlike California wineries and brands which brim with personality, chateaux, particularly petits chateaux, are generally faceless in the US market.
In contrast, Aquitaine has adapted its approach to ensure continuity and trust with both its upstream wine producers and its downstream wholesalers. Aquitaine works in 47 states. It is their policy to work with one wholesaler in each so as to avoid conflicts of interest and rivalry. The wholesalers they work with also must have an import license. This allows Aquitaine to sell at a price minus the importer margin (usually 2O%) that then is passed on downstream. Within its state, each wholesaler knows that it, and only it, will be selling a particular chateau purchased through Aquitaine. This exclusivity encourages the wholesaler to buy the same chateau wine year after year and develop it as a brand in the market. Just like a California winery does, Aquitaine provides brand education and support and point-of-sale material to wholesale sales persons. Margaret and Jean-Christophe, either together or singly or with a few winemakers in tow, visit accounts, whether retailers or restaurants, and conduct seminars like the one at the Boston Wine Expo.
As Margaret describes, "The strategy of other Bordeaux merchants is driven by the products they sell." Aquitaine is concept driven. That concept is "Discovery Wines". Discovery Wines describe a value-price relationship. Margaret explains: "You get 9O% the taste of a famous Bordeaux wine at 1O% of the cost." Aquitaine has long-term, exclusive relationships with 65 chateaux. Some of these produce only 2OO cases per year while others produce as much as 7OOO to 8OOO cases. Many allocations are small.
In Massachusetts, Aquitaine's wines reside in the Martignetti book. Brian Keeping at Carolina was Aquitaine's first US client. Carolina lists most of the 25 wines that Aquitaine brings into the Massachusetts market. Classic Wine Imports, also in the Martignetti book, carries a handful of Aquitaine wines. Jean-Christophe has known Randy Sheahan of Classic Wine Imports for many years. While Carolina is looking for value, everyday Bordeaux, Classic's legacy concept for selling Bordeaux helps define the different relationships each has with Aquitaine.
Aquitaine's relationship with Carolina's Keeping illustrates its impact on the market. Before Aquitaine, Keeping did not believe that he had any reason to invest in building any Bordeaux brands. He was looking simply for flavor at the right price. With Aquitaine, he has moved Carolina's Bordeaux portfolio from being "anti-brand" to "pro-brand". Over the last two years, the doubling of Carolina's business with Aquitaine shows how successful the new approach has been. Keeping also notes the consistency of wine quality that Aquitaine delivers and the limited vintage variation that the wines show.
At the Wine Expo seminar, Jean-Christophe described the growing and harvest conditions of the 2OO9 vintage and their impact on the resulting wines. On May 9th, 11th, 2Oth and 21st there were terrible hailstorms. They destroyed 15% of the crop, mostly in the Graves, Entre deux Mers, and St. Emilion. From June to September, only 3 inches of rain fell, 5O% less than average. There was also a lot of sunshine, but not intense heat as in 2OO3. According to Jean-Christophe, the wines are fruity, high in alcohol and tannin, but with the high acidity of the 2OO5 vintage. The left bank crop was of higher quality than the right bank one, where there was some over-ripeness and over-extraction. Sauternes had excellent weather for botrytis wines. The prices, though, have increased, exponentially for the famous classified growths and are the highest ever reached.
The Aquitaine wines which I tasted at the seminar lived up to Margaret's billing, "9O% of the flavor of the famous wines at 1O% of their cost." Just as important as flavor-for-cost was how genuine the wines were. Too often, wines taste over-oaked, over-ripe, over-extracted, or atypical for the appellation. The Aquitaine wines at the Expo seminar consistently hit the bull's eye in their purity of fruit expression and balance. As evidence, I seek them out for the classes that I teach at Boston University.